Doing a little research on the Gorge this winter, and ran across an interesting line on a 1927 Metzker cadastral map:

According to the legend, the line with dots that zigzags up the Gorge face is a powerline -- though on the next Metker sheet, it connects with what we now know as the road to Multnomah Basin/Nesika Lodge. Even more intriguing, the southern section has a note that says "Never Opened", though of course, part of it was.
The fact a powerline symbol is shown could just be a map error -- or the cartographer doing their best to show a proposed road. But very interesting that a road OR powerline was imagined to scale the Gorge at that point!
My first reaction was that the switchbacks almost lined up with the Elevator Shaft... but then when I overlay the Metzker Map with the topo map...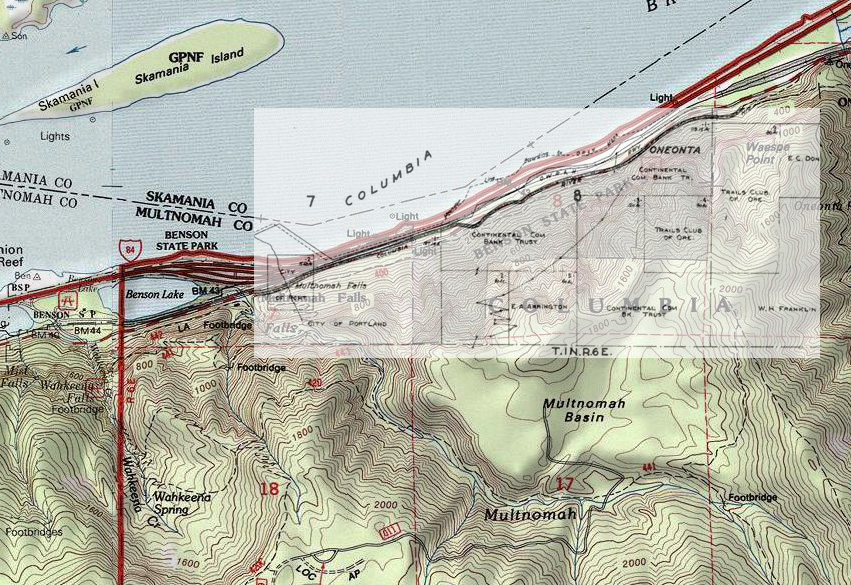 The map features don't totally register between the maps, but even with stretching the Metsker map a bit more (to line up Multnomah Falls), the switchback route is still east of the Elevator Shaft. So, no dice there...
But interesting to the extent that somebody dreamed of building a road up there... wow!
Any other theories out there from the local Gorge explorers...?
Tom