Opening picture: camp at Sundown Lake
This is the fifth (and final!) of five trip reports about my long-ish hike across Olympic National Park and back this past summer, this one covering the walk from the Graves Creek Campground, on the East Fork Quinault, up Graves Creek to Sundown Lake, along Six Ridge to the North Fork Skokomish, and down the Skokomish to Lake Cushman and home.
For an overview of the trip and the first report, from Lake Cushman through the Skokomish and Dosewallips, go
here
. For the second, from the Dosewallips headwaters to Port Angeles, go
here
. For the third, all the way up the Elwha, go
here
. And for the forth, from Low Divide down the length of the Queets-Quinault ("Skyline") Divide down to the Quinault, go
here
. As always, you can read slightly longer and seriously more self-indulgent versions of these at
my blog
, though, also as always, I'm not sure I'd recommend it.
August 10, 2017
Graves Creek CG to Sundown Lake
Graves Creek Trail
No alarm today, and no reason to rush, so I half sleep through all my neighbors packing up. It's eleven before I even leave the tent, and early afternoon by the time I finally leave the campground.
It's a short walk up to the Graves Creek Trailhead, then across the Graves Creek Bridge. This used to be an old road, which stretched a couple miles further up, to Pony Bridge. But there was a washout or something, and now it's a trail. That seems like a common story here: the roads get shorter and the trails longer. The wilderness keeps growing. It's one of my favorite things about this place.
I leave the old road right after the bridge, and start up the Graves Creek Trail. It's immediately overgrown with a luxuriant understory of fern and a thousand things I can't name. The trail climbs first through stands of old cedars, then reaches a bench above Graves Creek, and enters an old growth forest of fir and hemlock. I wander through as the trail fades in and out. Graves Creek's flowing loudly a few hundred feet below, echoing up its deep, unseen ravine.
Beyond the bench, the trail traverses several old avalanche shoots, all overgrown with salmonberry and slide alder. There are minor washouts, some of which require a little scrambling over loose rock or dirt, but after the Skyline, it almost feels like a maintained trail.
Every now and then, Graves Creek comes into view, a rushing torrent flowing down falls and over fallen rock and trees. It reminds me of a wilder Eagle Creek. And there are feeder creeks, cascading down from an unnamed ridge across the way.
In a few miles, the trail descends to an unbridged crossing of Graves Creek. The water's rushing and high, but it's spanned by several small fallen logs a little upstream. I bushwhack up, cross using the logs for handholds, then walk along the shallow edge back down to the trail on the other side.
A few miles later, there's another crossing, but in the interim the creek's become a gentle mountain stream, and I walk across easily, water barely up to my shins.
Entering the Graves Creek Basin, the trail fades to a subtle indent in seemingly endless fields of salmonberry, which stretch from the creek to the tops of unseen hills. There's old flagging here and there, but its relationship to the actual route is, at best, eccentric. Still, I find my way through, and switchback up to increasingly open meadows watered by increasingly mellow streams. Then there are flowers, bushes and bushes of columbine. And bugs. Some of the most aggressive flies I've met all trip.
I reach Lake Sundown in the mid-afternoon, accompanied by a crowd of biting flies that's been following me for what feels like miles. I set up quickly in an old and overgrown but obvious spot, strip, and run into the water. The flies follow. I swim underneath for as long as I can hold my breath, out into the middle of the lake, but they're always there when I come back up, waiting to bite at my forehead.
It's ridiculous. So ridiculous that I have to just laugh. And then there's this feedback: hearing myself laugh, and imaging what I must look like—this ludicrous human, laughing and treading water in the middle of this grand mountain lake—makes me laugh more.
I swim back, run into the tent, and zip myself in. Bugs buzz loudly all around, but I'm safe in my muggy tent.
The afternoon passes slowly, but eventually it's evening, and the flies fall away, off to wherever flies spend the night. I leave the tent, finally, and eat dinner along the shore, pacing to avoid the mosquitoes that the flies apparently tagged in on their way out.
August 11, 2017
Sundown Lake to Seven Stream
Six Ridge Trail
I wake up early (before the bugs!), rush through a quick breakfast, and start up the trail Six Ridge Pass. It'll be my last pass of the trip: leaving the Quinault and its windward, west-flowing streams for the Skokomish and streams that flow east.
The trail up to the pass is a preview of the day: up and down small domes and ridges, sidehilling on eroded tread. It's beautiful. Flowers flow down the hillside in a joyous, jumbled mess, overlapped and overgrown. Birds are everywhere, flying through the trees and bushes and grass, singing every song all at once. And the smell: just-ripe berries, blooming flowers, and fallen cedars. It's like the Elwha elk: the world feels unusually close, almost as though it's holding me.
Turning down, to the southern slope of Six Ridge, the trail more-or-less disappears. I've been warned about this. This is one of ONP's "primitive trails," like the Skyline. It hasn't been maintained in years. And even if it did get maintained, avalanches apparently fall so readily from the ridge that the path would be destroyed in a single season.
So I follow a series of small indentations in the overgrown underbrush down to a meadow, on the far side of which is an obvious old camp, then search around for my next step. I can just barely make out the top of a tall cairn, poking out through the taller grass a couple hundred feet away. I follow more slight indentations to it, then scan for another.
Most of the morning passes this way: hunting from cairn to cairn in overgrown meadows. Every now and then, the meadows are interspersed with steep, wooded spurs that stretch down from the main ridge. In the trees, the trail is marked with a fascinating variety symbols: burns, small florescent orange signs, and old spools that look suspiciously like they've been taken from fishing poles…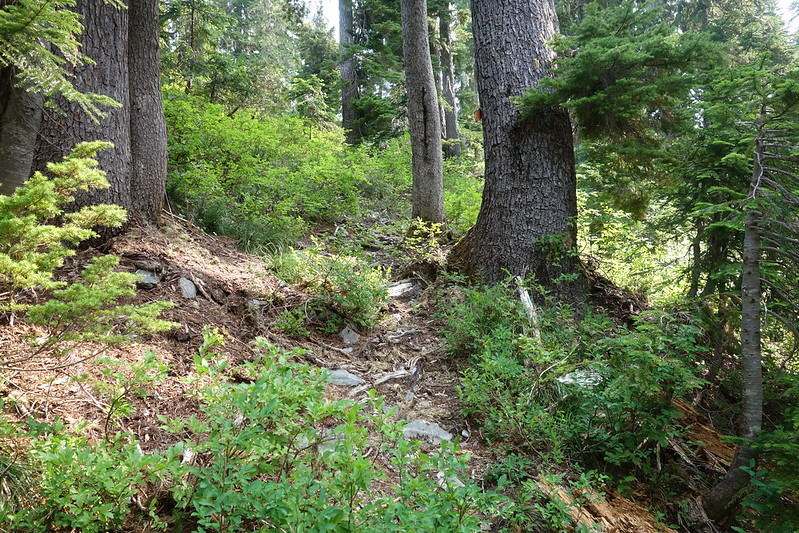 There's an old camp at the McGravey Lakes, and another with an ancient sign calling it "Belview." The trail gains the ridge proper a few miles later, and there's yet another sign, "Mt. Olson Way Trail," with an arrow pointing into a thick tangle of bushes and blowdown.
From the Mt. Olson Trail—or at least what's left of it—the path sticks to the sawtooth top of Six Ridge. We're trending downward now, to the Skokomish, but there are so many little hills that the net change is anyone's guess.
Clouds come, then a little rain and distant thunder. It's the first storm I've had on this trip. A couple claps of lightning hit the next ridge down. Just as the weather seems to be turning to me, I see a faint glimmer down the way. Lake Cushman! I'm almost done!
The meadows fade, first to a jumble of huckleberry bushes, then to a thin forest of hemlock. The trail's still faint, but it's much better than it's been. The miles start coming easy. The rain picks up, but never comes to much, and I hum my way down the hill, the whole time thinking of home.
A few miles of steep switchbacks later, I'm at the Skokomish, jaunting north to cross Seven Stream. The crossing's not bad, just a rock hop and a mostly-dry log. And on the other side is the most beautiful camp: space for a dozen tents, all overlooking the Seven Stream – Skokomish confluence.
I set up in an old growth grove of cedar, then set out doing all the usual camp chores: filtering water, getting things set for dinner, washing a little blood off my legs. Someone's built a bench overlooking the river, and I sit for a long time—through dinner, and a delightful desert of all the extra odds-and-ends I haven't eaten—watching the day's last light dance on the rushing river.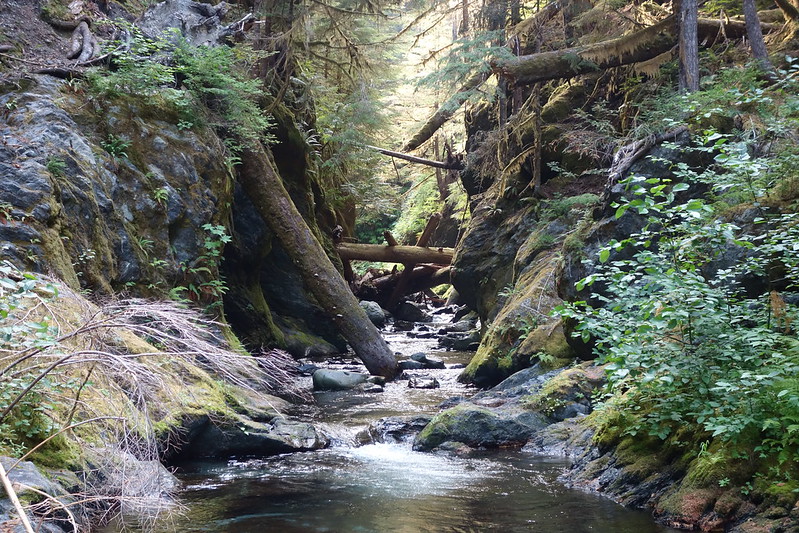 I think of the headwaters high up in the hills, the bare-rock basins and fields of ice, of flocks of birds and herds of elk, families of deer and lone, bumbling bears. My own bumbling attempt to see it all. The places I will never see.
August 12, 2017
Seven Stream to Lake Cushman
North Fork Skokomish Trail
Home today!
There's not much hiking left to do, and lots of time to do it in. Lake Cushman's just five miles down the way, and Krista's not scheduled to be there until five. So I lounge it up: slow breakfast, slow pack up, slow meander back to the main trail.
I haven't seen anyone since the day-before-yesterday, but the North Fork Skokomish Trail is a total freeway. Groups stream by. They all look so clean! A young couple have lawn chairs strapped to their packs. Three Hiker Bros are all shirtless and… maybe baby oiled? An older couple help each other up a small step in the trail.
No reason to rush, so I stop at every stream and every spot that might even conceivably have a view. I eat two (two!) Snickers. I stop to make another cup of coffee for no reason other than there was a wide-ish spot in the trail.
The trail widens to an old road and the crowd changes: more families with kids, less baby oil. I start feeling like an anomaly—this dusty old thing from high up in the hills. But everyone smiles. "Well, where have you been?" Maybe I'm an anomaly, but I'm one that's being welcomed back.
A dad and his boys stand on a riverside boulder, skipping rocks in the rapids and laughing.
The trailhead's a flurry of activity: cars and campers all crowded in, all swerving in different directions. I get some water from the campground, then set up on a rocky piece of riverbank to eat the last of my food and kill a couple hours.
There's a family wading in the slow shallow water across the way, two young parents and a preschool daughter. They're pretending. The little girl's a fish and mom's a fisherman, casting an imaginary line. Every time she does, the daughter changes direction, laughing victoriously, too smart to be hooked by such an obvious ploy. I imagine her swimming all the way up the river, through rapids and deep shaded dells, all the way to the wild headwaters.
Krista comes two hours early with a car full of snacks—berries and cookies and OH MY GOD SODA!
We drive down the same road we came up two weeks ago, like a tape playing in reverse. I watch the trees go by as sunlight flickers through their leaves and onto the passenger side window. We talk about nothing and everything and I realize all at once that I'm absolutely exhausted. It's been a long couple weeks. But as I'm drifting off, I hear Krista. "Hey!" She's reaching out for my hand.