[NOTE: This is mostly a verbatim reprint of the
TR that I posted on the WhitneyZone forum
.]
Three years ago, I tried to summit Mt. Whitney (14,505') via the Mountaineer's Route and
got turned around by thunderstorms
about half a mile short of Iceberg Lake, just past 12,000'. (I shot a
video
of the storms from my hiding place under an overhanging rock wall.)
This year, I tried again. I didn't win the permit lottery in March, but was surprised to find
every date
available when I looked at recreation.gov on the morning of May 1. (I'm guessing the pandemic had something to do with all of the unclaimed permits.) So I semi-randomly picked August 6.
Here's the short version of my trip:
I made it — with no significant mishaps — but it kicked my ass. It took me a full TEN HOURS to reach the top via the Mountaineer's Route (5 miles, 6300' of gain). The descent on the Mt. Whitney Trail (11 miles) took only 6.3 hours, thank goodness. Granted, I take a lot of pictures, and that explains some of the slow pace: 285 photos on the way up, and that's not counting the duplicates and out-of-focus ones that I already deleted. Without a camera, maybe it would have taken me eight hours; that's still slow, but it sounds more reasonable.
I don't think I had AMS (Acute Mountain Sickness); my appetite was fine and I didn't feel sick or get a headache. (I tried to acclimatize a bit by spending the previous day at Horseshoe Meadows [10000'], and I slept at Whitney Portal [8000'] before the climb.) No, it was just plain exhausting. I live in Portland, at sea level, and this was my first time, EVER, above 12200'. Beyond Lower Boy Scout Lake [10347'], nearly every step upward felt difficult. Beyond Iceberg Lake [12642'], every step up felt like it deserved a 30-second breather.
Anyway, here's the long version:
7:00pm
, the night before: I started to set up my tent at Whitney Portal and discovered that I had no tent poles; apparently I'd left them at a campground in the Klamath Mountains six weeks earlier. Oops. I MacGyvered it using trekking poles, the picnic table, bungee cords, a duffel bag, and big rocks. Could have been worse.
4:20am
: Woke up at Whitney Portal, still feeling annoyed about the car alarm that had blared for a full minute at about 2:30am. (I sincerely hope a bear was breaking into their car; otherwise, there's no excuse for that.) Started shoveling in calories and liquids.
5:38am
: Hit the trail (8,265'), after finding one of the very few parking spots in the overflow parking near the Ravine campground. Not a cloud in the sky, thank god.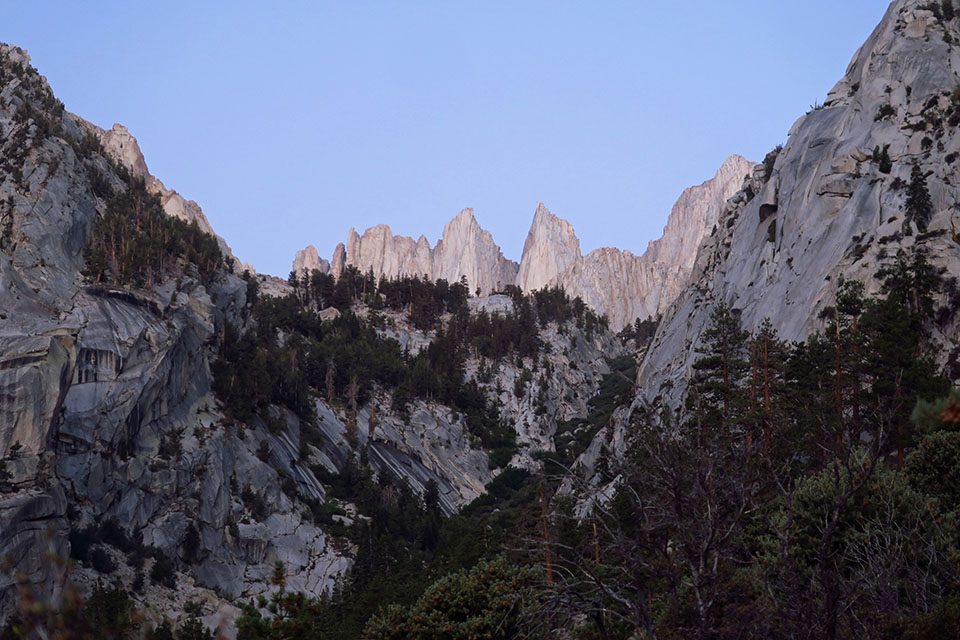 [By the dawn's early light]
[Pre-sunrise monkeyflower]
6:06am
: Sunrise. 1 mile and 600' under my belt, in just 28 minutes. This will be easy!
6:19am
: Turned off onto the Rockwell Shortcut (9100'), just before the first crossing of the North Fork Lone Pine Creek.
Steve C.'s videos
were very helpful in negotiating the Shortcut and the Ebersbacher Ledges.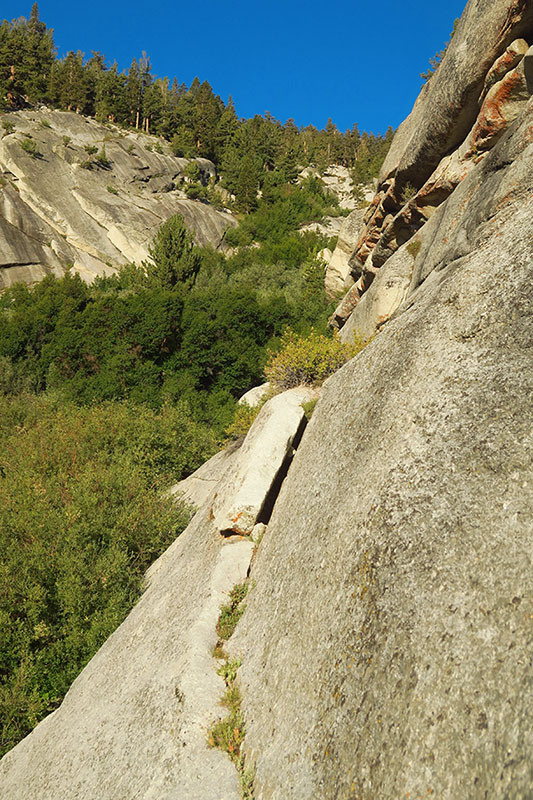 [The fun part of the Rockwell Shortcut]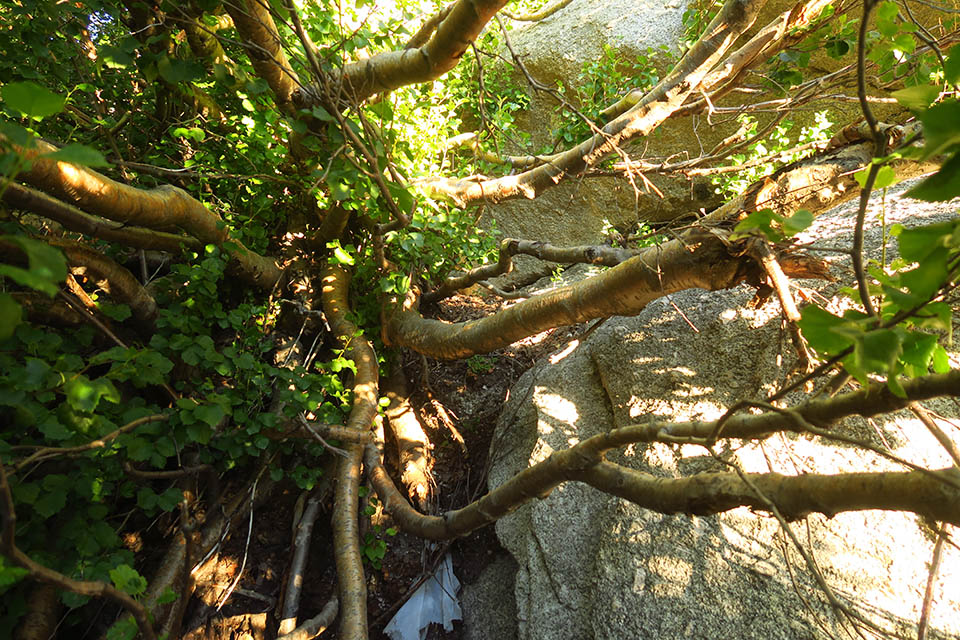 [The less-fun part of the Rockwell Shortcut]
6:49am
: Re-joined the official trail. Got through the E-Ledges (9700'-9900') in about 10 minutes.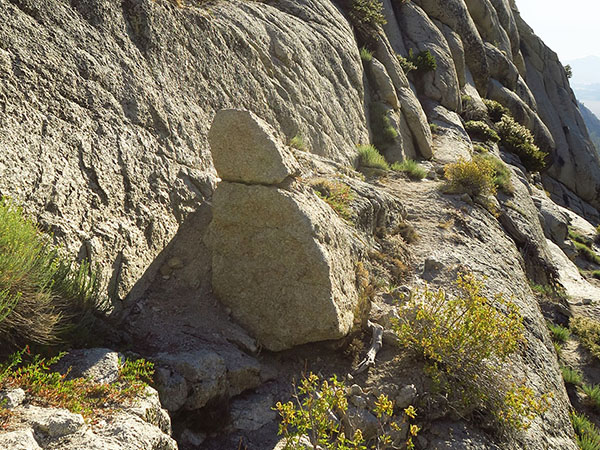 [Thanks to Steve C.'s videos, I knew that this little granite schmoo was the signal to turn back west on the Ebersbacher Ledges.]
7:46am
: 2 miles done. The half mile between the Ledges and Lower Boy Scout Lake was slow mostly because of wildflowers, and I felt like 1 m.p.h. was not bad overall.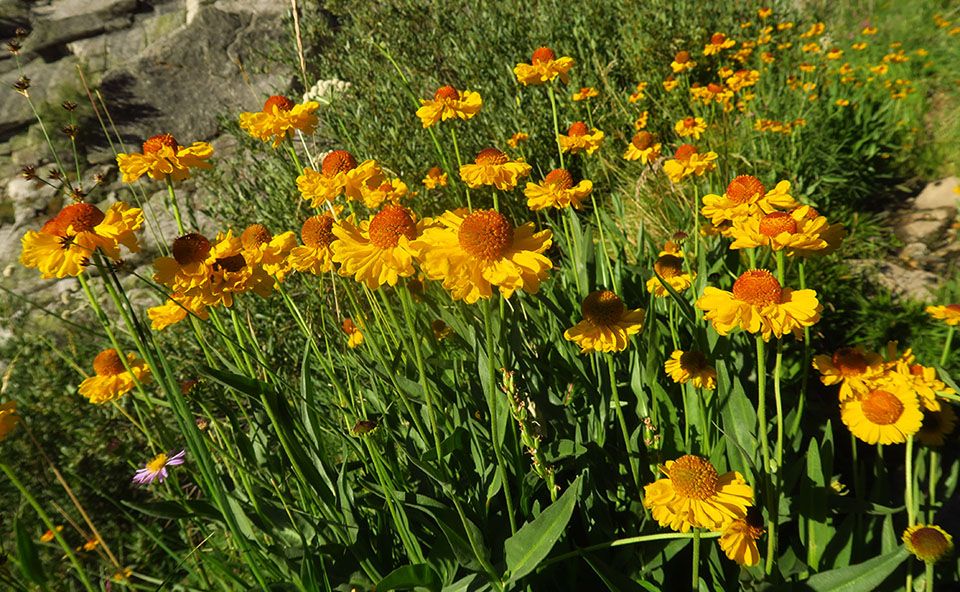 [Bigelow's sneezeweed]
8:05am
: I went around the north side of Lower Boy Scout Lake (10347') so that I could walk up the granite slabs between there and Upper Boy Scout Lake. (I'd call it the "slabs shortcut," but it isn't really much shorter.)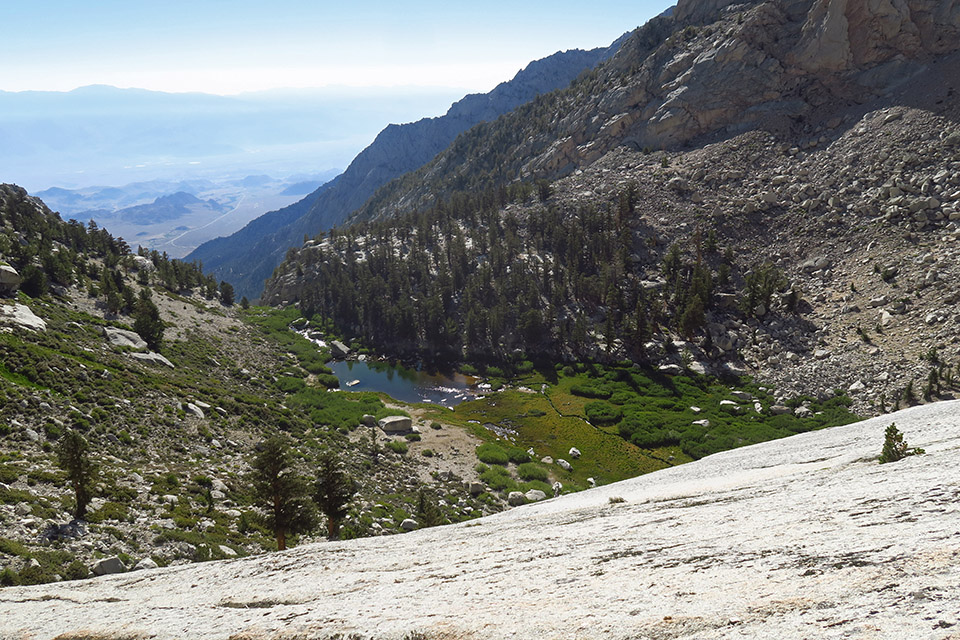 [Lower Boy Scout Lake from the granite slabs]
This is where I started to slow down due to the thin air, and I also had to take a bathroom break, so I didn't reach the next mile marker until...
9:41am
: 3 miles. Yikes, that was a very slow mile. After poking around in the wetlands below Upper Boy Scout Lake (11338'), it was time to rejoin the trail again and make some progress.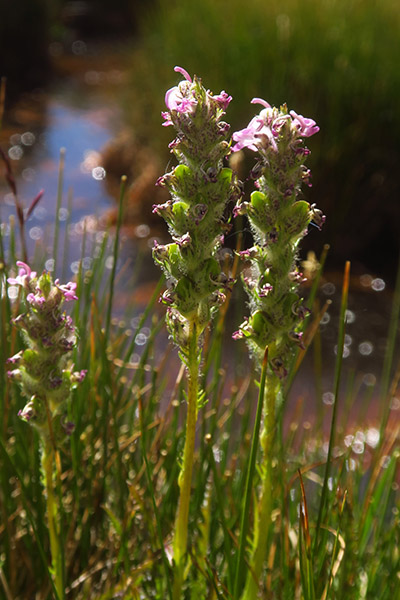 [Little elephant's-head in the bog/fen at the outlet of UBSL]
11:21am
: 4 miles, and I was approaching the shooting-star seeps below Iceberg Lake. The route wasn't clear here, and I kept ending up too high on the slope. But I was able to fill my bottles with what I assume was safe water, since it was coming right out of the ground. Saw a marmot.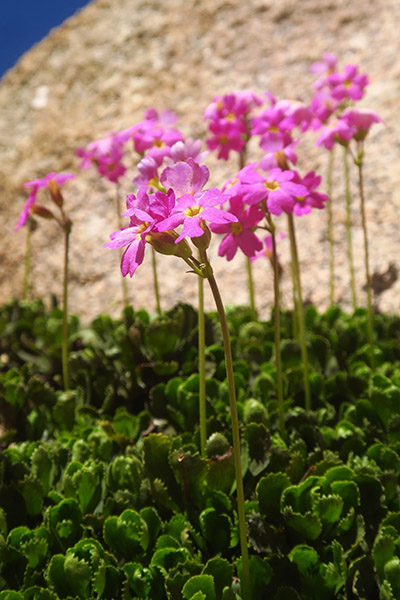 [Sierra primrose]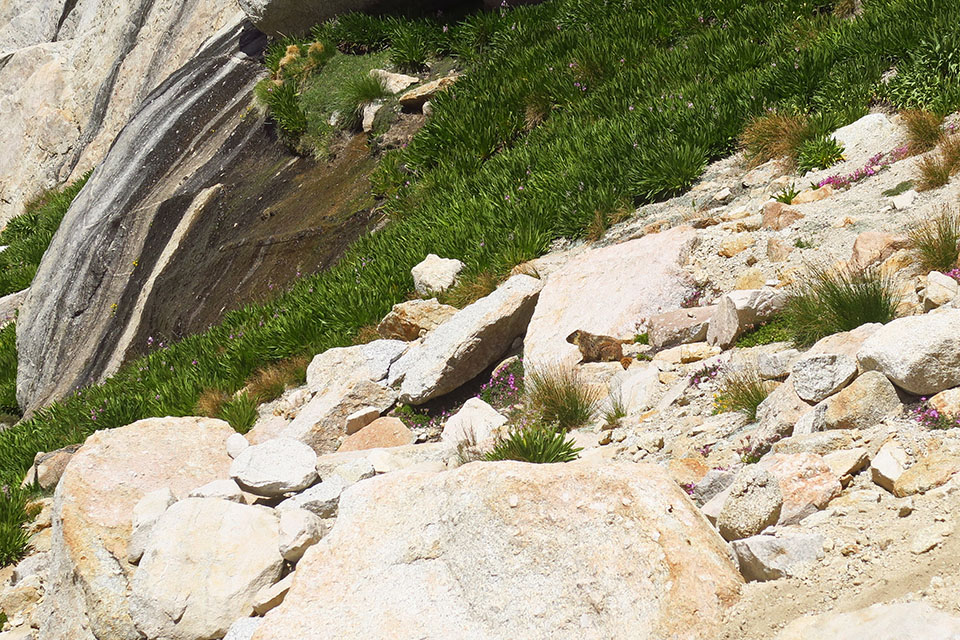 [Fragrant shooting stars & marmot]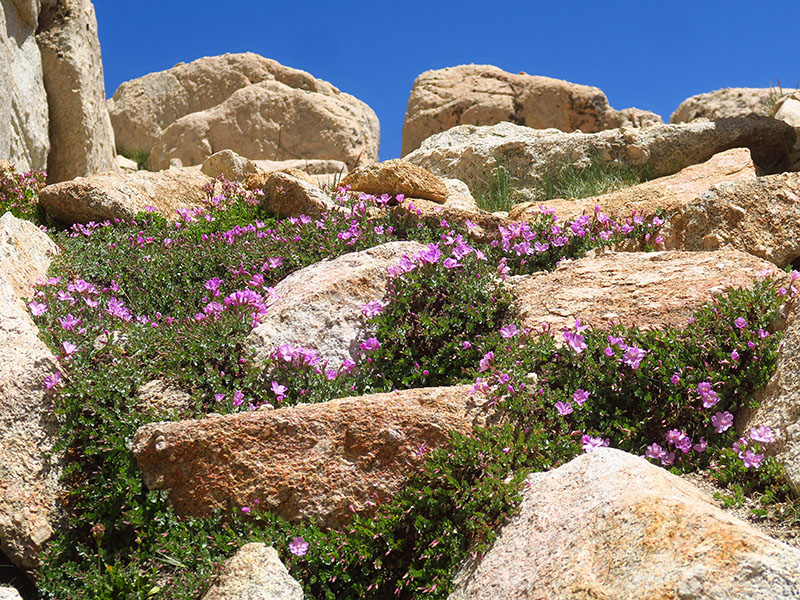 [Nice patch of rock-fringe willow-herb]
12:10pm
: 4.5 miles, Iceberg Lake (12642'). I talked with a guy who was camping there, and asked him for advice on the chute. He said that if I was comfortable with 3rd-class rock (which I am), I should avoid the scree gully and stay mostly to the left until the rock chimney and the scree chute came together.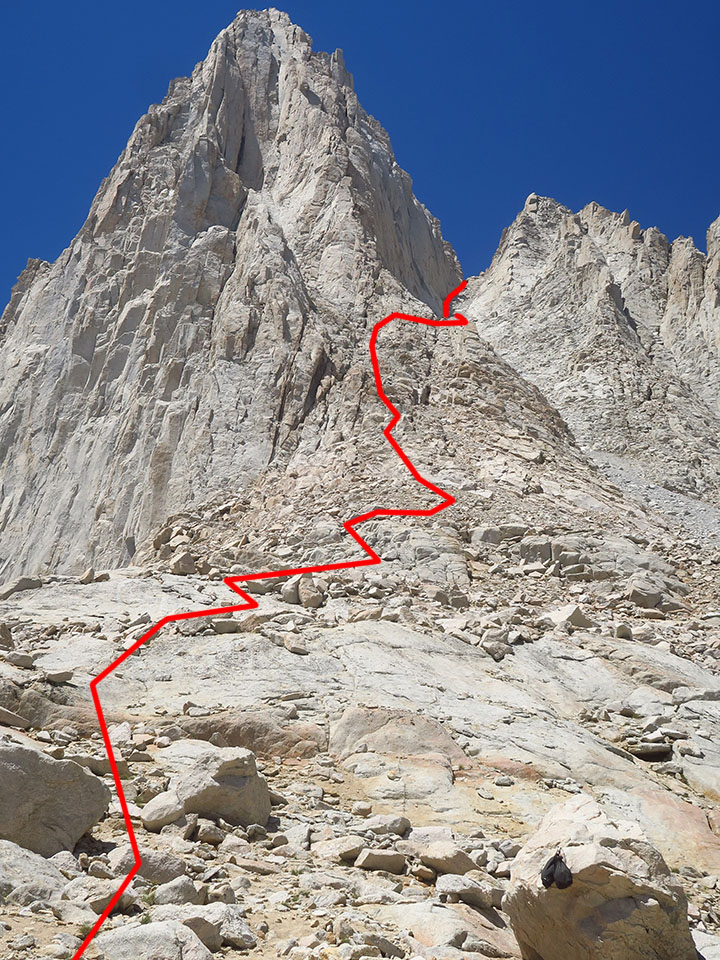 [My approximate route up from Iceberg Lake]
12:15-2:30pm
: The Chute. Yes, it took me over TWO HOURS to get from Iceberg Lake to The Notch (1500' of climbing over about half a mile). I didn't take any wrong turns or get stuck; I didn't encounter any snow or ice; it wasn't even really 3rd class; I was just sloooooooooow. Up until this point, I'd been feeling OK about my pace; when I realized how much time I'd spent on this stretch, I started getting grumpy.
(By the way, I discovered that the "stay left" advice applied pretty much ALL the way up to The Notch; even after the rock chute and the scree chute merged about 2/3 of the way up, the left side always felt safer.)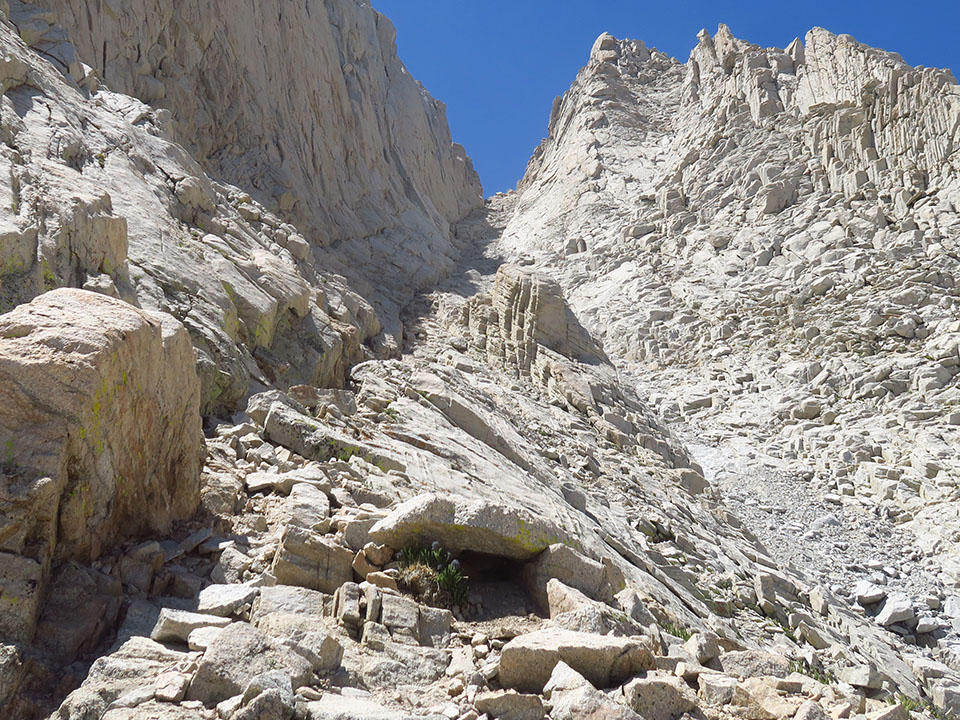 [The view from about halfway up to The Notch. At this point, the end (of the chute) was in sight; I didn't know that it'd still take me more than an hour to get there.]
2:30pm
: 5 miles, The Notch (14146'). I've never stood on the southern Sierra Nevada crest before, so I should have been ecstatic about the views, but I was too worn out. I took a handful of photos and wondered what on earth that spider could possibly be finding to eat.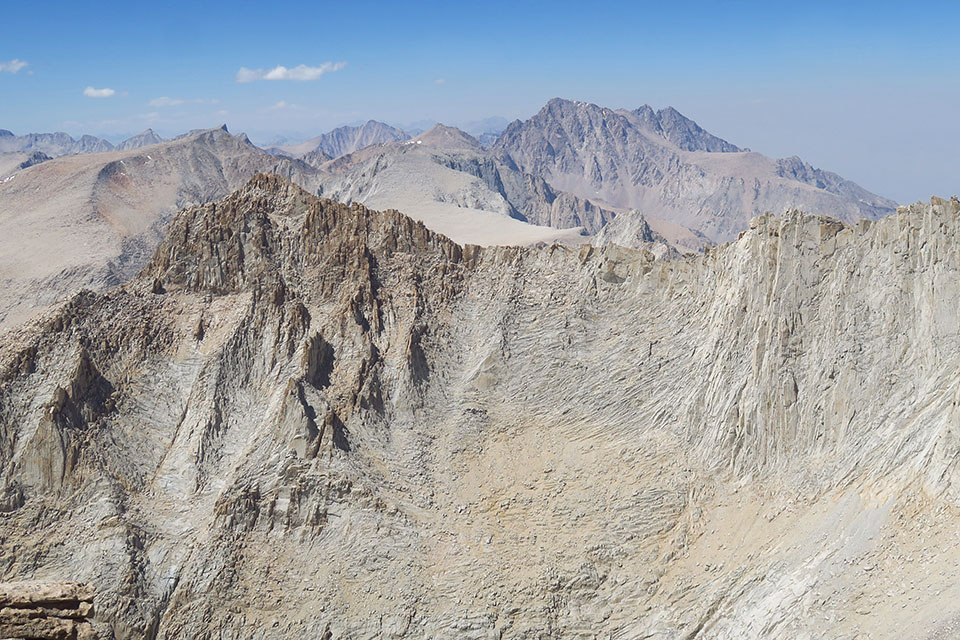 [I didn't know that the view to the north would be such a moonscape!]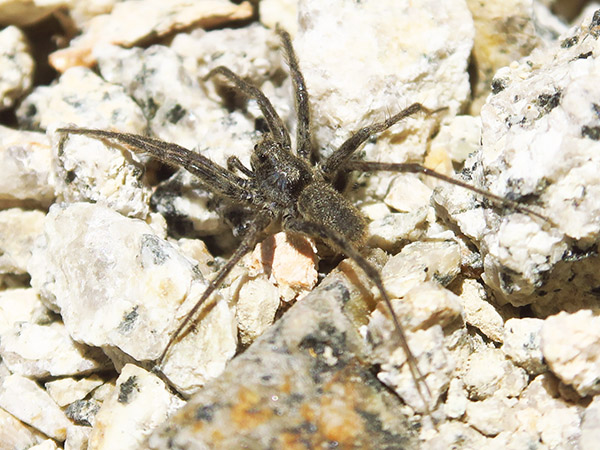 [Seriously, what are you doing here?]
2:45-3:20pm
: The Final 400. I'd heard that the first move was the toughest; I figured that if I could get onto the scramble, I could finish the scramble. That turned out to be true, but the thin air made it a bit of a struggle. (If I'd wanted to skip the steep stuff, there's an alternate route that traverses around to the north.) I started on the right, immediately went left, and then zigzagged back and forth a couple more times looking for the best route; I don't remember the details. Near the top, a couple of rock climbers above me confirmed that I was mostly on the right track.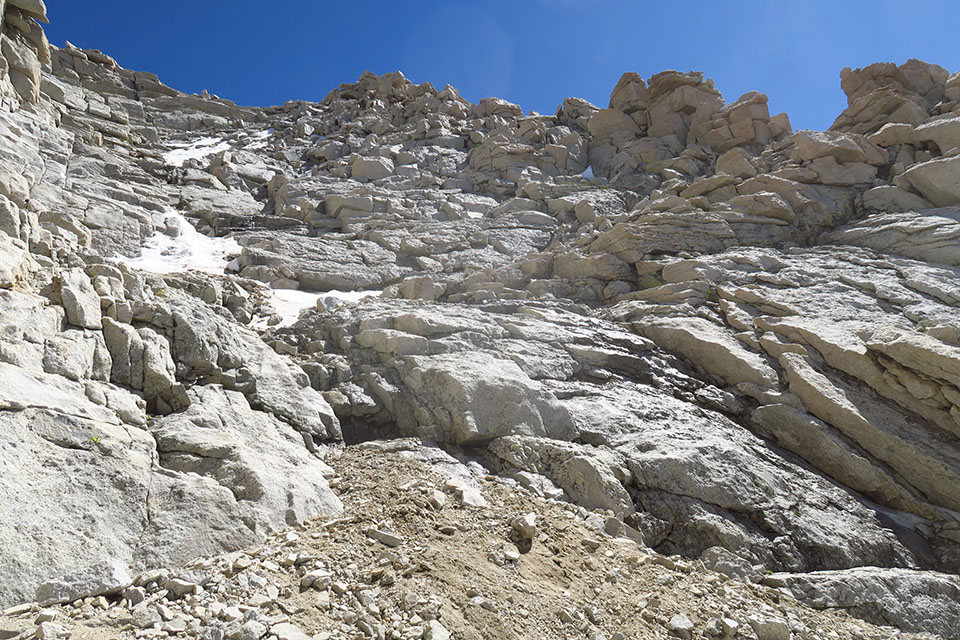 [Don't ask me which way I went up, I have no idea.]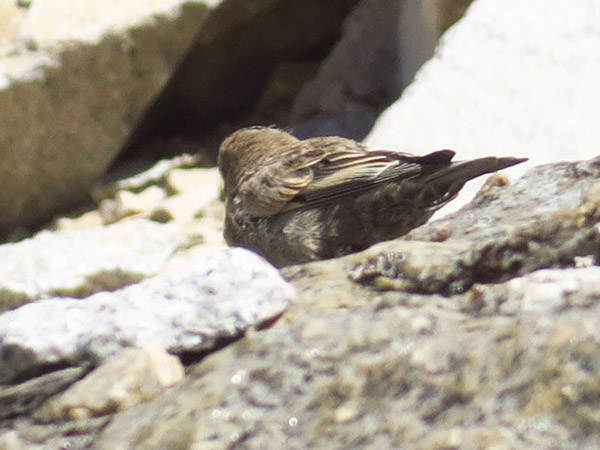 [What are the fuzzy-headed brown birds that hop around on the snowfields near the summit? EDIT: They're gray-crowned rosy finches, North America's highest-altitude songbird.]
3:30pm
: The Summit (14505'). I was confused by the half-dozen benchmarks — and two different plaques — glued to various different pieces of granite.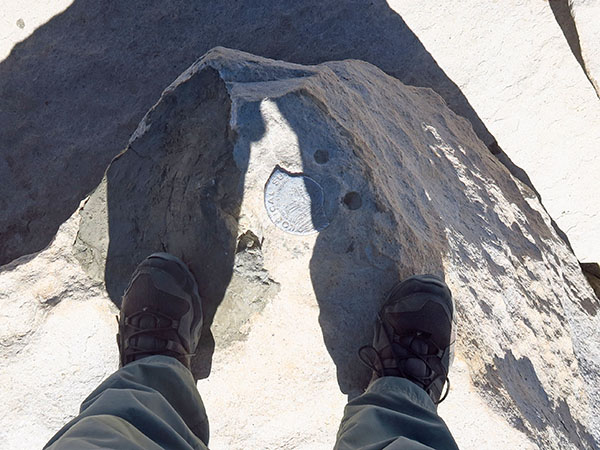 [I thought THIS benchmark seemed like the highest one.]
Normally, I would take a nice long break on the summit of a big mountain. Have a snack, take pictures in every direction, send some self-congratulatory texts to friends... you know the drill. But I knew I didn't have time, so I sent a couple of disgruntled texts, took a couple of half-assed photos, and started down almost immediately. I didn't even get any good "looking over the brink" photos because I felt too wobbly and didn't trust myself near the edges.
I briefly considered going back down the Mountaineer's Route to save time, but that was really a non-starter because I almost never do an out-and-back hike when a loop is an option, especially when it's a place I've never been before. I knew I was going to be finishing in the dark; c'est la vie, I was prepared for it.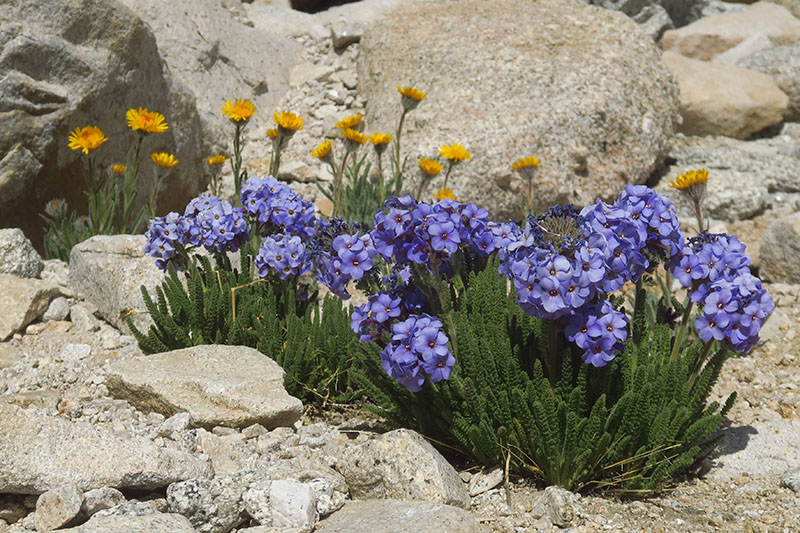 [Sky pilot and alpine-gold (hulsea)]
3:40pm
: Downward. Once I got off the rounded broken rockpile that is Mt. Whitney proper, I enjoyed the views of Mount Hitchcock and its neighbors. I was genuinely amazed that there were so many MORE mountains to the west; one of these days I'll have to explore Sequoia National Park a bit.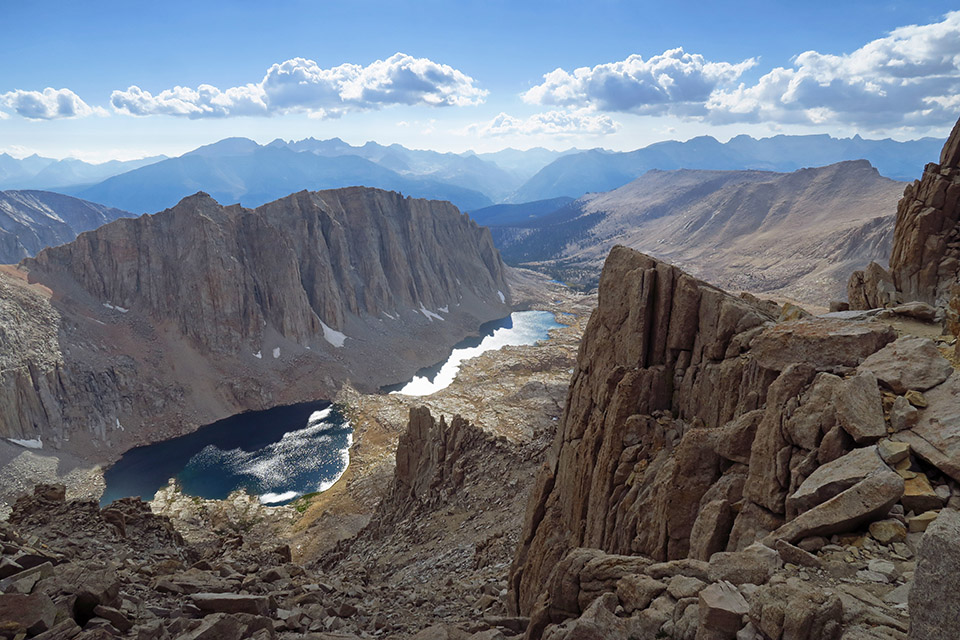 [Mt. Hitchcock & Hitchcock Lakes from near Trail Crest]
5:14pm
: Trail Crest (13600'). I'd been feeling downright mutinous about the fact that I was going to have to climb some more, but the extra 200' really wasn't
that
bad. (I can say that
now
...)
6:44pm
: Trail Camp (12010'). So many people. And one imperturbable pika.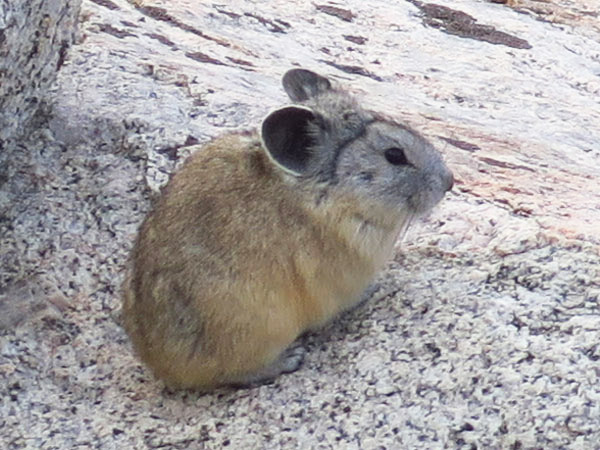 [Meep!]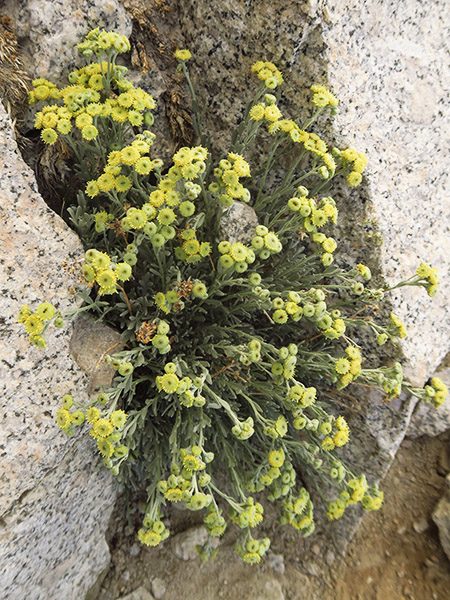 [There was lots of gray chicken-sage on the Main Trail, but I didn't see any on the Mountaineer's Route. Here's hoping I didn't miss too many other flowers in the darkness later on.]
7:54pm
: Sunset. Just before Mirror Lake, at around 11000', I stopped to chat with a couple of guys who were on their way up to Trail Camp. They were amazed that I'd done the whole thing in one day and asked "How do you feel?" I automatically said "I feel like crap" and then realized that I
didn't
feel like crap anymore! Now that I was heading downhill and was back down into some reasonable oxygen levels, I was feeling surprisingly OK.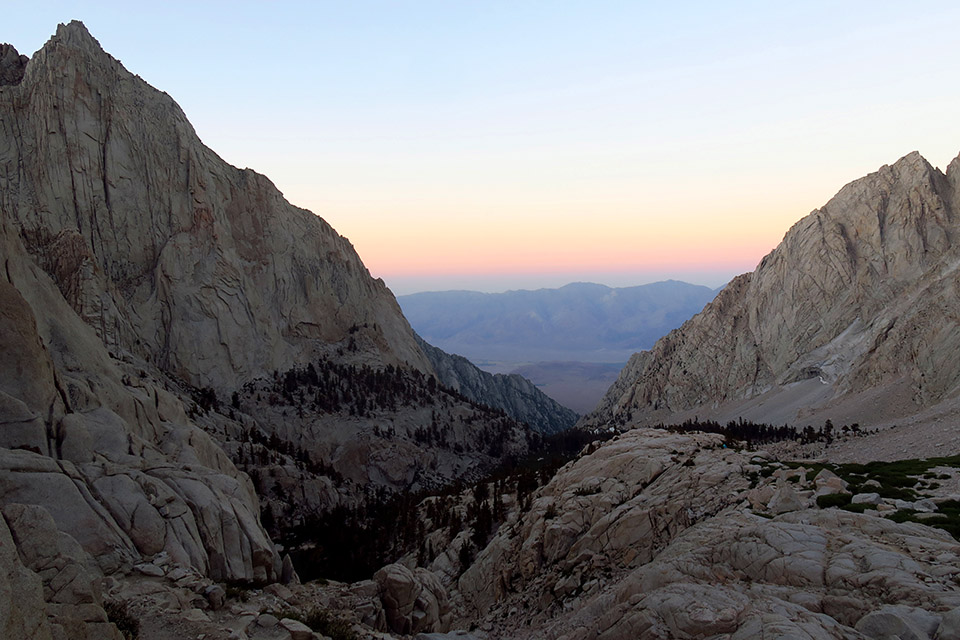 [Last chance for photos]
8:21pm
: Outpost Camp (10380'). Accidentally scared the hell out of a couple of deer.
8:54pm
: Finally turned on my headlamp, 1 hour after sunset. I'd been motoring downhill, passing people who surely thought I was insane, but I take it as a challenge to see how well I can fare in the dark. I managed the log bridges over the swampy area at 10,000' in the twilight, but then the trail got too irregular and the red light had to come on. 2.5 miles to go.
9:41pm
: Turned off down the Old Trail (8750') to save a few minutes (and because clearly, I needed MORE switchbacks in my life). In the dark, the top of the Old Trail segment was a little tricky to find, but I got there eventually, thanks to GPS.
10:00pm
: Got back to my car (8265'). GPS said I'd gone 17.7 miles, but I think it's exaggerating a little; let's call it 16.5.
11:30pm
: Arrived in Bishop (4560') to shower and crash at an Airbnb. Slept in.
Eventually I'll post a full photo album from the hike; when I do, it'll be here:
http://adamschneider.net/photos/2020-08-mw/
(Until then, there's just a map of my GPS track as a placeholder.)