Timberline hike log -- August 3rd, 2019. This is part 3 of my section hiking of the Timberline Trail in 2019.
See this post for part 2:
viewtopic.php?f=8&t=28480&p=210450
See this post for part 1:
viewtopic.php?f=8&t=28310&p=209322
Previous years I had done segments Timberline Lodge to Paradise Park (2013), and Cloud Cap to Elk Meadows (2016), but not posted a hike log for them.
I got a much later start than the last two sections: 9:15am. It was already warm and I wouldn't need more than a t-shirt the whole day. My pack was under twenty pounds and contained two water bottles for a total water weight of 48 ounces due to the availability of water along the way.
The section of trail from Elk Meadows trailhead to Newton Creek looked so different from all the winter snowshoe excursions we've done there, and I found it a bit disorienting how only the general framework seemed familiar, and most of the specifics were different. The bridge over Clark Creek being one of the backbones of this stretch -- I noticed they removed the down tree that was there last winter. Many people passed me along this stretch as I was moving slowly.
The view of Mt Hood from Newton Creek was much rockier and less snowy than just two weeks ago. Newton Creek was easy to cross with a flat log as a bridge. The cool shade of the zig zag up the hillside was welcome and I finally felt warmed up and sped up to Elk Meadows. At the intersection of the Gnarl Ridge cutoff I met the first runner of the day.
As I headed towards Mt. Hood on the Gnarl Ridge cutoff, there were a huge number of downed trees littering the forest floor. They were all pretty old, but perhaps the same approximate age? As if a windstorm had blown hundreds of trees down. This stretch seemed to take longer to cover than it looked like it would on the map, and there were few views of distant landmarks.
At the junction with the Timberline Trail, there was a knot of people standing around and I followed a group of three people from Europe onto the Timberline trail going clockwise. I would end up leapfrogging this group often.
A trail crew was working on the trail in this stretch and I thanked them. I made it down to Newton Creek quickly, daunted a bit by the view of the next uphill: the ridge between Newton Creek and Clark Creek. I located my favorite spot upstream by a small cascade and filtered the cool glacial runoff water.
My GPS said it took five miles to get here and pick up where I left off last time. Crossing Newton Creek for the second time this morning was a little more challenging as the rough bridge formed by three parallel small branches felt a bit loose but overall it was not bad and I headed uphill. Fortunately the trail did not go up the steepest part of the ridge but zigzagged into the trees and a nice view of Mt. Hood was to be had just west of the junction with the Newton Creek trail.
The descent into Clark Creek canyon was cut into a barren rocky slope but this provided some amazing views of Mt. Hood.
View immersive 360 VR photo panorama from this location:
https://www.vrlog.com/360/descent-to-clark-creek-nr-1/
I was fortunate to have a beautiful viewpoint with a sculpted dead tree all to myself for long enough to shoot all the pictures and panoramas I wanted.
View immersive 360 VR photo panorama from this location:
https://www.vrlog.com/360/descent-to-clark-creek-nr-2/
The triplet of Europeans leapfrogged me again but only up to the first braid of Clark Creek where they choose the harder upstream crossing.
As I made my way across the remaining braids of Clark Creek, I noticed dozens of people descending into the canyon from the way I had come. I sped up a bit to maintain some trail tranquility but that was futile as the next stretch under ski lifts had the most clumps of people all day, many of whom were confused about where they were and also didn't seem like they had ventured that far from their vehicles. I came to a waterfall which actually seemed the most dangerous of all the crossings as a slip on the lower and first obvious place to rock hop might result in being carried over the falls.
The wildflowers on this day were simply amazing. One field of flowers stopped me in my tracks, and I paused for a welcome snack while absorbing their beauty.
View immersive 360 VR photo panorama from this location:
https://www.vrlog.com/360/meadow-above-umbrella-falls/
There were lots of meadows in this stretch along with small cascades of tiny streams.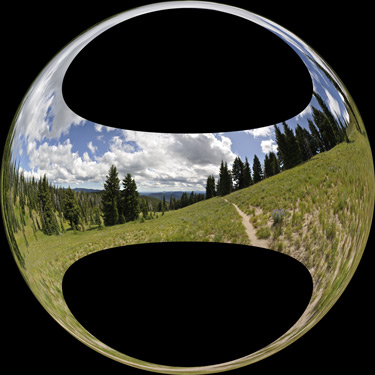 View immersive 360 VR photo panorama from this location:
https://www.vrlog.com/360/mt-jefferson- ... ell-creek/
One meadow with Mt. Hood in the background had a sea of white wildflowers like small cotton candy which I'd never seen before. After crossing some dirt roads, finally the trail started to descend. There was little warning before the trail came to an amazing cliff-top viewpoint of White River, and the contrast with the lush green that I had just experienced could not have been more severe.
I'm much more familiar with White River in winter and was not prepared for the bleak and sunbaked fields of rock. There were multiple cairns marking different places to cross. I got across the eastern-most fork and then noticed how much more murky the western fork was, so I retraced my steps to the first water which was amazingly pristine and clear. I filtered and processed both my water bottles and returned to the crossing. I felt very sluggish as the unrelenting heat radiated from the rocks and there was no breeze to mediate it.
I was glad the Timberline Trail did not follow the winter trail up to Boy Scout ridge which is exposed and steep. A short while later I was up on the ridge and trudging through an extremely sandy trail. The PCT soon joined in and it got even sandier. However the views of Mt. Jeff and Mt. Hood were inspiring. I was a bit surprised to see no humans between the east side of White River until less than a mile from the Lodge.
View immersive 360 VR photo panorama from this location:
https://www.vrlog.com/360/timberline-tr ... ite-river/
The home stretch to Timberline offered some pleasant breezes, good views, but a persistent uphill slog in the sand. No PCT through hikers came by but I met a couple guys who were resting under a couple trees literally 1000 feet from finishing a backpack of the whole Timberline. After a pleasant chat with them, I marched on and started running into people who had just left Timberline Lodge for a late stroll.
Getting to where I was uphill from Timberline energized me and in the final few feet I didn't notice how tired I was. My GPS said 13 miles and 3700 feet of elevation gain, but there was half a mile of warming up at the trailhead which I'm not counting, so it actually was 12.4 miles and 3500 feet of elevation gain.
It was quite a luxury to be able to do a one-way section, as I had a ride home from the Lodge.
I'll add some of the "single shots" that I took later. So happy to have finally had a day off and found some time to write this up. Oh, and building the panoramas took some time too. All were shot with a Nikon D90 and stitched with PTgui or AutoPano Giga and exported to html5 using Pano2VR; each scene takes up about 100MB on my server--these are high res suitable for viewing on a 30" monitor.