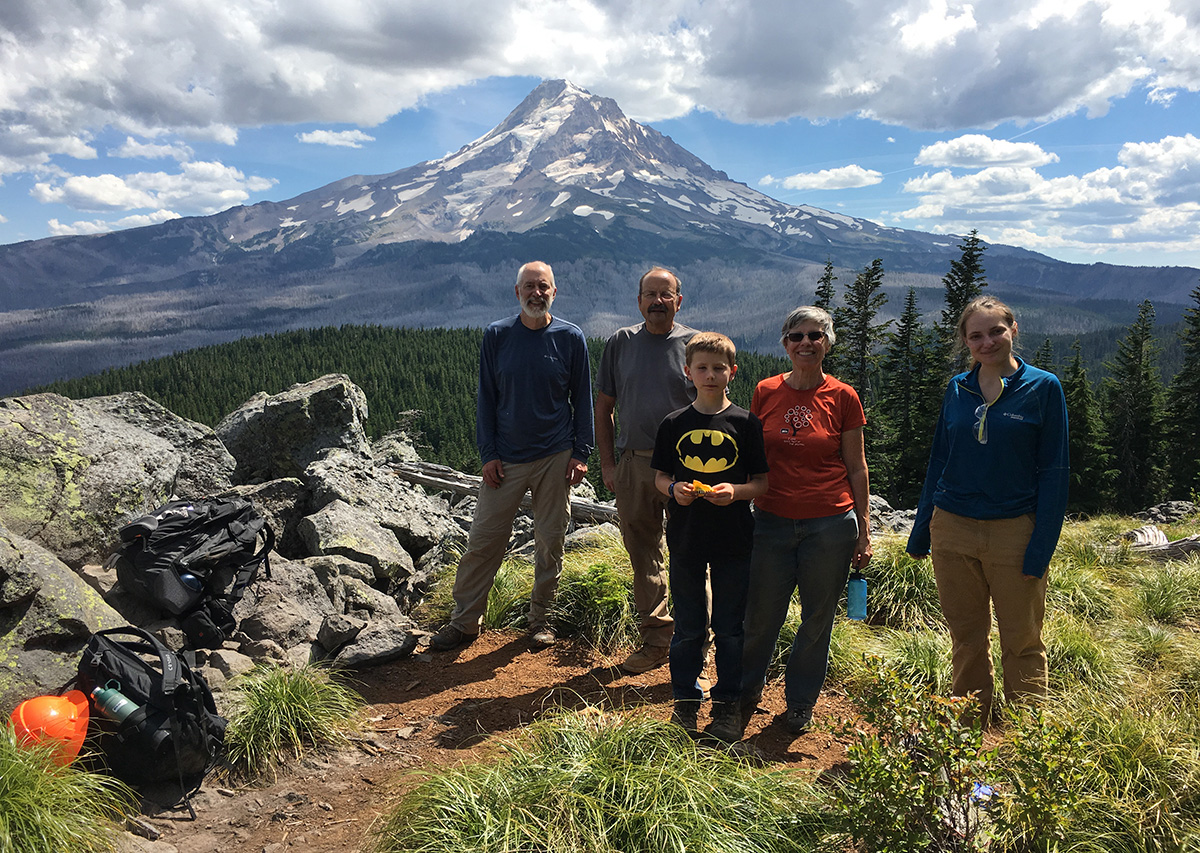 Thought I'd do a quick report on the Old Vista Ridge trail, given lots of related TKO news and a road closure that is affecting access from the west for the next few weeks. We had our second OFFICIAL TKO project there last Sunday, following the re-dedication of the trail in July. For this trip, we continued with crosscut work to saw through a few of the logs that have accumulated over the past few years. The trail is now logged out to Blind Luck Meadow, and the logs that remain to Alki Point are all step-overs -- but we hope to saw those out this fall, as well.
Owl Point is as lovely as ever, and now has ripe huckleberries all over the place -- great picking! A few black flies here and there, but mostly bug free by now. For those who have signed in to the summit box before, we've added a new log to commemorate the official reopening, but left the old log there for the memories (it was placed in 2012 and is truly fun to read -- visitors from all over the world have come to Owl Point since it was unofficially rescued!)
Some good news on the navigational front: the missing sign at the final (and confusing for first-timers) fork in the gravel forest road is back up!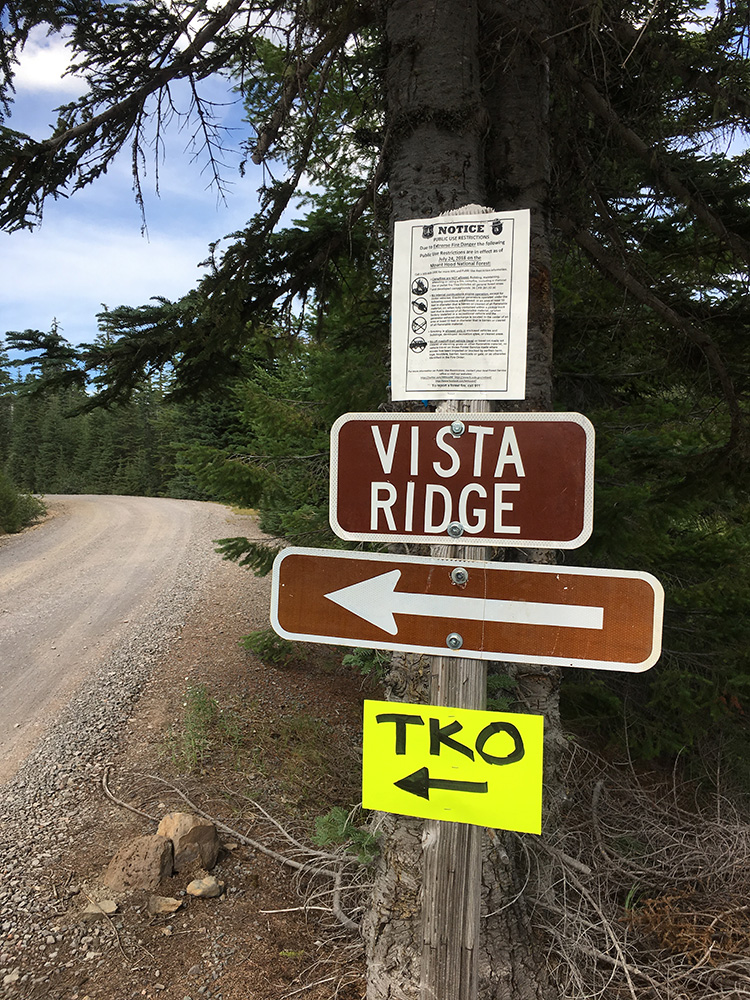 If you hike Mount Hood this weekend, note that a complete fire ban has been posted at all trailheads, including Vista Ridge and Old Vista Ridge (and if you look behind Elaine, you can see the NEW, official USFS sign marking the Old Vista Ridge Trail!):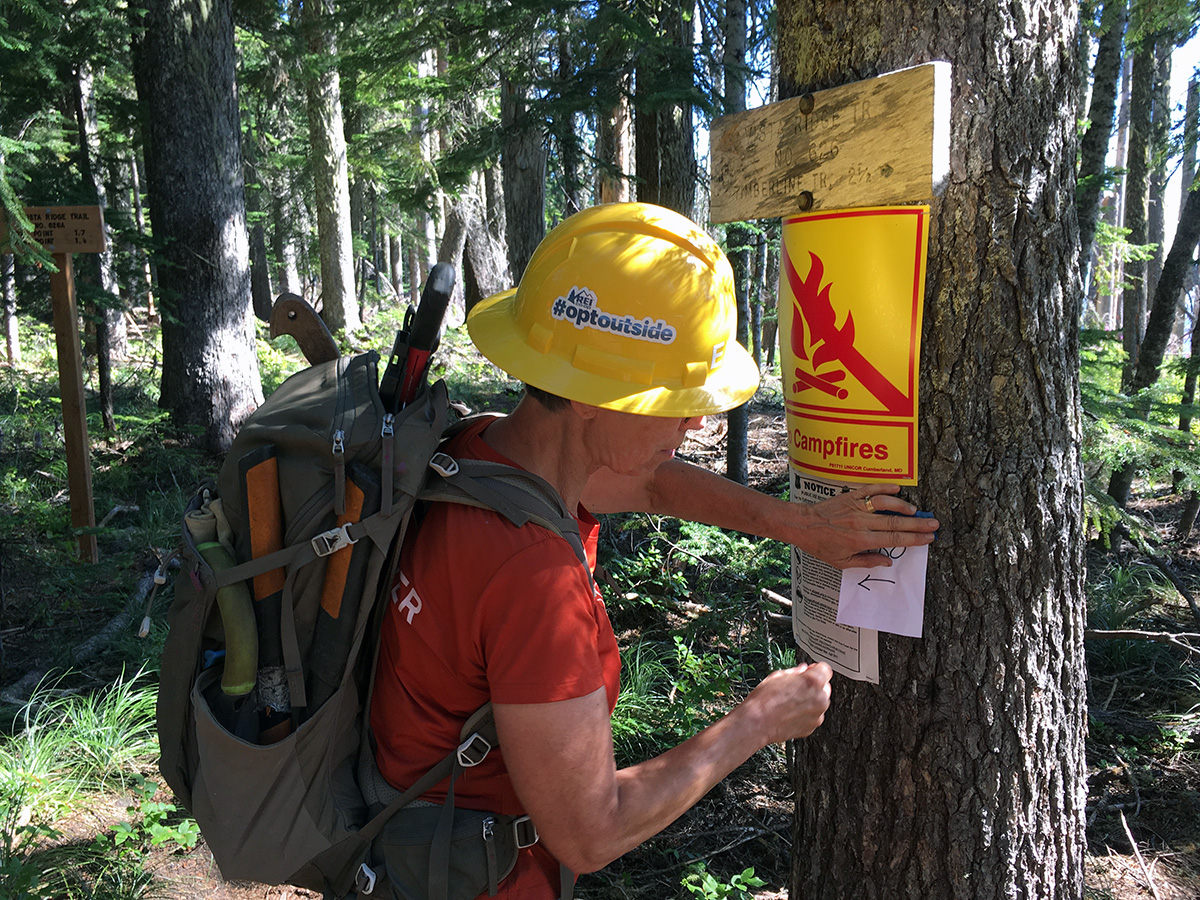 Here's the fine print: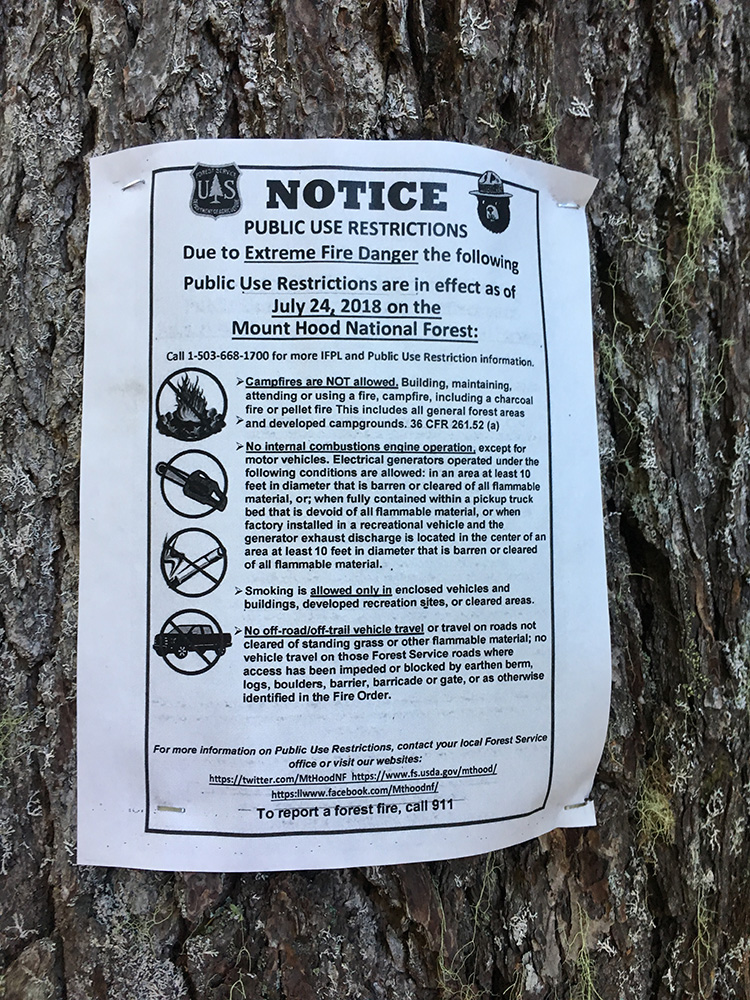 We also posted the last of the new USFS signs along the trail, making it feel very official, indeed! This is a long time coming, so it's pretty cool to see them along this old route. Here's the new sign at the Owl Point spur trail junction: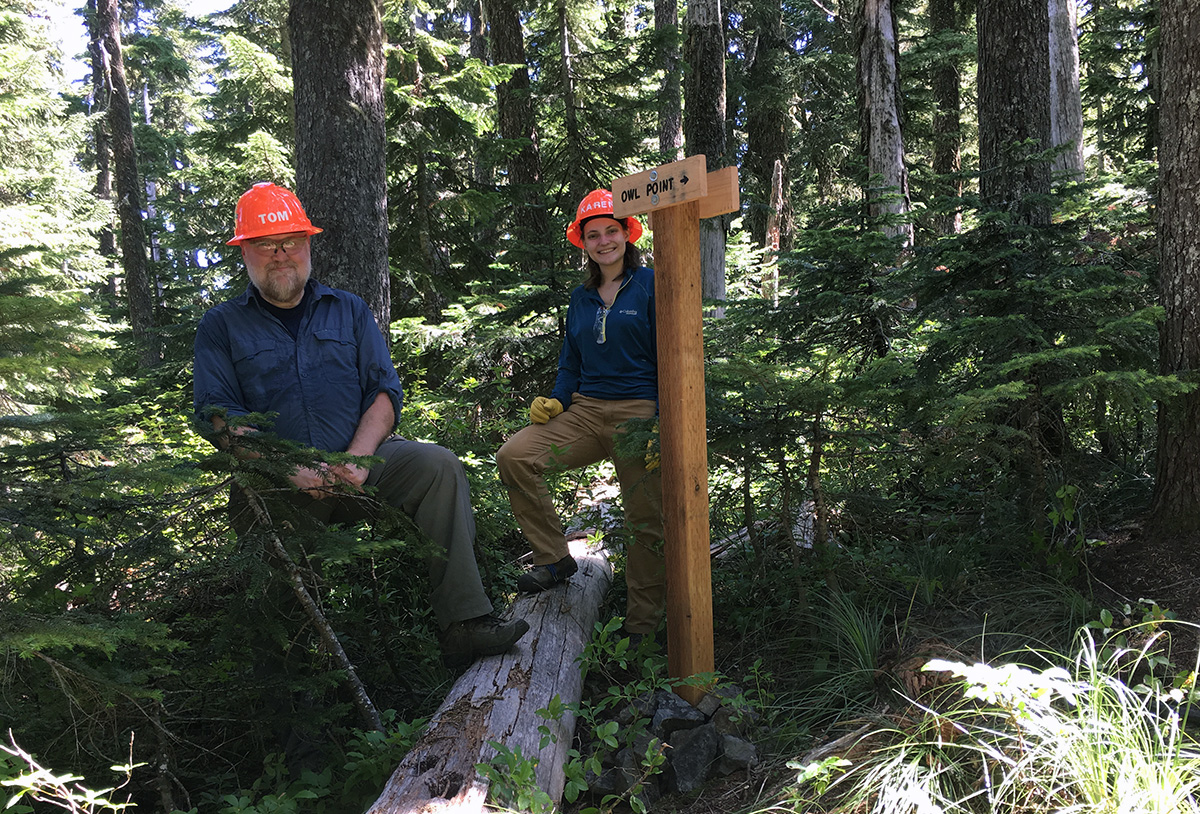 Here's the final sign in the set, where the old trail continues beyond Alki Point to Perry Lake: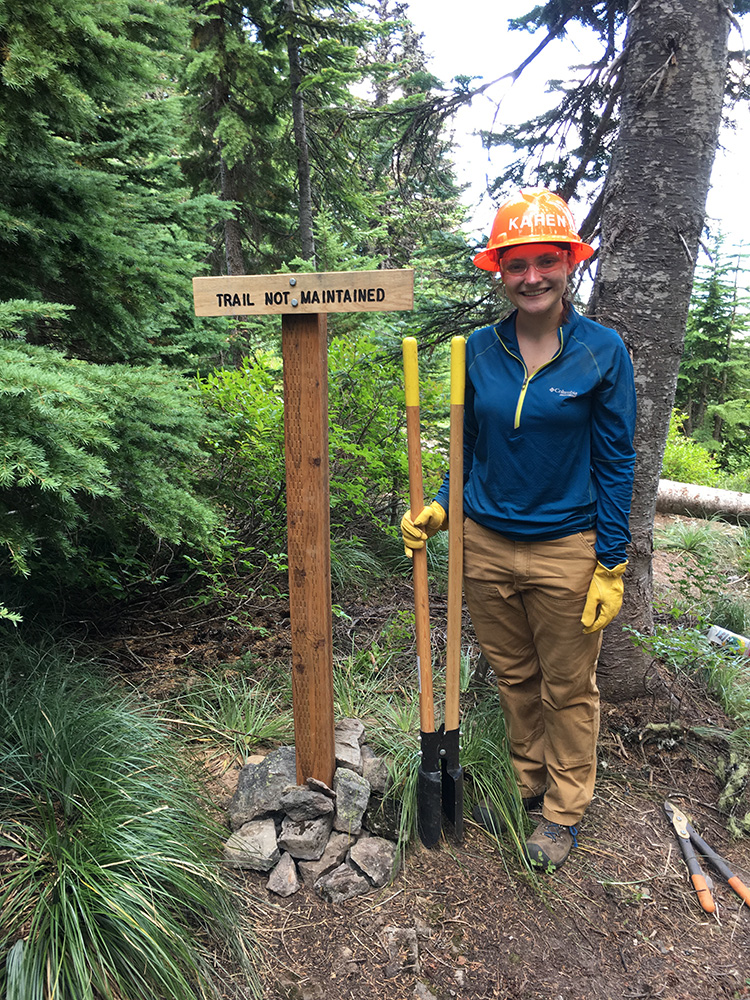 While it was hard to post a "trail not maintained" sign, the Forest Service has given us the green light to eventually extend a trail from Perry Lake to the Laurance Lake Trail, making Owl Point accessible from the Hood River side without all of the backroad driving. This is a few years off, and the USFS is basically seeing how we do with this first two miles of trail before handing off additional segments -- or building new trail. But eventually, this signpost will point to Perry Lake and Laurance Lake... gotta be patient!
Okay, so for the detour: Road 16 is closed for a culvert repair at Marco Creek, which is just up the hill from where you turn onto Road 16 from Lolo Pass Road. This means that you have to go to the other end of Road 16 (aka Red Hill Road) to get to the Vista Ridge Trailhead for the next few weeks. That's a long detour if you're coming over Lolo Pass, so my recommendation is to follow the instructions we used for our volunteer crews last weekend, and go through Hood River and Parkdale. Here they are:
________________
Vista Ridge Trailhead Driving Instructions
IMPORTANT UPDATE: The Vista Ridge Trailhead access from Lolo Pass is closed due to bridge construction on FR 16 at Marco Creek. The following are driving instructions for reaching the trailhead via Hood River and Parkdale. Travel time is approximately 2.5 hours from Portland and just over an hour starting from Hood River.
__________________
From Portland:
Drive 60 miles east on I-84 through the Columbia Gorge to Hood River and take Exit 64. Turn right at the interchange onto Mount Hood Highway, following signs to OR 35 and Government Camp. Continue south past a 4-way stop and drive 13 miles to the community of Mount Hood. Head right onto OR 281 (Cooper Spur Road).
Follow OR 281 (Cooper Spur Road) for 1.8 miles to a 4-way stop and turn right, continuing on OR 281 (now Baseline Road). Reach Parkdale after 0.5 miles and watch for a fork just beyond McIsaac's Grocery Story where OR 281 veers right to Dee. Stay straight on Baseline Road here, following signs to Baseline Road and the Hood River tour route.
Continue west on Baseline Road, soon dropping to cross Trout Creek, then turns sharply right where Baseline becomes Old Parkdale Road. Watch for Red Hill Road (which becomes Forest Road 16) on the left, soon after this turn, in 0.3 miles. Turn left onto Red Hill Road, heading west.
Soon, you will pass a fish hatchery and cross the Middle Fork Hood River on a single-lane bridge before climbing through forest on what is now FR 16. Most of this road is paved, save for a couple of short, storm-damaged sections that are gravel. There are many logging spurs connecting to FR 16, but stick to the obviously traveled, paved route, and you will arrive at the junction with Vista Ridge Road (FR 1650) after about 14 miles at a VERY large, paved intersection.
Fork left here onto FR 1650 and drive 3.6 miles to the Vista Ridge Trailhead (staying left at a poorly marked fork at 2.7 miles). Parking is tight at the trailhead, but shoulder parking is available along the final half-mile of the road access.
No passes are required at this trailhead. There are also no restrooms or water available. Be sure to bring water with you!
Coordinates: 45.443267, -121.729225
_______________
- Tom