Opening picture: LaCrosse Basin from near Heart Pass
At the end of this past July, I took a two-week, 240 mile trip across the Olympics mountains and back. There's really no simple way to explain the route, but here goes:
From Lake Cushman up the Skokomish to Low Divide;
Down to the Duckabush, up to LaCrosse Basin, and over to Anderson Pass;
Down the West Fork Dosewallips and up the main fork;
Over Lost, Cameron, and Grand Passes to Grand Valley;
Up to Obstruction Point, over to Hurricane Ridge, and down to Lake Angeles;
Into Port Angeles to resupply;
Up the entire length of the Elwha;
Up to Low Divide and Martin's Park;
Along the entire Queets-Quinault ("Skyline") Divide and down to the Quinault confluence;
Up Graves Creek to Sundown Lake and across Six Ridge back to the Skokomish;
Finally back to Lake Cushman.
It's going to take me a few trip reports to get through it all, but here's the first, from Lake Cushman to the base of Lost Pass. You can read longer, more self-indulgent versions of these at
my blog
, though I don't necessarily recommend it.
July 29, 2017
Lake Cushman / Staircase TH to Nine Stream
North Fork Skokomish Trail
I'm standing at the counter in the sunlit Staircase Ranger Station, as a young ranger looks up and down my planned route, sour faced. Dust dances in the beams of light that streak in from the arching old windows, gathering on a sun-bleached map that leans along the sill.
"Well." He smiles. "This is quite the trip you've got planned."
I laugh a little nervously. "Yea. I guess I wanted to see the whole Park."
"Well, you will." A long pause. "If you do it." He pauses again to look down. "These are going to be some long days."
I try to sigh in a way that simultaneously says, "I know" and "They're not really that long." But I probably just look scared.
I guess this is the thing about doing a long-ish hike in a place not used to long(ish)-distance hikers. Along the PCT, everyone understands. They expect people to be going for long stretches, mailing food, acting like bums. But out here, it seems less common.
The ranger looks up again. "So what I'm going to ask is: I'm going to ask you to take this to the entry gate. We don't have electricity here, or a phone. But they can call Port Angeles, and work everything out with them."
So I walk down the dirt road to the entry gate, where I stand in a line of cars, and a gruff old ranger looks at my schedule, nods slightly, utterly unfazed, and calls Port Angeles. "Hello, who am I speaking to? Hi Scott. So we've got a thing to arrange."
He reads my trip plan into the phone, adding the drainage. "So we're in the Elwha now… Now the North Fork Quinault… Now the East Fork… Now back to Skokomish…" They chat a little at the end. "Yea, it's a long trip." Then he hangs up and smiles. "All set."
They stamp my homemade itinerary with an official park stamp—there's not enough space on their permit forms to write out where I'll be every night—then wish me luck. Back in the old Station, the ranger looks wistful. "Well, wow. Have a wonderful trip. I've never seen some of those places."
Krista's coming for the first night, so I run back to the car to get her. She's been waiting patiently, watching dayhikers stream in from Hoodsport and Olympia, filling the parking lot past capacity.
It's going to be a short day—maybe ten miles total—so we lollygag a little before heading out, walk down through the two-story tents and burnt breakfast smells in the Staircase Campground to a broad bridge over the Skokomish. It's rushing and rumbling through a shaded maze of boulders, light blue and clear in the cold morning air.
Then, finally, to the trail. The route here was originally a road, extending four miles up the valley, nearly all the way to Seven Stream, but it was abandoned decades ago, and left to fade into a wide, pleasant path through lush stands of old growth fir and cedar. We walk side-by-side, and stop at every corner for pictures of the river, and each other.
After a few miles, the trail enters an old burn, now overrun by new growth and blooming fireweed. The thick woods come and go, as the trail passes through deep shade and sun-dappled clearings, stream-watered meadows and silent, stately groves.
We stop for lunch at a series of abandoned camps near Madeline Creek. The old flats and fire rings are covered by deer fern and blown down trees, but we find a perfect log for sitting, just at the edge of the creek, and stay for a while, watching it cascade beneath the trail's tall bridge.
Most of my hiking for the last couple years has been alone. Not on purpose, exactly, it's just that I've had more free time than Krista, and in any case I maybe need to work on my pitch: "So I know it's raining and there won't be any views and this trail maybe doesn't exist anymore, but do you want to wake up at four tomorrow and walk forty miles?" But it feels so good to be here together, eating with our feet in the water, seeing things through each other's eyes.
I don't really want to leave—maybe we could just stay here, maybe I could stay for two weeks, just watching the water change?—but there are miles to make, so we pack up, and scramble back to the main trail and bridge. Then it's on to Donahue Creek and another bridge, this time over the North Fork itself, where the river is narrow and deep and fast.
After crossing, the trail joins the route originally taken by the O'Neil Expedition in the late 19th Century, the first organized group of whites to explore this part of the Olympics. It took them the better part of a summer to beat a path through the salmonberry and devil's club, but we pass with no trouble, easily enough to walk looking up, at cedars that were saplings before Columbus.
The next several miles pass quickly, through glades of ancient trees and along the maple-lined river to Nine Stream, the North Fork's chief tributary, which cascades down from the still-frozen snowfields in the steep canyons between Mount Duckabush and Steel.
Crossing takes a little work—some boulders, then a submerged bridge, then some more boulders—but we make it dry, and find a camp in the shaded hills above the trail.
We eat dinner on a gravel bar above Nine Stream, watching a waterfall a few hundred feet up the creek. It's surprisingly crowded here—there are at least a half dozen other campers in the flats below—but we have the falls all to ourselves, and stay until sunset pushes us back to camp and into the tent, where we fall asleep early, holding hands. One last night together.
July 30, 2017
Nine Stream to White Creek Meadow
North Fork Skokomish, Duckabush, LaCrosse Basin, Heart Lake Way, and O'Neil Pass Trails
We sleep soundly to the rumble of Nine Stream, but our pads have a more fitful night, slipping around our new tent's silnylon floor until we wake up at first light, pleasantly piled on top of each other. "Well this could be worse," I tell Krista cheerily. A muffled mumble emerges from somewhere far below. "That's because you're on top."
Oh, right.
I move my pad from on top of Krista's face, and untangle out to make an early breakfast.
I make breakfast and start to pack up with an inefficiency that's absurd, even for me. The faster I get ready, the sooner we have to say goodbye. So I do it all in slow motion.
"Doooo yooouuu waaaannnt suuuuugaar innnnnn yoooouuurrrr…"
"Yes, but just a teaspoon."
"Aaannnnnd doooooo yooouuu liiiiiike yoooouuurrrrrrr ooooaaatmeeeeeaaaal wwweeeetttttt orrrr…"
"Dry please. And Robin, stop talking like that."
We've planned the goodbye in advance. It has to be quick, or else one of us—okay: I—will start crying. So we cross Nine Stream again, together, say a clipped goodbye, then I cross again, alone, and start back up the North Fork. Out of stubborn insistence that my plan worked, I don't start crying until well out of sight.
From Nine Stream, the trail climbs steeply, up nearly 3000' in three miles, up to First Divide. Soon the grand old cedars recede into a subalpine carpet of flowers: bright red with columbine and orange with tiger lily and everywhere purple with lupine just past peak. And there are snowy peaks everywhere. I can't stop smiling, or wishing that Krista were still here to see all of this.
From First Divide, the trail switchbacks steeply again, but down now, 2000' to the Duckabush. First past the vast meadlowlands around Home Sweet Home Creek and shelter, then back into deep stands of ancient Alaskan Cedar.
I meet an affable couple in the high meadows, but then it's all thick silence but for distant bird songs and rushing water. I won't see another person—or even see vague signs of another person—until late afternoon tomorrow.
I reach the Duckabush by mid-morning, and turn west on the Duckabush Trail, up toward what O'Neil called the "Grand Divide"—the central watershed that separates the Duckabush, Quinault, and Dosewallips drainages. Immediately, the trail disintegrates. I wade across Home Sweet Home Creek—now considerably closer to a river—then follow the trail as it climbs high above the Duckabush, alternating between stately stands of old growth and mud-soaked meadows, overgrown with devil's club and nettle, which stings my shins as I brush by.
There are several swift crossing on the way to the Divide, including the Duckabush itself, which is only thigh deep, but rushing fast over boulders and blow down. I make my way carefully through, as a group of birds land on a nearby branch to watch.
Past the crossing, the old growth fades again to meadow, and Mounts Steel and Duckabush emerge to the south, spires of winter watching over the spring.
The meadows lead to a wide glacial basin, full of a tree-lined lake—Marmot—and streams that rush down to the Duckabush. The main trail switchbacks south here, up toward O'Neil Pass, but I leave the main route and cut north, through rolling, lightly wooded hills up into LaCrosse—once Lake of the Holy Cross—Basin.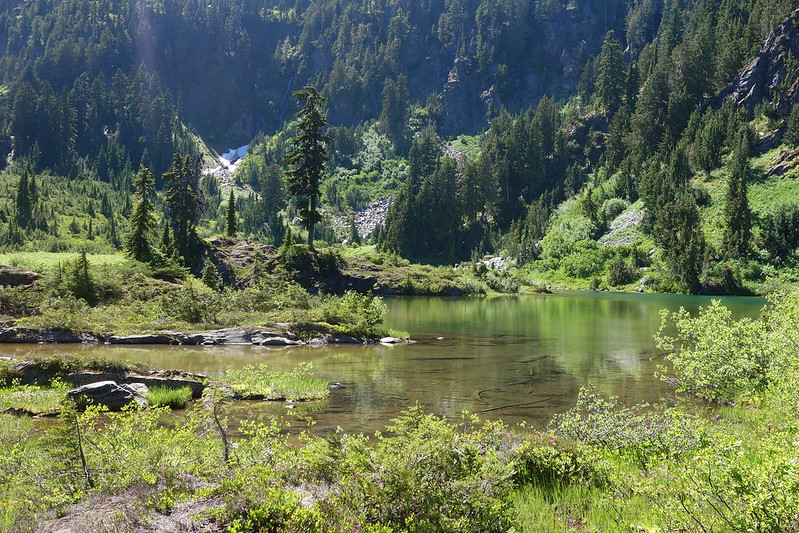 It's the most wildly idyllic place I've ever seen: Heart Lake to the south, Lake LaCrosse in the north, and in between three miles of blooming green parkland, half a mile wide and everywhere bordered by rock and snow, piled straight up against a bright blue sky. I wish so badly for Krista to be here, and for my dad, and for everyone I've ever met.
I eat a very late lunch on the northern shore of Lake LaCrosse, then worry a bit about how to get out of the basin and over the divide.
O'Neil Pass, the obvious on trail route, is now too far south to really be an option, but there are two off trail passes: Fisher's Notch, a small, steep saddle just north of Lake LaCrosse; and Heart Pass, a somewhat gentler route a mile or so south. The way to Fisher's is blocked by steep, overhung snow, so I backtrack a little to Heart.
After some wandering (and a lot more picture taking), I find something of a way trail, and follow it up to the watershed ridge. It's beautiful, and I keep looking back, with the now familiar ache of knowing I might never see a place again.
I pause again at Heart Pass, and think of my dad. I think of the trips he took me on when I was a kid, when I whined and was just generally miserable company; how he kept taking me, kept cheerily waking up at four to cart an ungrateful kid up to the mountains.
It's the strangest thing, being given a gift that you only fully appreciate twenty-five years later. People always used to say, "You'll understand when you're older," when what they really meant was "I'm older than you and I think I understand better than you." Like most things adults said, it was nonsense. But my dad never said that about hiking. He never told me that I'd appreciate it later, or even that I should appreciate it more in the moment. He just kept taking me, kept waking up at four to drive, kept staying out for sunset and getting up early for sunrise, kept rubbing his hands together in excitement at vistas and observing a two-hour cocktail hour before dinner.
The west side of Heart Pass is just straight up terrifying: an eroded set of steep, braided paths over tangled blowdown and near sheer snowfields. Most of the time, the only handholds are roots or the trunks of stunted trees.
I stop for a break halfway down, and the rock I'm standing on gives way, sending me slipping into a knot of broken branches. I only tumble maybe five feet until I grab a root to stop myself, but I'm almost inoperatively scared and shaky afterward. By the time I make it back to proper trail, my hands are visibly trembling, and I have to sit for a while to pull it together.
Far below I can just hear the East Fork Quinault rumbling down to Enchanted Valley. The sun's just setting behind the Burke Range, turning Mount Anderson the most remarkable shade of blue. But I barely see any of it. I sit in the middle of the trail for fifteen minutes, cross legged with my head in my hands, just focusing on breathing, until I feel vaguely normal again.
But then it's most beautiful evening, walking through sunset meadows as the light slowly softens. There's still steep snow here and there, but nothing like before, and the creeks and blooming flowers are so gorgeous, I forget all the trouble.
I'm rambling through an open, sidehilling section of trail, humming tunelessly to myself, when I hear a sort of thunder to the left. My first thought is an avalanche, but that makes no sense: I'm on snow, and it's not moving, and in any case there's nowhere near enough of it to have a respectable avalanche. I look down, and it turns out to be an enormous herd of elk, not so much running away as slowly packing up, not so much scared as vaguely perturbed.
"We weren't quite finished with dinner, sir."
The light fades further as the trail flits in and out of meadow and wood, sun and shadow. Mt. Anderson comes and goes, mostly comes, and soon grows to fill the whole horizon.
Just as the balance is tipping definitively to dark I reach White Creek Meadows, a blooming expanse of green where White Creek emerges from an overhung snowfield, and set up for the night in a small, cozy wooded clearing in the bottom corner, barely big enough for my tiny tent.
I eat at the edge of the meadow, watching water rush by. Staring upstream, I slowly notice three dark black shapes in the meadow above, maybe 200' from camp. Bears! An adult and two children, grazing on grass or something, utterly unconcerned with me. I watch intently for fifteen minutes, much more interested in them than they are in me, until they saunter out of sight and the dark pushes me to bed.
I dream of meandering through these mountains, but I'm a kid again. My brother's there too, and my dad. We're three dark shapes, wandering the meadows at dusk.
July 31, 2017
White Creek Meadow to Deception Creek
O'Neil Pass, Anderson Glacier, West Fork Dosewallips, and Dosewallips Trails
I wake after what feels like thirty seconds, to sunlight and the sound of sticks breaking around my tent. I look out bleary-eyed—where the hell are my glasses?—and see what look like two cats, frolicking around in the underbrush. I think vaguely that the cats are up earlier than usual for breakfast, and wonder if Krista fed them on the way to work.
But then, well… yea. I'm not at home, and those probably aren't our cats. I mean, Captain Nemo's pretty intrepid, but even he would've had the good sense to turn around at Heart Pass.
Deer, it turns out. A doe and two fawns.
The doe is utterly unconcerned with me, grazing on grass and doing her morning business. But the fawns are more curious; not scared, exactly, but curious.
I finally find my glasses—I guess I put them in my shoe for some reason?—and spend the morning sharing camp with them. I worry a little about starting my stove for breakfast, but they don't mind that either.
Watching the fawns, I think of the life they'll live here. If they stay in the Park, they'll get to go on almost like they used to, before the trails, or O'Neil, when wilderness was just the default state of the world. And if they stay up here, they probably won't have to deal with too many people, either: me, maybe the occasional long-distance hiker, but most nights, this meadow should, this whole world, should be theirs.
After our breakfast, the deer eat and run, and I follow suit soon after, down to the East Fork Quinault, then up to Anderson Pass.
The trail first travels high above the Quinault's rapid roar, then descends to cross several small tributaries, only to switchback up again, now through overgrown paintbrush and scraggily, rock-strewn stands of silver fir. The river frays and braids at its headwaters, split into half a dozen whitewater creeks.
Anderson Pass itself is sort of underwhelming: just a couple dusty pools and an ancient camp. But beyond, through the trees, there's the West Fork Dosewallips, rushing its way through the steep, rocky valley that separates Mts. Anderson and La Crosse. And above, creaking out of sight, is a cluster of glaciers—Anderson, Eel, and Hanging—central sheets of ice, sliding down the headwaters of three rivers.
I'm making good time, and so take a side trip up to the base of Mt. Anderson, switchbacking through the flower-filled meadows that hang below Anderson Glacier's lateral moraine.
On top is a half-empty basin, once filled by the glacier, but now mostly a lake, and boulders, pushed to the edge of once was.
I climb the terminal moraine and eat breakfast, staring down the Quinault's deep cut valley, winding almost all the way to the ocean.
Back down at the pass, the path continues north, down the West Fork Dosewallips, first through subalpine meadow, then increasingly into old growth, which fades from thin to thick as the trail descends a glacial step to Camp Siberia.
The tread here is bizarrely bad: full of blow down and minor slides, where streams have cut their way through the trail. Then a full on avalanche, where snow has seemingly sluffed from East Peak and broken a way through the trees.
After the first crossing, the way eases into ancient stands of Douglas fir, the roots and rocks now replaced by a thick coat of deep green moss. And time softens too—easy miles in the early afternoon shade.
I walk in a sort of wooded haze: down more glacial steps, twice more across the river, and by several old camps, spread out along the banks. By mid-afternoon I'm at Dose Forks, where the West Fork flows into the North.
I lunch along the river, under a bridge with my feet in the water, then reluctantly start back up, the main (North) Fork this time, climbing high above into still, shaded woods, punctuated only by the occasional stream rushing down from Sunnybrook Meadows or Mt. Mystery, and the distant stirrings of deer, up in the hills.
Camp tonight's a small, flat perch above Deception Creek, overlooking a large group camp of boyscouts. They're the first group I've seen all day, and it's weird to watch: the adults are all officious efficiency, and the boys seem exhausted.
I wonder what it feels like for them. Is this a good time, something they'll remember fondly some day? I watch them file down to the river, one by one, taking turns filtering water. Then they line up their identical bear cans before disappearing into their identical tents, beating the sun to bed.
And I think of my dad, sitting in camp in an old ripped t-shirt, making cocktails or dinner on his terrifying old stove, insisting on a late-night ramble to see the stars, lying out in the middle of a meadow until we're all half asleep.
Well after dark I scramble down to the river, for some water, and to soak my feet, and maybe to read a little or have a cocktail along the rapids. After a few minutes I'm joined by one of the scouts, his headlamp dimmed, out I guess for a little extra water, or maybe just a secret stroll.
He asks a little stiffly about my trip, and I tell him. "Where are you camping tomorrow?" I tell him I've got a permit for Grand Valley, but that I'm considering sleeping at Grand Pass if the weather's nice. "You don't know where you're camping tomorrow?" I tell him that I don't—that I sort of like making it up as I go along—and his expression softens.
"Is there an official campsite up there?"
"I don't think so, but there's probably a clearing big enough for a tent."