I spent the Fourth of July weekend rambling across the Gorge from Angel's Rest to Defiance, summiting the ten major named peaks - Angel's, Devil's, Larch, Nesmith, Tanner Butte, Indian Mountain, Chinidere, Tomlike, Greenpoint, and Defiance - on the way.
Opening picture: looking down on Eagle Creek, from near Indian Mountain
I've been dreaming about this trip for a long time - much longer, in fact, than I've been even vaguely capable of doing it. When I first got back into hiking three or four years ago, I would marvel at
Sean's big adventures across the Gorge
, the various Loony Machinations, and the long hikes people were seemingly always taking in the Gorge. Meanwhile, I struggled with 10 mile days. But I knew I wanted to go longer, and I worked really hard to get there. I don't think there's any "right" way to hike, but now, after a few years, I'm so thankful to have a body that can do it. And I'm also thankful to everyone here whose done so much to spread the word about these trails, and the possibilities they create.
July 1: Angel's Rest TH to Tanner Creek
Angel's Rest, Devil's Rest, Larch Mountain, and Nesmith Point
Krista dropped me off at the already full Angel's Rest Trailhead just after seven, and I set out, up through light rain and thick clouds. I've never been to Angel's Rest in summer - it's always been a sort of winter hike for me - but it was just gorgeous: a thousand blooming flowers, and a thousand shades of green. The views up top were... subdued, but no matter.
Foxglove was a bit brushier than I remembered it, but easy to follow all the same, and utterly charming in the mid-morning fog.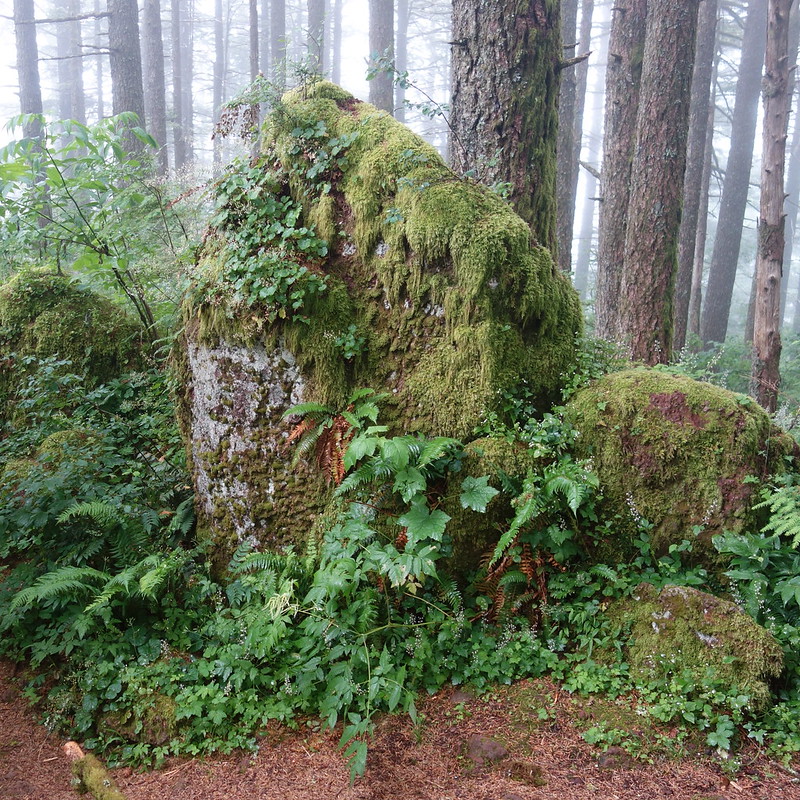 From Devil's Rest, I headed down to Multnomah Basin Road, then trundled down to the creek for a quick breakfast between the forks.
The Larch Mountain trail was broad and beautiful as ever. I hadn't really seen anyone all day, but a couple miles from Larch Mountain I started seeing people out for the day: first a trickle then a torrent, all smiling, looping down into the crater from up top. I think my favorite was a group of four - two parents, each with a kid on their back.
I'd been walking through fog all morning, but just before the top the trail popped out above it. Sherrard Point was packed, but I hung out for a while all the same, eating Starbursts and watching the peaks peek over the clouds.
The upper Oneonta Trail was similarly packed, but after turning off onto Bell Creek, I didn't see another soul all day. I've always loved Bell Creek, but this was my first time in summer, and I was a little surprised by just how brushy it can be. The first mile was lovely, but soon it was choked with Devil's Club. The trail was definitely still there, somewhere, but it sometimes took a bit of faith to see it.
Still gorgeous, though.
After the Horsetail junction, the walking got easy again, across several forks of Horsetail Creek, and up through the open woods toward Nesmith Point.
I love the views around Yeon Mountain.
And I love the views from Nesmith, too, even if they require a little more neck-craning to get.
I got to Nesmith around five, and decided to push on, down to Tanner Creek, or at least to Van Ahn Rim. The Tanner Creek drainage poses the only real difficulties of this route. There are a couple nice camps just east of Moffett Creek and the powerlines, but then the next good camping is all the way down to Tanner Creek and back up to Dublin Lake. In addition, the trails in the Tanner drainage are in uniformly rough condition. So I went down with the idea of bivying somewhere along Tanner Creek, though, if you're less pressed for time (or more particular about where you stay), it may be best to camp either before or after.
In any case
, from Nesmith, I rambled down the Moffett Creek Trail, as it faded in and out among beargrass and brambles.
I love the stretch just east of Moffett Creek, through powerline meadows and to the rim of Tanner's massive canyon...
... even if the trail left a little to be desired.
The trail down to the creek was generally much better than I thought it'd be, but there were a few rough spots. And the trail was essentially gone for the last thirty feet down to the water. I love this sort of thing, but also sort of worry that these trails are fading into nothing. There are so many people in the Gorge, so many overcrowded places. A few boots on the ground could do this place good.
I crossed on a couple logs, though a wet crossing would have probably been easier, then hurried through the Tanner Creek Trail, just as it was getting dark. I thought I saw fairies in the fading light, but now I think they were Mud Daubers - wasps of a sort - out for an evening something.
Camp was a pullout off Road 777, near enough the powerlines to hear their hiss through the evening wind. It was considerably more idyllic than it sounds.
July 2: Tanner Creek to Indian Mountain
Tanner Butte and Indian Mountain
I woke up Sunday morning to an absolute riot of birdsongs - overlapping, ascending, and swirling, coming from everywhere all at once, a crystalline fog of blooming, buzzing, beautiful confusion. When we talk about the beauty of this place, we almost always talk about how it
looks
- the waterfalls and flowers and distant hills. But lying in my tent with my eyes closed, just barely awake to the world, I thought about the strange gift of
hearing
it: this flowing, fleeting thing, gone the second you try to grasp it.
Eventually the sun grew strong and the bird songs faded, replaced with the steady buzz of powerlines, and I set out, back along Tanner Creek and up the Cutoff to Tanner Ridge.
The Cutoff trail's in pretty condition, all things considered - certainly better than Moffett - but there were several nests of groundwasps, which made the going somewhat more... circumspect. The trail's steep, but no steeper than (say) Ruckel Creek, and I found myself wondering again why so few people come here.
Joining Tanner Ridge, I saw my first people since turning onto Bell Creek the day before: a lovely younger couple, wonderfully excited, "just out for the day." The woman beamed: "Isn't it just the perfect day to be out?" It was, and we leapfrogged for a couple miles along the ridge, on our ways to Tanner Butte.
Just before the Butte, I scuttled off trail to take care of some, uh, morning business, and had something of an incident. I was crouched behind some trees, taking care of things, when I suddenly, and simultaneously, realized three things: (1) my spot was nowhere near as well-hidden as I thought it was; (2) my friends were about to pass; and (3) I had a terrible charley horse, which was about to make me fall over. Well... I did in fact end up falling over, and they did in fact end up passing. In that order. I tried to look up and make an appropriate face - what exactly is the right face for this situation? I tried something between earnest embarrassment and rakish indifference - but they were too kind to look too closely, and we all went our separate ways. Or, rather: they went their way, and I hid in the bushes until they were well passed.
Anyway
, I waited for a while, then rambled up to the Butte, feeling a little sheepish, but also resplendent amid the mountains. Such a funny contrast.
Looking back over Tanner Creek, the way I came...
Tanner Lake:
The Eagle-Tanner was in great condition, and I made good time through the Thrush Pond and Cedar Springs, then down to the upper crossing. The only significant obstacle was a thicket of blowdown just before the crossing, maybe an eighth of a mile long.
I crossed easily on a tangle of branches just down from where the trail meets the creek, then took a long lunch on the side, feet in the water, watching the rapids above.
Joining Eagle Creek was like merging onto a fast freeway, and it was easy walking past beautiful camps and across several streams to the Indian Springs Trail junction.
I don't know if it was the heat or the steepness or the accumulated miles or what, but heading up Indian Springs I just sort of bonked. Slowly though the views started coming, and an early evening wind came to cool things down and help me up the mountain.
There was a single car parked at Indian Springs - I'm always a little surprised that you can drive there - but the owner was nowhere to be found. I turned south on the PCT, and almost immediately emerged into beautiful, blooming, sunset meadows, stretching out above the headwaters of Eagle Creek. I'd only ever been there with clouds and rain, and it was such a shock to see the place in its best light. I sat down aside one of the massive cairns and just stared.
Eventually though the wind began to chill and the sun began to set, so I setup camp in a clearing below the PCT, and cooked a quick dinner behind a small windbreak, watching the light fade through the far, familiar hills.
July 3: Indian Mountain to Starvation TH
Indian Mountain, Chinidere, Tomlike, Greenpoint, and Defiance
I woke up Monday morning to thick fog all around camp, jumped out for long enough to decide I didn't want to deal with it, and went back to sleep. When I woke up again half an hour later, the clouds had receded, revealing a world of distant islands, just emerging in the sunrise light.
It was still early - right around six - so I decided to take a quick jaunt to the summit proper before heading out.
The trail's mostly an old road, running from the weather station to an old lookout just short of the top. It was easy walking, though I did disturb some sort of large-ish cat (!) on the way. Like Jerry says about bears: the roughest part was not being able to get my camera out fast enough to take a picture.
As with the fields below, I'd only ever seen the summit in thick fog. It turns out there are mountains!
After a couple minutes up top, I scurried back to camp and down the luxuriant trail to Wahtum Lake, where there were hordes of holiday campers, piled on top of each other cooking breakfast.
I crossed at the logs and set up in a vacant lakeside spot to cook breakfast. There were people everywhere along the shore, knee deep in the water eating sausage, throwing rocks, laughing. And there were backpackers too: a lot of families, parents with big packs and kids with whittled walking sticks.
While filtering water, I watched a couple about my age looking for a way to cross the shallow-ish section just east of the logs. I wanted to yell out that there was an obvious crossing just a little further, but it didn't seem my place, and in any case the woman seemed to know what was up. But then I witnessed the most hilarious example of Dude Being a Dude I think I've ever seen:
The man began wading in, saying grimly something like "We have to cross here, before the rapids." (Rapids?) The woman protested - "I think there's a better way just down here?" - but dude persisted, until he was up to his waist. She went around, seemingly crossed easily on the logs, and circled back. Meanwhile, he was up to his chest, hoisting his pack above his head.
He made it across eventually, after some jostling. And as I was packing up, I heard him tell the woman, sagely, that "those logs must be new."
Anyway, soon enough I was out of Disneyland, and up Chinidere, looking back on my camp for the night...
... and to Tomlike, looking up at my favorite mountain in the Gorge.
From Tomlike, I took the Anthill to Rainy-Wahtum, then ambled up the old road toward Greenpoint. Looking east from here at the patchwork of clearcuts and logging roads always makes me impossibly sad at what could have been. The Gorge got protected, but just beyond, there's this.
Soon enough, though, I was up Greenpoint, looking over at Rainy Lake and my final summit of the trip.
There are a few ways to get to Defiance from Greenpoint. My favorite is to walk down to Rainy Lake, then take the road to the upper Defiance Trailhead. Rainy was like Wahtum - full of holiday crowds - but I also met a wonderful woman, out for a while, walking from Cascade Locks to Hood and back, smiling about the strangeness of her route.
I sort of bonked on the way up Defiance - something about the heat and dust - but made it up all the same, and said hello to possibly the least scenic view in the Gorge.
Then it was just back down to the river. A whole lot of down.
The last couple miles into Starvation were ridiculous - I felt like a tape machine slowing, running out of batteries - but eventually I made it to the Old Highway, back in the land of waterfalls and easy water.
Krista and I had planned to meet at Starvation around eight, and it was just around seven, so I sat for a while at the base of Cabin Creek Falls with my feet in the water, looking through pictures from the trip. I've been on all these trails and to all these places before, but going through like this, all at once, felt different. It's like I'd seen bits and pieces, but never really seen - and heard, and smelled, and touched - it all at once, as the unified thing it actually is.
Scrolling through, I stopped at one of the summit register on top of Indian Mountain. Staring at my melodramatic nonsense, I started to tear up.