On the 4th of July I packed the car and drove to the McKenzie River area, snagging a campsite at McKenzie Bridge Campground. Then I started heading to the Horsepasture Mountain trailhead.
Doh! Guess that's not going to happen. Turns out that just that morning the Willamette National Forest had posted on their website that this road was closed due to a rockslide. So I changed plans and headed north. I wove my way through the H.J. Andrews Experimental Forest to the Carpenter Mountain trailhead. Got a glimpse of the lookout perched way up there as I drove up.
There was quite a lot of beargrass blooming at the trailhead and along the first 0.1 mile of trail. (There were at least half a dozen different kinds of wildflowers blooming along the trail, which I wasn't expecting.)
There were a few open spots on the trail providing tantalizing views to the south.
But it was mostly shaded, which was a good thing on this hot day.
This was along the trail. Anyone know what it is?
Almost there!
Made it!
I met Rob, the guy working at the lookout for the summer. I was also pleasantly surprised to run into Don Allen, from the Sand Mountain Society. He and I have corresponded a bit about the work of the SMS so it was a real pleasure to finally meet him. We sat and chatted about lookouts for awhile. Kind of fun to nerd out with a fellow lookout enthusiast.
The views up there are fabulous! Here is the tippy top of Mt. Hood:
Mt. Jefferson had some groovy clouds above it:
Mt. Jefferson, Three Fingered Jack, and Mt. Washington:
Three Sisters:
Wolf Rock:
The pointy peak just left of center is Iron Mountain. The brown peak right of center is Cone Peak. The more distant peak at center is Battle Ax.
The quirky-looking summit of Tidbits Mountain, where I would hike on Sunday: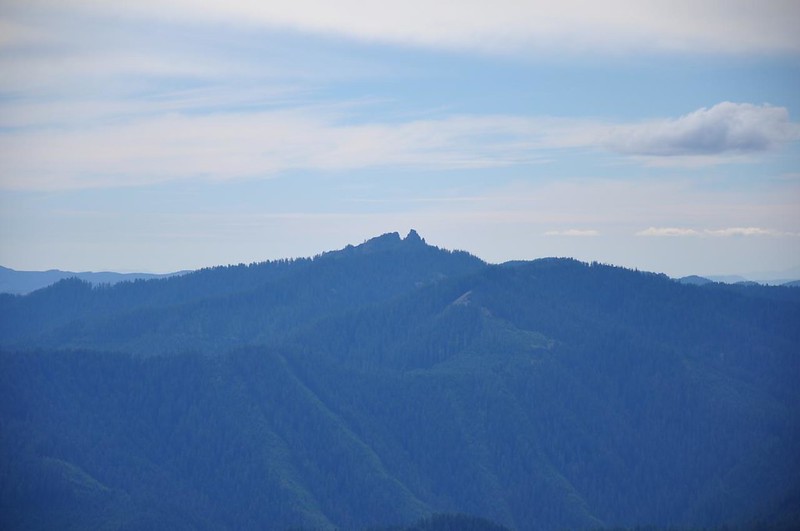 Diamond Peak:
After lingering for quite awhile I was getting hungry and it was a long drive back to the campground, so I reluctantly tore myself away and headed back down. Great little hike; highly recommended!