I took advantage of the nice weather on Friday and drove out to the Lewis River to enjoy one of the most scenic hikes in the region. The plan was to hike upriver from the Bridge TH off rd 9039 to the other end of the trail and back, mainly to the Upper Falls. The bridge TH is situated just a few miles east of Eagle Cliffs and the Swift Reservoir and offers good access to the trail with lots of river side scenery close at hand. River side scenery that on this day would have A LOT of "river" and a little less "side" with the water getting pretty high due to the recent rains. Looking back down river at a brew of rustling waters on the way to Bolt Camp Shelter: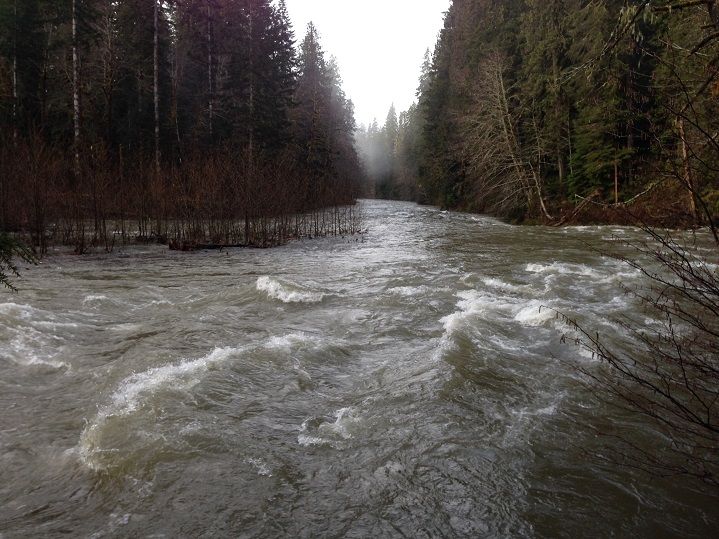 The shelter provided a needed respite to shed some unnecessary layers now that the rain had stopped. I felt a little over packed trying to run with two extra pairs of pants, fleece, rain coat, hat, gloves and rain poncho etc all packed in the bag but the warmer temps and lack of precip had me heating up pretty quick! On the other hand, I knew I would be asking for it if I had left these things at home as I was solo and Forest Road 90 was closed for winter range(deer/elk) back near where I parked the car. That of course was exciting in itself as the further I headed upstream the more the river took on a feeling of remoteness. Back to the "more river, less side" thing where the water was creeping pretty close to Bolt Shelter: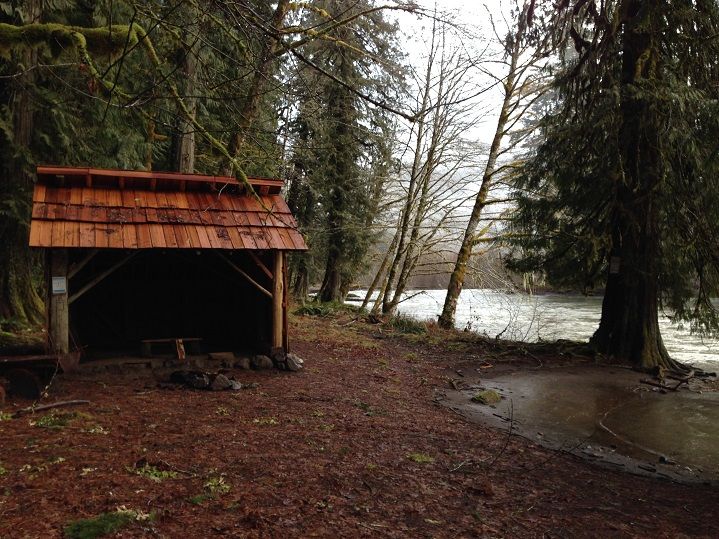 Past the Bolt Camp Shelter is one of the most amazing Western Red Cedars I have ever seen: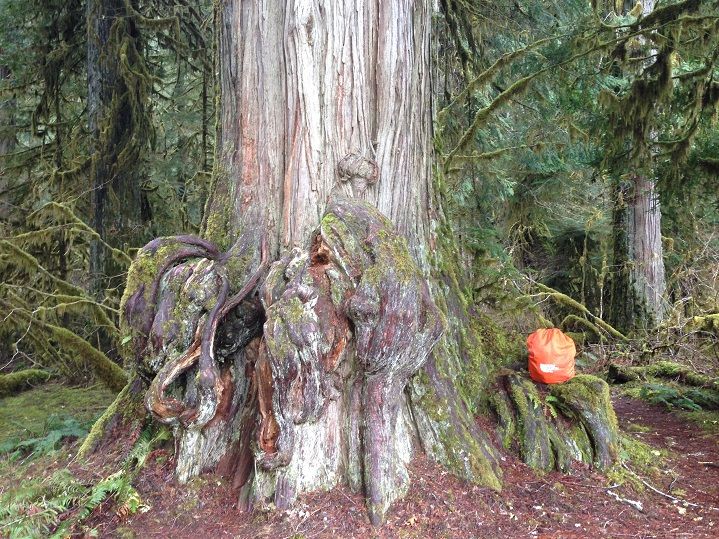 There are lots of giant Douglas Firs too:
And lots of Lichens of differing colors, shapes and sizes: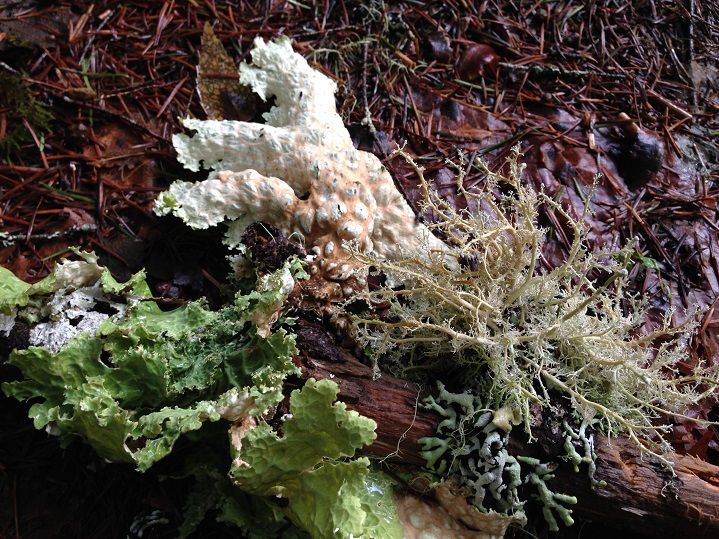 The stream crossings weren't as difficult as when Jojo and I hiked through them during a storm earlier this year but they were still going pretty strong. And still just as beautiful!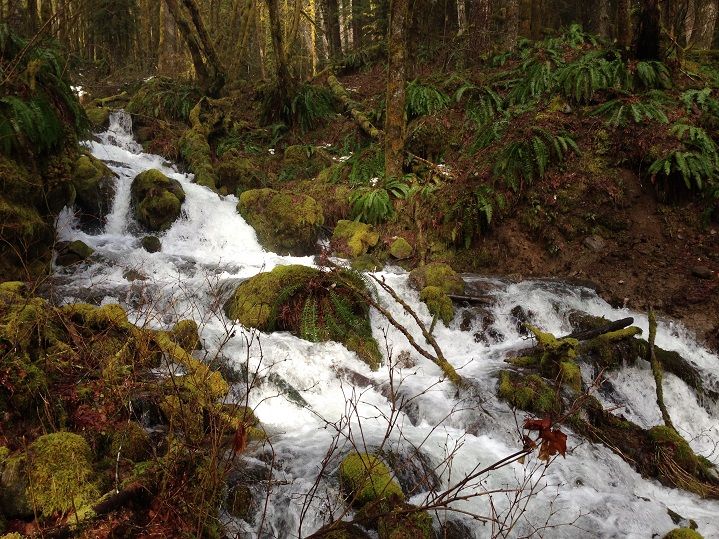 The trail crosses right above these two falls as they spill over the cliff side:
The trail crosses FR 90 about a mile and 1/2 or so from the Lower Falls near Crab Creek. Just before it crosses the road it passes over Cussed Hollow Creek on a massive footbridge:
Forest road 90 was covered in about 6 inches or so of slushy snow and about 40 to 50 percent of the entire trail had some amount of snow on it. There was next to nothing for the first few miles past Bolt Shelter but further upriver was a totally different story. The deepest snow was on the stretch on the other side of 90 where all the falls are with depths up to 1 or even 2 feet at times. Still trying to set a decent pace I went in to snow plow mode(im not a very good snow plow) and made it to the Lower Falls pretty quick: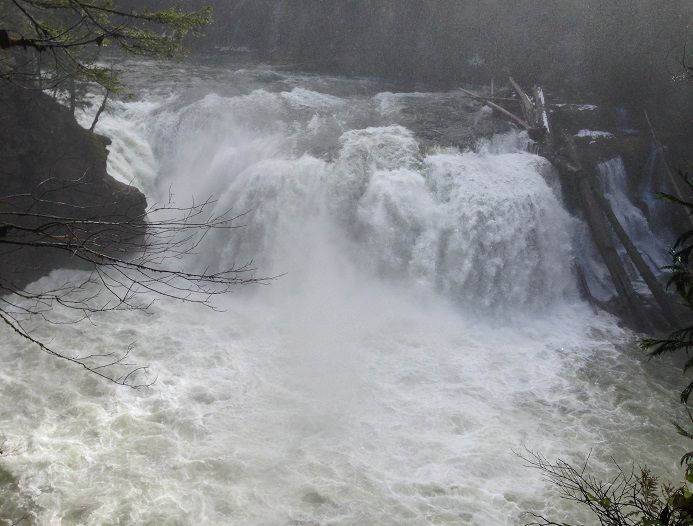 The awesome noise from the river and all the waterfalls in that stretch make for an unbeatable hiking experience. Just before reaching the Middle Falls the trail crosses over Copper Creek on a foot bridge:
Then there was the churning Middle Falls and its furious waters: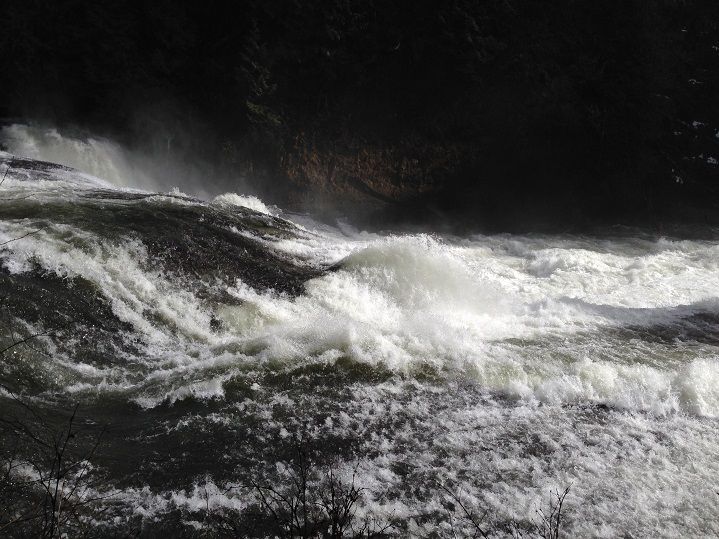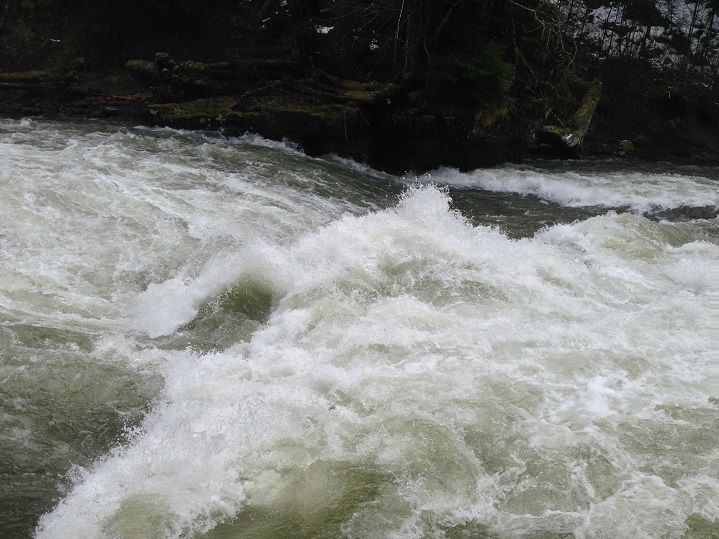 Even the canyon walls were pretty:
Just as(or maybe even prettier) was all the snow decorating the forest floor:
It was arduous at times with all the postholing: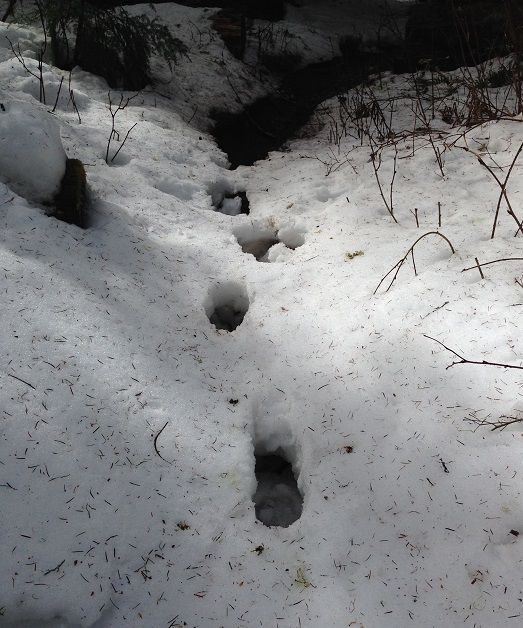 And deeper and more prevalent than what was expected: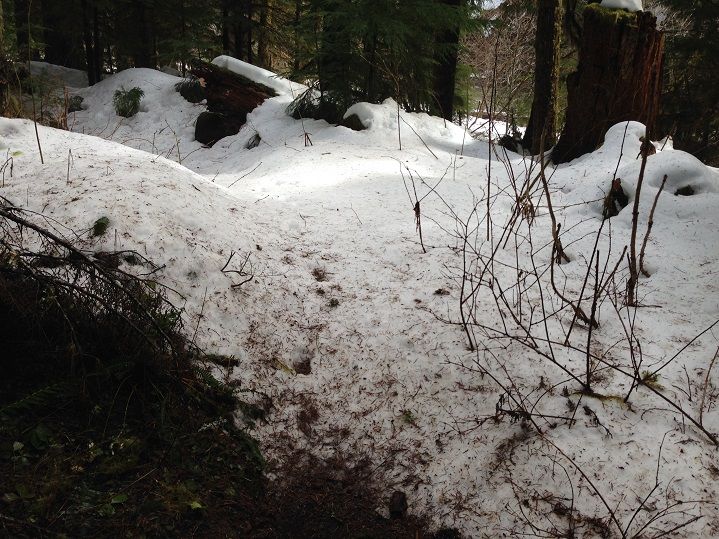 I had never been to the Upper Falls so I was absolutely stoked to turn the corner and see another amazing falls!
Alec Creek dumps into the Lewis River very close to the Upper Falls:
Past Alec Creek there is a great spot to get to the pool and enjoy the falls in all its glory! The mist soaked my face instantly and it was awesome
Large logs were being thrown around like toys: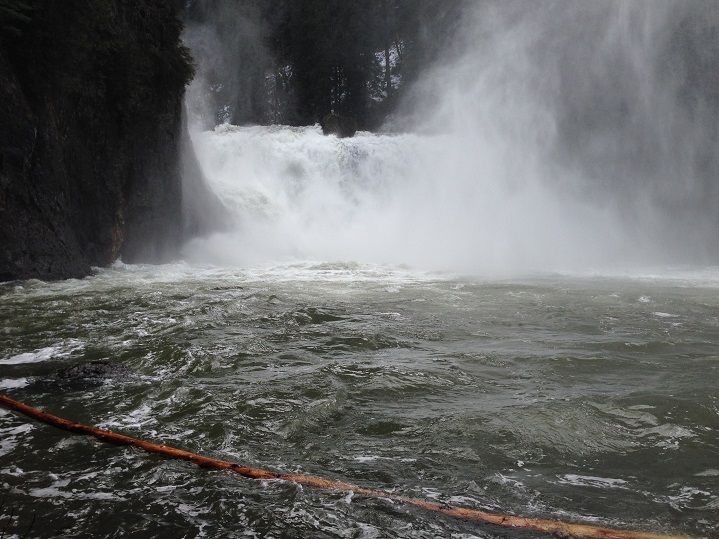 Turning back for the return trip at a falls a little ways past Upper Falls and I was back to the trail:
I have never seen so many fallen trees and sections of cut log where the heartwood rotted out. There are tons of examples of it and some of them so large a person could crawl in: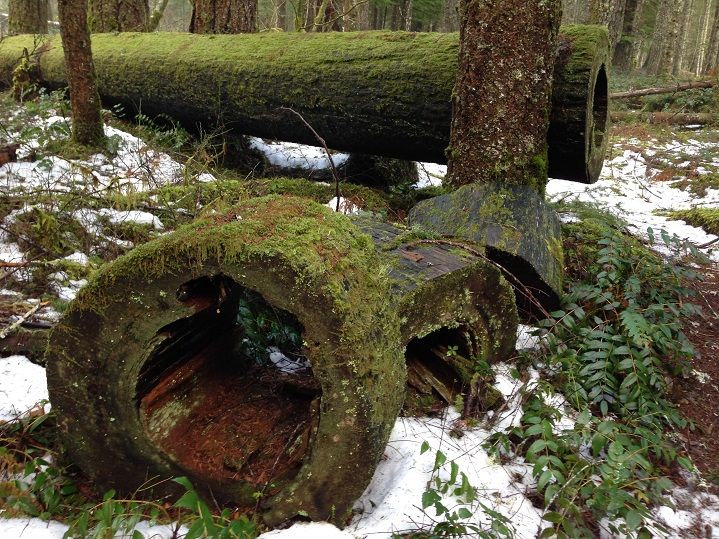 Who on PH likes Deep Forest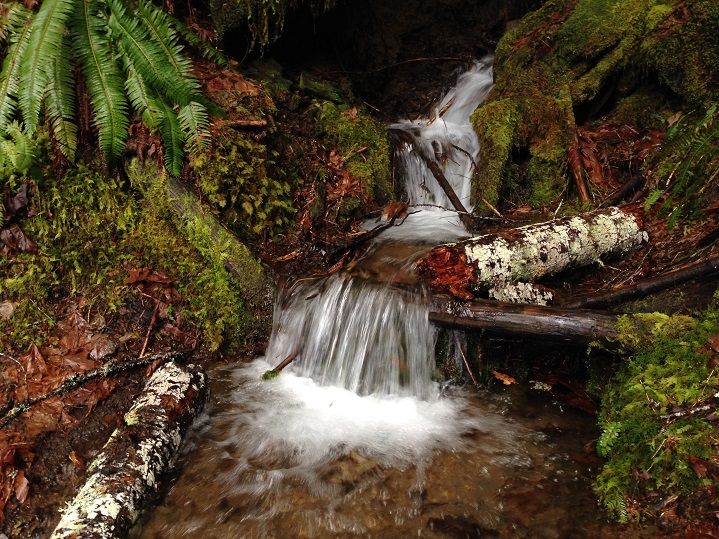 The afternoon sun felt great as it tried to peek through the tree tops and reach the forest floor: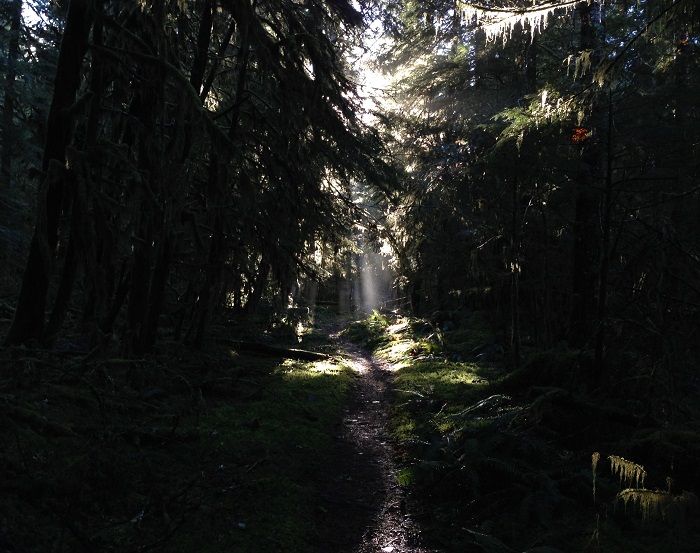 Back at the car about 30 miles and 8 hours/20 minutes later and I was really pleased with my effort after all the slow going in the snow, the creek crossings and of course my favorite part, a big emphasis on photos
I think maybe I could do it in 6 or 7 w/out all the snow but that's just talk until proven. After a few snacks at the TH the sheriff pulled in and asked me where I'd been. He just laughed and then started asking all sorts of q's about the trail and I was happy to chat with him. He also gave me a heads up that Curly Creek Road and Upper Wind River had just been plowed and were all clear as of that morning. I said thanks and headed on to Curly Creek Falls before taking the scenic drive over Wind River to Carson and then home via I-84. I like that way as opposed to the long slog back to Woodland and I-5 that I had driven earlier that morning. Curly Creek Falls was looking great with the high flow and made for a perfect rest stop after the hike to just stretch and relax:
I had to make one more stop on the way up Curly Creek Road near the McClellan viewpoint: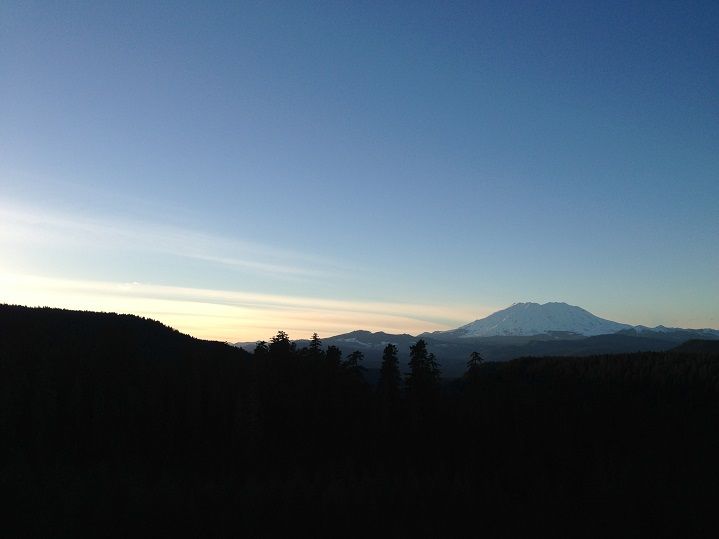 Mt St Helens really looked beautiful from this angle with all that snow! The Mt Marge back country was looking nice dressed in white as well: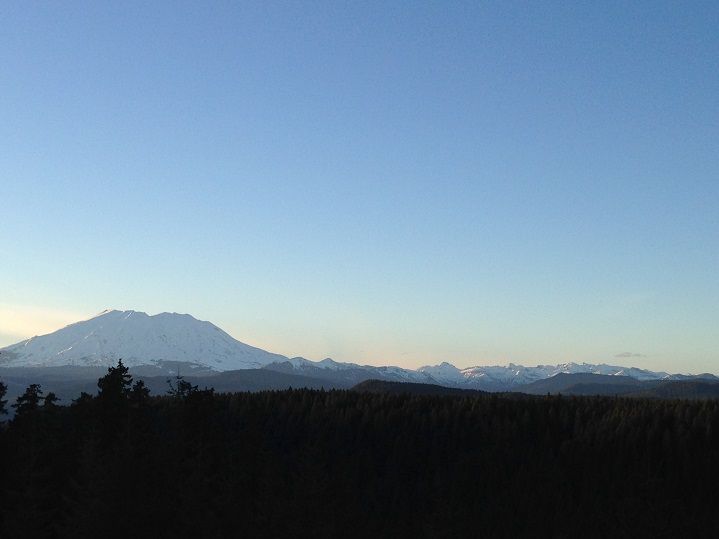 Road side snow at the Curly Creek Road/Wind River junction(check out my custom plate)
A few miles north of Carson I had to make one last stop to watch the Elk graze before days end. I just kept my distance and sat in the car for a while watching them do their thing, where they didn't seem to mind a slightly wonked out goof with a camera obsessing over them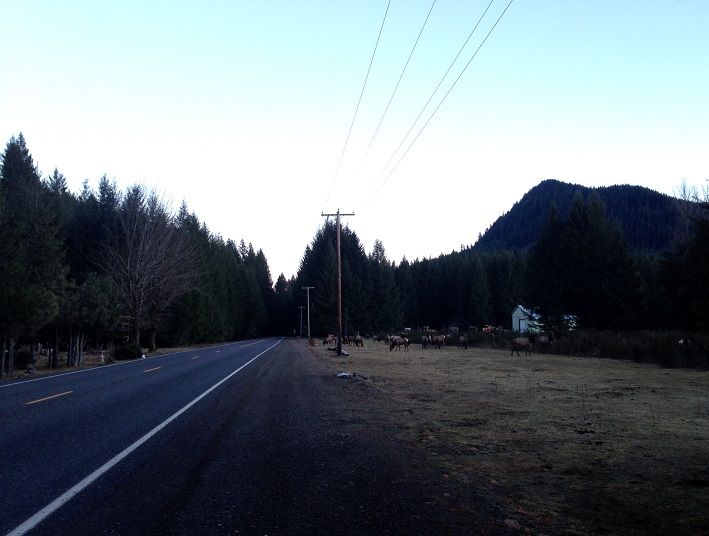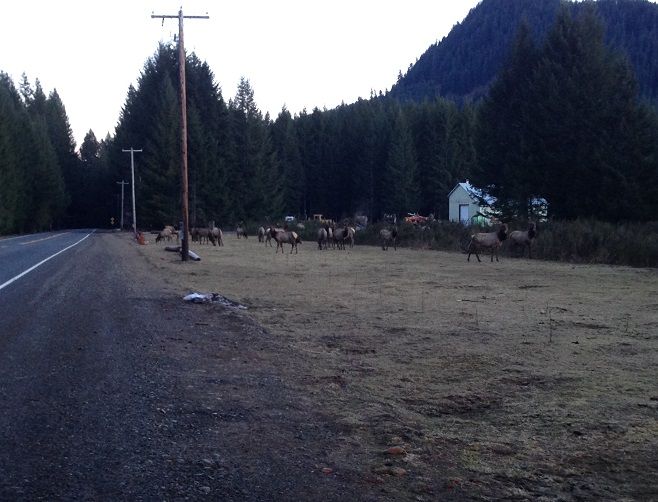 What a great day
To continue the awesomeness, Saturday morning Jojo and I headed out to do some work on Tanner Creek(I was a lifeless ball of sagg!!
) but we got some good things done and had a great day just chatting in the woods and taking lots of breaks. Thank goodness she was there to drag my lifeless body through the mud and back to the TH so I could write this TR
thanks for listening.