Had Friday afternoon free (sandwiched between seemingly non-stop holiday commitments this week... aieee!!), and the skies were blue by the time I reached the Gorge, so opted for my annual Angel's Rest hike. The trailhead was surprisingly uncrowded when I arrived at 1:30, too! Very cold at river level (still frost on the trail), but warmed up nicely (low 50s) on top, thanks to the inversion. The nostalgia part? I'll explain with pics:
Admired the beautiful stand of maples along Coopey Creek on the way up -- in many ways at their best in winter, and I liked this view in particular, and might head up there on a foggier day to try this with my big camera: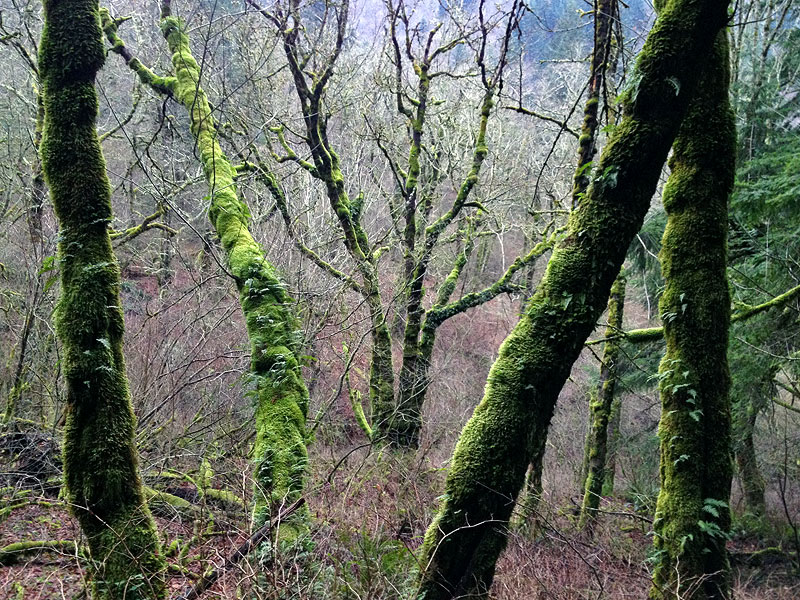 Heading further, I passed something like 40 hikers on their way down (a tiny number for THIS trail!), and since this is one of my "Hello!" trails, I'm also pleased to report a 100% response rate on a per group basis (one stoic elderly woman just stared, but her hubbie was quite friendly). Soon, I reached the burn area -- and one of my favorite views -- looking through the standing sentinels from the Falls Fire of October 1991, when Multnomah Falls Lodge very nearly burned to the ground!

...and now for some nostalgia (of sorts), as I reached a section of trail that was one of the first major
Trailkeepers of Oregon (TKO)
projects in early 2008. We built a completely new bypass of a horribly eroded, trampled section just above the burn, and here's what part of the new trail looks like today: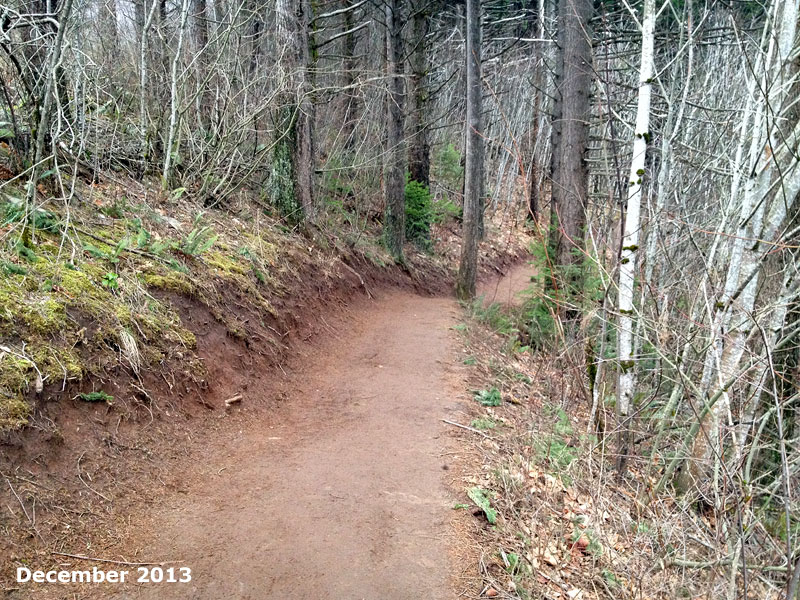 ...and what it looked like in April 2008: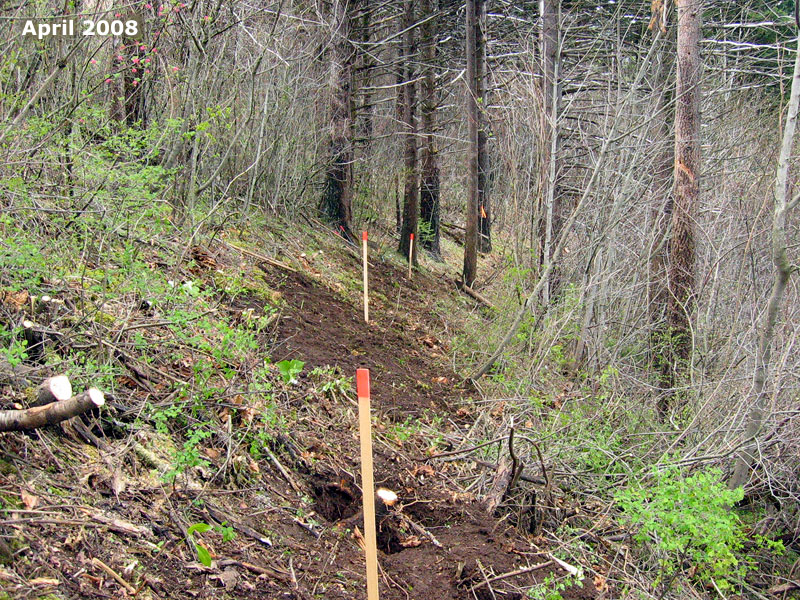 ...and another new section a bit further up the trail as it looks today: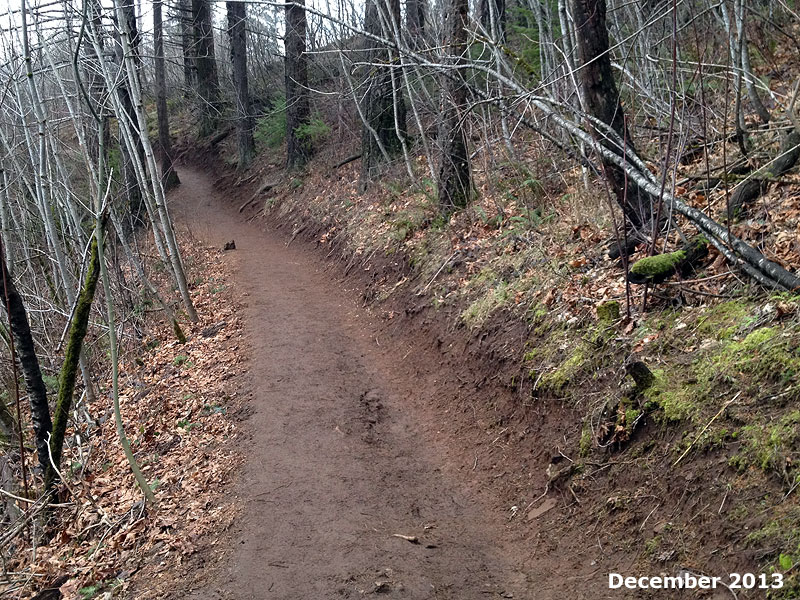 ...and with TKO volunteers building this section in 2008: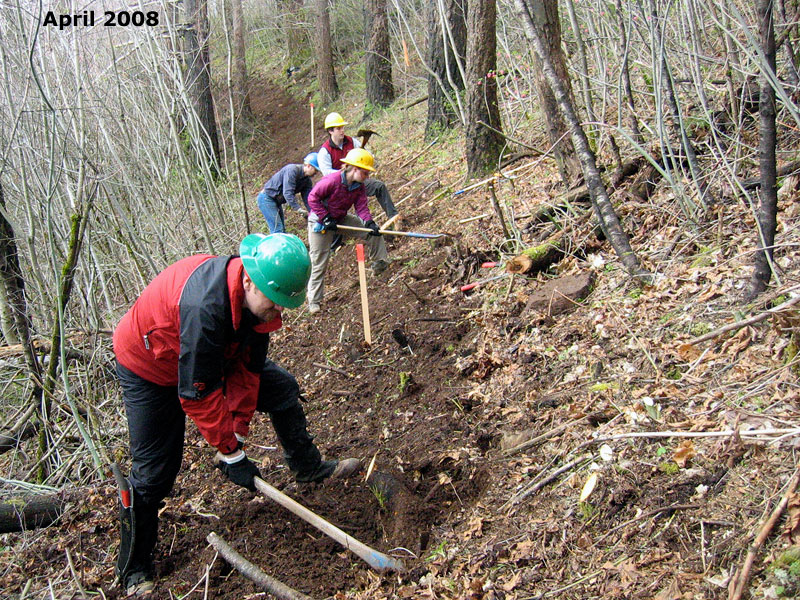 The new trail sections are holding up fairly well under the Angel's Rest stampede -- but the decommissioned old section isn't faring so well. From this view taken on Friday, you'd hardly know the trail is closed (except that to reach this, rogue hikers have to climb around a huge log fence):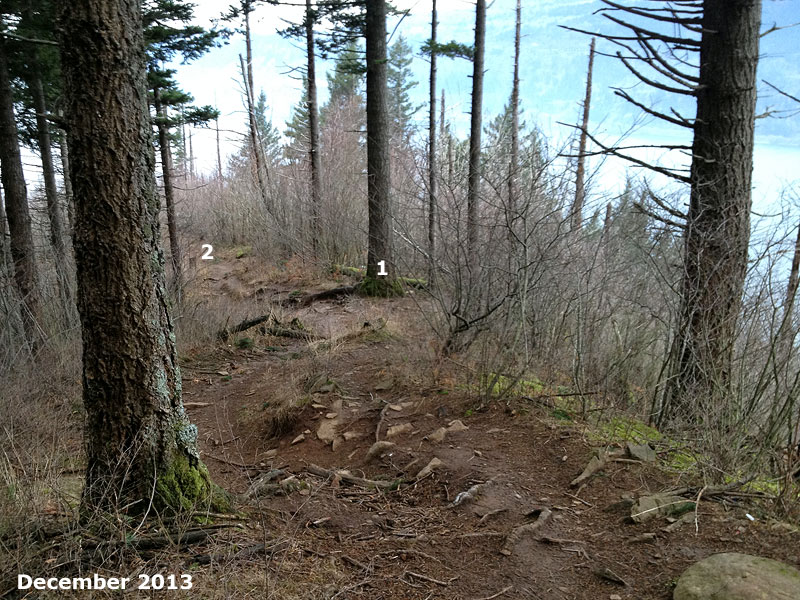 How many rogues continue to cut through the closed trail? Well, enough to completely remove the two foot deep debris that TKO volunteers stacked on it back in July 2008, when it looked like this (I've keyed a tree and stump in both pictures, for reference):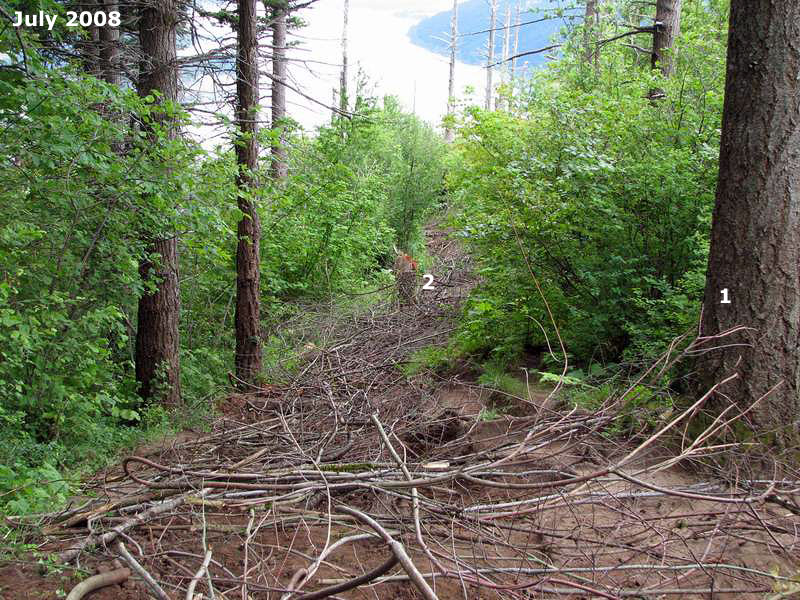 Wow! Always an ongoing battle with managing the hordes on this trail, that's for sure! (I posted
one unconventional solution for this trail
on my blog last summer)
Moving up the hill, I reached the "crux" scramble point at the summit, where one of my favorite trees in the Gorge has patiently helped hikers climb the first of two rock scrambles over the years: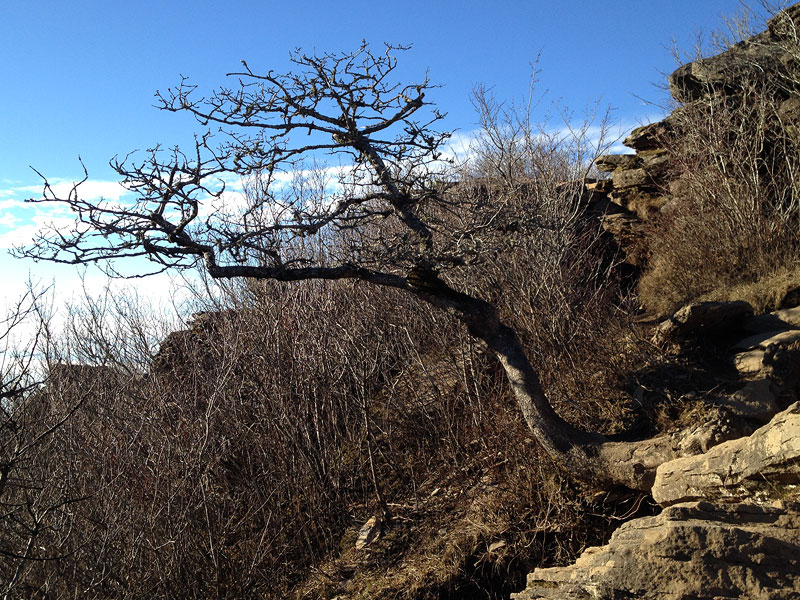 I love how this tree's knobby root has been polished by thousands of hands over the years -- reminds me of the worn stone steps and polished hands on sculptures that you see in European cathedrals: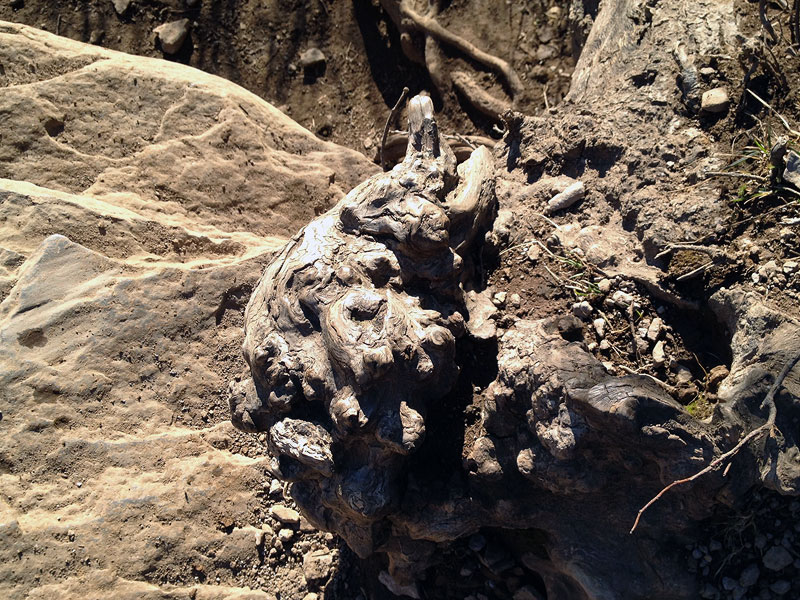 This tree really deserves a proper name -- I suppose it's the "guardian angel" of Angel's Rest?
Once on top, I realized that the predicted weather front was quickly rolling in -- so took a few photos of the amazing view...

...and documented (once again) Foxglove Falls in its shadowy little alcove to the east: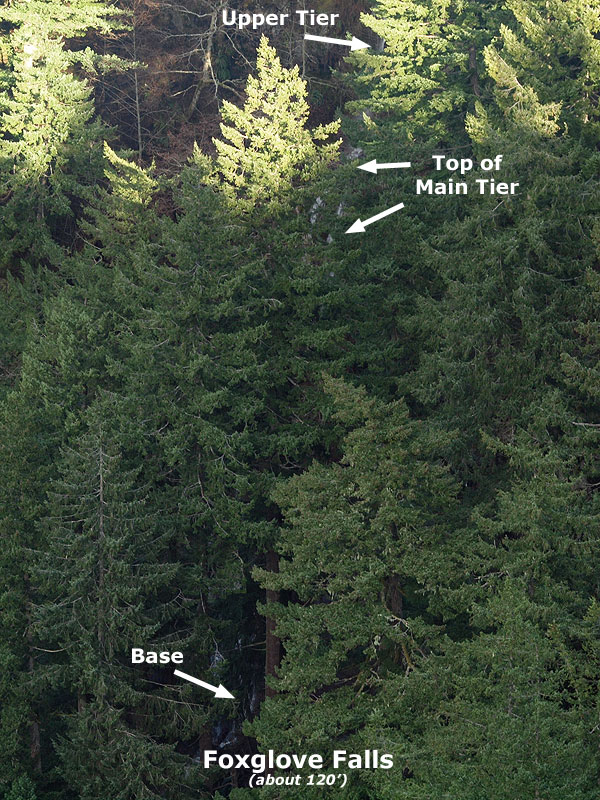 ...then more nostalgia (apologies to FB friends for the rerun) -- a little ritual I have of standing in front of my camera in this spot every year or so, I suppose to celebrate the privilege of still being able to enjoy the Gorge on my own two feet, and of just being around!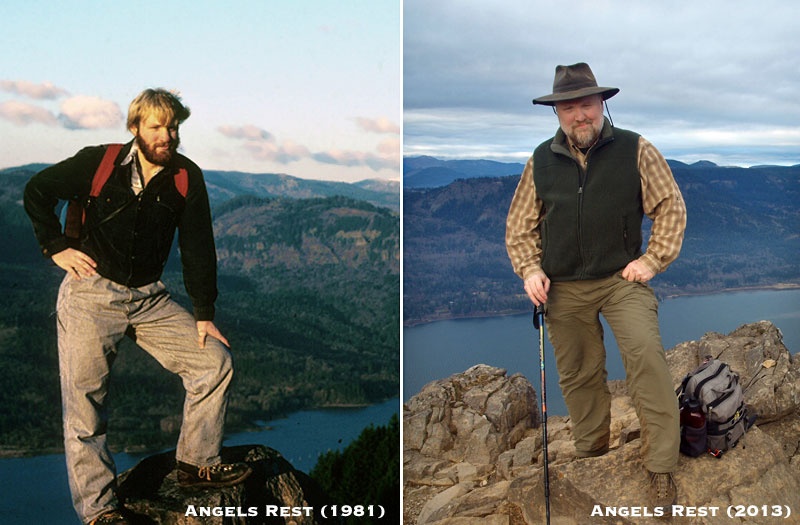 At this point, the clouds were rolling in with gusto - and even a bit foreboding - so I didn't linger for the sunset, and instead headed back down the trail.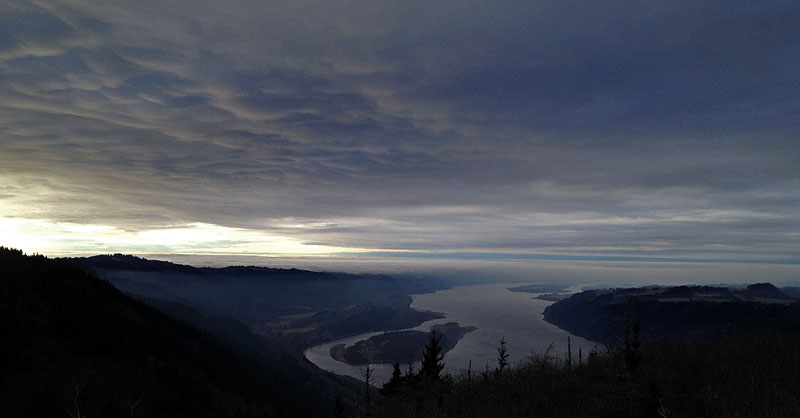 Ah, another lovely afternoon in the Gorge -- we are a lucky bunch to have this in our backyard, folks!
-Tom