It was just one of those days. Needed to get out, but hadn't really put any thought/effort into planning a getaway. So, I just hit one of the closer trailheads to home, up a known path. Got to Multnomah Falls about 9:30, or so, which didn't leave a whole lot of daylight hours to get to Sherrard Point and back.
It was cold and windy at the base of Multnomah Falls. Which turned out to be a really good thing! There was a 1/4" think glaze of ice across the bridge, and up the next few hundred yards of paved trail, which reduced the tourist count to virtually nil. I passed one family going up, and two joggers coming down, and that was it. Farther up, I think I only passed a few more folks, while much farther up a small handful who'd gotten up earlier were already returning. All in all, the forest was far more peaceful than usual on this trail.
The ice at the bottom was as bad as it got. There were some nice icicle displays along the way up, but nothing as glorious as
Sean saw
two peaks over. Hardly any snow to speak of up on Larch, though the ground was pretty much frozen hard bottom to top. Wind was only nasty right on the edge of the Gorge.
I'm sure most have been up here, so I'll just post a few photos of things I'd noted had changed or were otherwise out of the ordinary.
All along the trail, ice crystals were extruding up out of the ground, sometimes 3-4" or even more. Beautiful.
I hardly ever see Multnomah Falls with ice, as it seems I-84 is often kinda ugly too, so this was fun.
What saved me from the hordes. Half a dozen people strenuously tried to warn me from walking up there!
New sign (excuse?) for Perdition Trail closure. Old "Hikers Trail" sign still in background.
Nice display of icicles from the basalt overhang of Dutchman's Tunnel.
Solitary icicle hanging over Wiesendanger Falls.
Where ever the trail wasn't basalt, it seemed, ice crystals were pushing upward and out of it.
Icicles over Multnomah Creek.
Seemed to be lots of new signage. This one (on the "low-water trail") just struck me as totally needless.
A favorite stretch. I should note, complete hike was dry feet! Never a threat of wetness.
More icicles.
This one just said "Forest Primeval" to me. It is how I think of the lower sections of this part of the gorge forest.
Still some fabulous fungus every here and there.
Absolutely incredible fountain of resin escaping this tree in the Larch Mountain picnic area!
Standing back a bit for scale. It was eye-height for me. Stunning.
This was about the extent of the snow approaching 4000'.
Nope, no snow here, either!
Very intriguing ice formation over on Archer Mountain! What the heck is that???
Nice day!
Silver Star looks like it's still completely bare of snow, as well!
Obligatory summit selfie, take two. (I mellon-headed Hood in the first take, too!)
I left Sherrard Point a bit after 1:30, realizing daylight was limited, and I really wanted to avoid a headlamp. Far too much glaze ice in the lower stretches, which would've really slowed me down at night. So, I did something I rarely ever do. Plugged in the earphones (old and new mix; JJ Cale, REM, Billy Bragg, Jerry Garcia, as I recall), and started boogieing, stopping for just a few more photos.
One taken especially for all my right-wing friends!
Didn't stop enjoying the icicle show, either!
Was absolutely appalled at an asshole named Igor! I sure don't remember this being here before.
Very nice repair job on landslide just below Wahkeena turnoff.
First time I actually saw this plaque!
The Archer Mountain ice feature from Multnomah Falls lodge area. What is that, anyway?
So, all in all, this was a really nice little "training hike" for me. Turned out to be about 16 miles, and maybe 4300' EG. I impressed myself, though probably no one else, with a GPS reading of 2.8mph moving average on the way up. Ended the trip with only 2.9mph, though, so something seemed whacky. Curiously, the Trip Computer showed 8.44 miles up and 16.20 miles at the bottom again, which would suggest the trip up was 2/3 mile longer? And yet, it was the same trail, in and out, with at most 0.25 miles of variance. I don't think I "get" that one!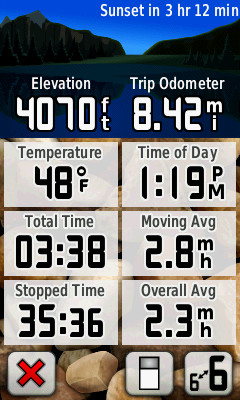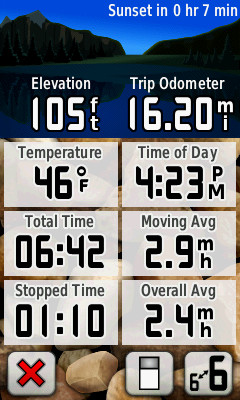 All I can surmise is that it was the signal bouncing around the canyons in the lower part of the journey? <shrug>
http://gpsfly.org/gps_map.php?gps_id=2886&w=645&h=440
Anyway, it truly was
another great day in the woods!