I was planning to go up to the northeast side of Mt. St. Helens on September 28th... and then the typhoon hit.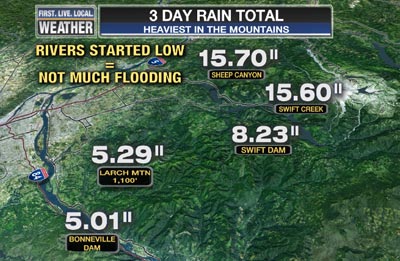 So I tentatively rescheduled for this past Friday... but after the typhoon had come several inches of snow, and freezing temperatures. But Friday and Saturday were sunny, and I hoped at least some of the snow would melt by Sunday. I was encouraged by trip reports on here saying that the Mt. Margaret area looked to have only spotty snow, and only at the very highest elevations. (Ha!)
So I woke up at 4:30 AM, got on the road at 5:00, made a stop for my traditional pre-hike breakfast of Sausage McMuffins and hash browns (don't judge; that's a whole lot of delicious protein and fat for $3!), and was on the trail at 8:00. I was getting as early a start as possible because I'd never been to Whittier before, and it has a reputation as having some sections that are sketchy even in the best of conditions. I wanted to do the Lakes/Whittier/Boundary loop counter-clockwise for photography purposes, but that also meant that if I had to turn around at the Whittier Ridge pinnacles, it was going to be a looooong hike back to the car. But I'm stubborn when it comes to getting good light.
So off I went... on previous pre-dawn drives in this part of the world, I've seen some really cool fog, and failed to stop and take pictures. This time, I was determined to get some good photos, but the fog didn't cooperate. This is the best I could do, at the Muddy River crossing on FR 25: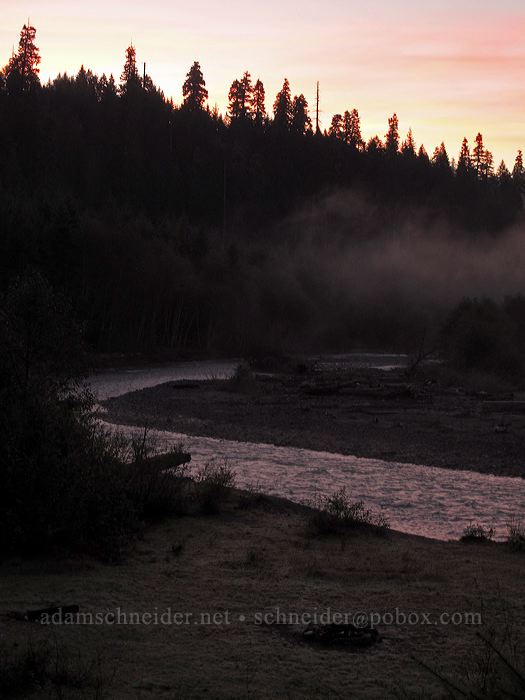 Good morning, Loowit! A raven (or something) photo-bombed me: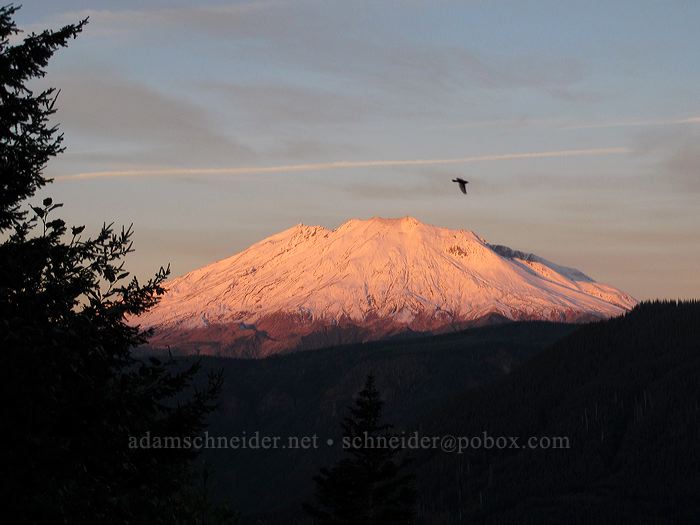 There were three or four cars at the Norway Pass Trailhead, all belonging to backpackers; I could tell they'd been there overnight because their windows were frosty. The bathrooms were unlocked.
Just a few feet into the trail, in a little gully with a shiny new bridge over it, I ran into the only frost I saw on the trail all day. Frosted Huckleberries would be an excellent name for a breakfast cereal; Frosted Fireweed and Frosted Bramble, not so much: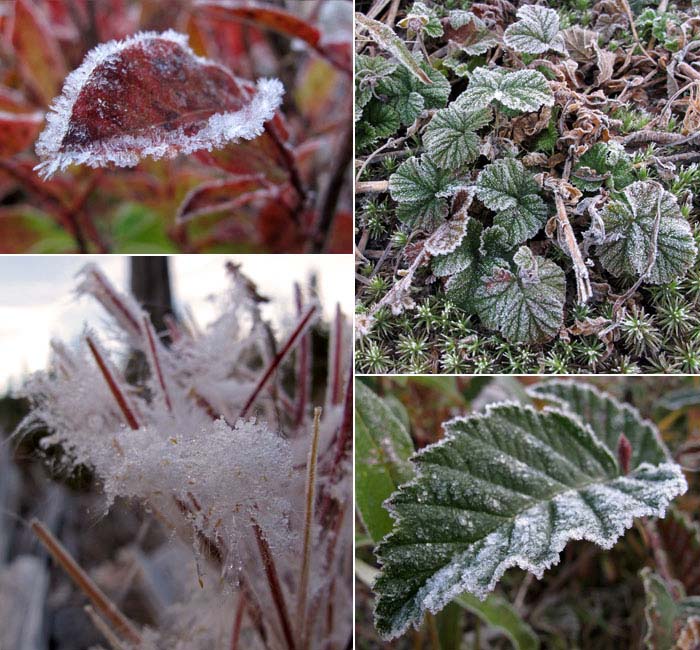 While I'm doing montages, here's a collection of wildflowers who didn't get the memo about it being October. Top row: buckwheat, paintbrush, pearly everlasting, Sitka valerian, dwarf bramble, wild strawberry. Bottom row: aster, Oregon sunshine, penstemon, orange agoseris, Lewis's monkeyflower, lupine.

(Yes, I know it's normal for pearly everlasting to be out this late, but it filled out the grid nicely.)
This next photo is from about halfway between the trailhead and Norway Pass; it was my first relatively close-up view of the snow: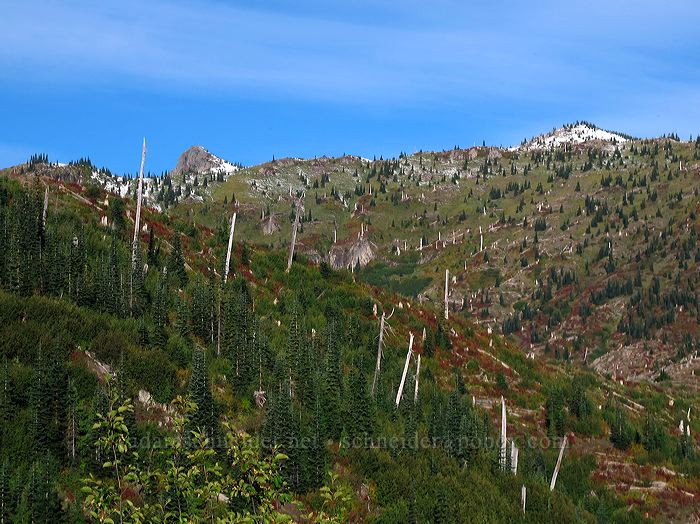 About five minutes later, a big gray ball of feathers crossed the trail about 50 feet in front of me and 20 feet in the air: an owl! It sat in a conifer off to my left for a little while; unfortunately, my camera was not set properly for unexpected wildlife sightings, so my pictures are far away
and
blurry.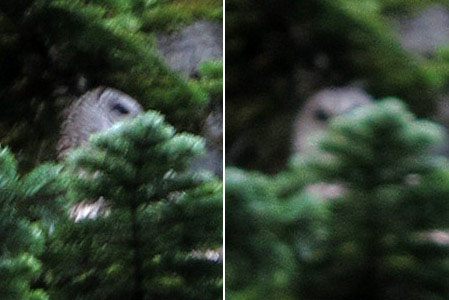 According to the range maps in my bird book, this was probably a barred owl... but I've seen barred owls before and this seemed much bigger. The only other candidate, based on appearance (huge, grayish, and earless), would be the great gray owl, but I'm not sure those come this far south.
At Norway Pass, I got the classic MSH/Spirit Lake view -- with minimal backlighting for a change: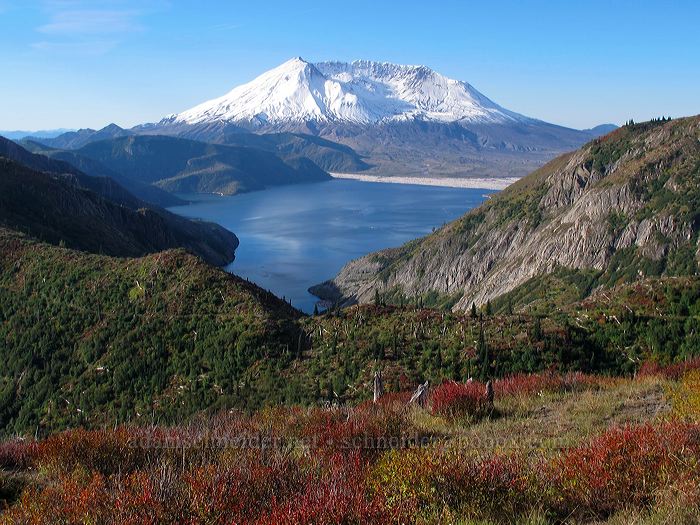 I turned right on the Lakes Trail, headed up to Bear Pass (from which there was a clear view of all four big local volcanoes), and then down the north side toward the lakes. Since this was the shady side, there were bits of snow here and there, but nothing to write home about.
There were also a few piles of purplish berry-filled bear poop on the trail. I'm not terrified of bears, but I don't want to surprise an over-protective mama bear, so I started whacking my trekking poles together and yelling stupid things out loud like "Hey bears! Bears? Are you there, bears?!" Occasionally I set my yelling to music (sadly, at the time, I completely forgot about the
Lyle Lovett song
)... and I hoped desperately that I wouldn't run into any of those backpackers and have to explain my insane behavior.
This seems like a good spot for another montage, this time of all the tracks I saw. Here's: elk tracks (very deep, either because the ground was soft or the elk were fat); mountain goat tracks and trail-flagger tracks; bear poop; bear tracks on the back side of Whittier Ridge; probably goat tracks, but what's the line on the uphill side?; grouse or ptarmigan tracks; and finally, a busy wildlife crossroads, at the junction of the Boundary and Mt. Whittier trails: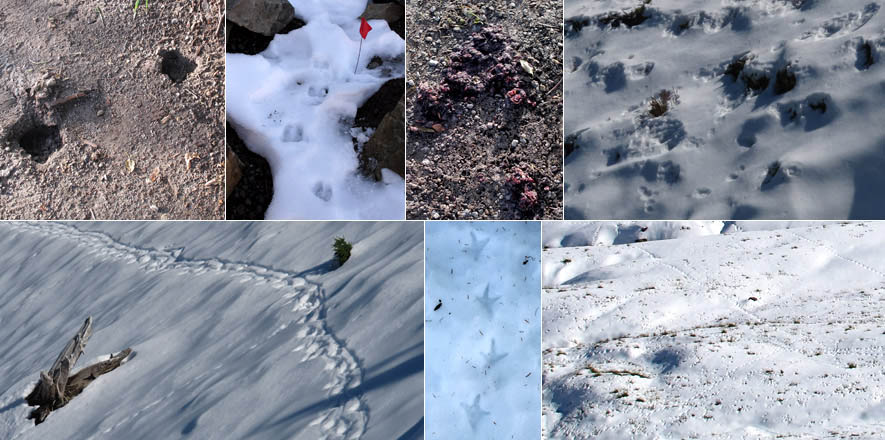 The first lake I came to was Grizzly Lake. I didn't see any grizzlies, but I did get this awesome photo that I didn't realize was so awesome until I got home and looked at it on my computer: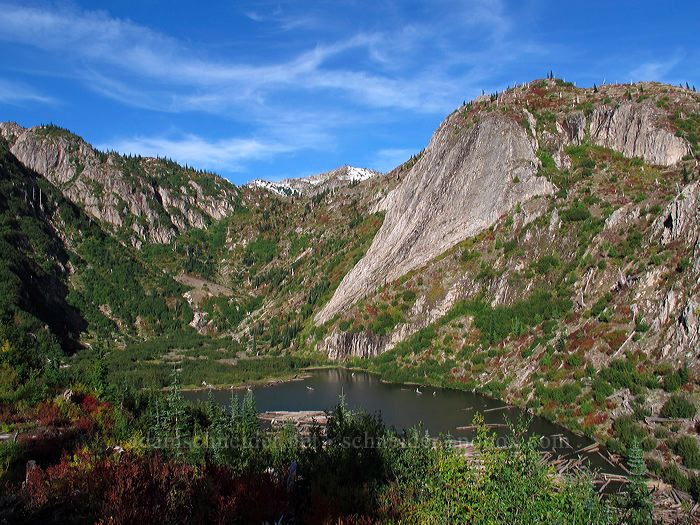 Just after Grizzly Lake, I ran into a couple of backpackers who said they'd been up to the top of Mt. Whittier on Saturday, but hadn't continued over to the Mt. Margaret area because they were worried about the sketchy ridge to the southeast of the summit. They said it was a good thing I'd brought gaiters, because I'd need them starting at about Shovel Lake.
Some nice reflections -- and a ghostly shadow -- in a pond south of Obscurity Lake (a.k.a. Twin Lakes):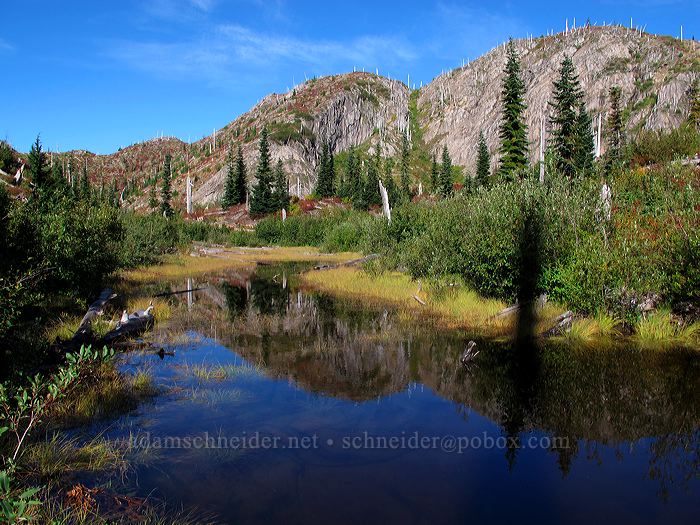 Obscurity Lake and fall colors: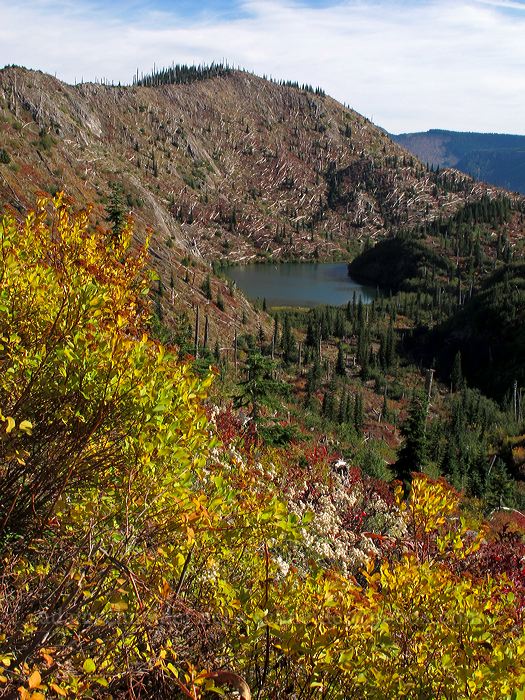 Just before Panhandle Lake, I started hitting more significant patches of snow on the trail: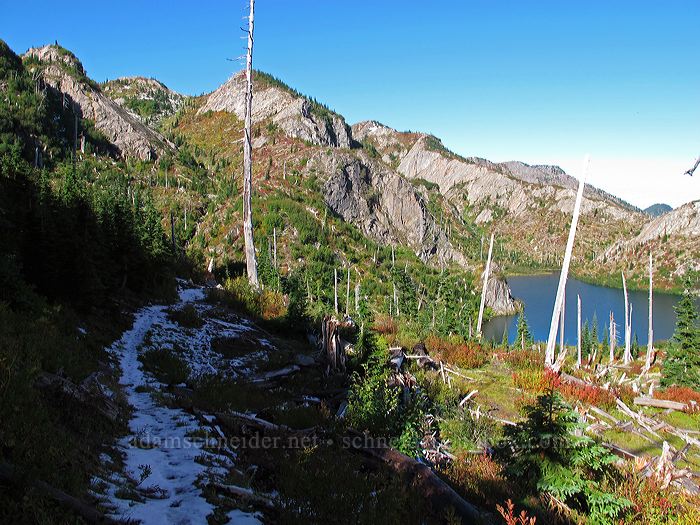 I also encountered (and smelled) a lot of fresh elk poop near here... but I didn't see (or hear) any elk all day. Those reclusive bastards.
Here's Panhandle Lake again; wouldn't this picture have been lovely in the afternoon, with the sun behind me?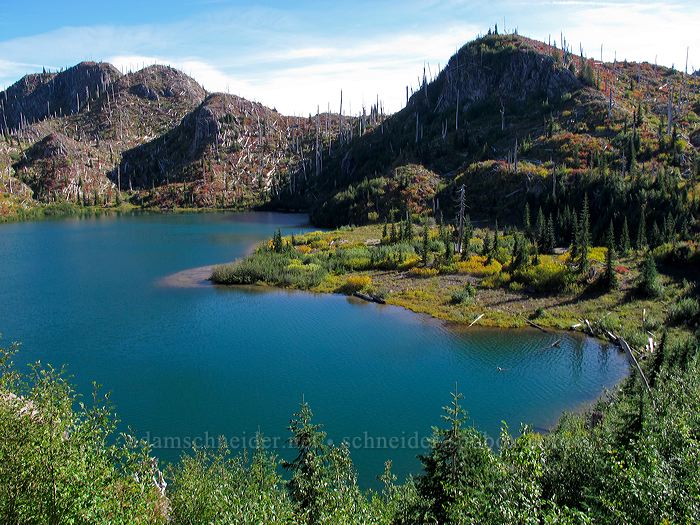 I had no idea there was a massive valley just to the north of the Mt. Margaret/Mt. Whittier area. That's Goat Mountain on the right (one of
many
Goat Mountains in Washington), and the Green River, which I'd never even heard of: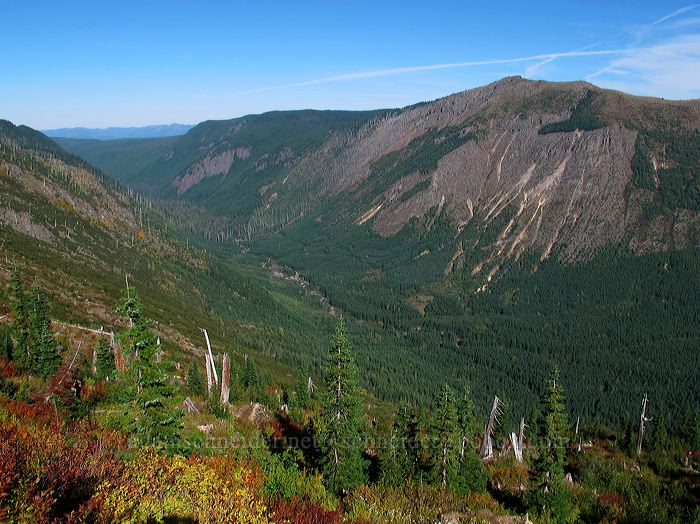 Somewhere around here, I ran into a solo backpacker, who turned out to be "
Water
" of portlandhikers.org. He was the last person I saw all day.
Here's one more shot of Panhandle Lake, this time with the "handle" visible in the lower left and Mt. Adams on the eastern horizon: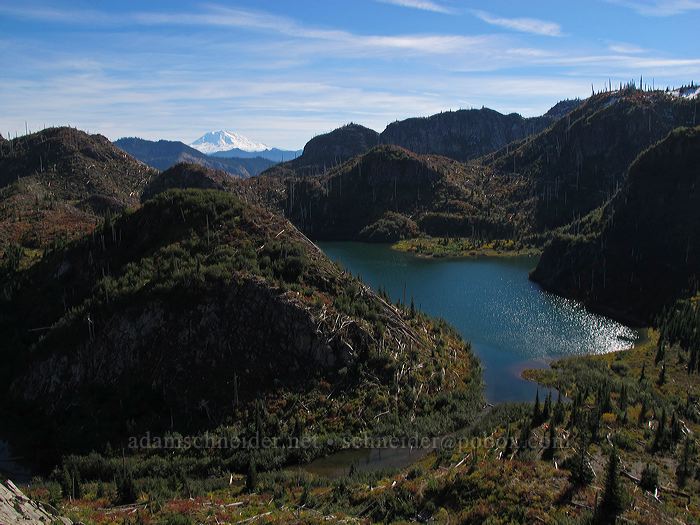 Shovel Lake is pretty awesome, with deep blue-green water and Mt. Whittier looming
right
above it. Weird how those blown-down snags are just floating in the middle; maybe the wind pushes them around randomly, like on Spirit Lake: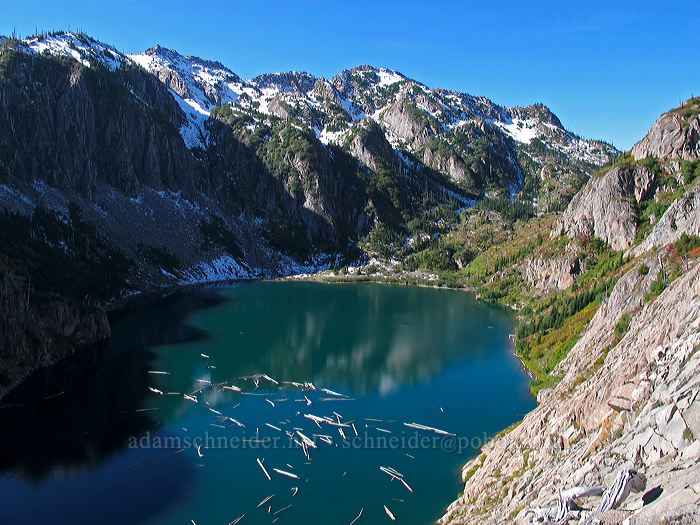 I had a snack on some rocks overlooking Shovel Lake, and decided to follow the backpacking couple's advice and put my gaiters on. (This caused my brain to put
"He was a gaiter boy, she said see you later boy"
on an endless loop, so
this
was in my head for most of the afternoon -- yes, the
Motown version
-- despite the fact that I knew almost none of the lyrics.)
Anyway, the gaiters were a good call, and my trekking poles were very helpful too. The trail started looking like this, or worse: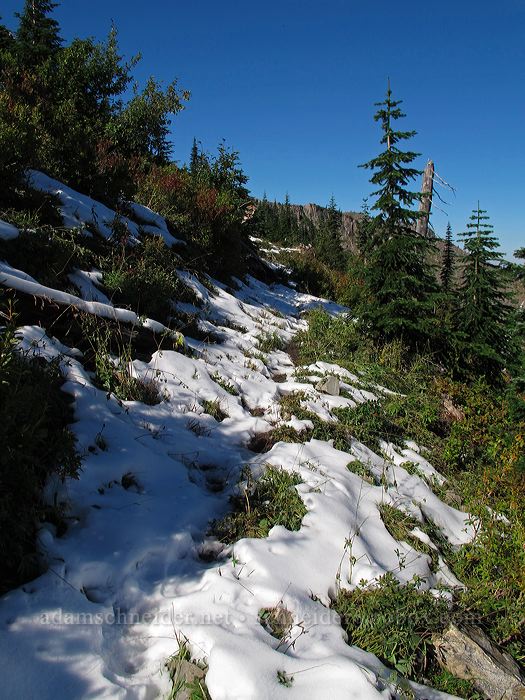 A look back toward Shovel Lake, with Strawberry Mountain in the middle distance and Goat Rocks on the horizon: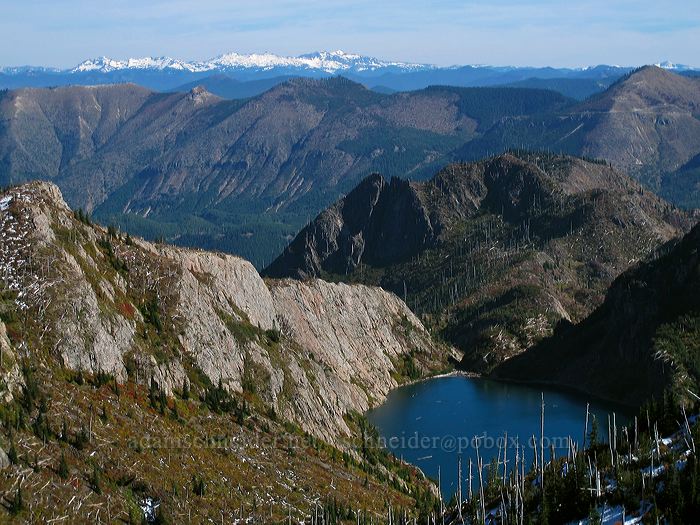 The back side of Whittier Ridge had a lot of snow on it; I was happy that I could even find the trail! It helped that at least a couple of humans had been there recently. (Sometimes the goat tracks helped, but sometimes they led me astray.)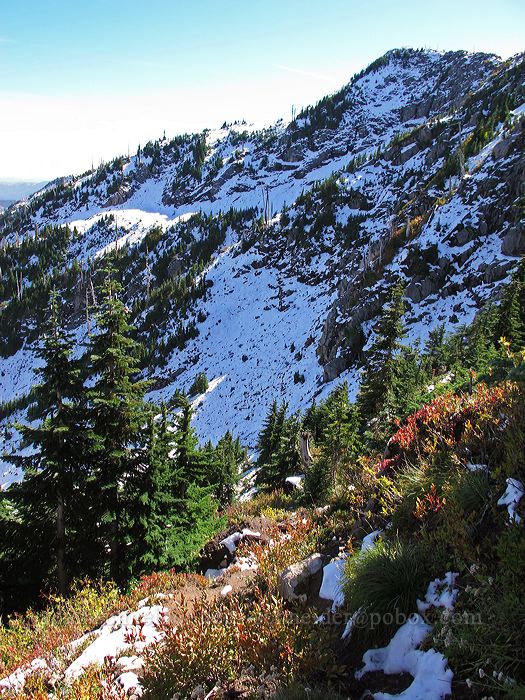 As soon as I hit the crest of the ridge, I surprised a garter snake -- not something you often see near snow. And I got this view out to the west; there's Coldwater Peak, Coldwater Lake, Minnie Peak, and some brilliant orange patches of something (vine maples, probably) down in the valley: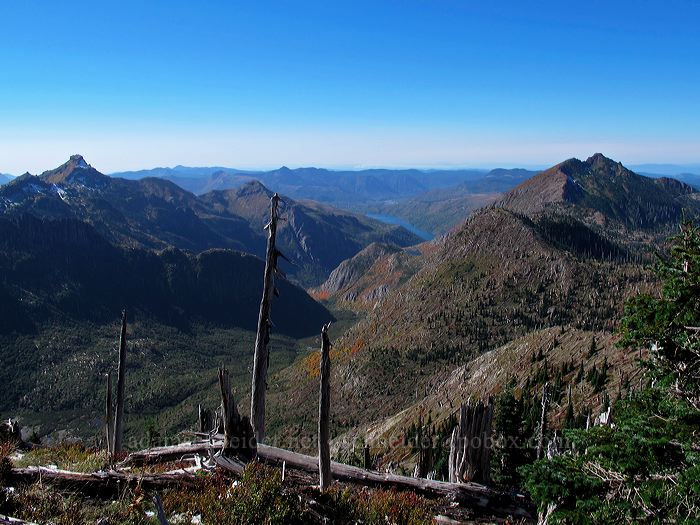 Bright red huckleberry leaves, and Mt. St. Helens, and The Dome: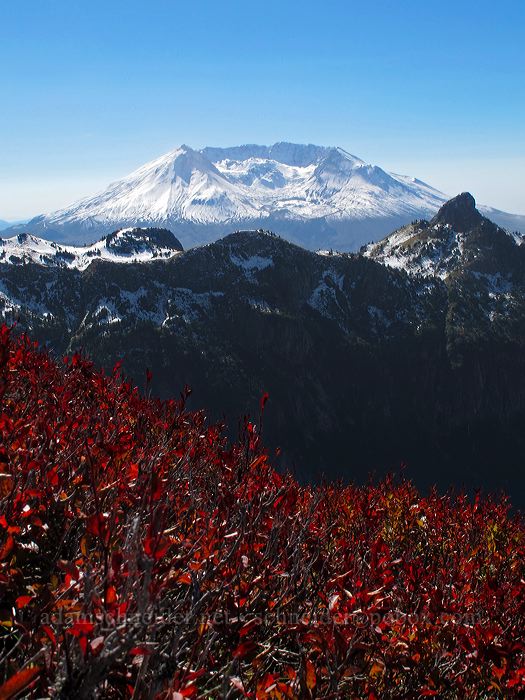 Finally, from "Peak 5818," a clean view of Mt. Whittier and the ridge that will take me there. There are a few false summits along the way: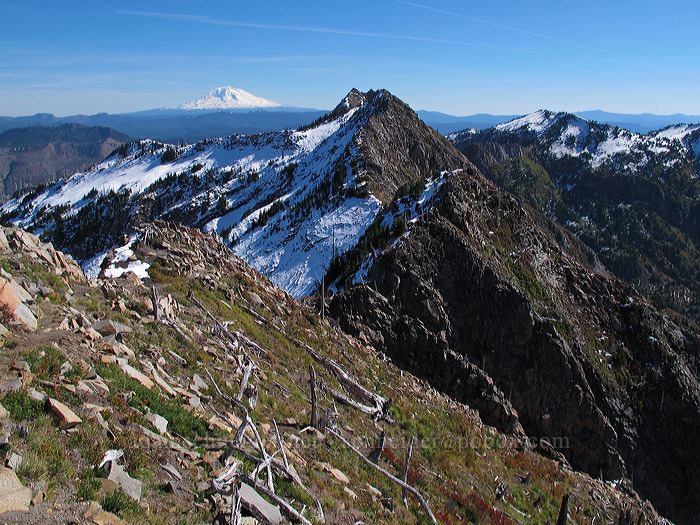 Somewhere around here, I thought I saw a white dog heading down off the ridge into the snow. Of course, it wasn't a dog; it was a couple of very shy mountain goats. I didn't see them again at all.
Anyway, looking straight across the head of Coldwater Valley, you see (backlit, of course) Mt. Margaret on the right and Maggie's unnamed but more dramatic twin sister on the left:
Now, about that unnamed dome: it's almost exactly the same height as Mt. Margaret, there's a USC&GS benchmark on its summit, but it doesn't have a name... and it SHOULD. I unilaterally decided a while back that it ought to be called Mt. Teragram, because (1) it's "Margaret" backwards, and (2) a teragram is
one billion kilograms
, which might actually be in the neighborhood of how much that thing weighs! So you can call it whatever you want, but I'm gonna call it Mt. Teragram.
Here's one of the false summits, with a fun bit of narrow ledgy trail on the right side: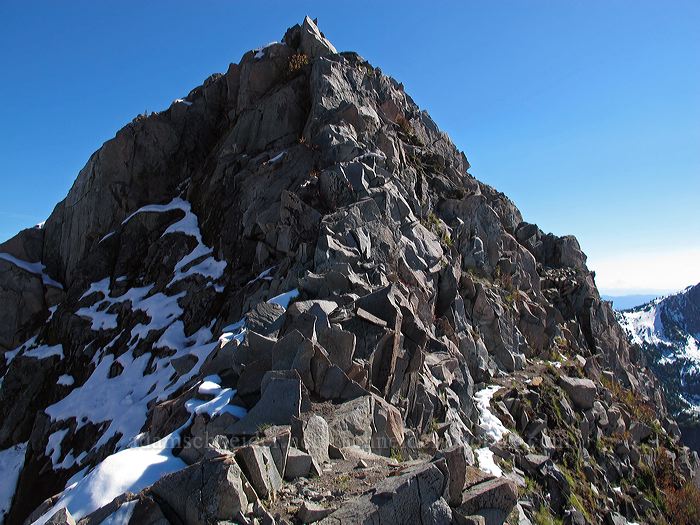 It wasn't always easy to find the trail up on Whittier Ridge. Sometimes it was on the sunny side, and sometimes it was in the snow. But it's a ridge, so you just keep going up the ridge: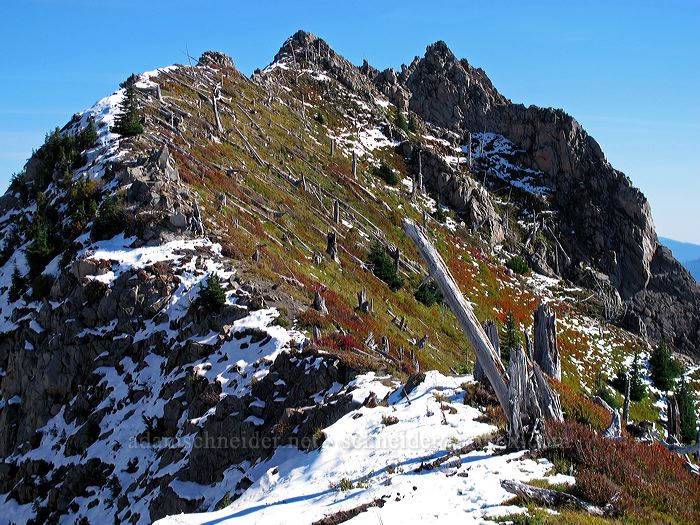 Here's the view from the actual summit of Mt. Whittier: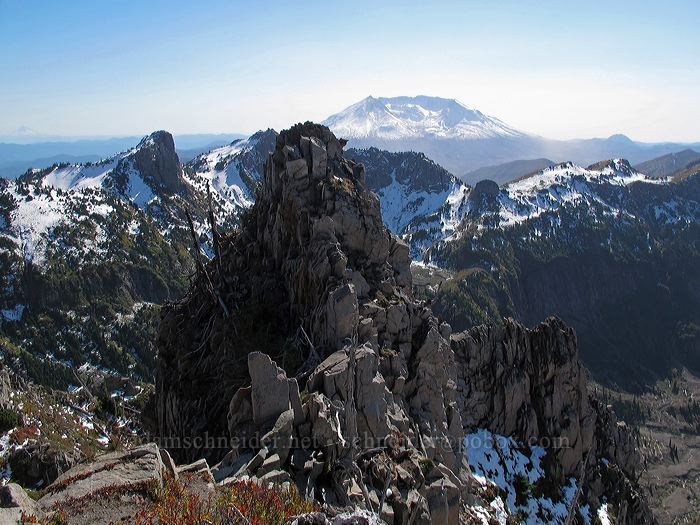 That little pinnacle 70 feet to the south is almost as tall as the true summit, but sketchy as hell to climb out onto. I did it, but the closer I got to the end of the side ridge, the crumblier the rock got. I actually had two handholds come loose on me at the same time! Basically, the rock everywhere on Whittier LOOKS solid, but much of it is crap. Be careful.
I retreated back to the non-sketchy version of the summit and enjoyed the view back to the west, from whence I came: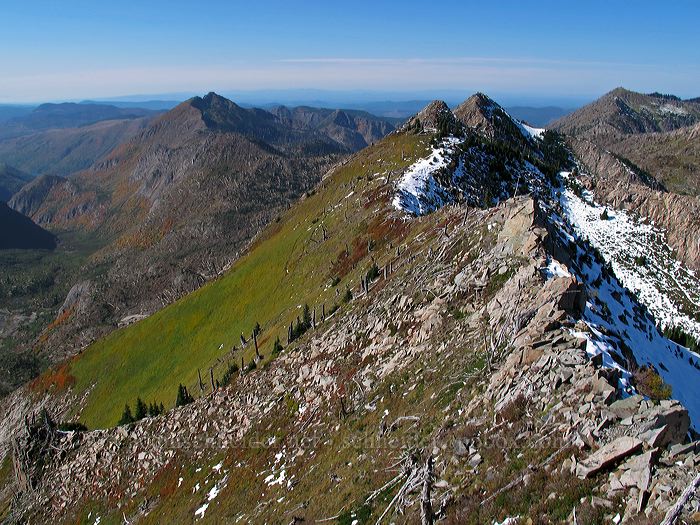 It was beautiful up there except for the wind. Unfortunately, the wind and the sun were mostly coming from the same direction (south or southwest), so taking shelter from the wind meant sitting in the shade. (I decided that I needed the vitamin D and sat in the sun.)
I accidentally moved a rock with my hiking boot and found Beetlemania: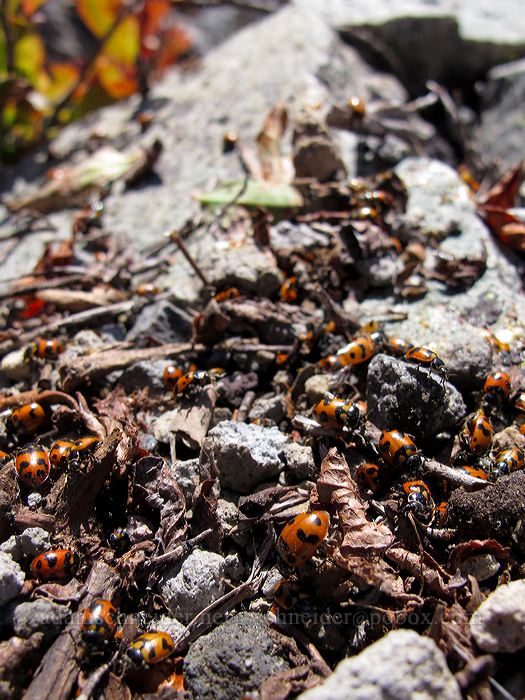 I wasn't able to see Holmstedt Lake from the Lakes Trail down below, but here it is from above, with Mt. Rainier and a whole bunch of scarred ridges (and also Shovel Lake and Panhandle Lake):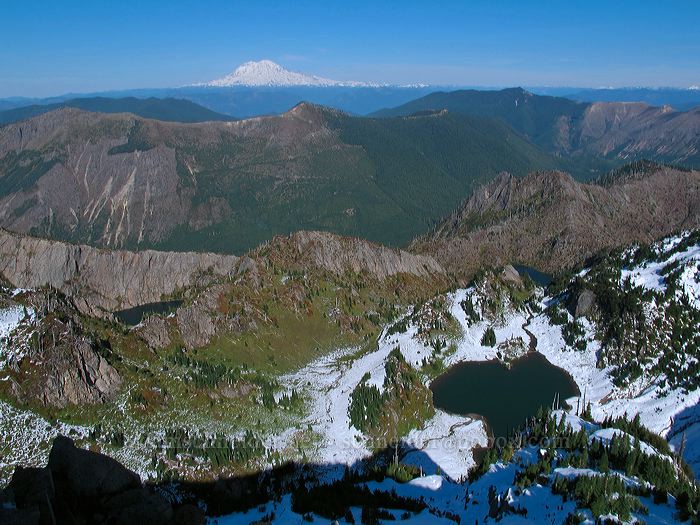 The southwest face of Whittier Ridge is a bit steep in places: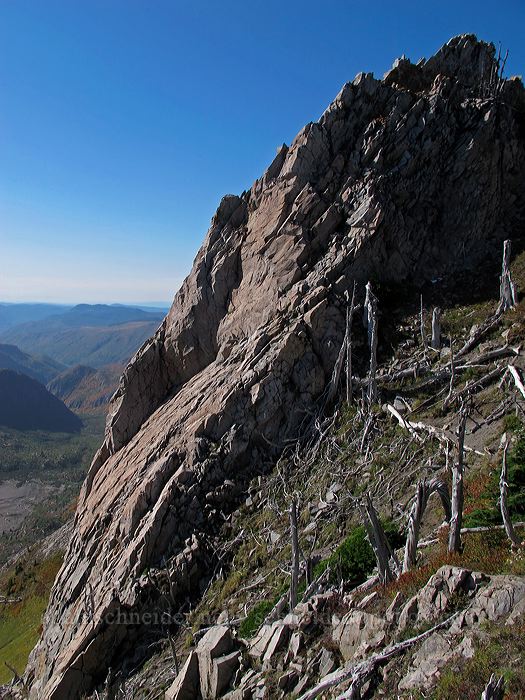 There's a rock arch/window just southeast of the summit that reminds me of the one on Ed's Trail at Silver Star Mountain: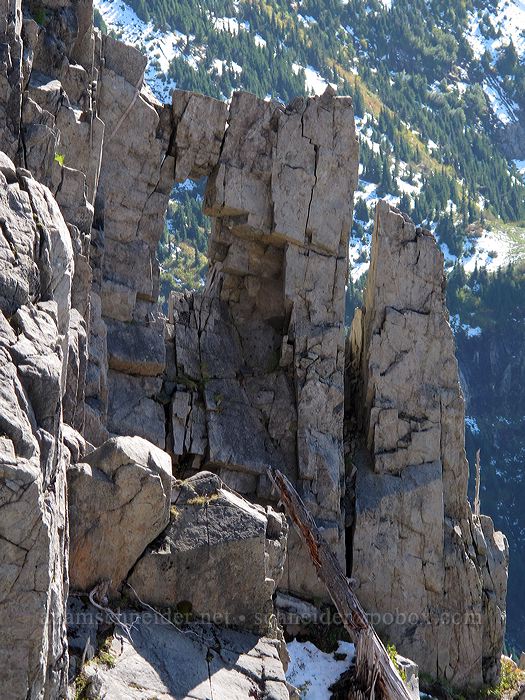 After I ate some lunch and forgot to change my socks, I continued on toward the southeast and the connector ridge that was going to make or break my day, 10 miles into the hike. The trail got snowy again here and there: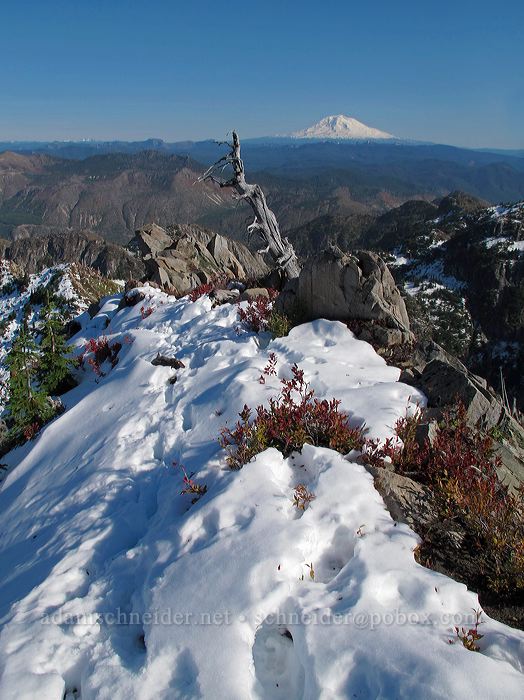 I lost the trail for a little while on a very steep descent between the summit and the north-south connecting ridge, but I found it again without too much trouble. And then, finally, for the first time all day, I saw
The Pinnacles of Doom
. After all the warnings and trepidation, I looked at the trail ahead and had the same reaction I had upon reaching the summit block at Mt. Thielsen: "THAT'S what people are so worried about?!"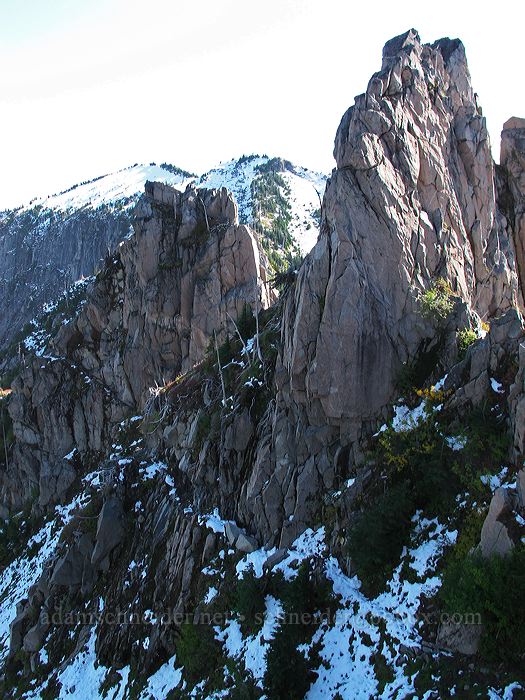 I mean, c'mon, there's actually a TRAIL there; that's a luxury. It was no problem at all. A few mountain goats and at least one human had already made a few tracks.
At the pinnacles, you can see Boot Lake down below. If I'd had to turn around at this point, I think I probably could have bushwhacked down to Boot Lake (and from there down to Obscurity Camp) instead of going back along the ridge. I like how the little goat trails on the green hillside are white with snow: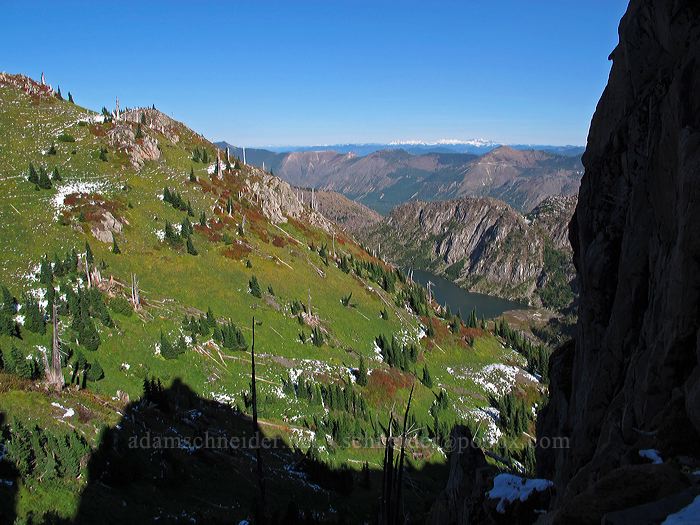 Here's the supposedly scary trail on the backside of one of the pinnacles. Yeah, you have to walk on the shady northeast side, but it's so steep (and in the lee of most storms) that not much snow accumulates there: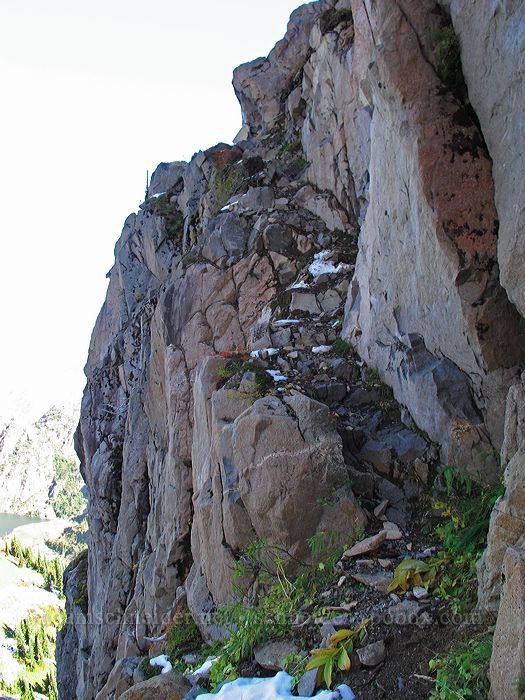 Here's a view back at the whole of Mt. Whittier/Whittier Ridge: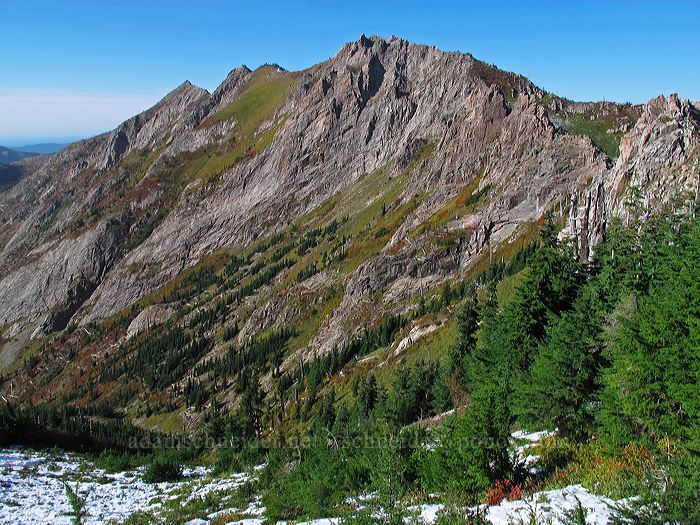 I got back to the Boundary Trail (5600' elevation) at around 3:30pm and found a very wintery scene: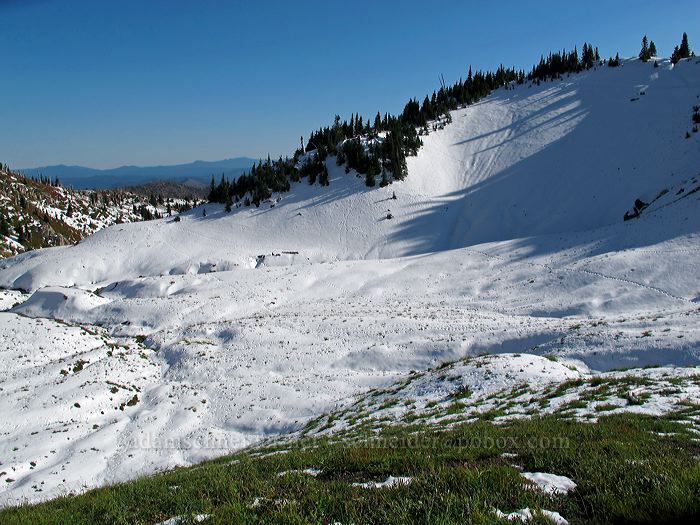 I looked at my topo map and saw that the summit of Mt. Teragram was only about 1/5 of a mile away (as the raven flies) and less than 300 feet up. Since I hadn't needed to abort the mission on the ridge, I had plenty of time; and I'd never been up there before, so I figured I may as well check it out. I went straight up the very snowy slopes: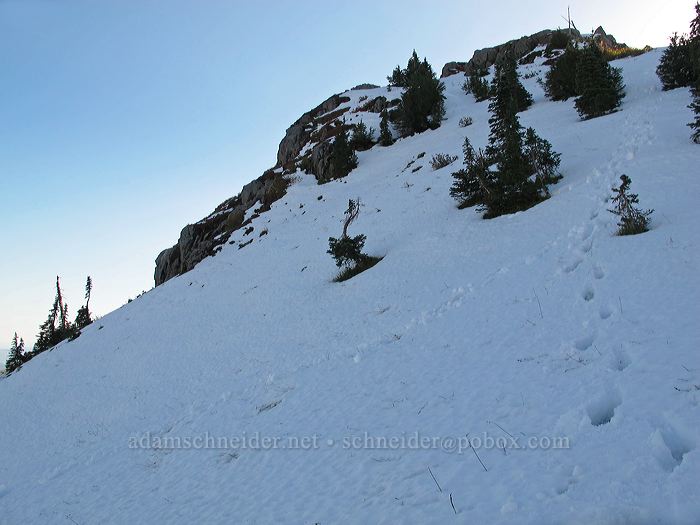 This was the only time all day when I kind of wished I'd had snowshoes. At least I had gaiters and trekking poles; I wouldn't have even tried without either of them. (And snow baskets on the poles might have been nice.)
Here's the top of Teragram (and Mt. Margaret, on the right) from a knob about halfway up: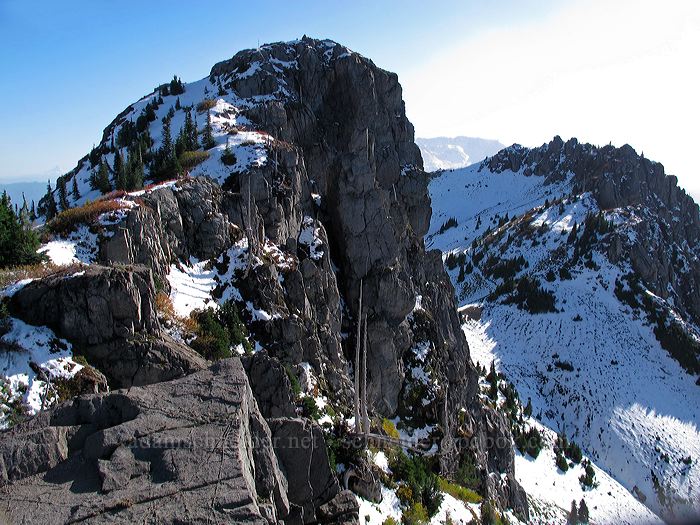 The top of Mt. Teragram was, of course, mostly snow free. Here's a view to the NNE from the summit; the gray-brown patch along the trail in the bottom-center of this photo is the junction between the Mt. Whittier Trail and the Boundary Trail, and the Boundary Trail is the white ribbon going off to the right: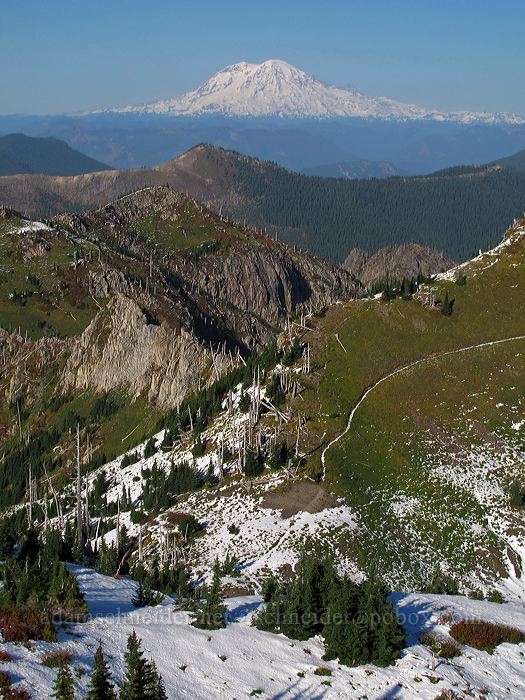 A backlit view to the west, of Coldwater Peak and The Dome; St. Helens Lake was visible from up top, but it's just out of this frame to the left: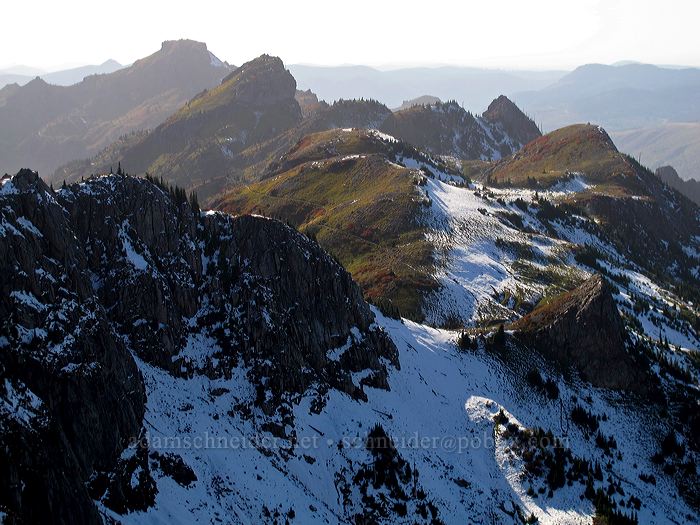 Descending back to the trail in the snow was a lot quicker than the way up (obviously!), especially when I stopped trying to use other people's footprints. Either they came through when the snow was softer, or they weighed a lot more than me, because my tracks were much shallower. Back on the Boundary Trail, here's a view of Mt. Teragram and that very snowy bowl on its east side: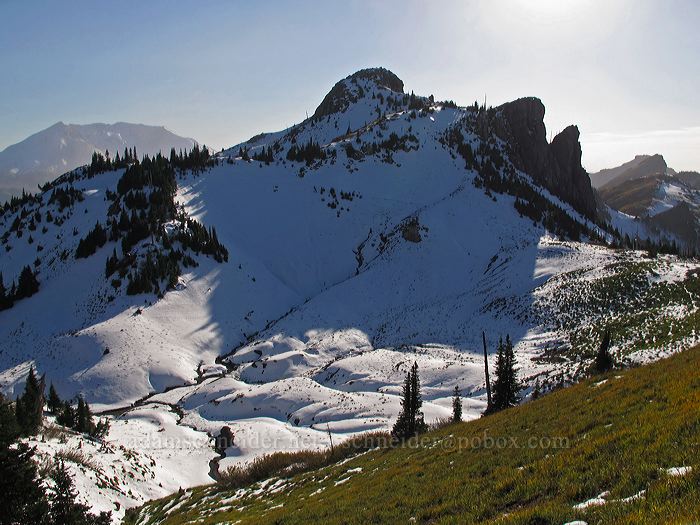 The temperature was in the 50s most of the day, but the wind just kept getting worse, especially when I'd go through a saddle or pass. I'm no human anemometer, but I'm guessing it was about 30 mph at times. Look at this poor waterfall; it can't even fall properly with all the wind: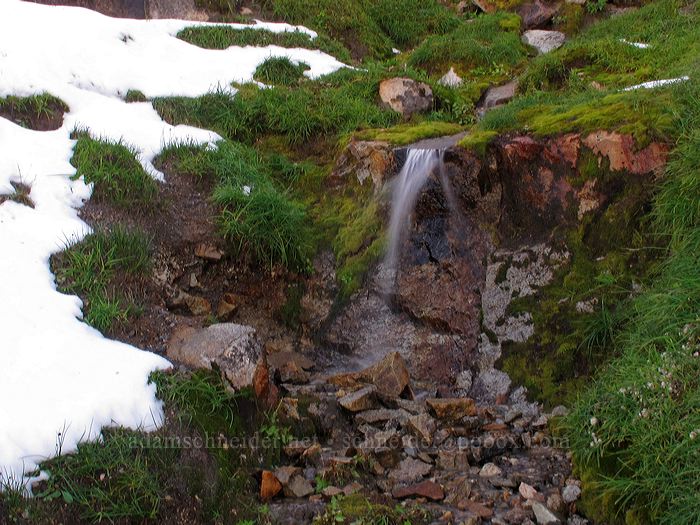 Seriously, more snow? Enough already! This is right at the turnoff to Bear Camp: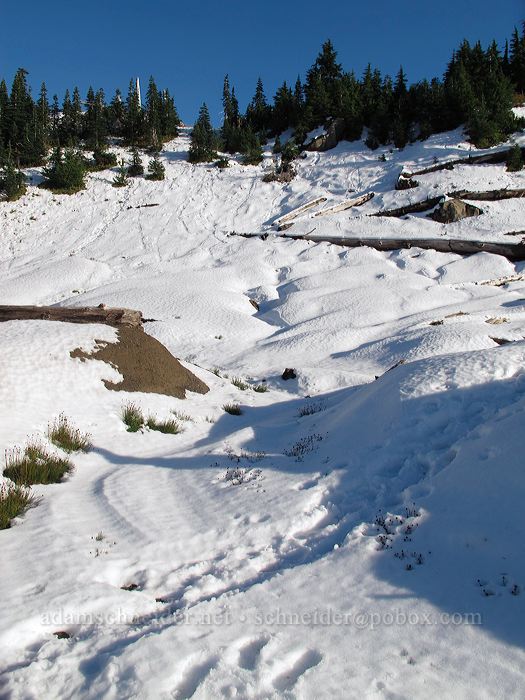 Finally, I got out into open south-facing slopes (and lower elevations), and the snow disappeared. Here's some fall colors and Mt. Adams: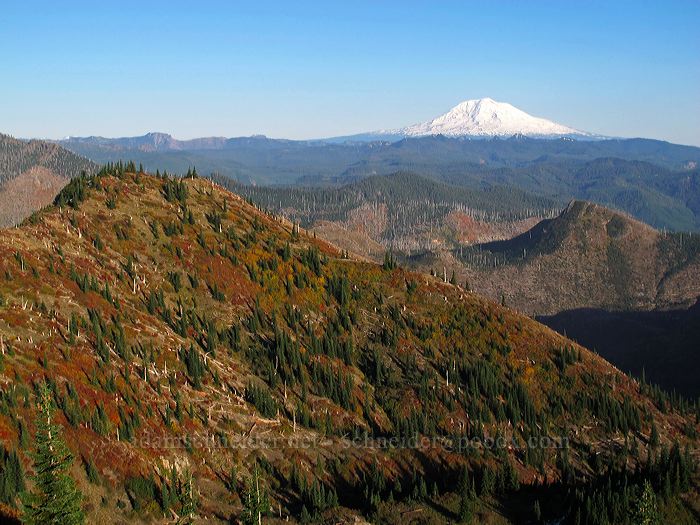 More fall colors along the trail: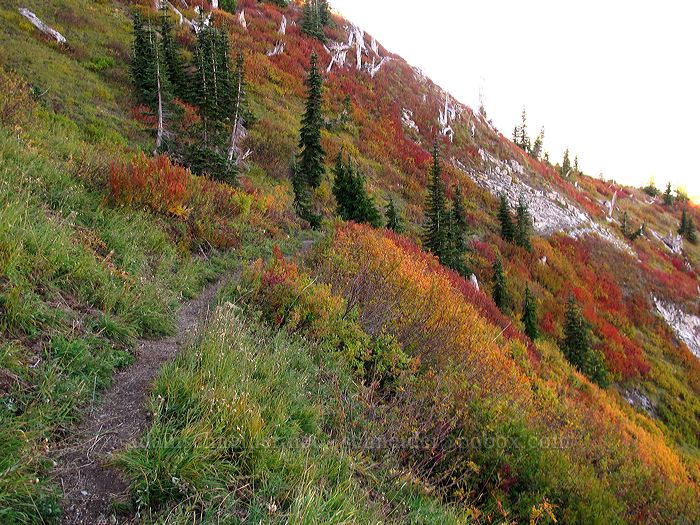 Fall colors and Mt. St. Helens (and Spirit Lake):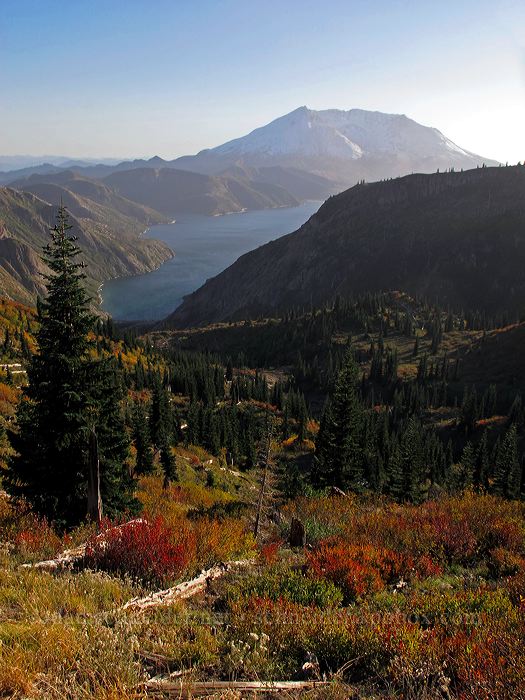 This photo is from about 45 minutes before sunset, but daylight was fading quickly: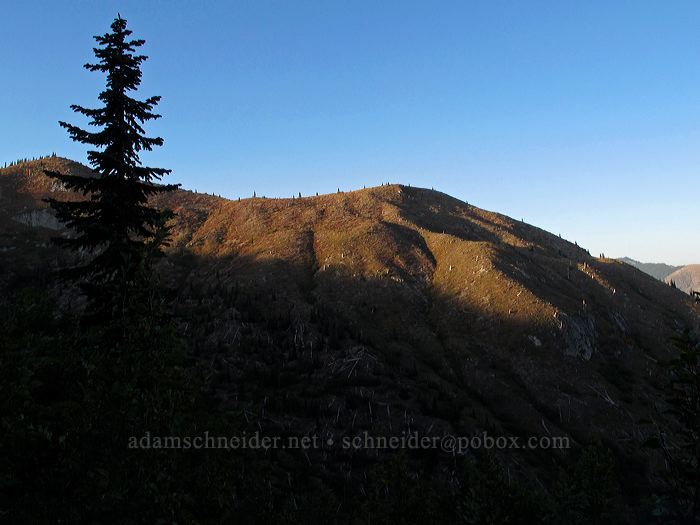 Good night, Loowit!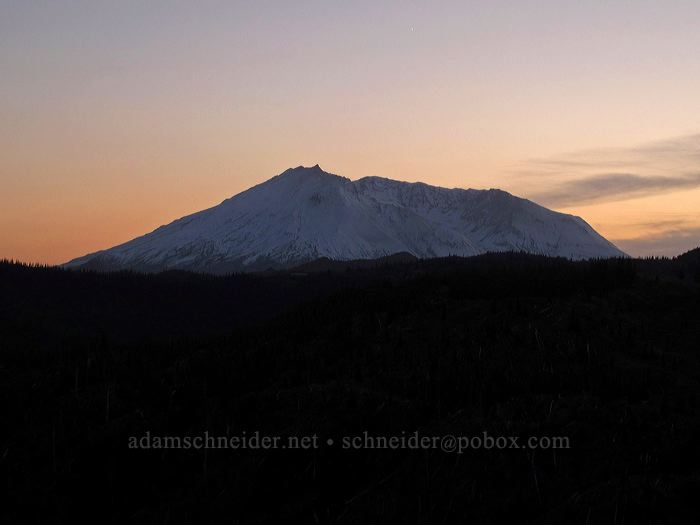 (P.S. - if you're up there and find my black fleece headband, lemme know. I dropped it on my way down, somewhere near Norway Pass.)