Since it was hot this week, I decided I needed to head for the mountains. And since wildflower season is pretty much done, I figured I may as well go someplace where the attraction was scenery rather than flowers. The obvious destination was the alpine terrain of Washington's North Cascades, where the snow often doesn't even melt until September (if at all), so the time window for getting up there each year is small. I posted on the
NWHikers.net
forum to ask for some advice, and Gothic Basin received ringing endorsements.
So, on Tuesday afternoon/evening, I drove up I-5 about 200 miles (Everett-ish) and then turned east. At the very small town of Granite Falls, I stopped to pick up some chicken teriyaki and then headed into the mountains on the Mountain Loop Highway, hoping to find a spot to pull over and pitch a tent and avoid paying the $22 that Hoodoo wants for a spot in the developed campgrounds. An hour before sunset, I turned up a tiny paved road called Mallardy Road, noticed a grassy turnout, parked, walked around a big pile of gravel, and saw this: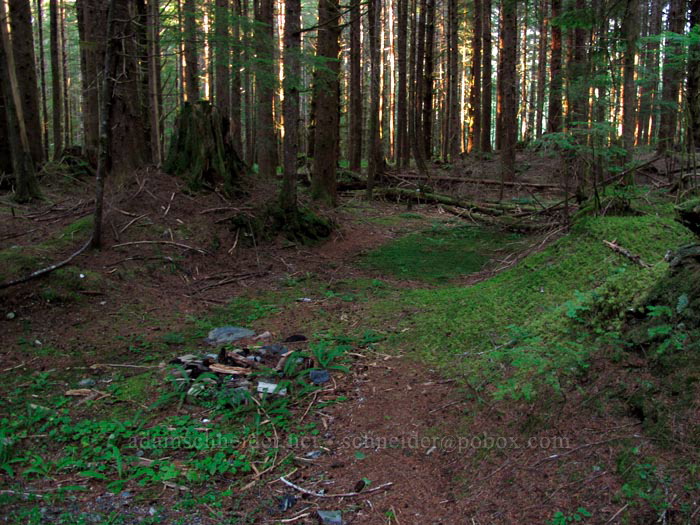 So I thought I did pretty well for my first random "dispersed camping" experience. After I set up my tent, I didn't see or hear another car go by until morning. I was only ten miles from the trailhead, so I let myself sleep in until 7:00, then I got on the road.
On my way to the trailhead, I stopped briefly at a picnic area that looked like it had some nice views. It's worth mentioning (again?) that the North Cascades are really a different world. In western Oregon, the Cascades are all basically big PILES of volcanic rock. Nothing gets
too
steep, because oversteepened piles simply fall apart. When glaciers come through, they just bulldoze the rockpiles into new rockpiles. But from about Goat Rocks on northward, you're looking at a whole lot of solid, ancient rock — some volcanic, some sedimentary, some metamorphic — that's been jammed together, lifted up out of the earth, and then
carved
by glaciers.
And all that rugged rock ends up creating alpine microclimates at ridiculously low elevations. For example, look at this photo of Big Four Mountain. See that pile of snow at the foot of the north-facing cliffs? The bottom of that snowfield (which is there every year, and has
famous ice caves
under it) is below 2000'!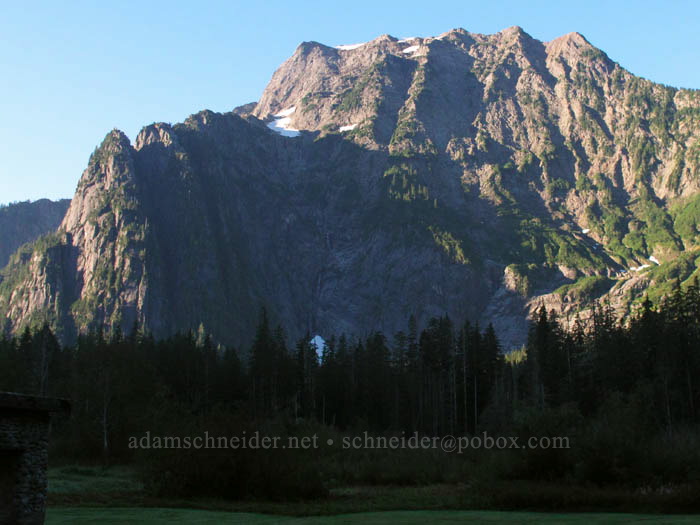 Anyway, the geology lesson is over... on to the hike. It begins at the Barlow Pass trailhead in the Mt. Baker-Snoqualmie National Forest and starts out southward along the South Fork of the Sauk River. The abandoned mining town of Monte Cristo is across the river and a few miles to the southeast, but to get to Gothic Basin, you head uphill and southwest. At some point, you actually leave the national forest and end up in the state-managed Morning Star Natural Resources Conservation Area. (Amazingly, they don't make you buy a Discover Pass when you hike across the border.)
The first 1.2 miles of the trail looks pretty much like this; I should have brought my bike: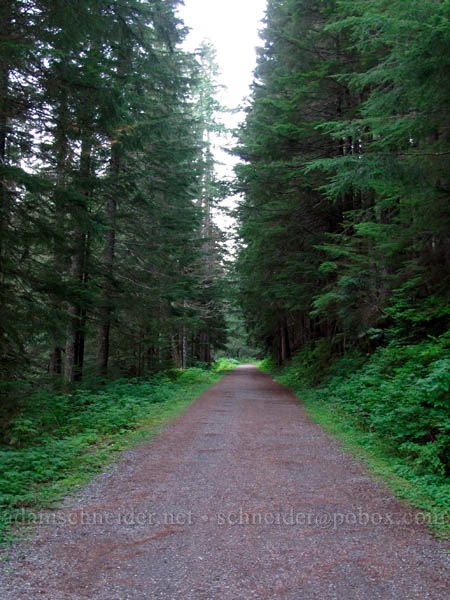 (Turns out there used to be an actual driveable road here until 1980, when the river decided to put an end to that.)
There are two signs for the Weden Creek Trail to Gothic Basin; one says "Weden" and one says "Weeden," and I've no idea which is correct. But the trail is damp and foresty and muddy and boardwalky and pleasantly boring for about 2/3 of a mile: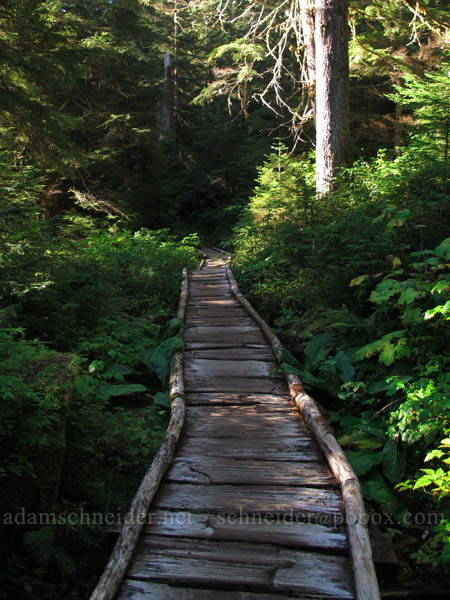 ...and then it launches upward through a fungus-infested forest for a mile horizontally and 1200' vertically. Imagine the middle portion of the Dog Mountain trail, only more relentless. And it was really humid; I should have brought more water.
Speaking of water, remember how it rained last week in Portland? Well, obviously it rained up there too, because mushrooms were exploding out of the ground all over the place. This is just a sample:

By the way, I think mushrooms are totally disgusting, but they're interesting and they gave me something to photograph on the way up (and down) the mountain.
Finally, I started getting some back-lit views: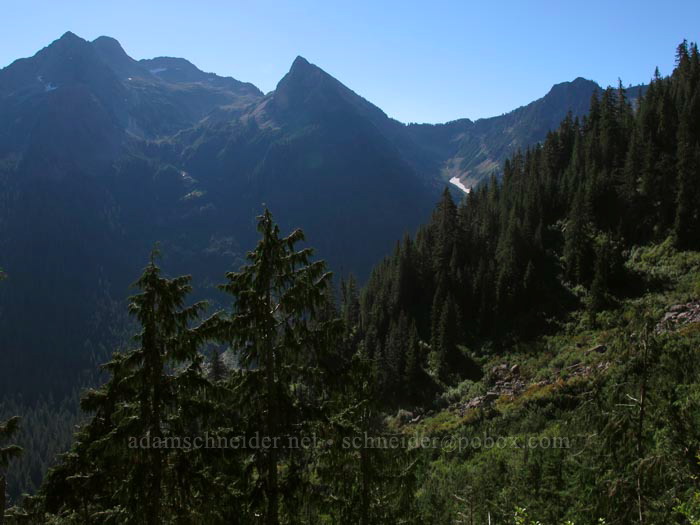 (I didn't take too many photos across the valley, because I knew everything would look better in the afternoon sun on my way down.)
The trail kept climbing for another 1 or 1.5 miles, but it was far more tolerable because it started breaking out of the trees more often. I crossed a few wet gullies like this: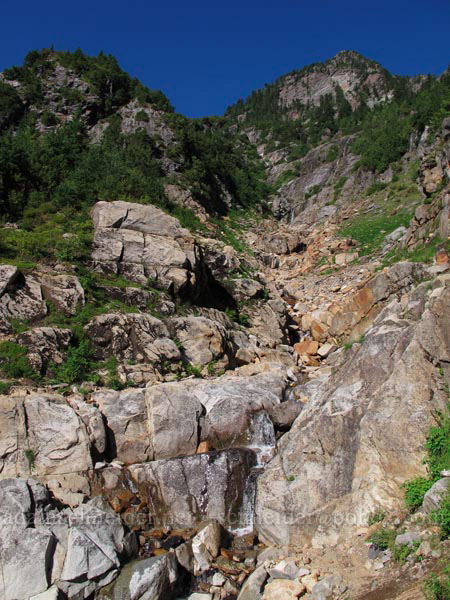 And I found some plants that were new to me... or at least not stuff I see every day. Here's (left to right) copperbush, grass-of-Parnassus, snow raspberry, and Sitka burnet:

The NWHikers.net people had warned me that parts of the trail were rough and rooty and steep. They weren't kidding:
Another little trailside waterfall, this time with a faint rainbow at the bottom: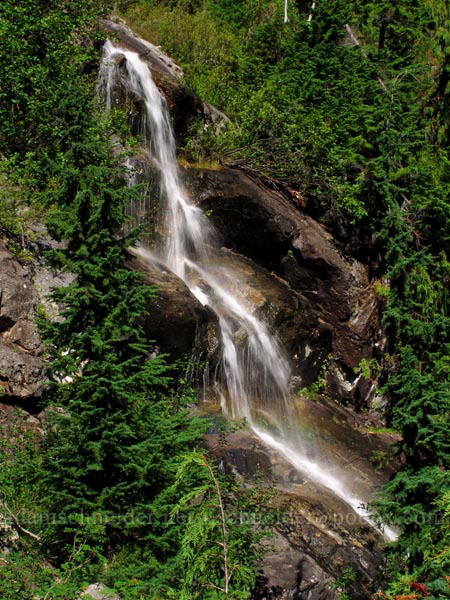 This section of the trail was overflowing with perfectly ripe blueberries and huckleberries. Left to right in the photo below are:
Vaccinium deliciosum
,
V. ovalifolium
,
V. membranaceum
. (I'm not usually a huge fan of the black huckleberries, but when they're as big as these were, they're pretty awesome.)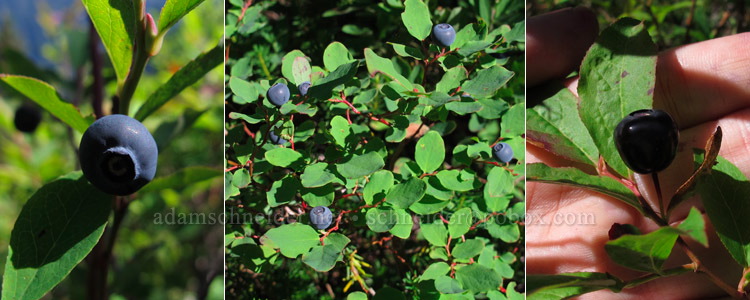 More mountain views: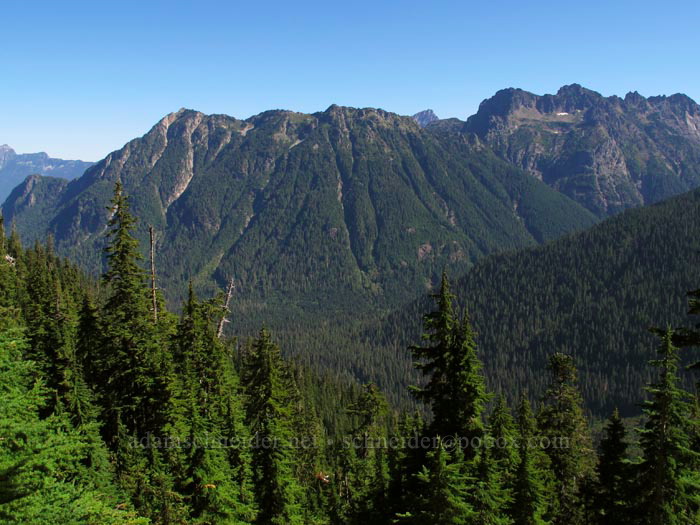 Lots and lots of gentians: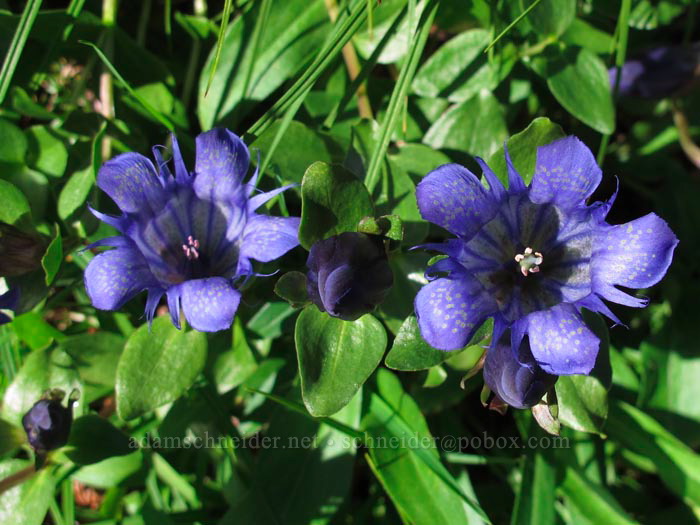 The last bit of trail before Gothic Basin proper... sort of a stairway to heaven: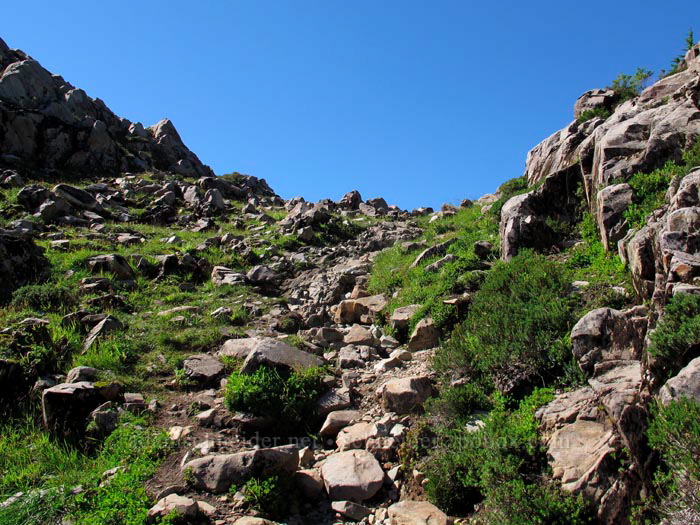 Ta-da! Gothic Basin at last. And Sheep Gap Mountain in the background.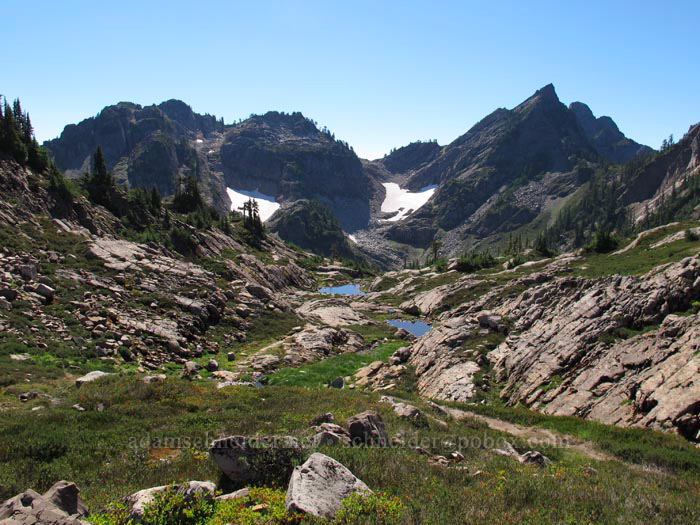 Some sort of fleabane was common among the rocks. Ferns too: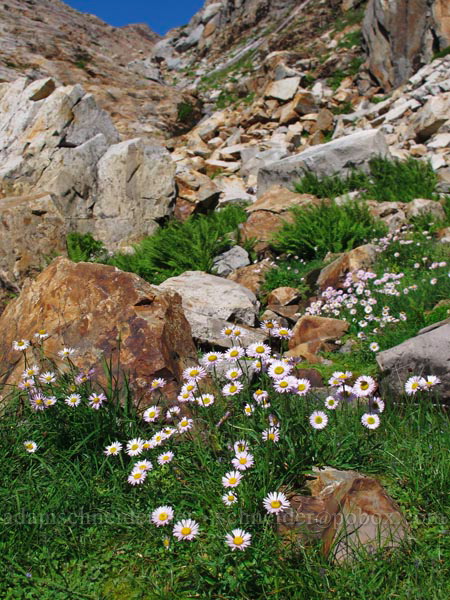 See that textured rocky slope in the foreground? It seemed like most of the rocks up there were tilted at a similar angle... but you can walk right up them! I felt like Spider-Man on this stuff: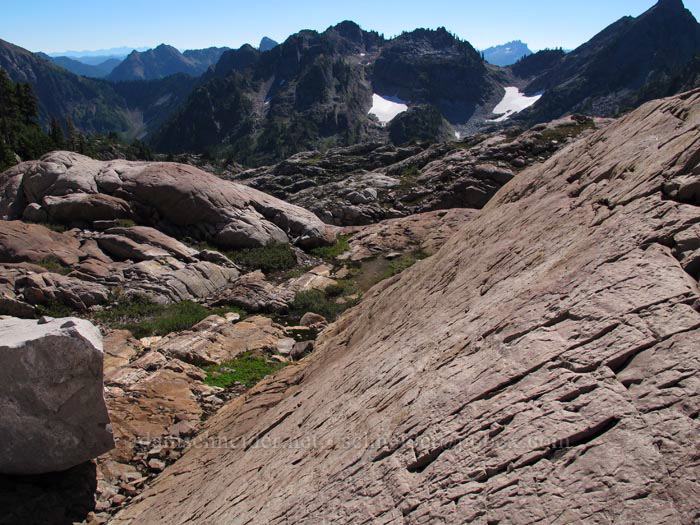 After half a mile of wandering upward through Gothic Basin, voilà: Foggy Lake and Del Campo Peak.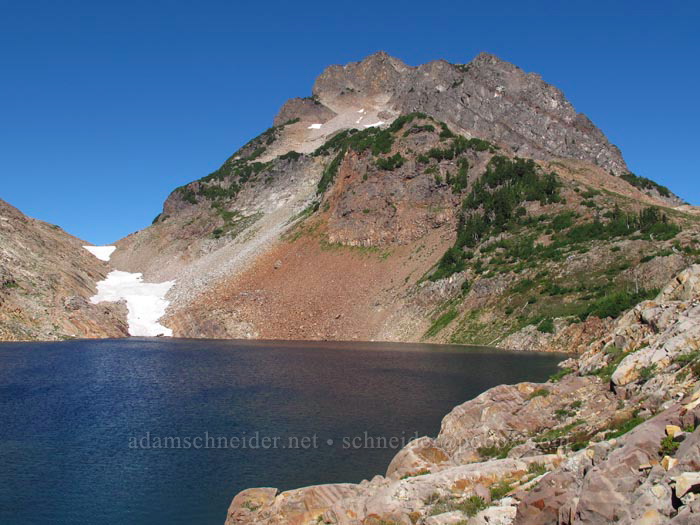 Also Gothic Peak... which, by the way, I'd decided to climb after lunch: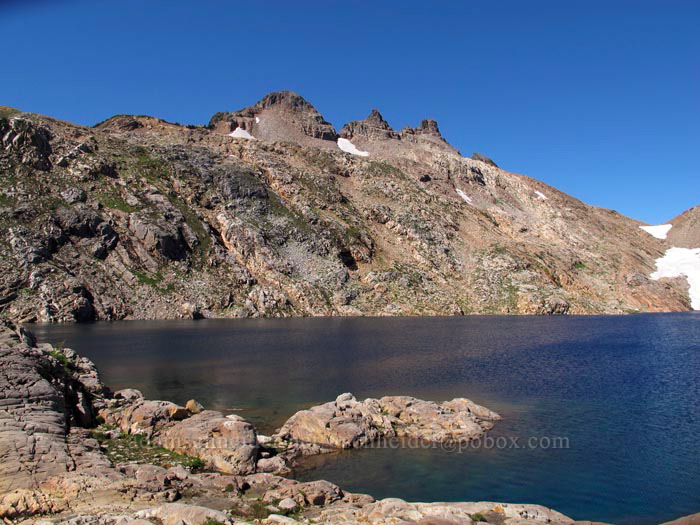 I looked for a shady spot to eat lunch, but there were no trees of any kind (or even shrubs) around the lake, probably because some years the snow
never melts
up there. I settled for a rounded rock on the north side of a small cliff, where I changed my socks and ate a sandwich. My view was pretty much what you saw in those previous two photos.
Then I headed west, ascending the ridge that leads to Gothic Peak. Much of the route was on that sticky Spider-Man rock: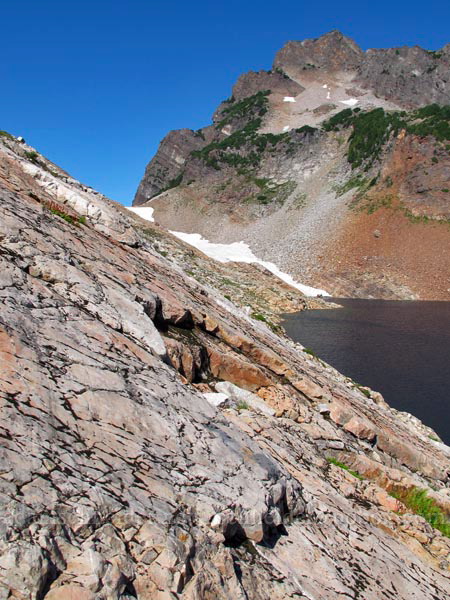 The distant views got better with each step. Hello, Glacier Peak! (Sloan Peak is on the left.)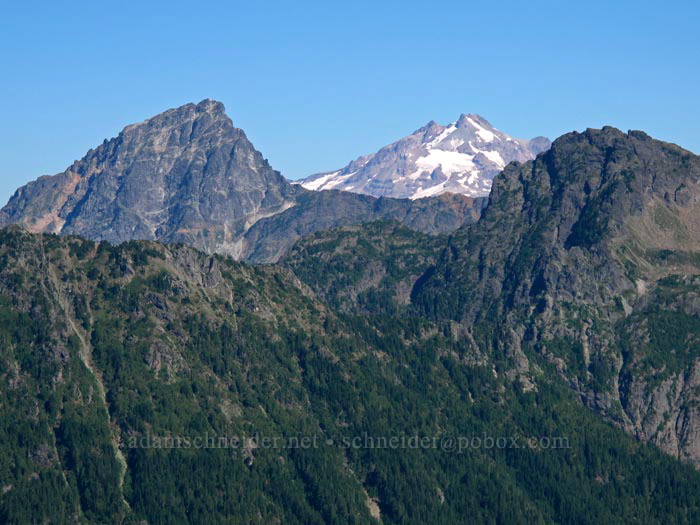 Once I got up on the crest of the ridge, I got to see the Sultan River's upper valley and the very gnarly south face of Gothic Peak. I don't think I'd be very eager to scramble up this side: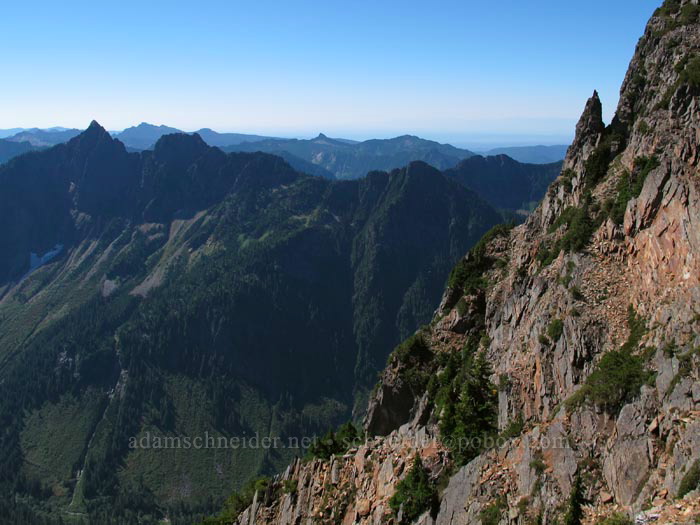 I'd never seen Mt. Rainier from
this
angle before. What's Little Tahoma doing on the left??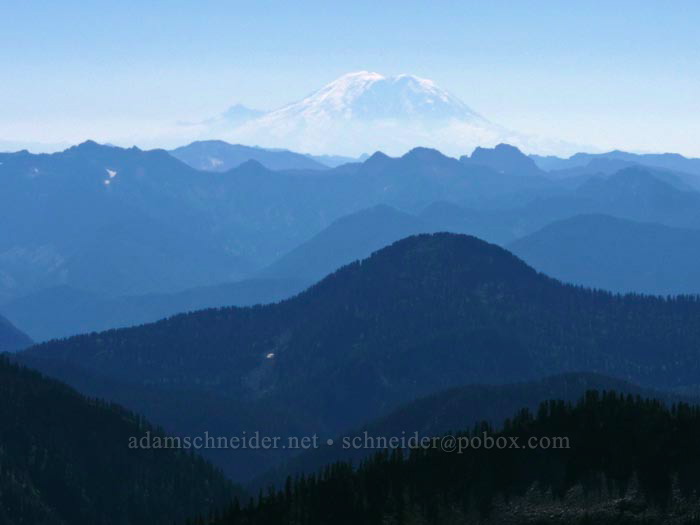 This was one of those "holy crap,
look at where I am!
" moments. So many mountains, all the way to the southeast horizon: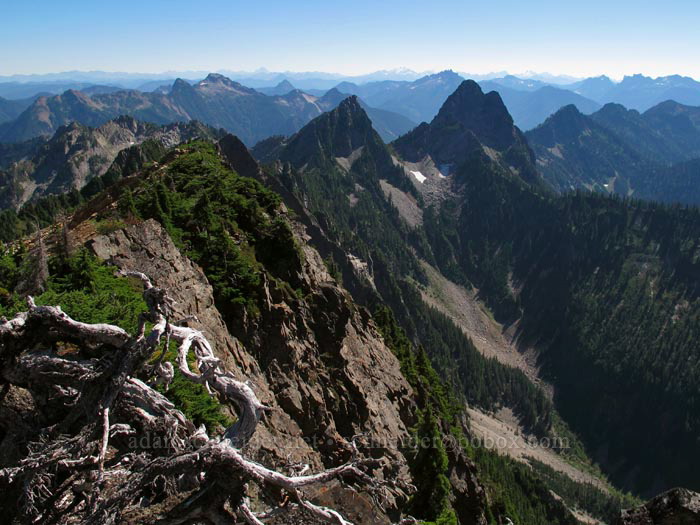 After walking (and scrambling) up the ridge for a few hundred yards, I got to the summit block, which is maybe 80 vertical feet and about the same horizontally. Not a difficult climb: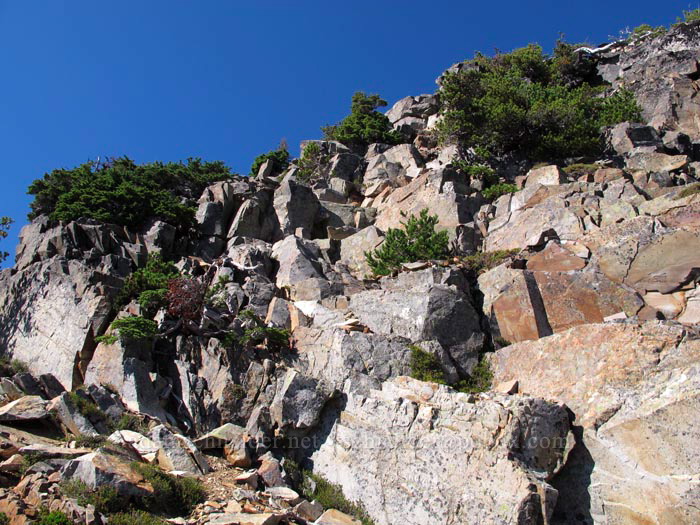 And then I was on top. Hi, Mt. Baker! And Mt. Shuksan, I don't think we've met before...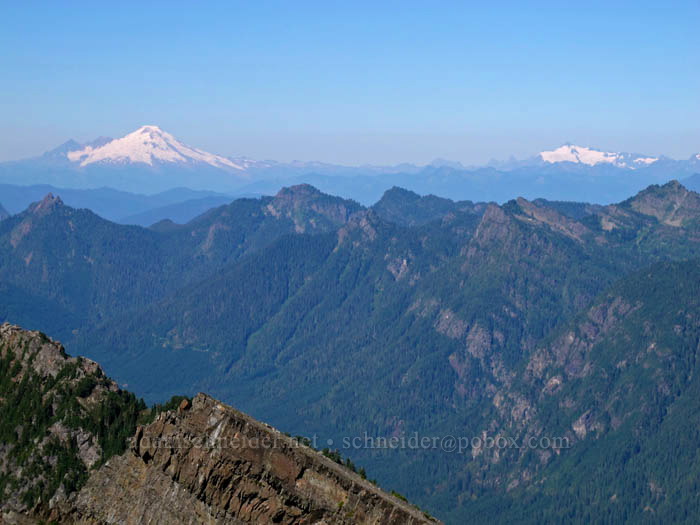 Gothic Peak's summit has a ridge that pokes out to the northeast, so of course I had to climb out on that. There was just a teeny tiny bit of exposure on the jaunt over and alongside these rocks...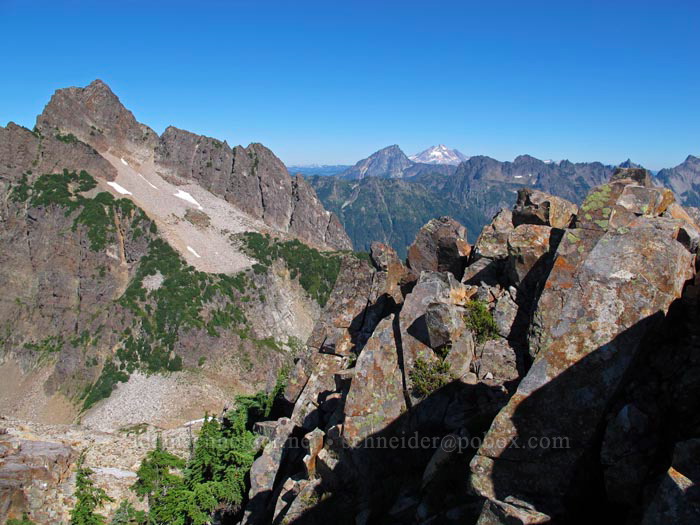 There's Foggy Lake and Gothic Basin a thousand feet below, in all their rocky, barren glory: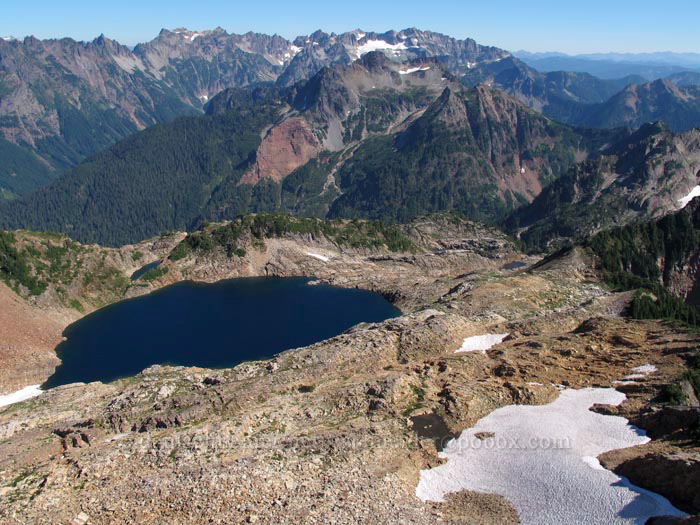 And here's the ridge I came up -- and went back down. Obviously the northeast side (left) is a little less terrifying than the southwest side (right):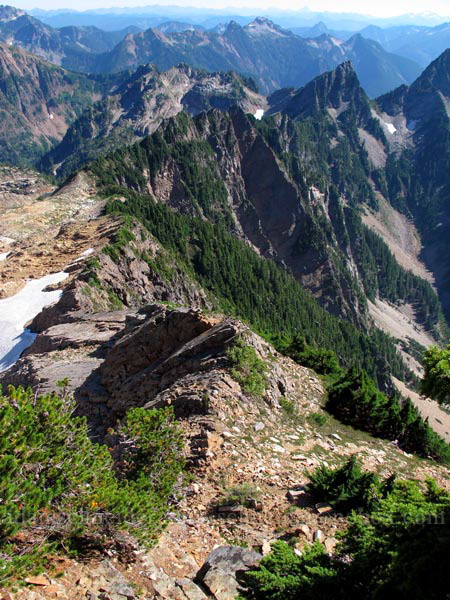 Here's more of those angled rocks. I was never short on handholds: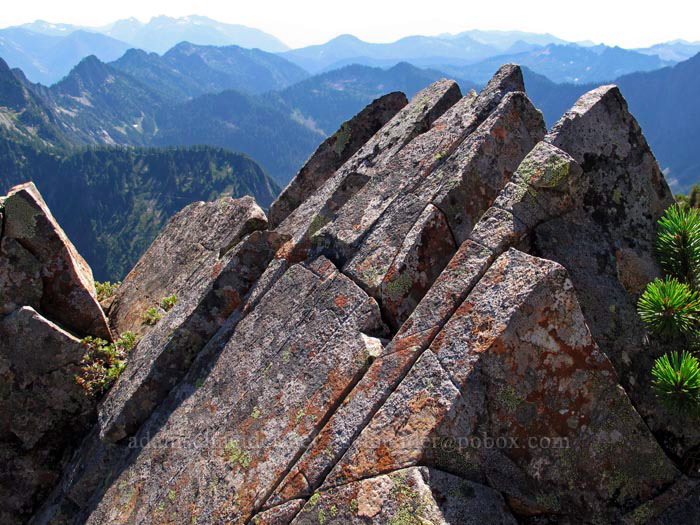 It really irks me when I take a nice photo with my crappy cell-phone camera (for texting to friends to make them jealous), but then I
forget to capture the same view with my real camera!
That's what happened here; I like how it has Del Campo, and Glacier Peak,
and
Foggy Lake, but this is a phone pic: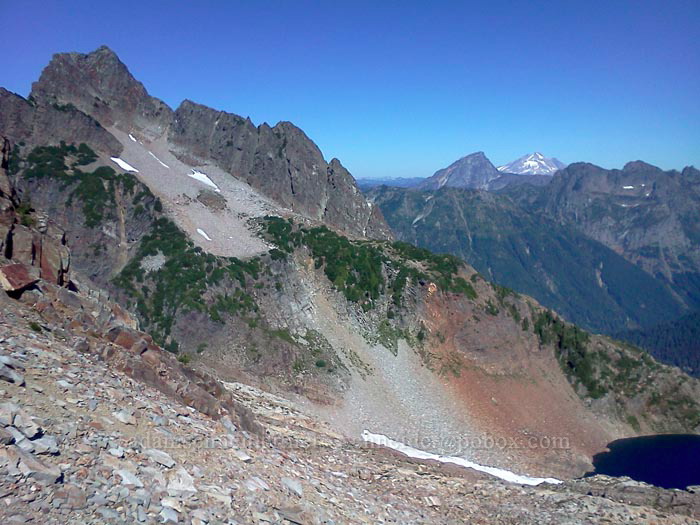 A look back up at Gothic Peak's summit: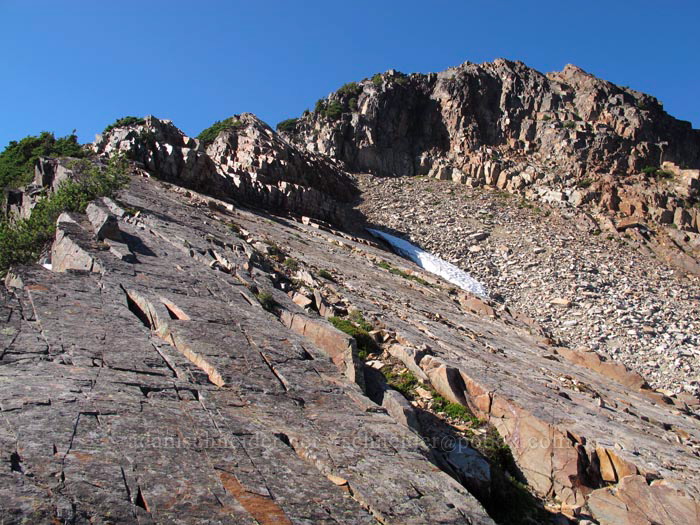 I found that it was hard to properly capture the blue-green of the water without washing out everything else in the picture. So here's a washed-out aerial view of my lunch spot: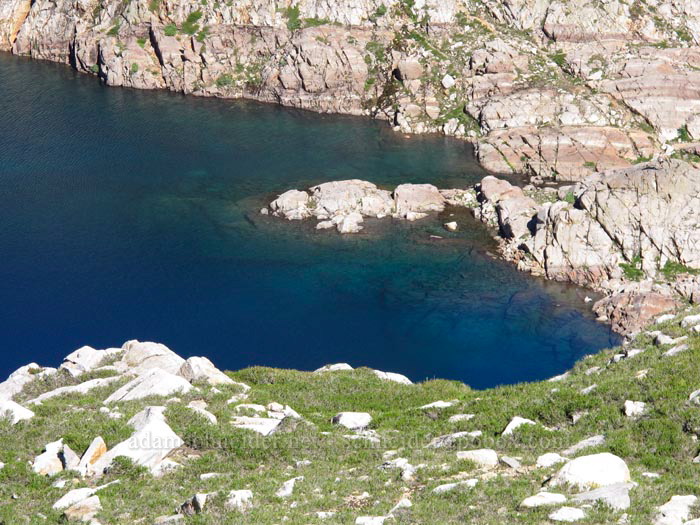 Back down off the ridge now, and exploring the south side of Gothic Basin... some of the meltwater ponds/streams had
insanely
bright green moss in them:
A big snowfield had a mini-ice cave at its bottom end: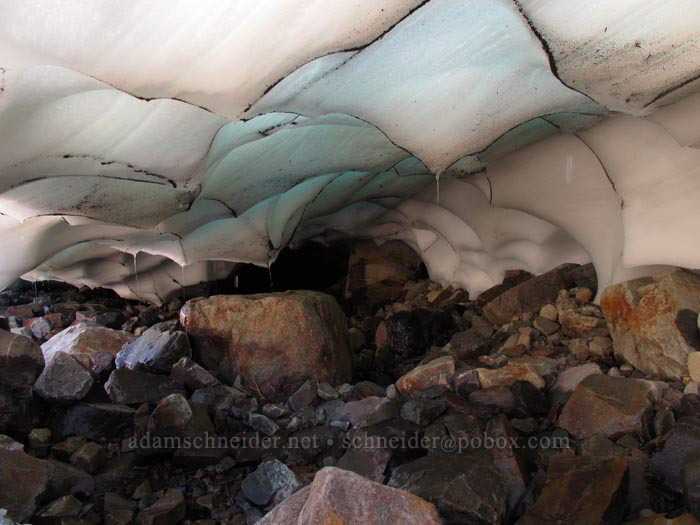 A random little waterfall along the stream that leads from Foggy Lake down to Weden Lake (and eventually becomes Weden Creek):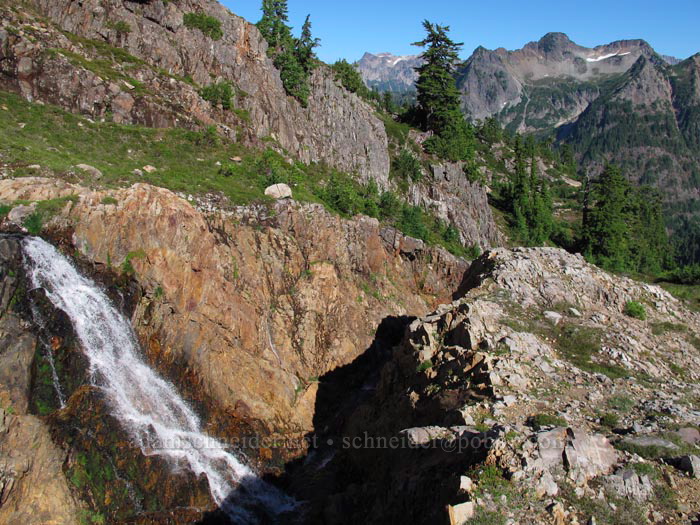 Speaking of Weden Lake... I probably could have gotten a less-tree-obstructed view than this, but I was getting tired and didn't want to add any more elevation to my 4000'+ day: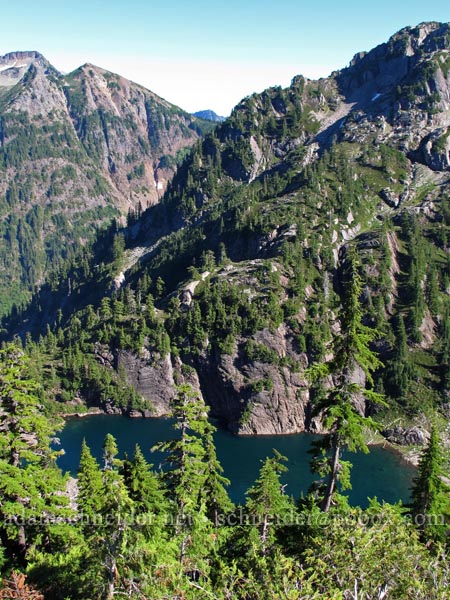 I wondered whether I'd be able to cross that stream with the waterfalls on it, or if I'd have to retreat all the way back to near the ice cave. Well, it turns out you can go pretty much
anywhere you want
up there, because the rock is so solid yet broken up just perfectly.
Of course
there was a trail down into (and up out of) the stream's little canyon! And
of course
there was a hidden waterfall down there!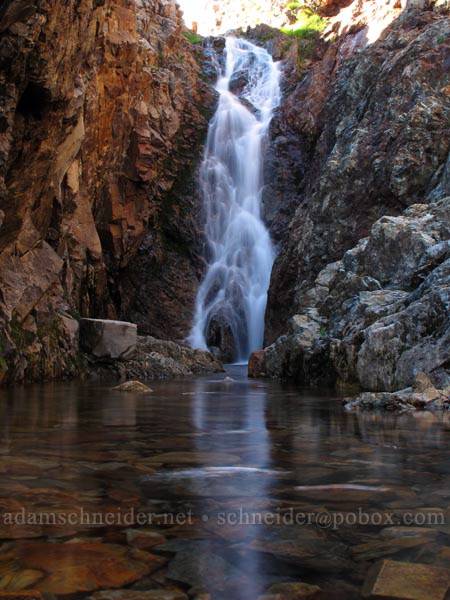 I was right about getting better views across the valley once the sun shifted around to the west. That's Silvertip Peak on the right, with the big red nose:
My counter-clockwise wanderings finally brought me back to the place where I'd first entered the basin. This may be the only photo I have with both Gothic Peak
and
Del Campo Peak in it: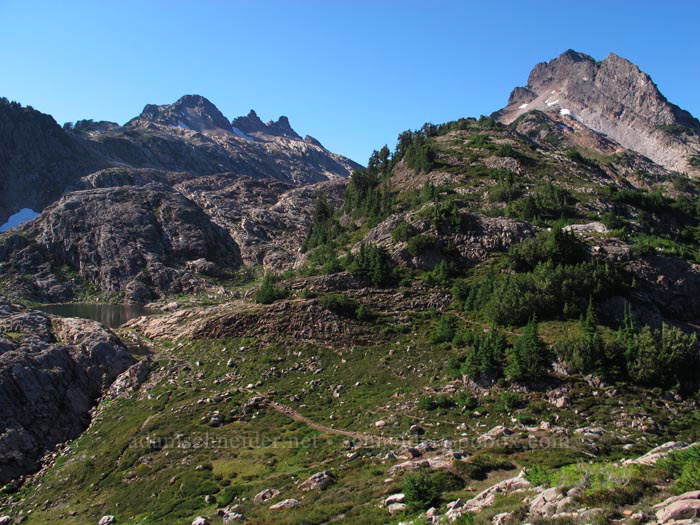 ...and then it was time to abuse my knees, hips, and heels with the 2.5-mile descent. The way up was arduous, but the way down was its own kind of unpleasant. Did I mention that the trail is rough?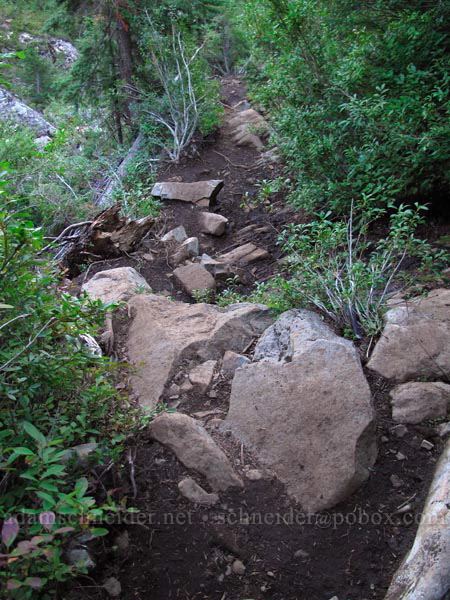 On the way down through the forest (where, thankfully, the roots and rocks are minimal compared to higher up), I finally remembered to take a photo of what it looked like in there: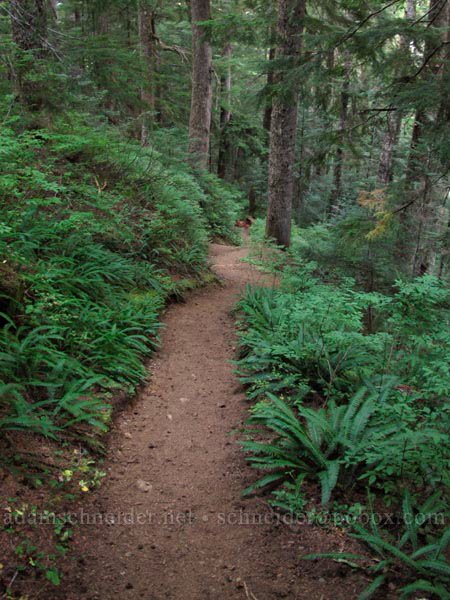 On relatively level ground again, I passed through a marshy area. Skunk cabbage always has big leaves, but this one was something else: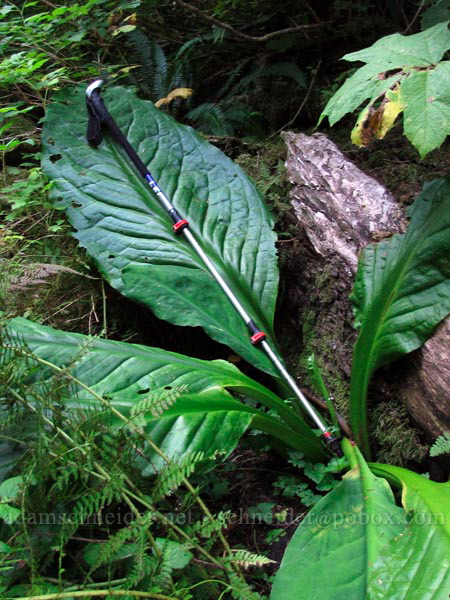 Finally back down at the river, I took a peek upstream to see how people were crossing it (to get over to the Monte Cristo site). You can ford it, or you can walk across on this big ol' tree: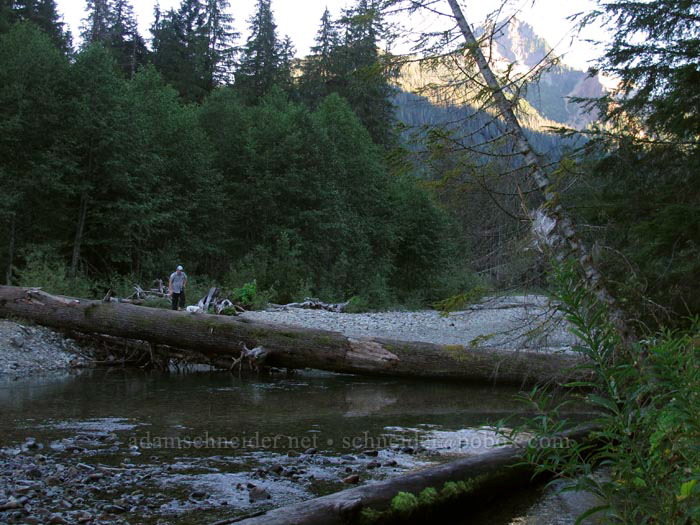 And a final parting shot of the North Cascades before the shadows swallow up Sheep Mountain (not to be confused with Sheep
Gap
Mountain):
Back to the car around 7:00pm, and then 4.5 hours back to Portland. The good news: no Seattle/Tacoma traffic at that hour.
Oh, and here's a map... it was about 12 miles total, including the Gothic Peak side-trip.