I've been hiking all over Oregon and Washington this summer, but I had only been on Mt. Hood
once
, so I figured I'd better get up there again while it was still August. I decided to explore Elk Cove and vicinity... especially the upper (southern) parts of Elk Cove, where there are no official trails.
And I'm glad I did it, because I found an amazing
secret wildflower garden
that's apparently only out of the snow for a couple months out of the year, and so far up in the back corner of Elk Cove that very few people ever wander up there. More on that later... for now, here's a map of the higher-elevation portion of my Tuesday wanderings (blue = Timberline Trail, green = my track, red = burned area):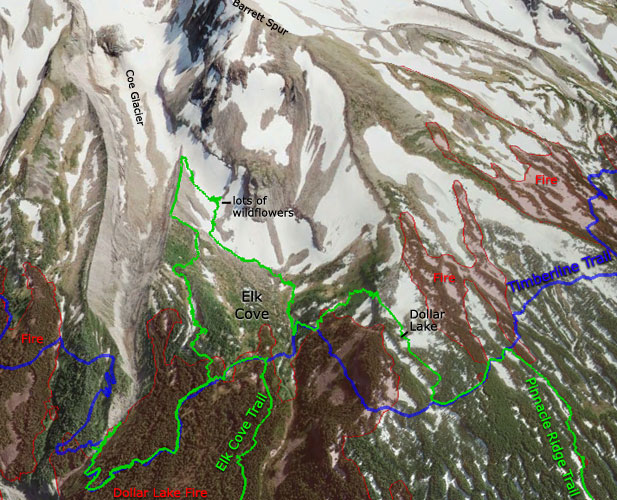 My plan was to make a loop of the Elk Cove and Pinnacle Ridge Trails; I parked at the newly-relocated Pinnacle Ridge trailhead, bushwhacked 1/2 mile down to the Elk Cove trailhead, and then started up the Elk Cove Trail. But, at about 1/3 of a mile from the E.C. trailhead, I turned right and charged straight up the hill to the top of the ridge, saving myself about 3/4 of a mile of boring switchbacks.
All along the thoroughly burnt Elk Cove Trail, I found... fireweed. What a surprise.
Oh phacelia, you're breakin' my heart... (Sorry, I've always wanted to write that in a trip report.)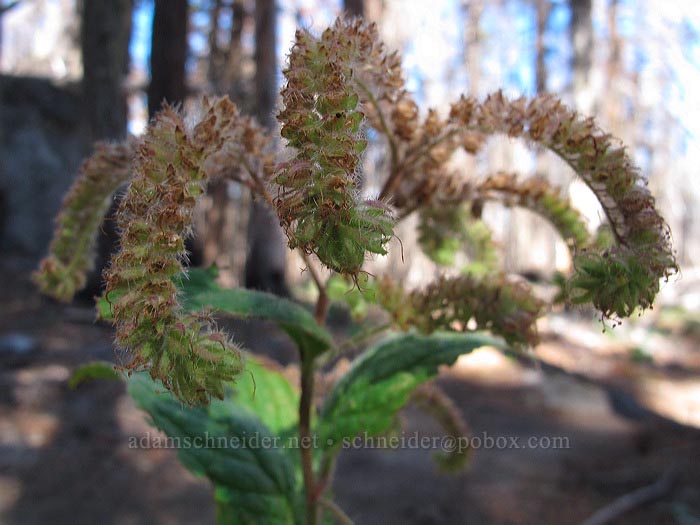 The Dollar Lake Fire did open up some semi-obscured views of Hood: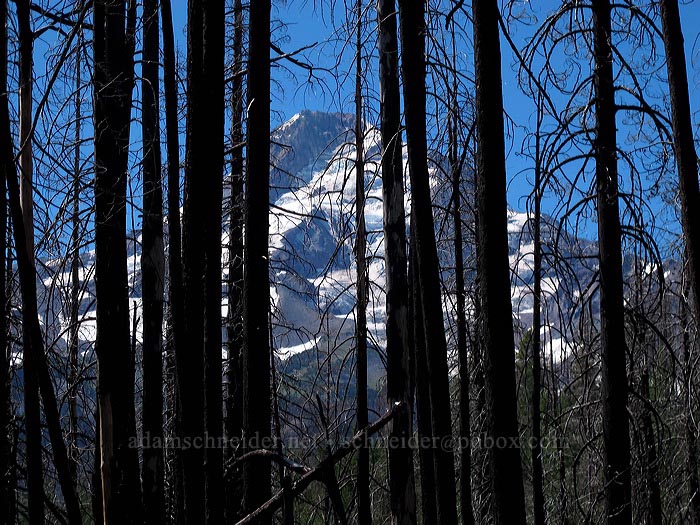 Why is this spirea white?? It hasn't gone to seed; it's in full flower, it's just... white. [Edit: turns out it's "birch-leaved spirea,"
Spiraea betulifolia
var.
lucida
.]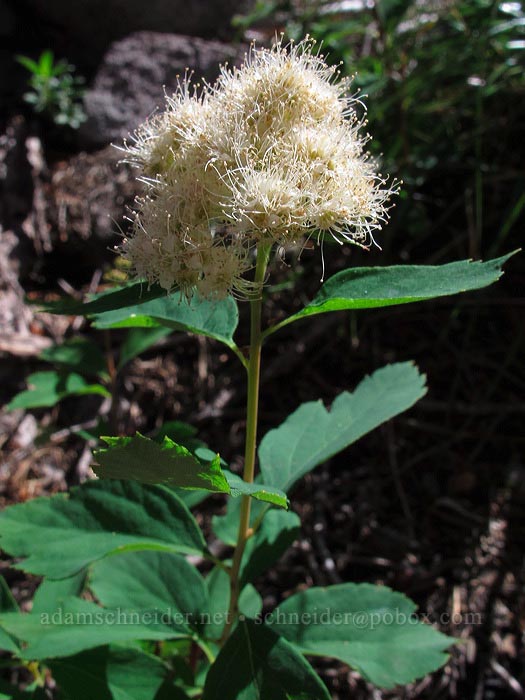 The avalanche lilies, of course, had long since gone to seed: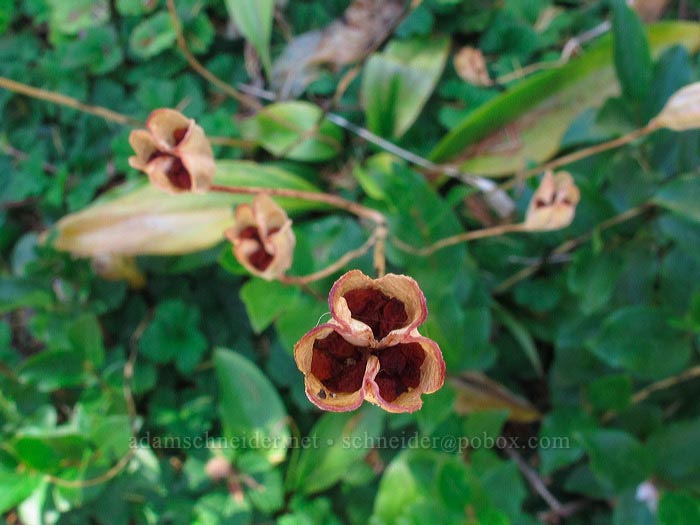 This is the stream that flows down out of the west side of Elk Cove and eventually joins Coe Creek. It's pretty much the only water you cross on the entire Elk Cove Trail: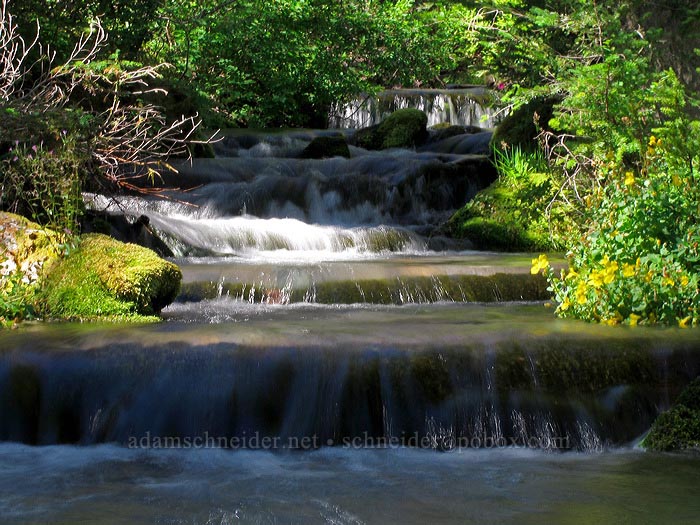 Finally, after 5 miles or so of slogging uphill, I reached the Timberline Trail at Elk Cove. Asters and pasqueflower seedheads were everywhere: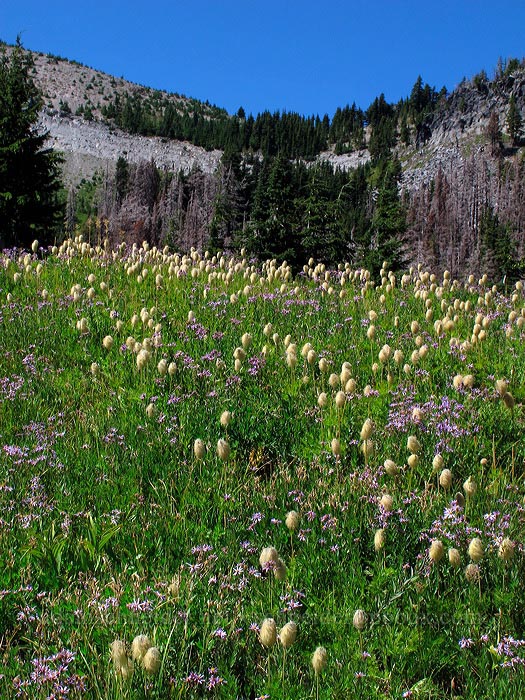 In this photo, all of the bright red splotches are clumps of Sitka mountain-ash berries: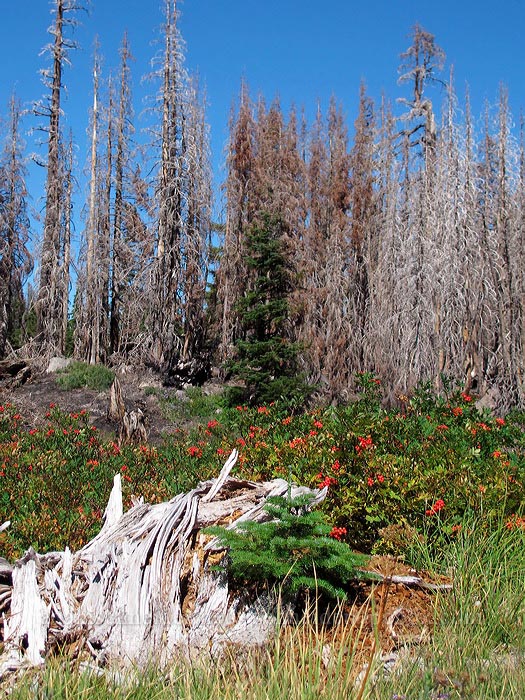 Because I'd never been there before, I decided to walk over to Coe Creek (or the "Coe Branch" of the Middle Fork of Hood River, according to the topo map), which comes directly from the toe of Coe Glacier.
The creek was
raging
. I found a couple of places where I probably could have jumped across, but I wasn't sure I'd be able to jump
back
. I noticed some cairns just above the trail and found this: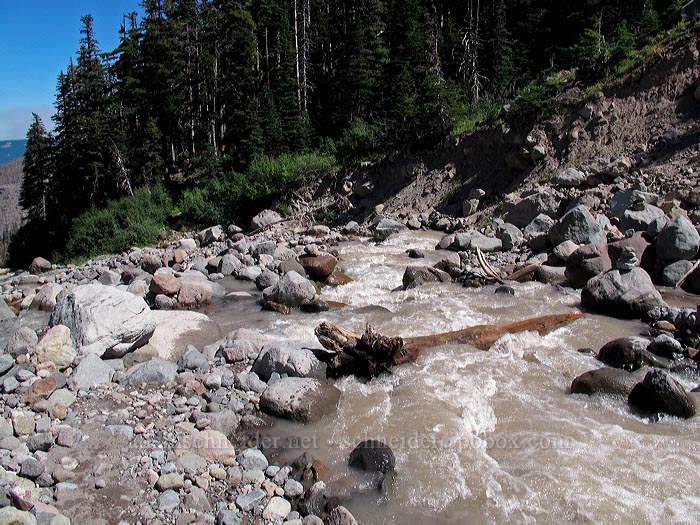 That wet log was the only reasonably sane crossing on this stretch of Coe Creek. I successfully crossed the log and then re-crossed it, just to say I'd done it, but yikes. I don't think I'd have done it without trekking poles for a little extra balance.
Anyway, I went back west (the way I'd come) on the Timberline Trail, but
before
I got back to Elk Cove, I bushwhacked straight up the hill, through hemlock forest like this: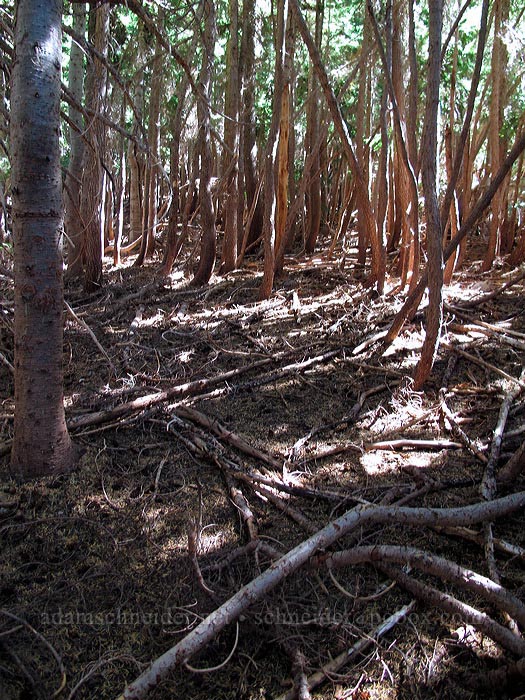 (Fortunately, only the edges were as dense as that stuff on the right.)
Then I got sick of the woods and broke out into this open meadow on the eastern edge of Elk Cove:
Then I crossed back through the woods and traversed/ascended this hillside, which was full of spent lupines and Sitka mountain-ash. That mountain-ash can form some pretty dense thickets! Fortunately, there were enough rocks laying around that I didn't have to stomp on very many plants. I was able to follow a lot of deer/elk trails, too.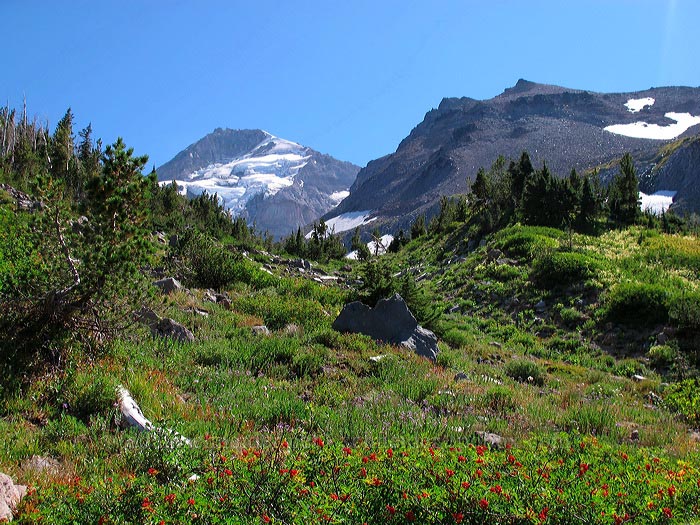 On a little ridge, I heard a racket and saw several Clark's nutcrackers and at least one falcon/hawk flying around. They never got close enough for me to get any photos better than this: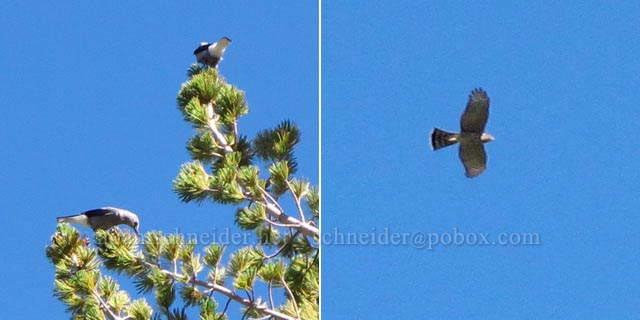 One of the nutcrackers was sitting on the branch of a white-bark pine and
attacking
a pine cone that was still on the tree.
I could have started down at this point, but the top of this rocky ridge was calling to me, so I kept going up: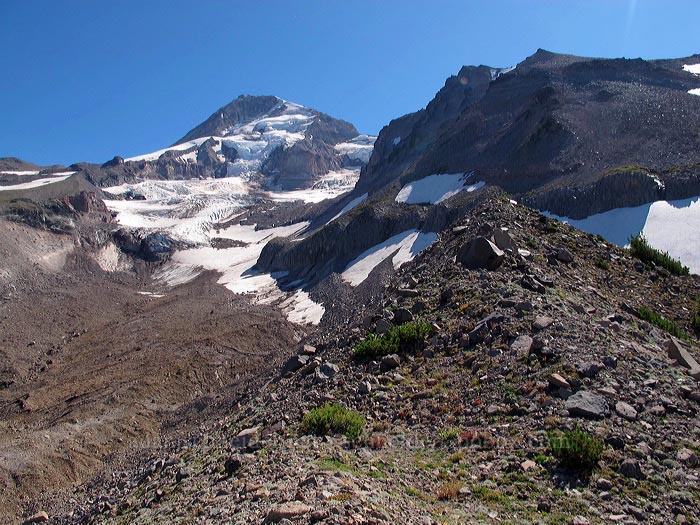 I had a very clear view of that fire near The Dalles. It looked pretty nasty, but fortunately the wind wasn't blowing the smoke toward me: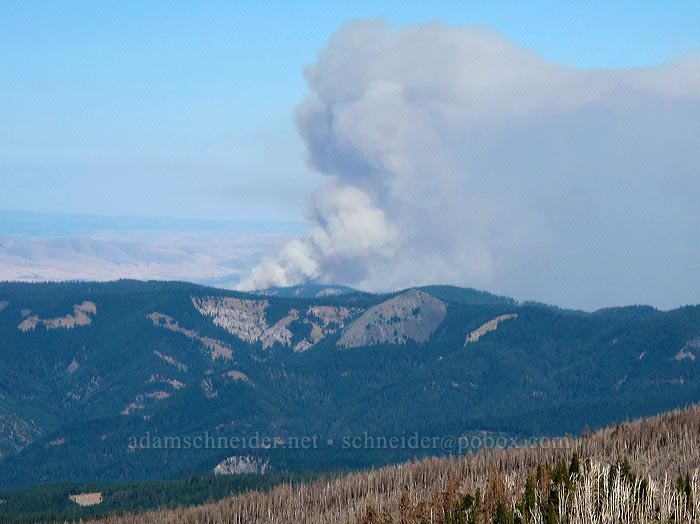 This is the view looking down into Elk Cove from that ridge I felt compelled to ascend. I decided to sit down and have lunch as soon as I found a comfortable rock to sit on and/or lean against.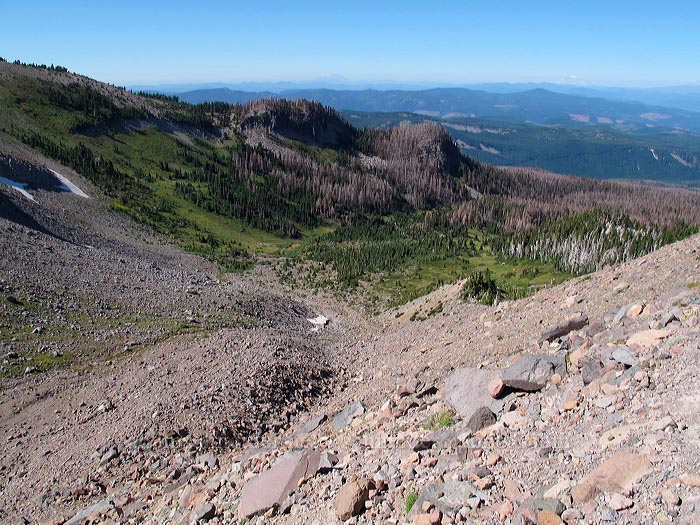 I'd been noticing some patches of pink among the gray rock and green moss/grass. Of course, they turned out to be Lewis's monkeyflowers. But the dense patches of partridgefoot back in the shaded area foreshadowed (no pun intended) what was yet to come: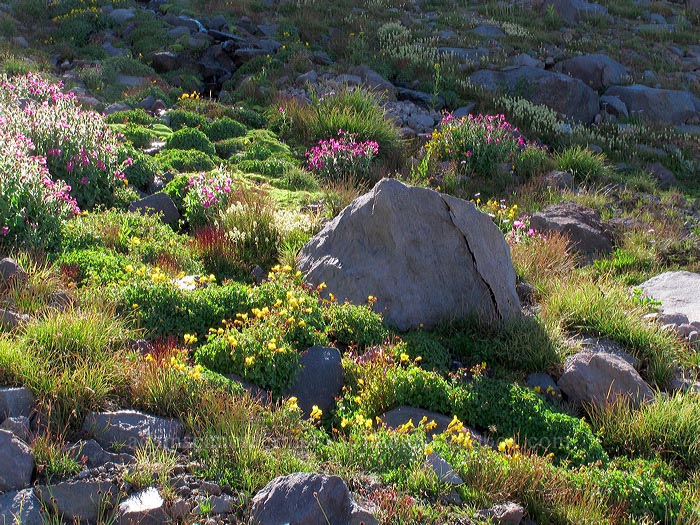 I went a little further west, completely in the shade of the cliffs above the cove, and HOLY CRAP. The flowers up there were amazing. It was mostly monkeyflower – both yellow and pink – but also some partridgefoot, paintbrush, and daisies.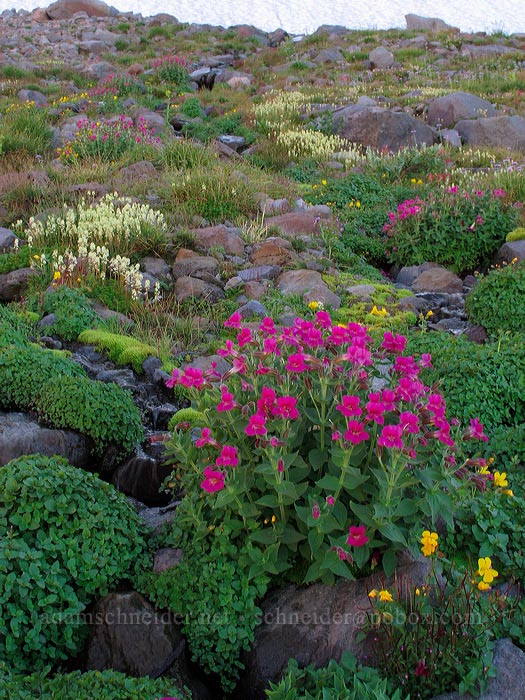 That snowfield at the top normally extends further down and covers this entire rock garden: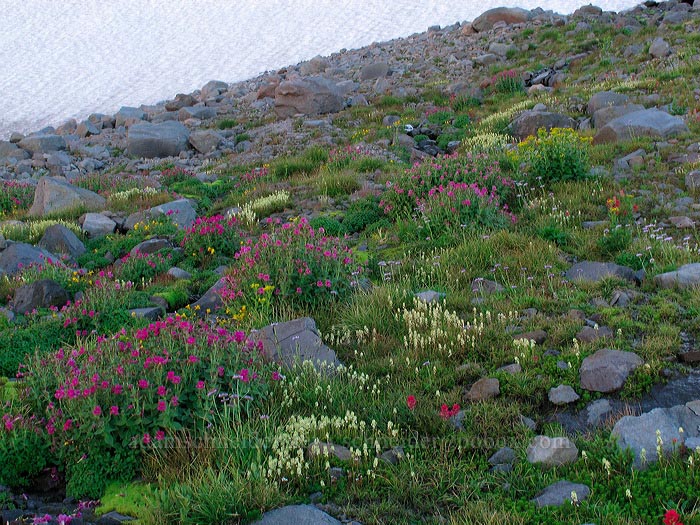 Along a little cascade, the yellow monkeyflowers were going nuts: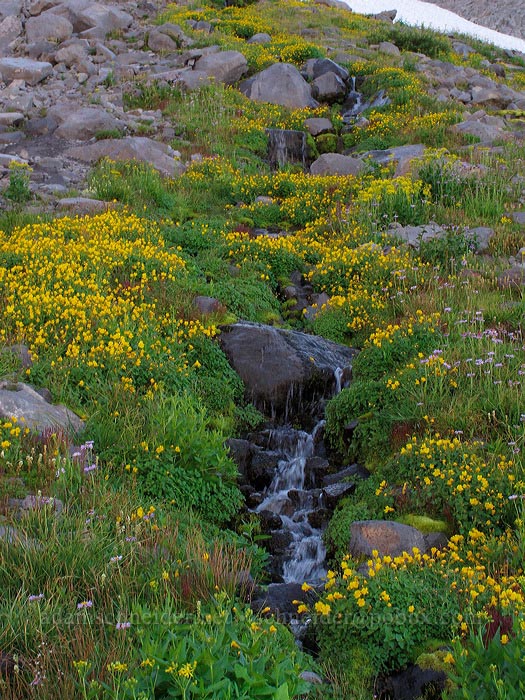 One more photo of the secret garden, with cliffs for perspective: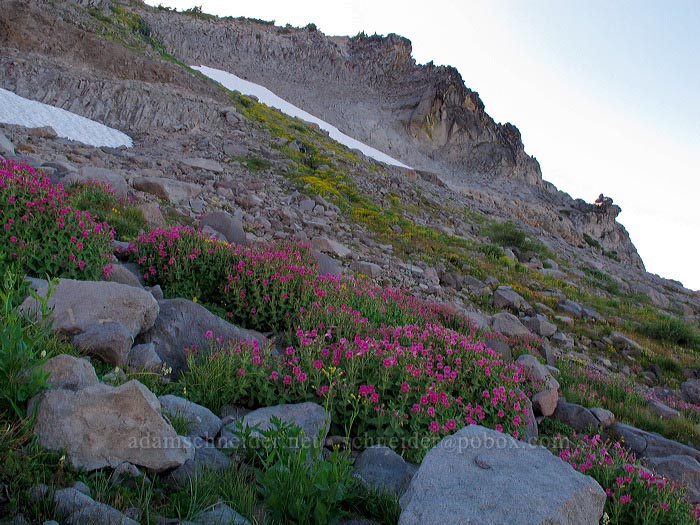 Okay, I lied. One more: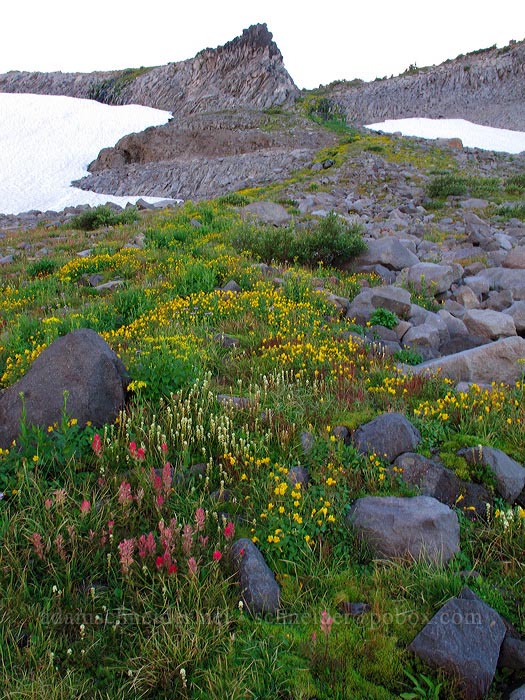 A few little streams of meltwater were reponsible for all this color. They merged and flowed down toward the west, igniting more monkeyflower along the way: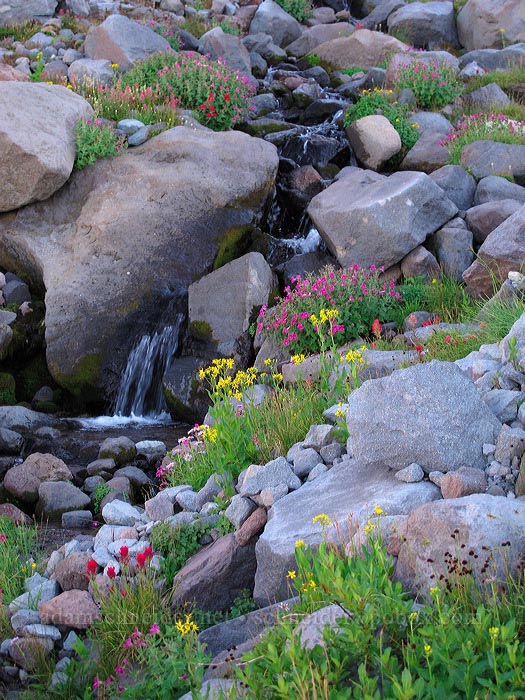 Eventually I reached the western part of Elk Cove, which is more familiar territory and has a few trails in it. I looked back up the slope for a distant view of that amazing pink+yellow rock field, but I couldn't even see it from down there.
The pasqueflower seedheads were out in force, and the cliffs between me and Dollar Lake were starting to cast some big shadows: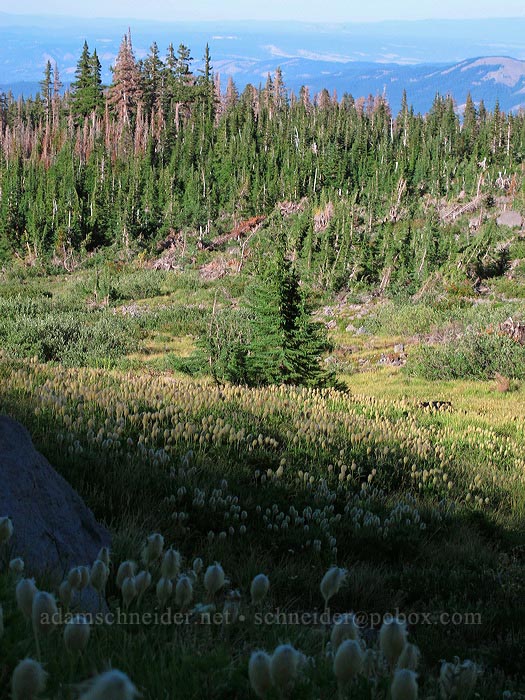 I'm not complaining about the shadows; my photos of asters came out very well because of them: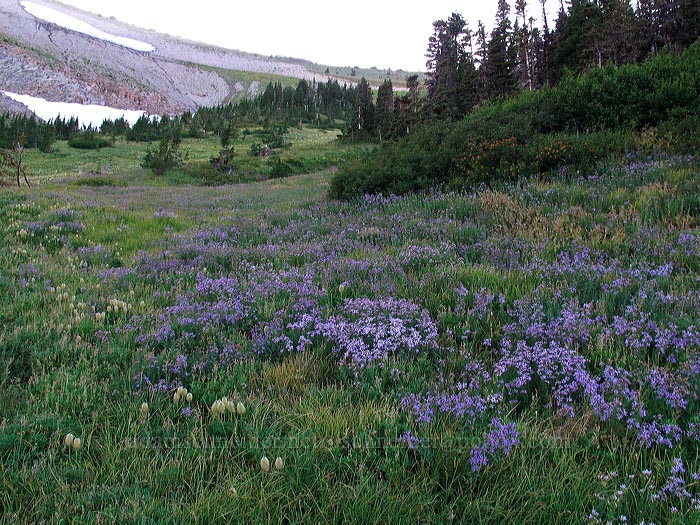 One last look at "Elk Cove Creek," if we have to give it a name. Mt. Hood and Barrett Spur were looking majestic as usual: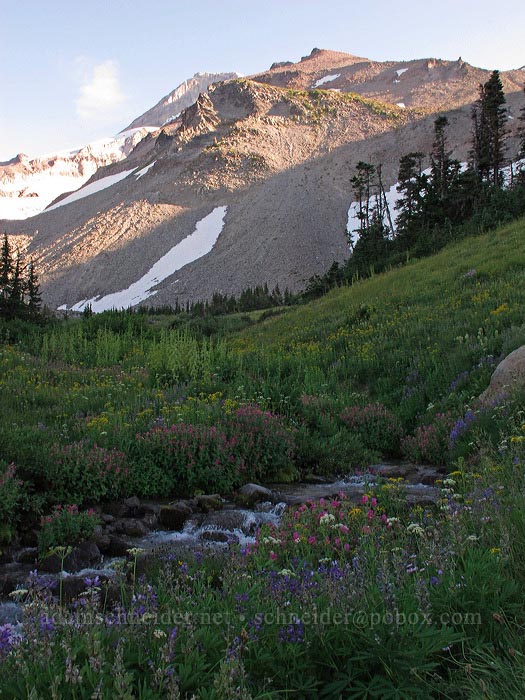 Since bushwhacking was the order of the day, I decided to go straight up the hill/cliff to Dollar Lake. It's not too far, but it's steep: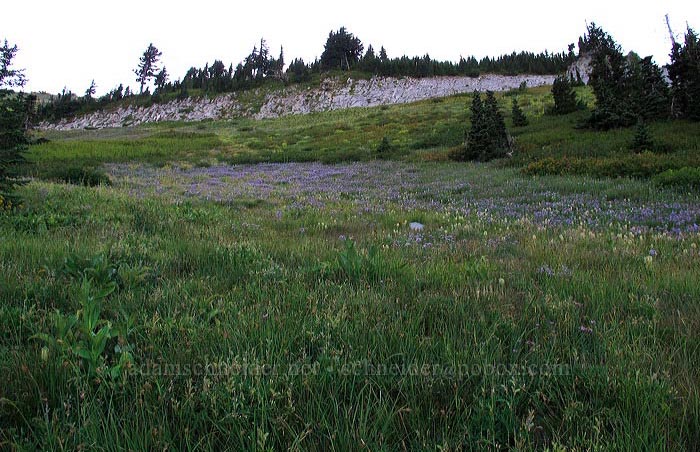 Parts of the route were class 3/4 scrambling on a pretty steep cliff. I thought it was a blast.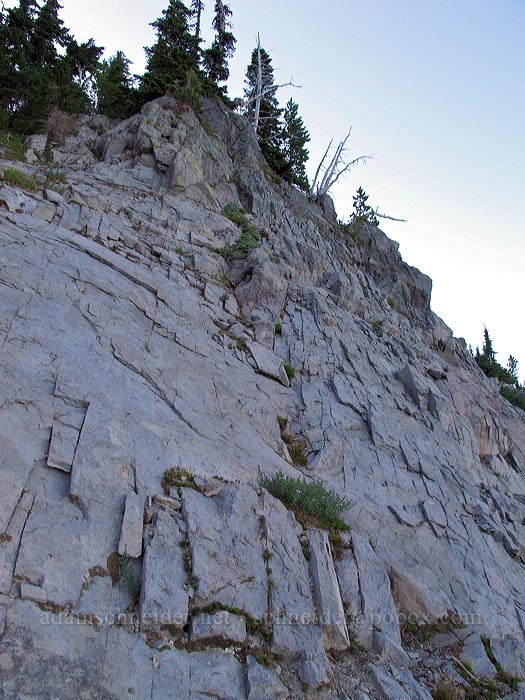 Someone asked me how there could be living green trees by Dollar Lake, seeing as how the "Dollar Lake Fire" swept through here two years ago. The answer is that the immediate vicinity of the lake escaped the fire, but the spot on the topo map that's labeled "Dollar Lake" (about 100 yards off from reality)
did
get burned.
The lake (really more of a pond) doesn't have much water in it at this time of the year, but there was enough to capture a nice Hoodflection: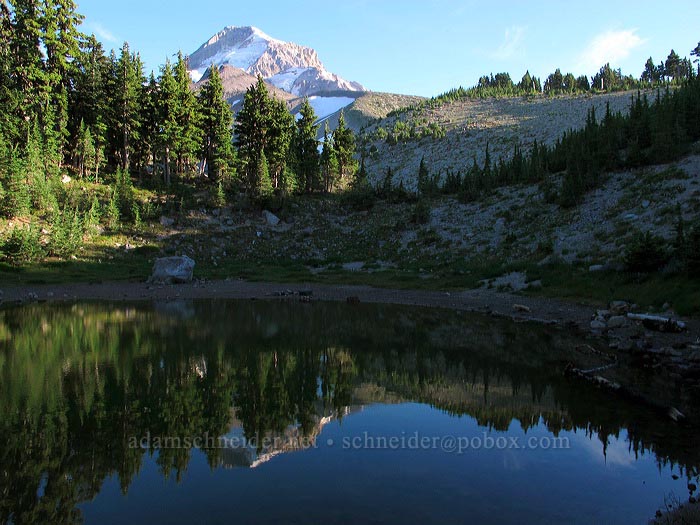 I can never find the trail down
from
Dollar Lake, so I improvised my way back down to the Timberline Trail. I turned left (west) and then headed down the Pinnacle Ridge Trail.
The black huckleberries were ripe, and good lord my hand was filthy: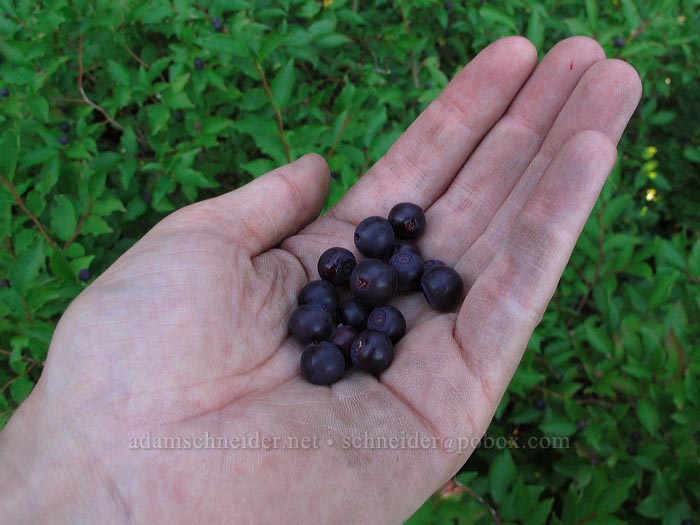 One last hurrah for wildflowers, at a place where the P.R. Trail crosses a tiny stream: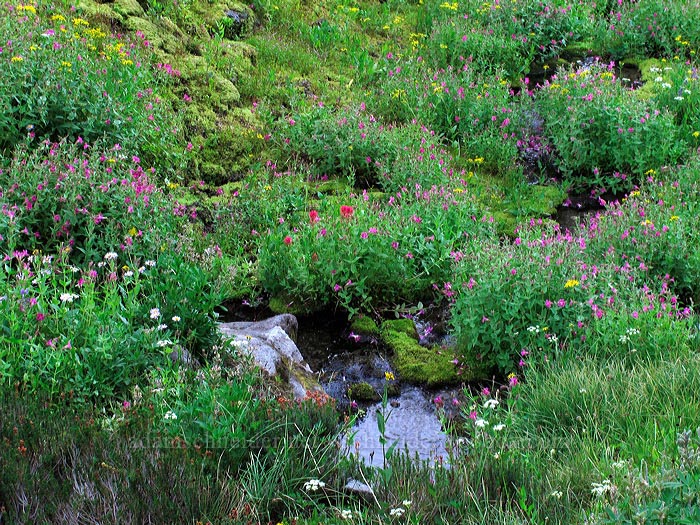 Enormous trailside mushroom: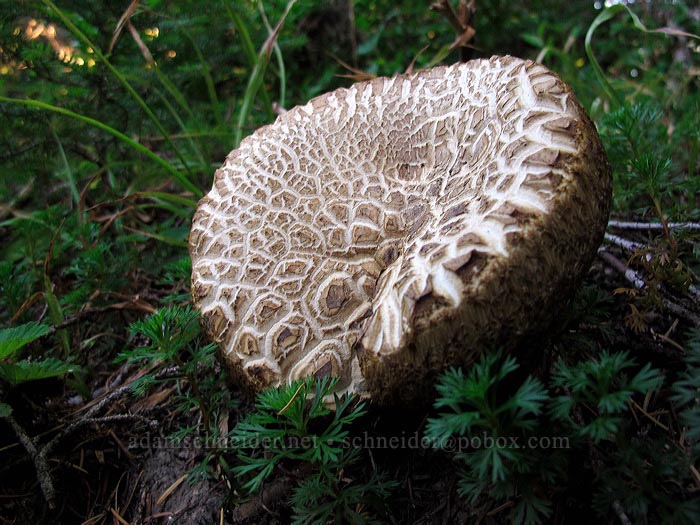 These dusty blue huckleberries/blueberries are the
really
good ones, in my opinion; the berries are awesome and taste a little bit like apples. They usually grow in swampy/marshy areas (of which there are several on the Pinnacle Ridge Trail, thankfully unscathed by the fire), and the plants aren't very tall: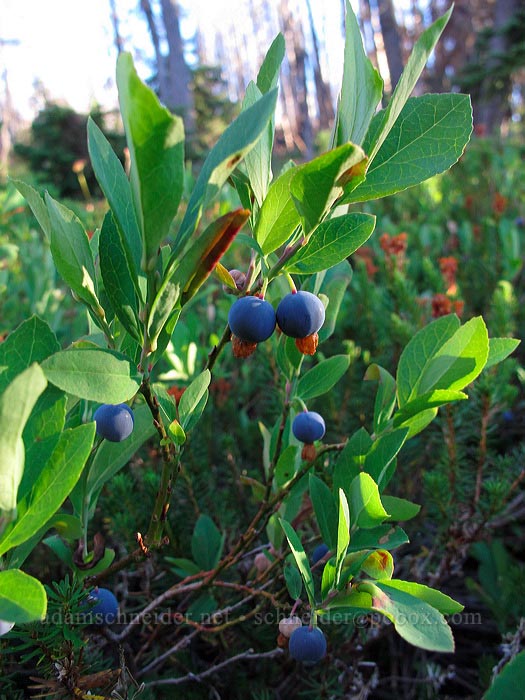 After snacking on some more berries, I continued down toward the Pinnacle Ridge trailhead. I'd forgotten how insanely steep some parts of this trail are. This is looking back up after one of the steep bits: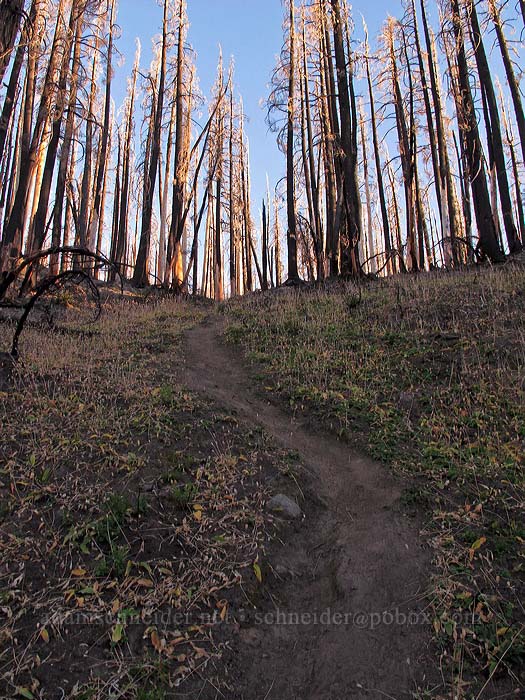 When the Forest Service "decommissions" a road, they don't mess around! This is the former road to the former trailhead: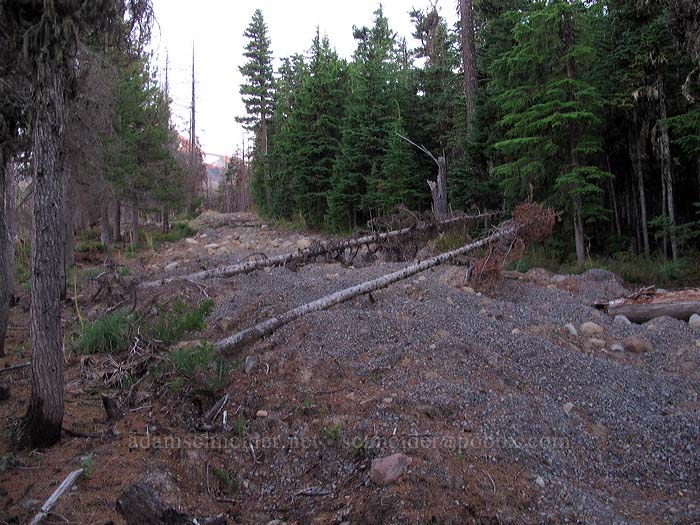 When I was almost back to my car, I saw something bright off to my right... the full moon was rising, and I had a front-row seat. I was wishing I had a more powerful zoom lens, but the burnt trees made for some cool shots nonetheless: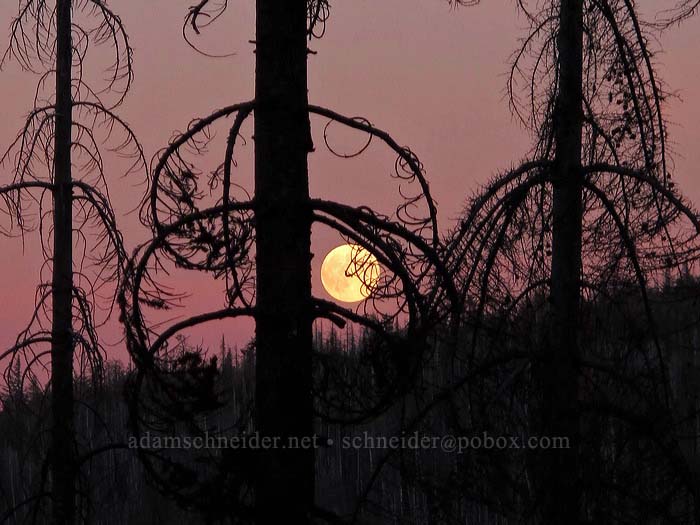 Final stats: between 12 and 13 miles, about 4000' of elevation over the course of the day.