On Wednesday, I did another day hike in a ridiculously distant location: Lake Ingalls, which is in the Alpine Lakes Wildnerness near Mt. Stuart in central Washington, about 5 miles west of The Enchantments. (I was inspired by Anne S.'s
raving about the place
a month earlier.) I knew I couldn't expect anything like last week's
wildflower extravaganza
at Mt. Rainier, but this hike was going to be more about alpine scenery than botany.
The usual route to Ingalls Lake is an out-and-back up the Ingalls Way Trail, but what fun would that be?
I decided that I'd go up the Longs Pass Trail instead, then bushwhack (ridge-whack?) over to Ingalls Pass from there, then make a loop out of the two trails from the pass to Lake Ingalls, and then take the "normal" trail back to my car at the end of the day. The extra loopiness turned an 8- or 9-mile round-trip into a 10- or 11-mile hike, which I think is just about perfect. And that plan worked out pretty well: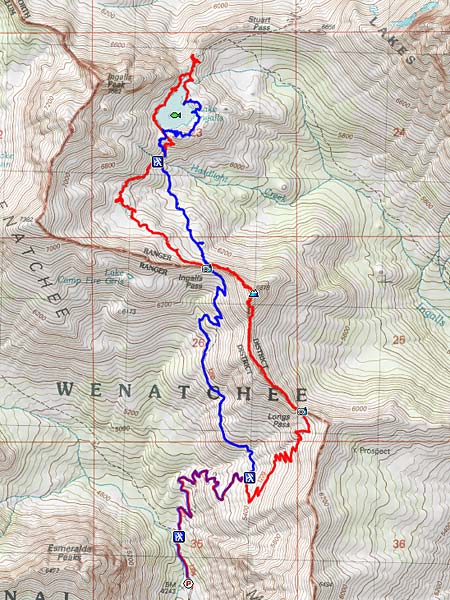 I'd decided on Wednesday because the weather forecast said, unambiguously, "SUNNY." This time, though, I wasn't feeling
quite
crazy enough to do the 5-hour-drive both ways in a single day, so I went on
CouchSurfing.org
and found a place to crash Tuesday night in Cle Elum, which is just a bit south of the Esmeralda Trailhead. I drove to Cle Elum via The Dalles and Yakima, because it was late afternoon and I didn't want to deal with Tacoma traffic. Plus, I'd never been out that way before.
I woke up around 6:00 (much better than 4:00!), had some breakfast, drove north on 20 miles of asphalt and 10 miles of decent gravel, and got on the trail by 8:00. The temperature was very pleasant all day, but the promised sunny skies never really materialized. So, the good news is, my photos are lacking harsh shadows; the bad news is, they're also lacking bright colors. It was also nearly impossible to find the proper white balance settings; telling my camera it was cloudy made my pictures too reddish, and daylight mode made them too bluish. Oh well, that's what Photoshop is for, right?
This sign is posted at the trailhead: "ATTENTION: Habituated Mountain Goats in Area." My favorite part is, "Goats have sharp, lethal horns":
The Esmeralda Peaks loom over the trailhead and the Esmeralda Basin: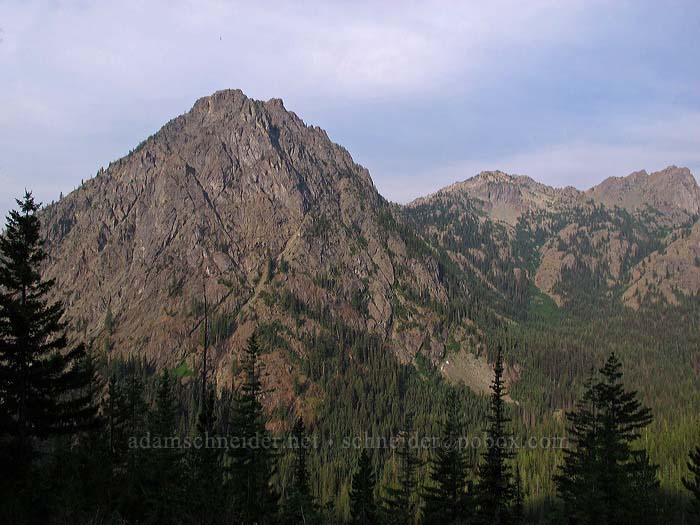 Scarlet gilia (
Ipomopsis aggregata
): a sure sign that this is a dry-side hike. (Yes, there are a few on the west side, but usually I've seen them in central Oregon or California.)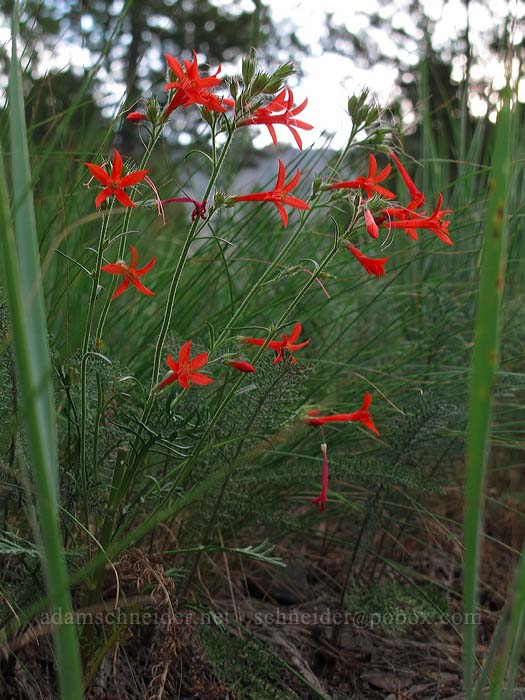 Somewhere around where I turned onto the Longs Pass Trail, I started seeing a lot of ferns growing in the talus fields, which just doesn't seem normal. The thick ones are Shasta ferns (
Polystichum lemmonii
), which were new to me.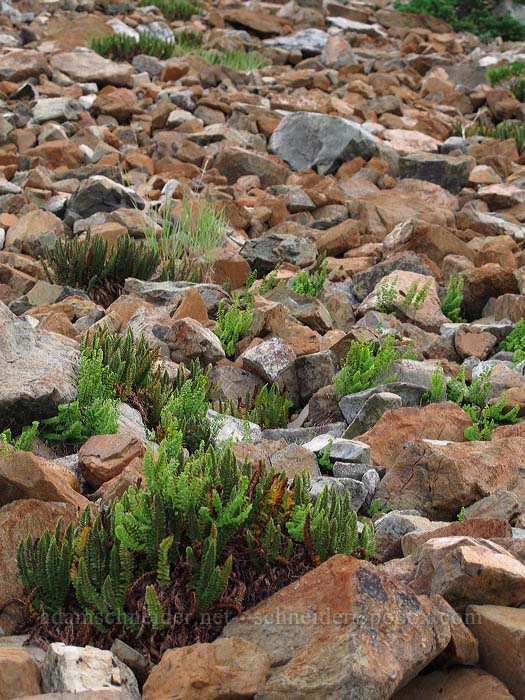 Thompson's pincushion (
Chaenactis thompsonii
) is apparently pretty rare, so I guess I was lucky to stumble across it: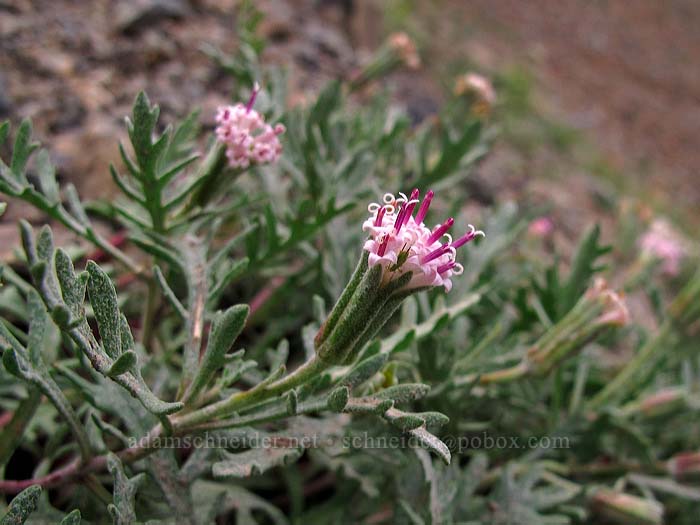 I hadn't seen this kind of paintbrush before; it's Wenatchee indian paintbrush, a.k.a. "Elmer's paintbrush" (
Castilleja elmeri
). It comes in both red and yellow; here's the yellow version: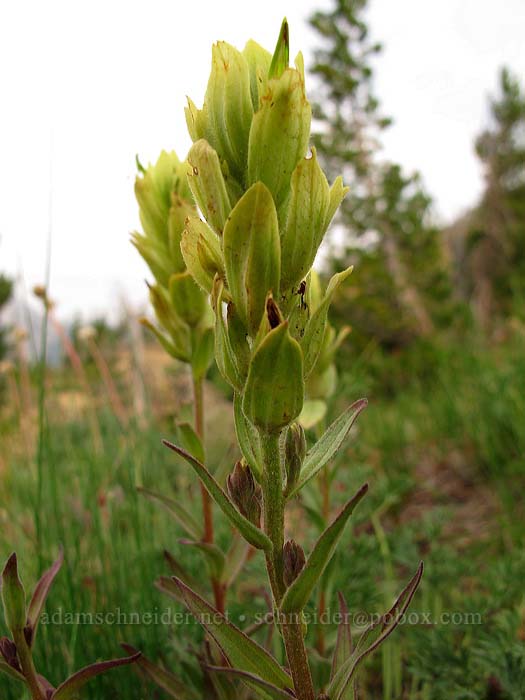 I crested the ridge at Longs Pass and got my first full-frontal view of Mount Stuart: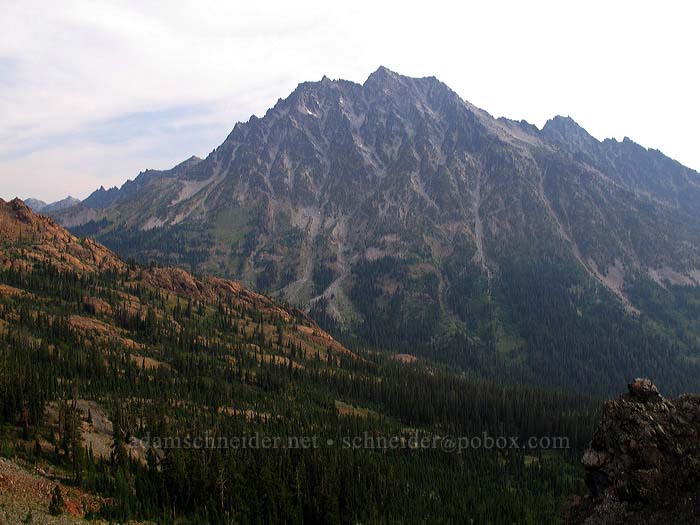 The ridge between Longs Pass and Ingalls Pass has these two minor peaks on it; the first isn't much, but the second one is 6878' (which is 650' above Longs Pass), and was the highest elevation of my hike.
I started realizing that, geologically, I was definitely not in Kansas anymore. The rocks in these parts are largely metamorphosed ultra-mafic (iron-rich) igneous rocks, so a lot of them are serpentinite or related minerals. Serpentine is full of heavy metals and other stuff that makes it hard for most things to grow there, so you end up with some unique plant life.
Even the rocks themselves looked funky. There were a lot of bluish-green glossy crystal surfaces, and sometimes they oxidized to bright red-orange: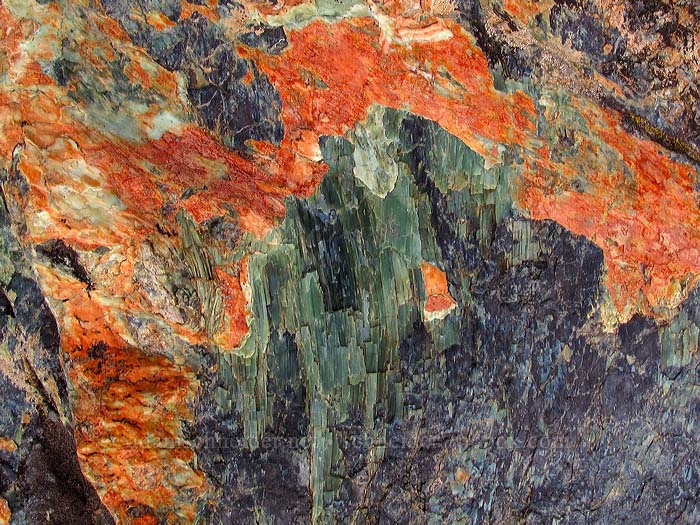 This photo gives a good idea of the kind of slope I was climbing up on my way to "Peak 6878." The flowers in this view are mostly Oregon sunshine (
Eriophyllum lanatum
):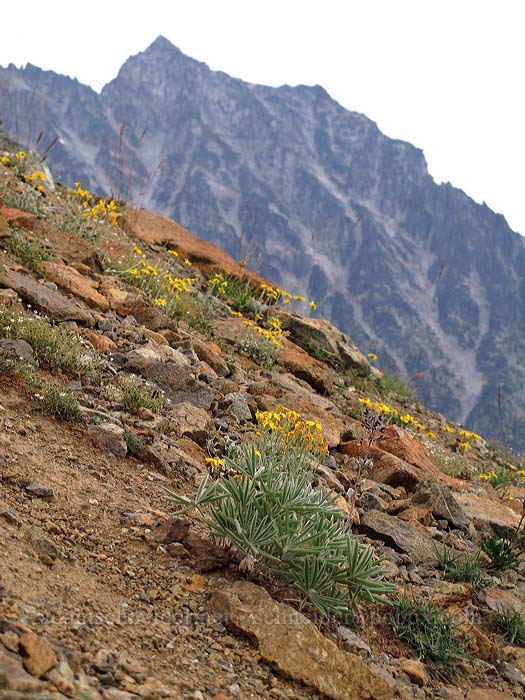 The summit of Peak 6878 had some nice views, but the tippy top was infested with winged ants, so I didn't stick around long. (I doubt they'd have hassled me, but I didn't want to take the chance.)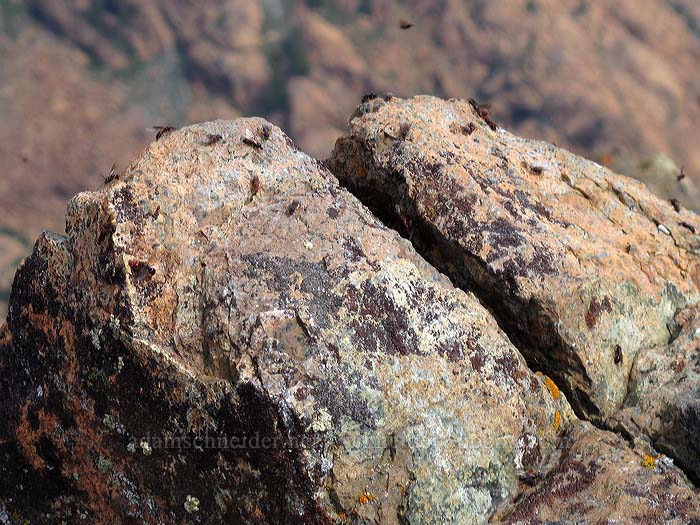 The traverse DOWN from Peak 6878 to Ingalls Pass was a steep Class 3 scramble. I personally thought it was pretty fun, but I know that not everyone shares my positive opinion of rope-free rock climbing.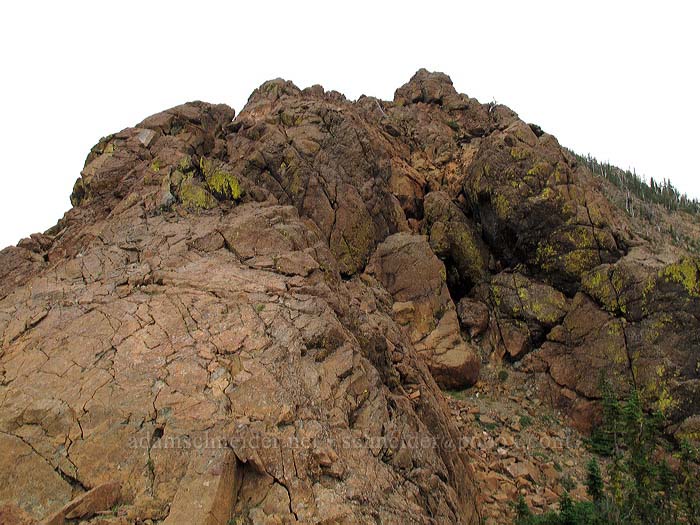 From Ingalls Pass, you get a nice view of Headlight Creek's basin, and Ingalls Peak in the distance, which overlooks Lake Ingalls. (Sunny, my foot.) You can't actually see the lake from here, though, because it's bounded by rocks on all sides.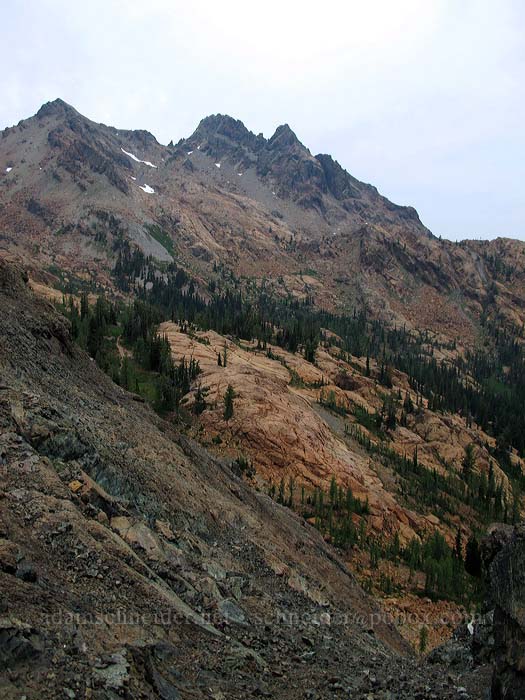 There are two trails through Headlight Basin. I went north on the upper trail, which mostly crosses rocky areas -- both talus and solid bare rock. I found these pretty magenta flowers growing among the rocks all over the place up there... they're Wenatchee spring-beauty (
Claytonia megarhiza
var.
nivalis
):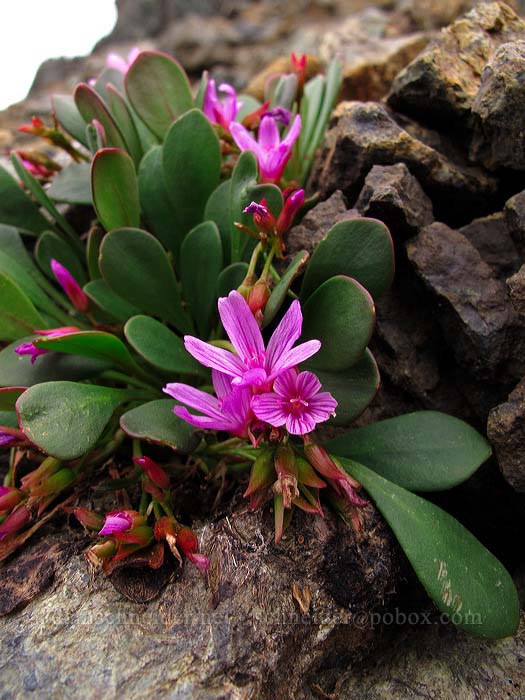 There weren't a ton of wildflowers on the upper trail, but I did find some gentians blooming. They're pretty, but they make me a little sad because they mean summer's last chapter has begun: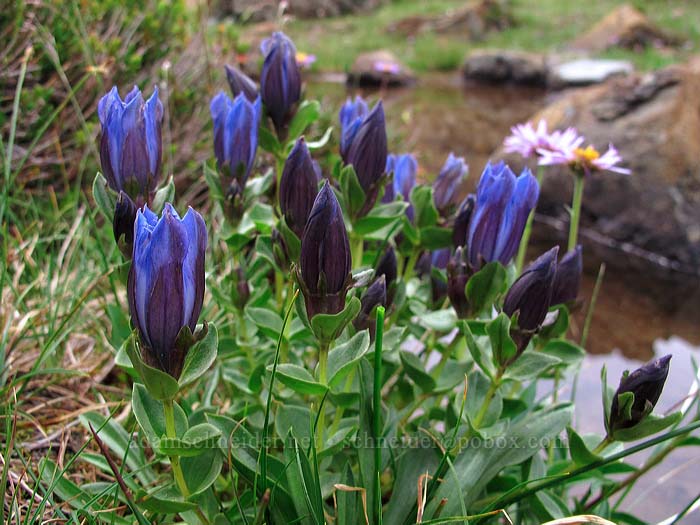 Grouse whortleberries!! (I just like to say that.)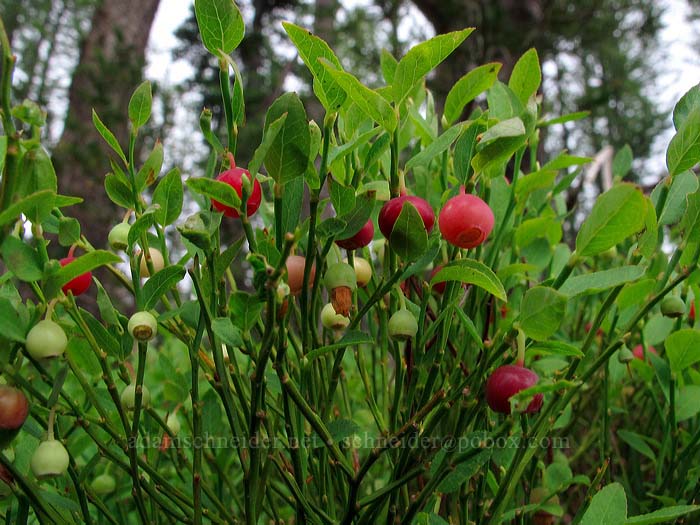 I'd seen some goat fur and lots of goat poop, but no actual mountain goats yet. I stopped to chat with a backpacker who was filtering water at a little stream, and she was like, "oh hey, there's a couple of goats over there on those rocks." Sure enough, a mom and her kid: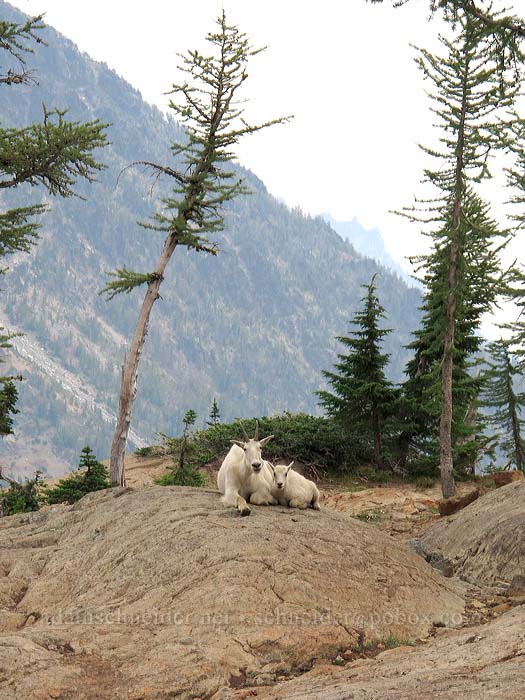 The backpacker told me that the goats had actually been kind of annoying... they followed her around in the middle of the night when she got up to pee. Goats love urine, and apparently they KNOW that's why backpackers get up in the middle of the night. (She said she eventually gave up and just held it 'til morning!)
I continued on along the trail and saw something white out of the corner of my eye: MORE goats. I climbed up on some rocks and found the Secret Mountain Goat Clubhouse: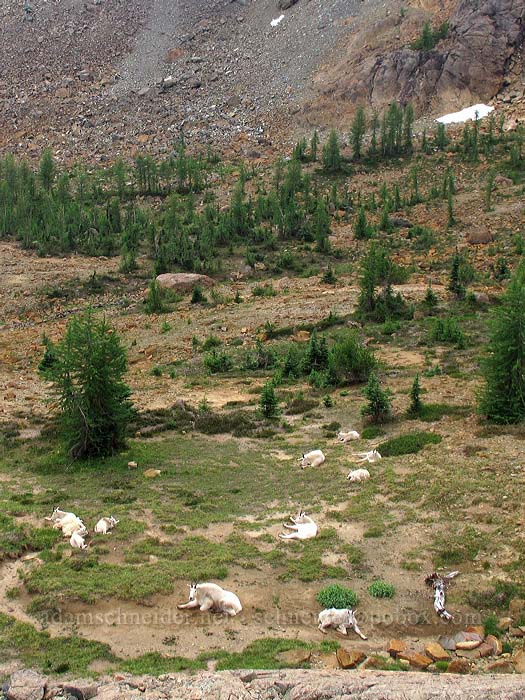 There were ten of them down there, just hanging out. Then the mom and her baby (who'd been accompanied earlier by a couple of teenage goats) came wandering over and started grazing their way toward me down a little draw. They couldn't have cared less whether I was there or not: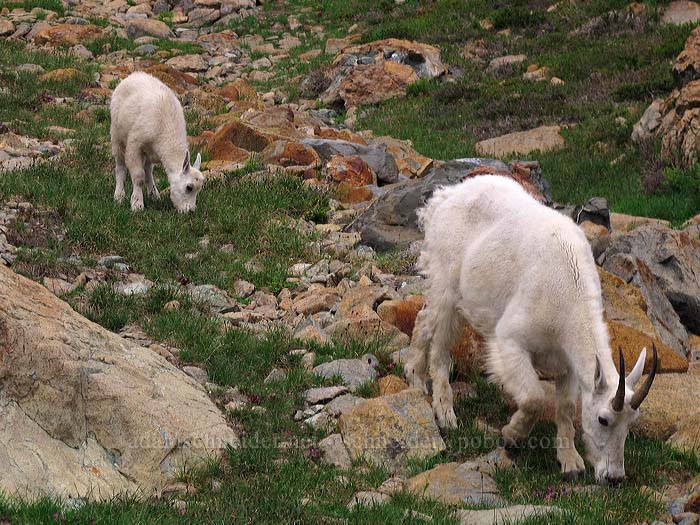 This is my attempt to get elephant's-head lousewort and a mountain goat in the same photo. Obviously I was only semi-successful:
(By the time I switched over to f8.0 for more depth of field, the goat had moved on.)
By a little stream, there were some corn lilies (a.k.a. false hellbores,
Veratrum viride
) in full bloom, and one of them was WAY paler than the others. The leaves, stems, and flowers, which were otherwise healthy-looking, were all white and yellow. I'd never seen a corn lily like this before; was it an albino?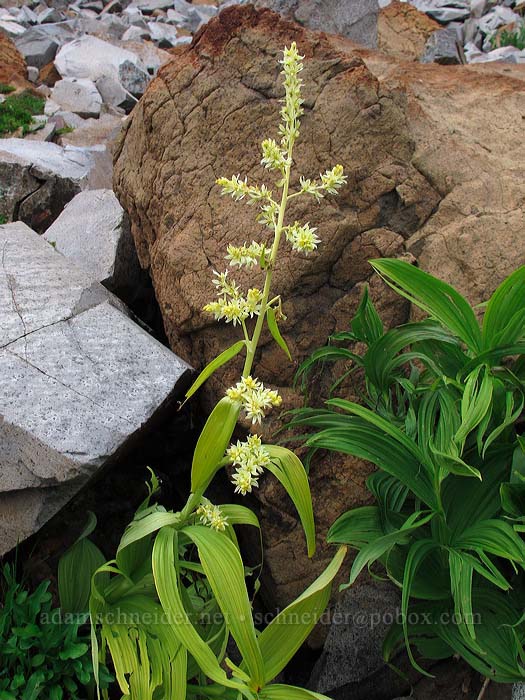 Here's a view back across Headlight Basin before I started the ascent to the lake. That's Peak 6878 in the middle; the right side is the slope I scrambled down.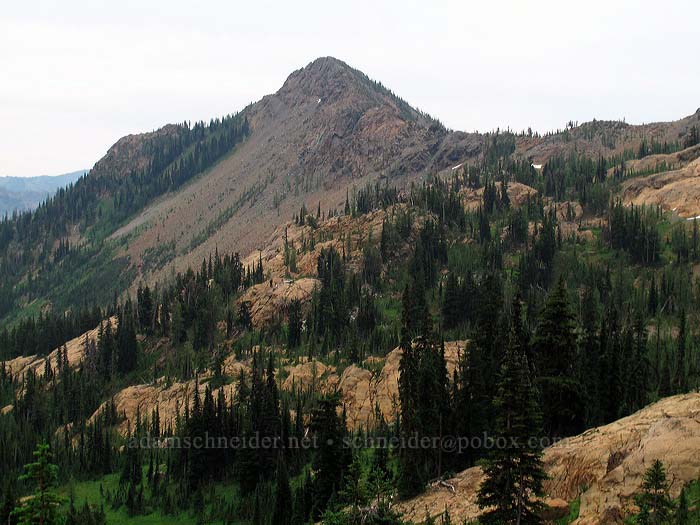 The trail up to Lake Ingalls devolves into class 2 scrambling in a couple spots, but it's not really difficult.
Finding
the trail was hard at times, but if you lost it you could just keep going up, and eventually you'd hit the lake.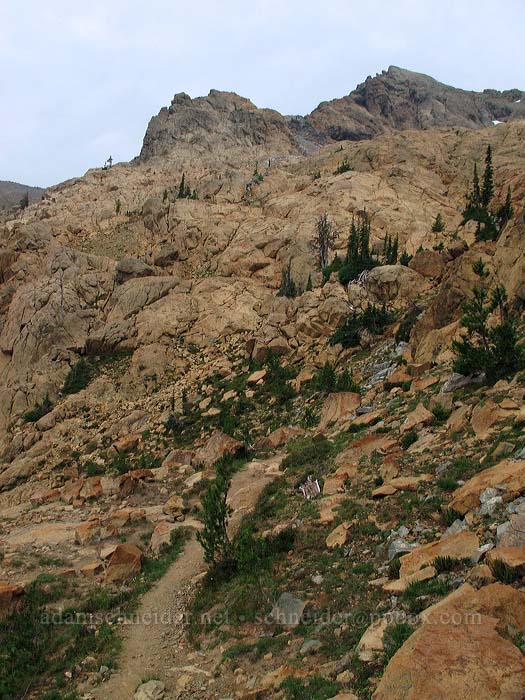 Finally, Lake Ingalls! And Ingalls Peak above it on the west side: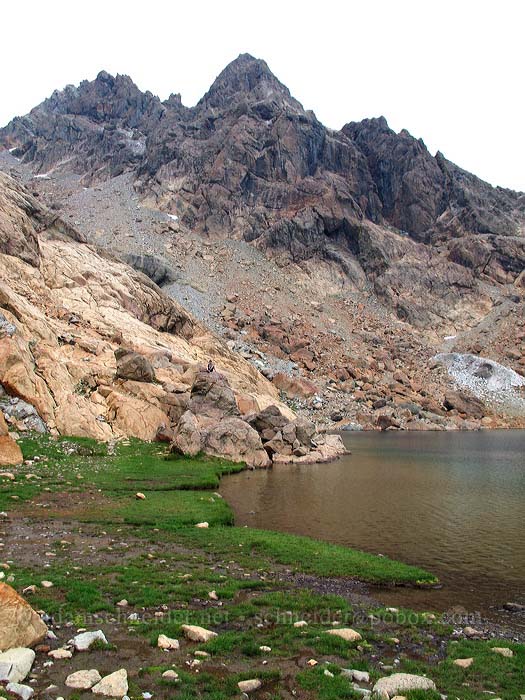 I decided that I needed to circumnavigate the lake, clockwise. It's obviously a popular thing to do, because there were some little cairns along the way indicating the easiest route. There were some scrambly bits, but nothing scary. There were a few patches of snow down in the shade of Ingalls Peak.
The view of Mount Stuart from the west side of the lake is nice, but imagine how much nicer it would have been with more sun and less wind...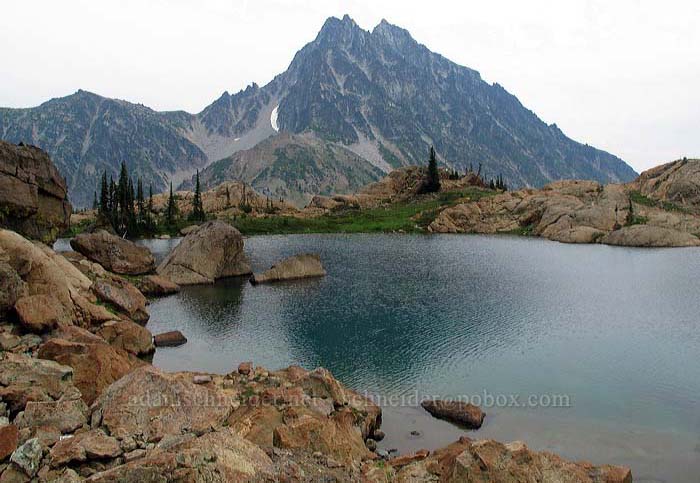 Pika alert! I'd been hearing them all day, but this is the only one I actually saw. Damn, those things are well-camouflaged: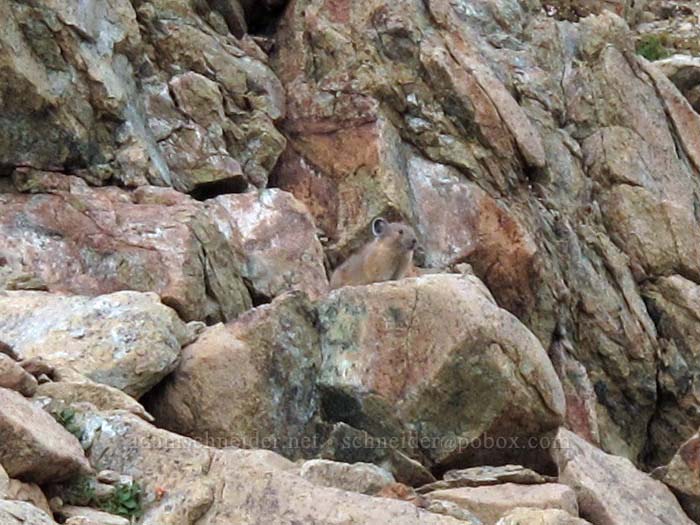 When I got around to the far side of the lake, I figured I'd better go check out the ridge between Lake Ingalls and Stuart Pass. I admit I was hoping for a more majestic northwest view than this: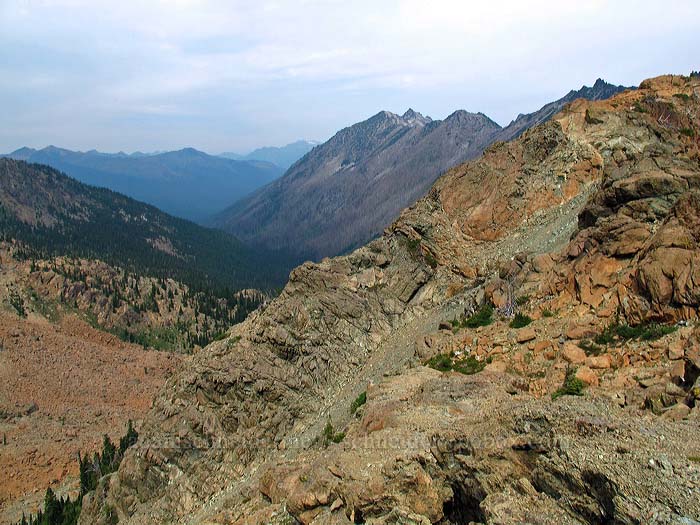 (Maybe on a clearer day, it would have been better.)
Lake Ingalls flows out into Ingalls Creek, which drops into a nice little two-tiered waterfall that you can see from the Ingalls-Stuart ridge/saddle:
I wandered back over to the lake and got up close and personal with the outlet creek. There were a few flowers growing along the banks: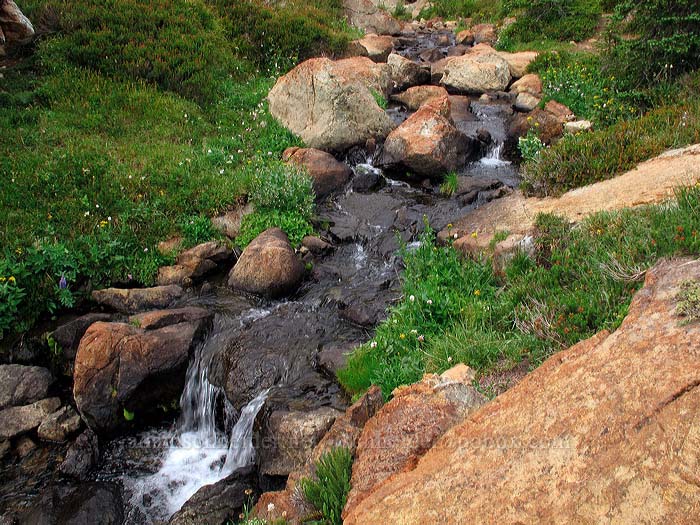 I stopped for lunch on the north side of the lake, on a peninsula of bare rock where I could dry out my socks and was protected from the bugs by a decent breeze. Fish jumped out of the lake occasionally, but of course they stopped doing it as soon as I staked out a likely spot for a mid-air action photo.
Then I continued around the lake clockwise and found a bunch of low grassy areas that were full of lupines: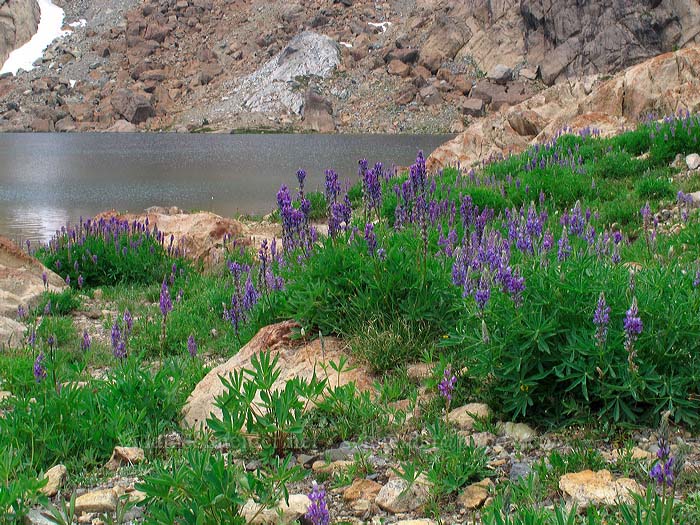 ...and even more full of bumblebees! Holy cow, the insects were almost deafening. I kind of like them myself, but apiphobes might not want to play this video, which I recorded mostly just for the audio:
http://www.youtube.com/watch?v=Bs4xQSOIivc
Most of the flowers along the lake were lupines and western bistort ("dirty socks"), but I did find at least one small patch of paintbrush: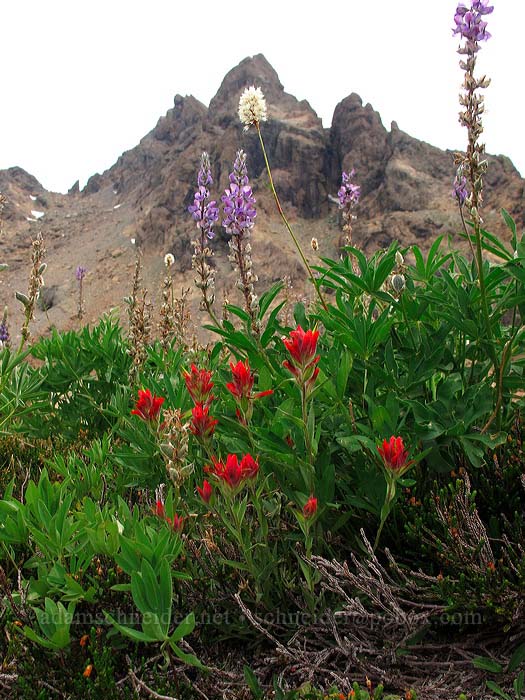 The east side of Lake Ingalls butts up against a rounded rocky ridge that you either have to climb over or traverse around. I went over the top, from where I had a nice view of the north end of the lake (my lunch peninsula is center-left):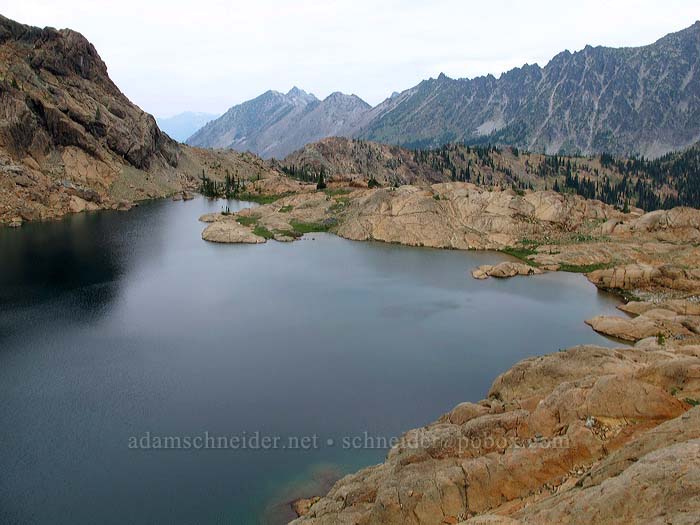 ...and then, because it looked like a nice little challenge, I went straight down from the top of the lakeside ridge (class 3/4 scrambling/climbing) toward the lake. Here's that ridge, with Mt. Stuart in the background: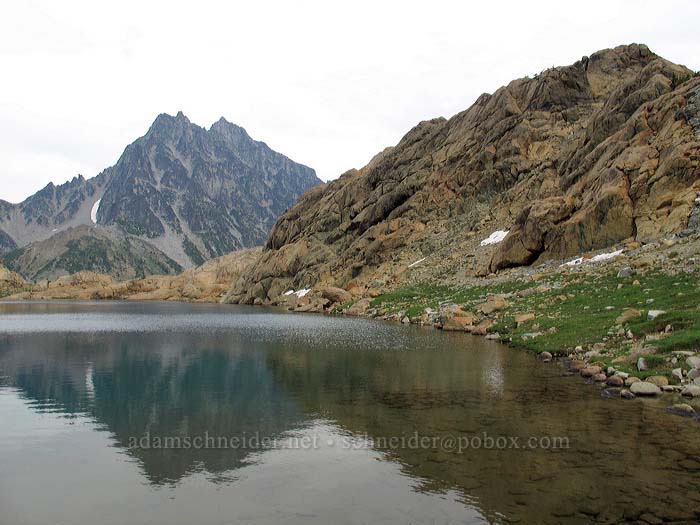 If it's not obvious already: the whole area north of Ingalls Pass was a scrambler's dream. It was like a big geological jungle-gym, with slopes of varying steepness, plenty of handholds, and (usually) nice solid grippy rock. So much fun.
When I got back down into Headlight Basin, I took the lower trail this time. I saw a group of hikers staring at a rock and realized they'd spotted a big fat marmot, striking an unusual pose: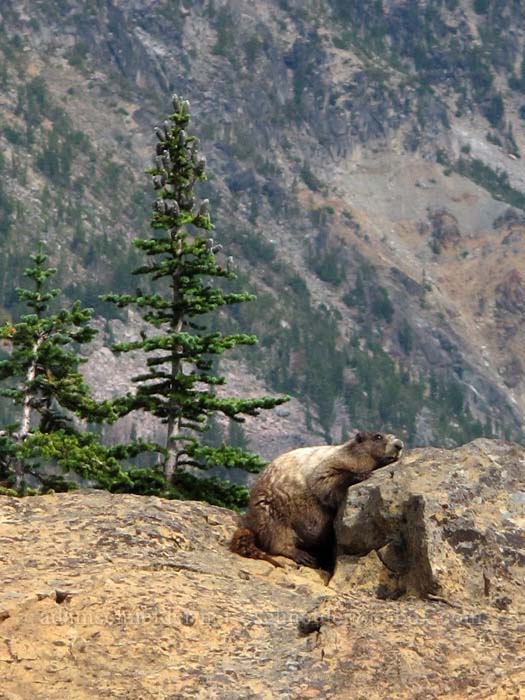 There were a lot more wildflowers in the lower part of Headlight Basin than there'd been in the upper part, including these fringed grass-of-parnassus (
Parnassia fimbriata
), which I've only seen once or twice before: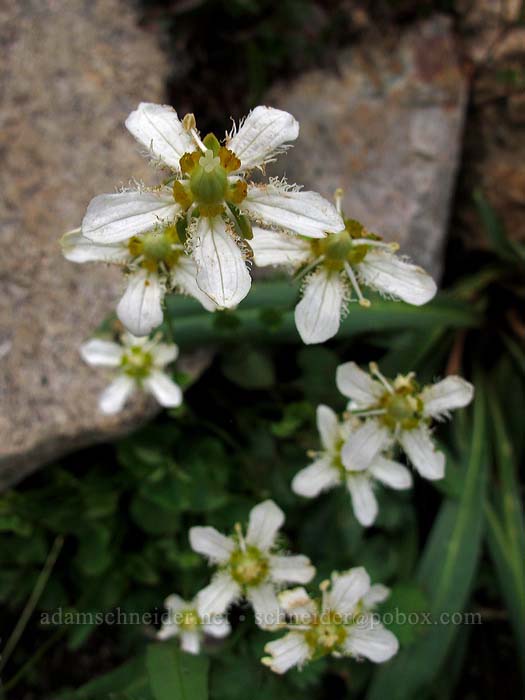 Like I said, many more wildflowers down here, although nothing too unusual for the Cascades: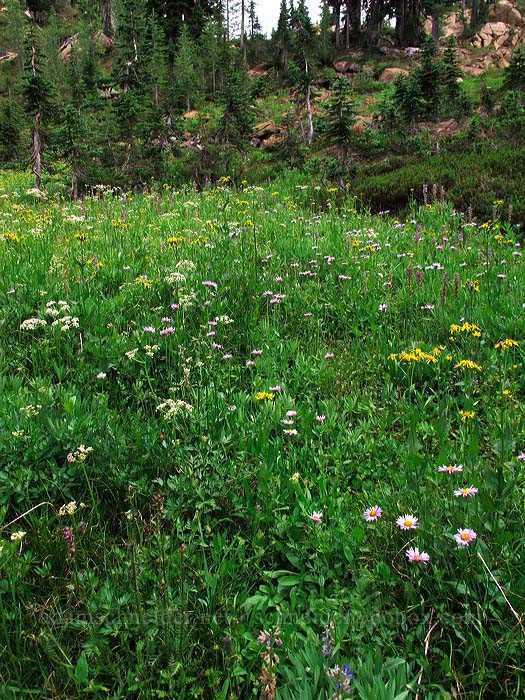 (I guess the wetter areas don't have as much of the the weird serpentine thing going on.)
A parting shot of Mt. Stuart and the Ingalls Creek Valley before I headed down from Ingalls Pass:
I started down the Ingalls Way Trail at a leisurely pace, then suddenly remembered that WSDOT was planning to completely
close
Interstate 90 at Snoqualmie Pass from 7:00 to 8:00 for blasting! I looked at my watch and it was 4:15. I knew it would take me about an hour to drive from the trailhead back down to Cle Elum, but I didn't know how far east of Snoqualmie Pass I was. So I hauled ass down the trail, and covered the last 2.7 miles in 40 minutes.
On the way down through the Teanaway Valley, I got a vivid reminder of what it means when you pass those signs that say "OPEN RANGE":
But I made it down to Cle Elum in less than an hour, stopped for gas, and beat the dynamite crews to the pass by about 30 minutes. I got back home at about 10:00. (Oh, and did I mention that the weather forecast was totally wrong? It rained from Tacoma all the way down to about Castle Rock.)