I stumbled across a trip report about a loop hike involving Knapsack Pass and Spray Park. (
http://www.nwhikers.net/forums/viewtopic.php?p=751475
). Since I'd never been to Knapsack Pass, I thought I would give it a try. Since this area is probably unfamiliar to most of you, I'll try to provide a virtual tour.
Warning, this is a picture heavy report. It was just that good!
Knapsack Pass is in the northwest area of Mt Rainier National Park near Mowich Lake. It's about a three hour drive from Vancouver. I was at the trailhead by 9. I started by walking along the shore of Mowich Lake.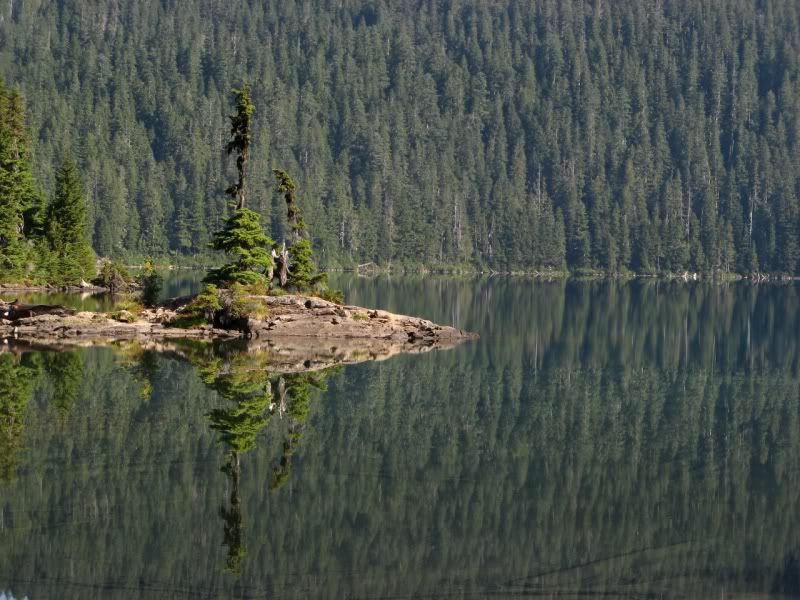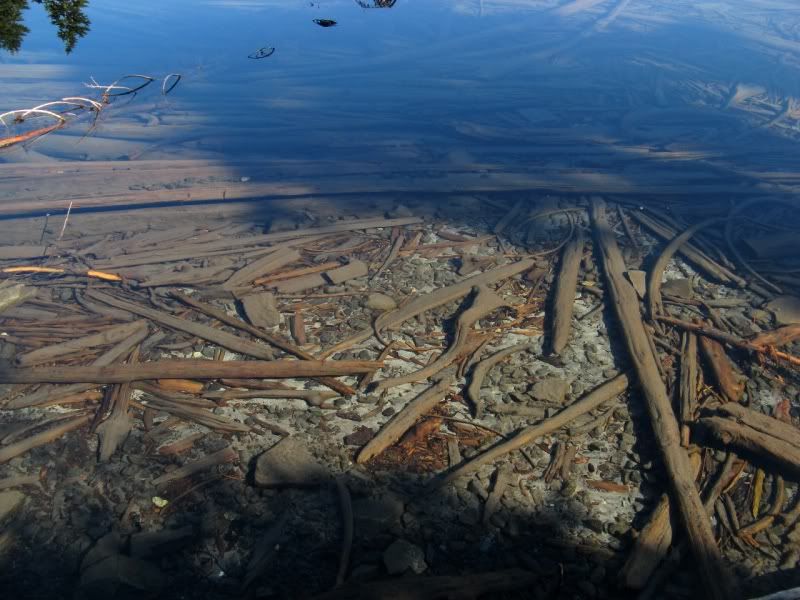 The trip report said to take the trail that leads to the left of the Ranger Cabin. Sure enough, there was a trail there.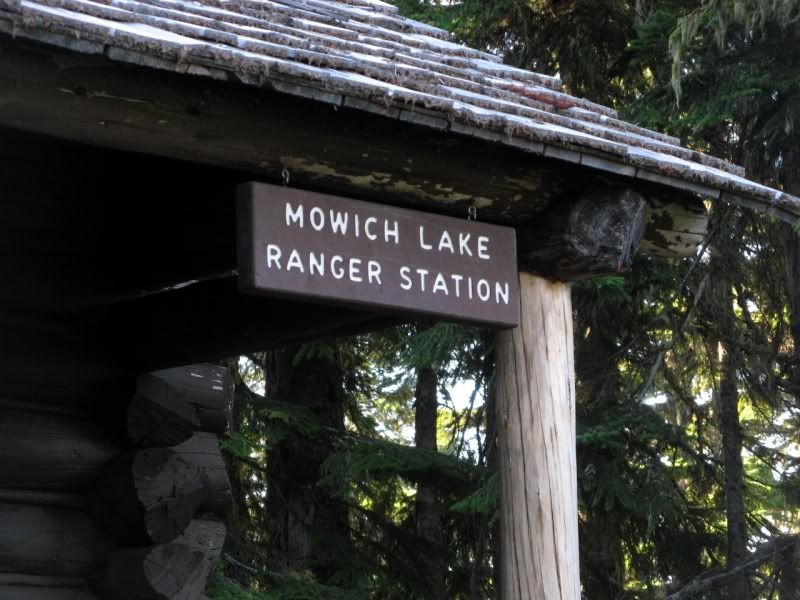 Oops, wrong trail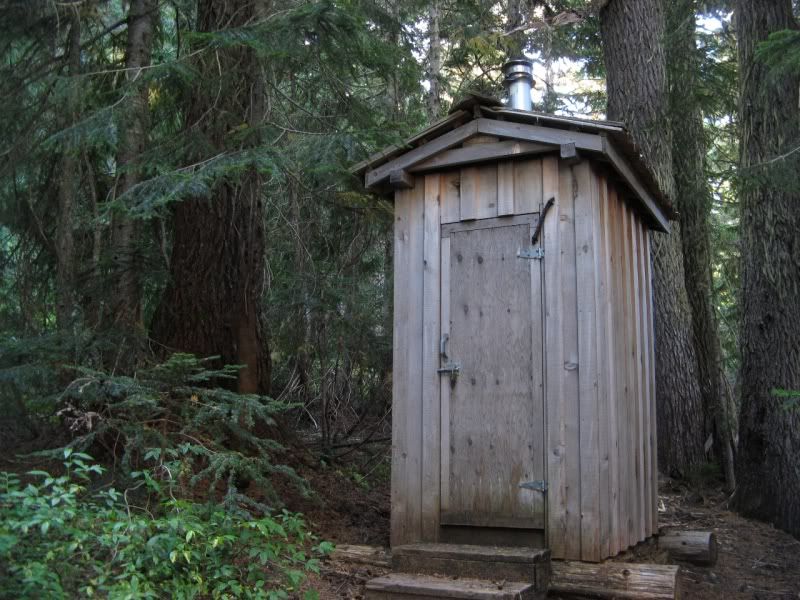 I soon found the right trail by backtracking to the cabin and heading a little farther along the lake.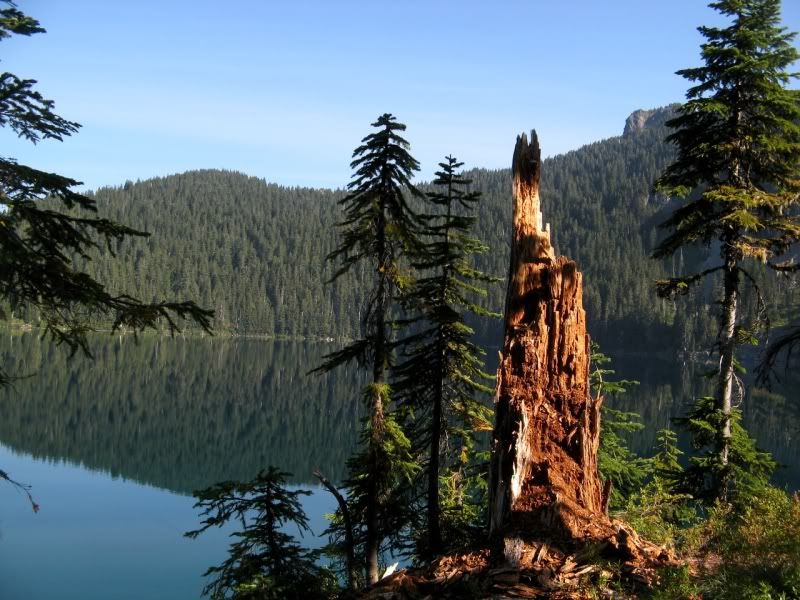 Here's the start of the Knapsack Pass Trail. This was once a fully maintained, official trail, but it disappeared off the map some time ago. You can see that it the trail has fallen in status, but it's still easily followable to the top of Knapsack Pass
The trail climbed steeply for a bit, then worked into a pattern of meadows, small waterfalls, red huckleberry leaves and the last of the summer's flowers. Here and there were views back to Mowich Lake.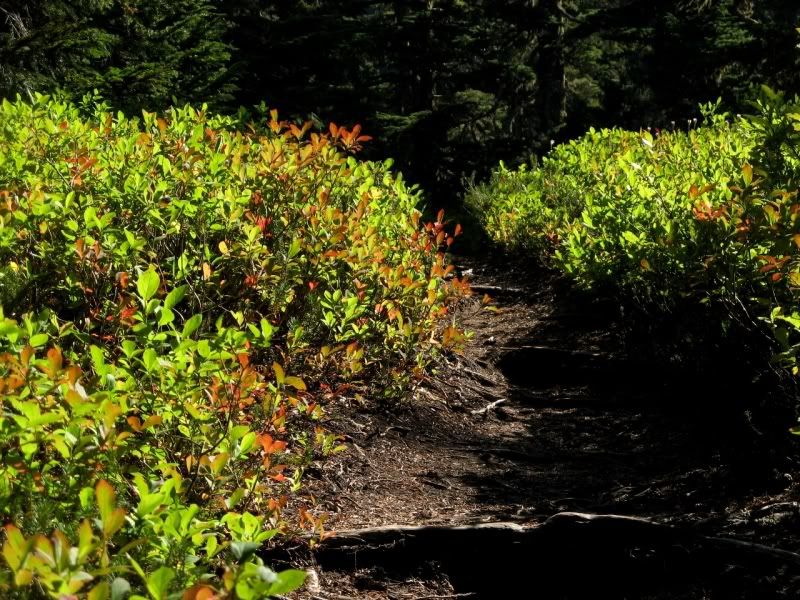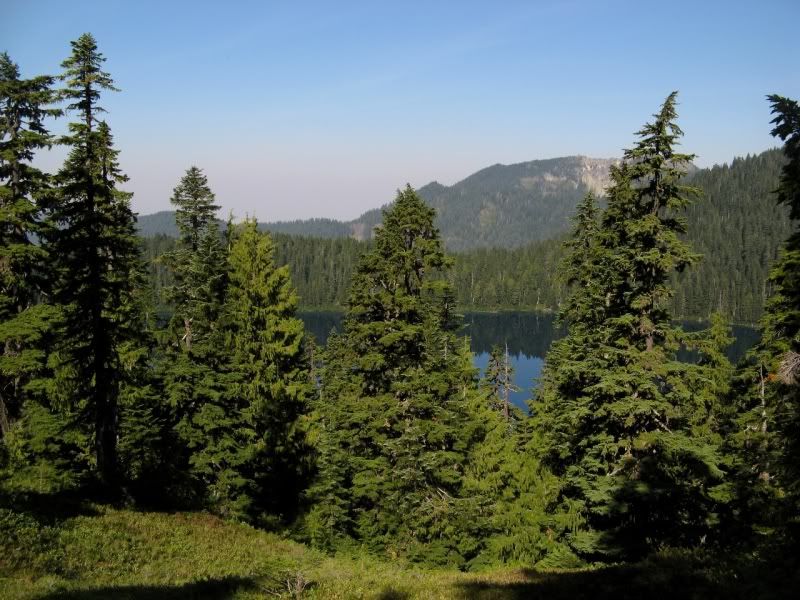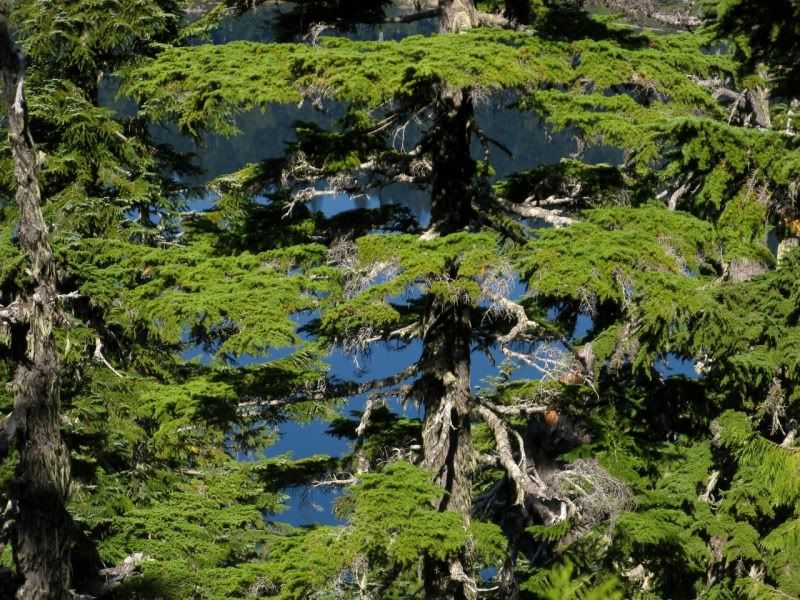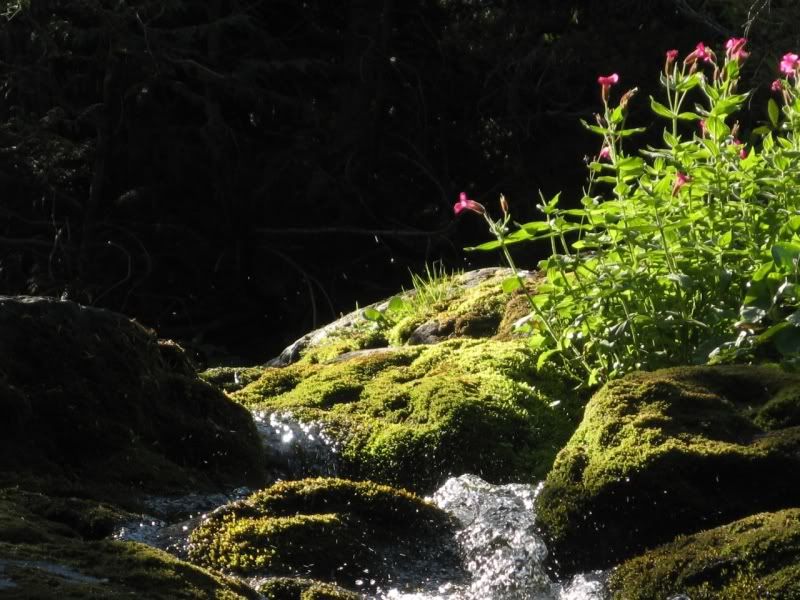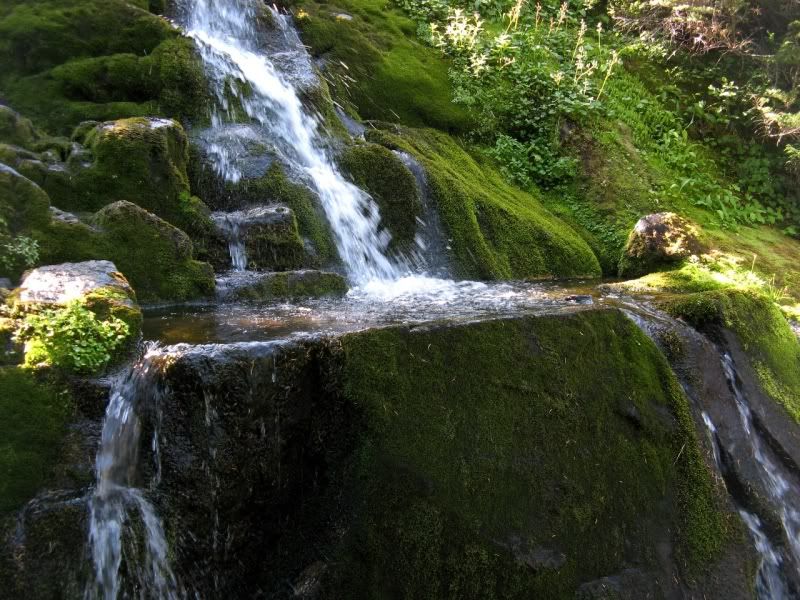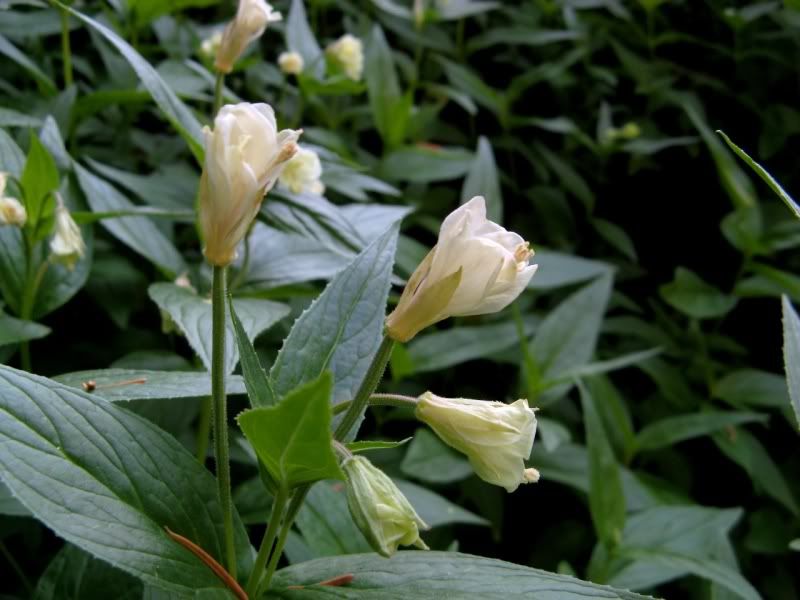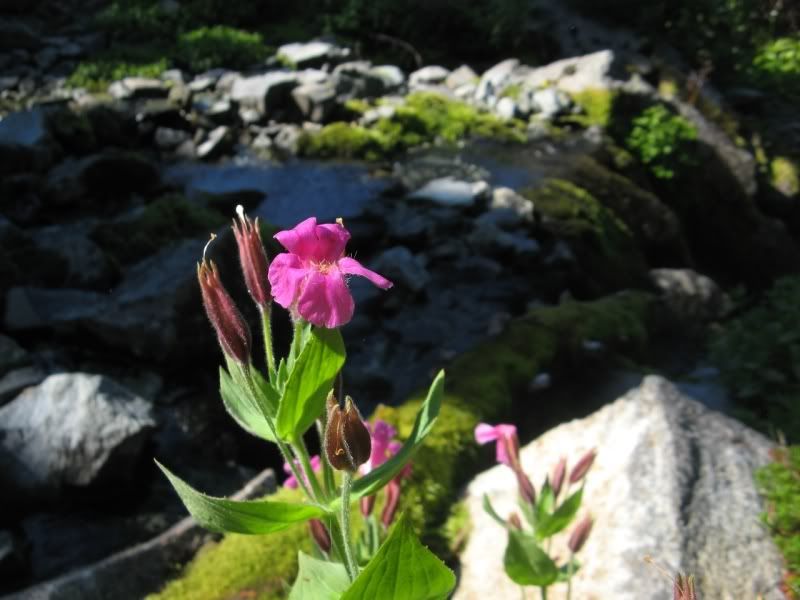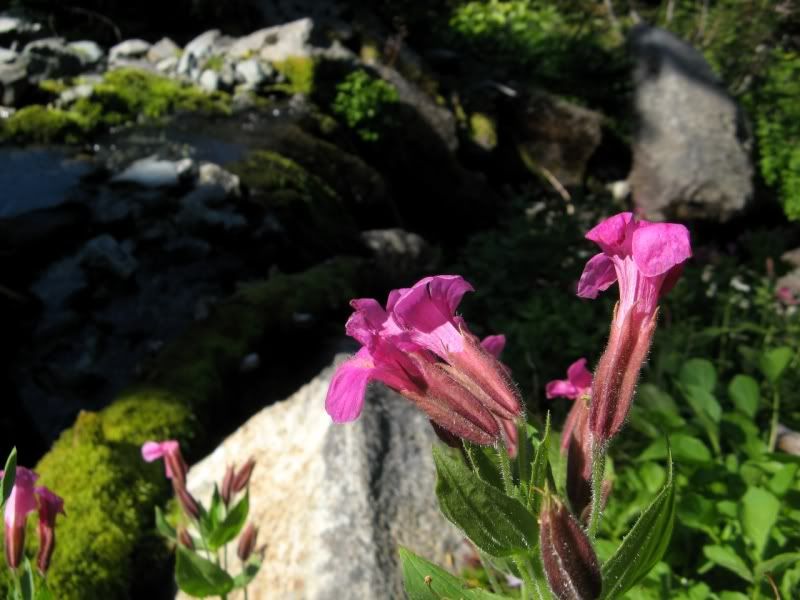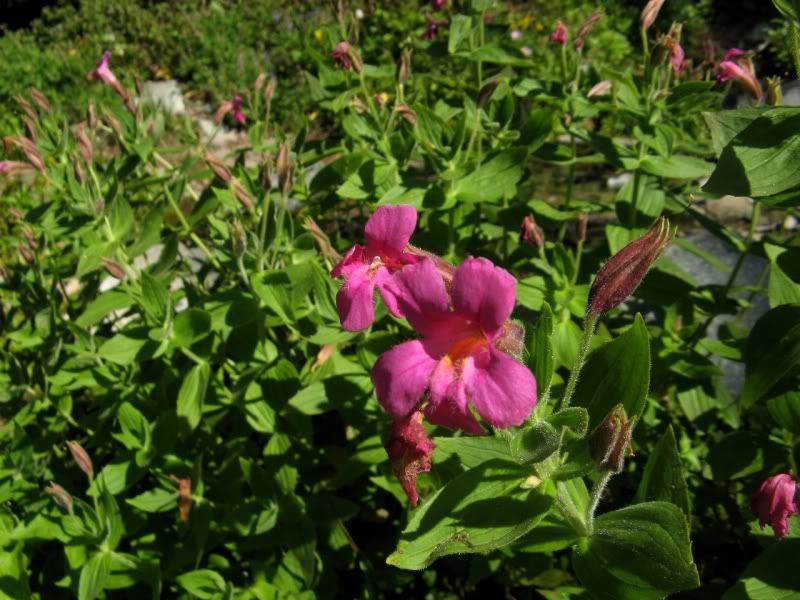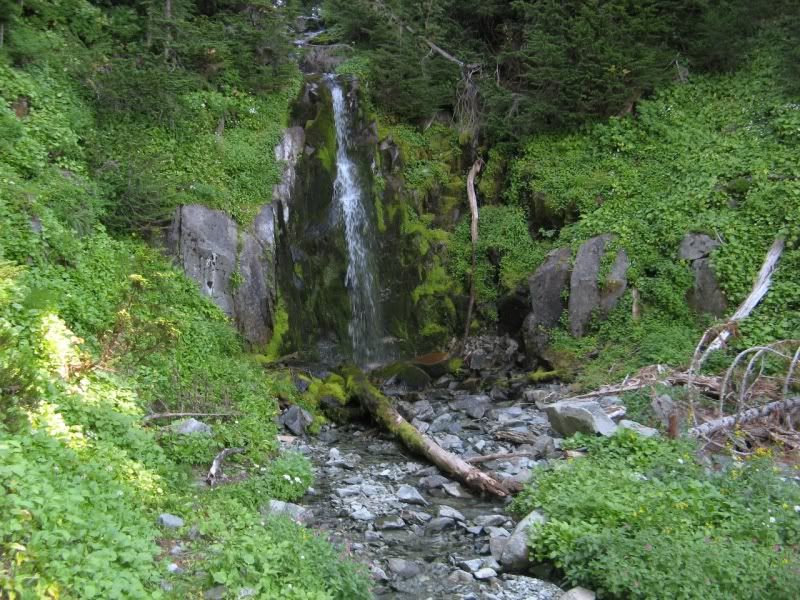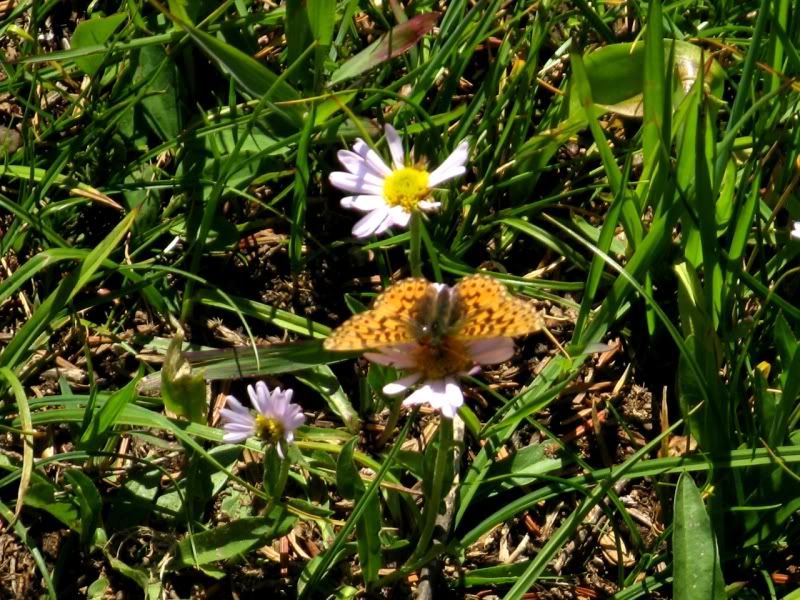 Here's view looking straight up to Knapsack Pass.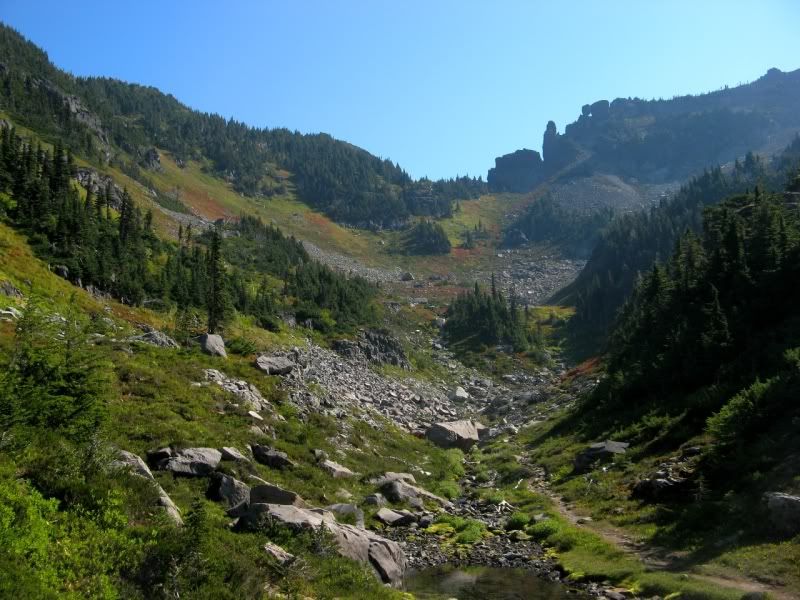 This was an incredibly pretty area with a small creek cascading over the rocks past patches of Monkeyflower.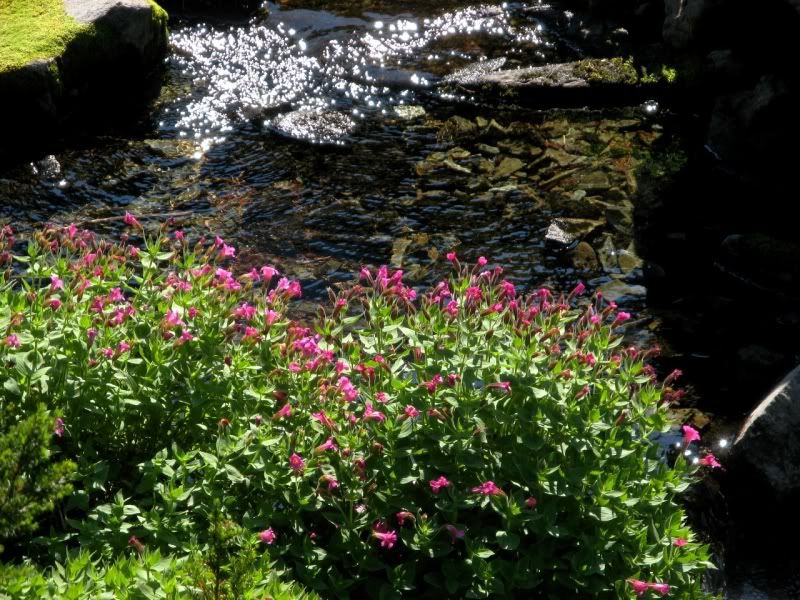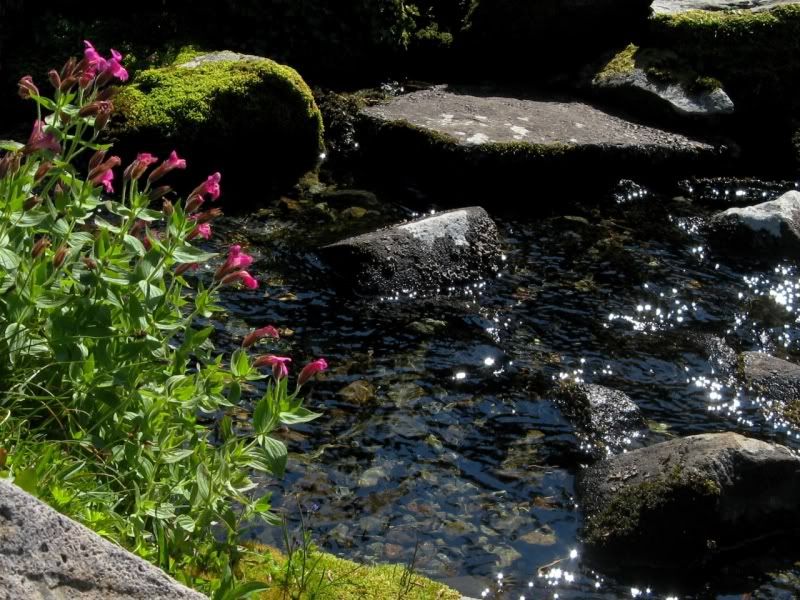 This marmot was sunbathing right next to the trail until I woke him up.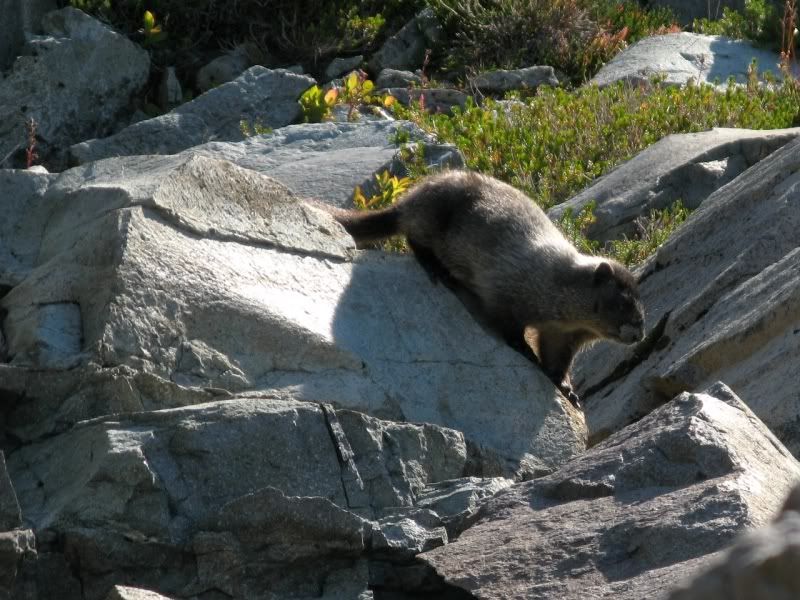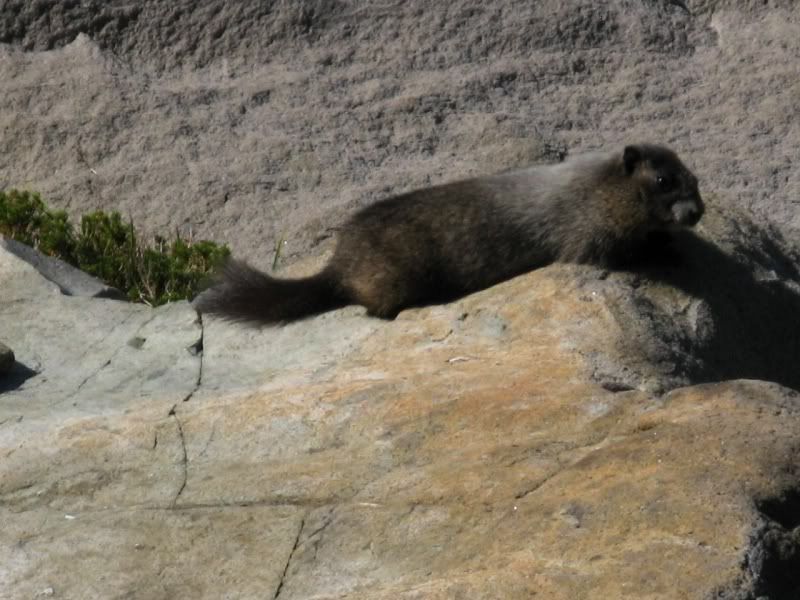 But, now it's time to get to that climb! I won't talk too much here, because I'm breathing pretty hard!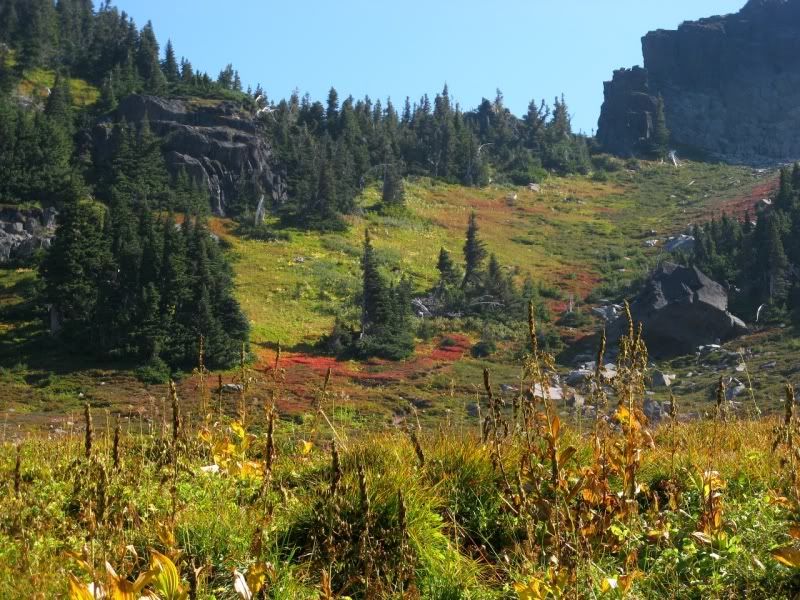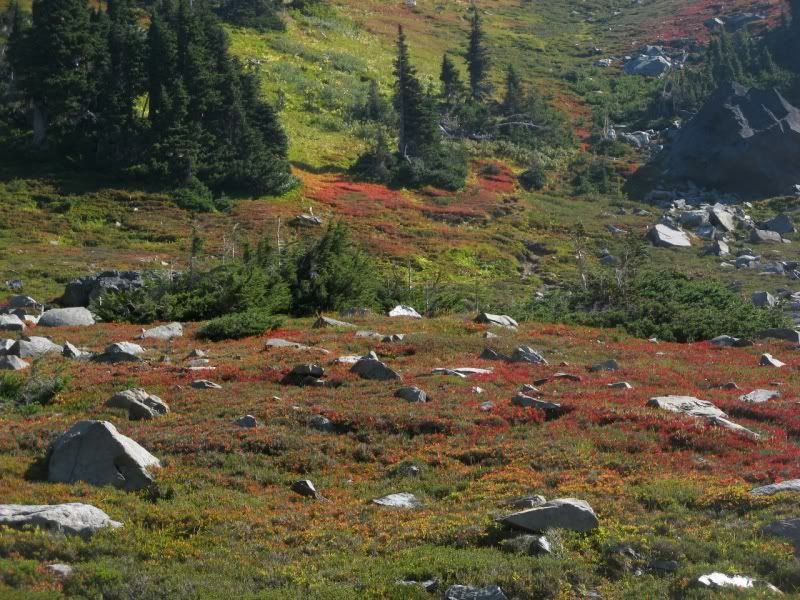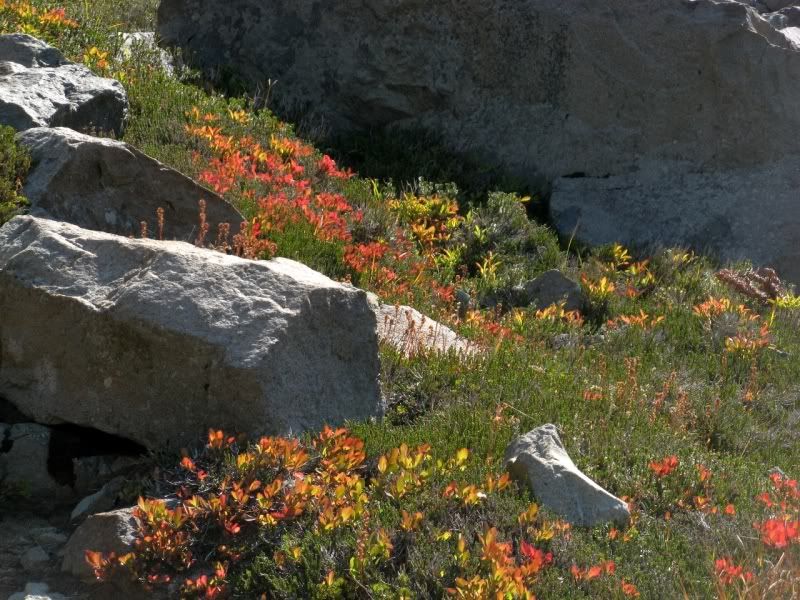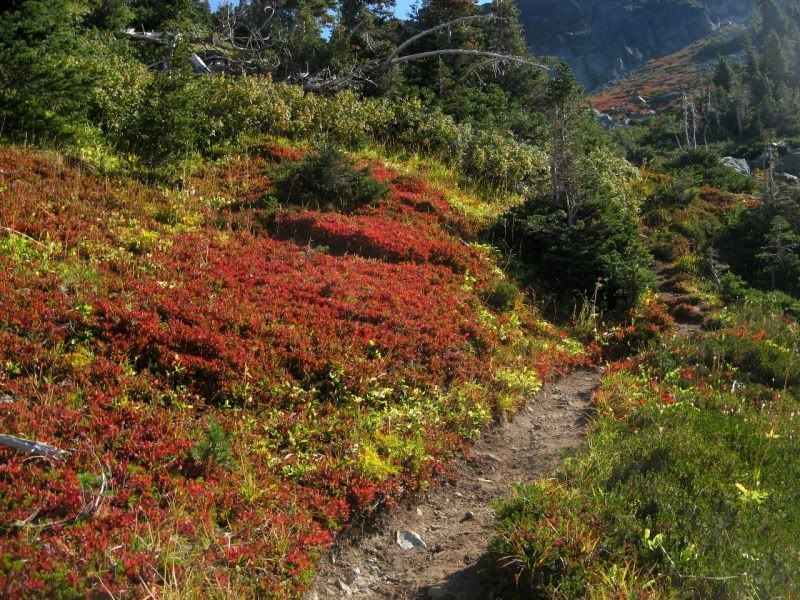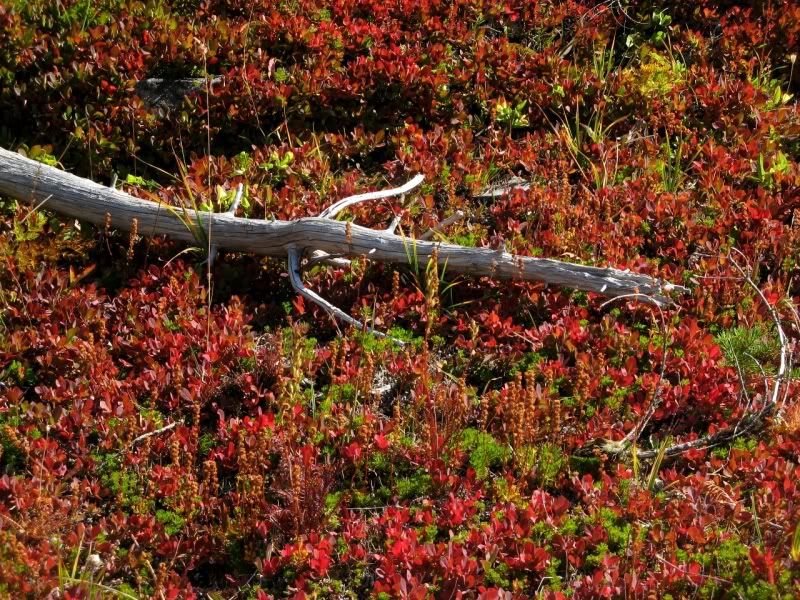 Peeking over the top!
Here's the view looking east from Knapsack Pass. This is whole different kind of country, made up of large rocks, scree, snow and incredible views. The cliffs of Mother Mountain dominate the north. The foreground is a rocky shelf with a few tarns. Mist Park lies hidden, hundreds of feet below.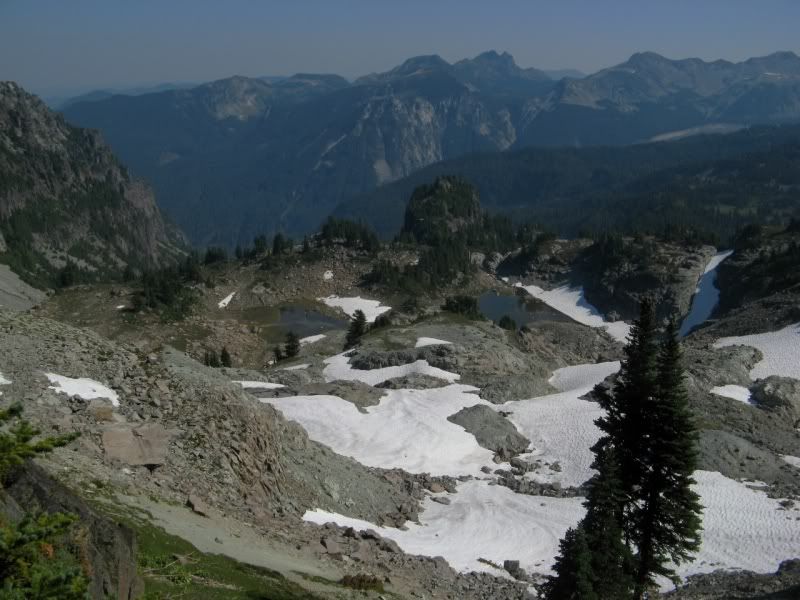 Our route beyond the pass was never an official trail. It's just a footpath over some pretty rough terrain. There's a steep scramble down crumbly scree for a hundred feet or so. That's followed by three snowfields separated by rockfalls. Mt. Rainier dominates the southern skyline, but finding it requires looking directly into the bright sun. Getting off the third snowfield requires climbing down over large rocks. There's no real path here, but there is a path in the meadow below, so route finding is easy.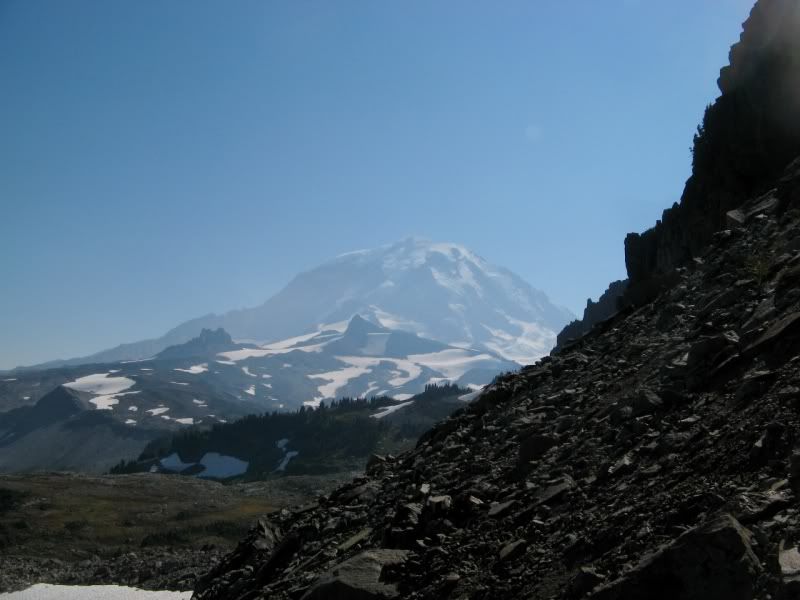 The trail goes through a small meadow and then climbs on to large, glacier scarred rocks. There are small pools here, where the glaciers carved depressions in the rock.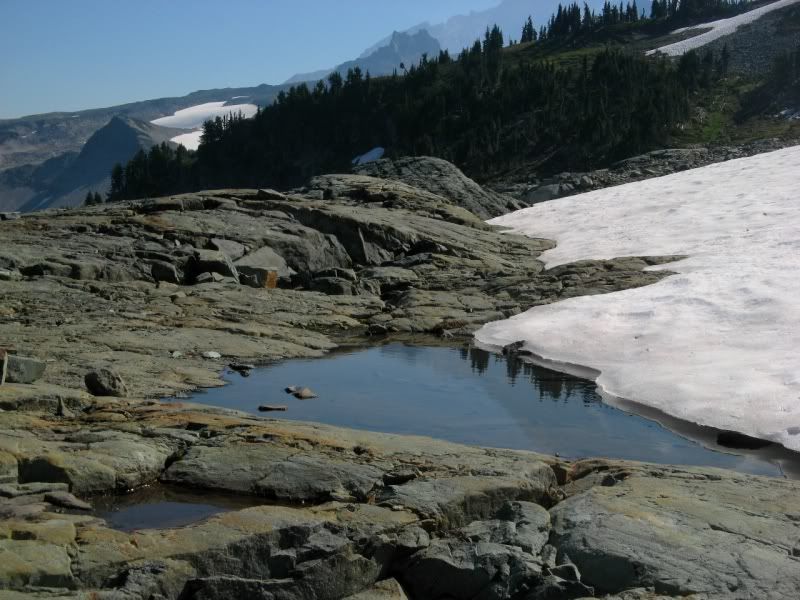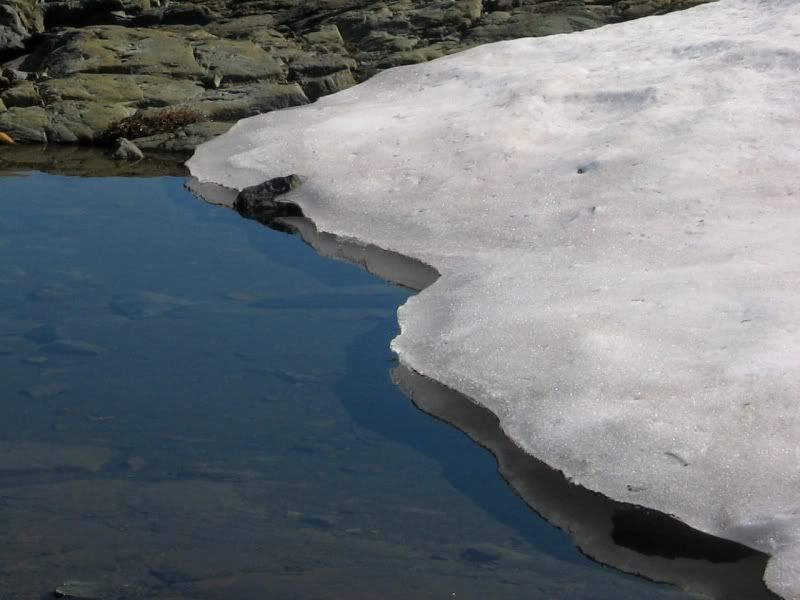 One last, large snowfield. This is looking back at my footprints.
Finally, we reach the north shoulder of Mt. Pleasant. There are small trees here, grass and views northeast down into Mist Park.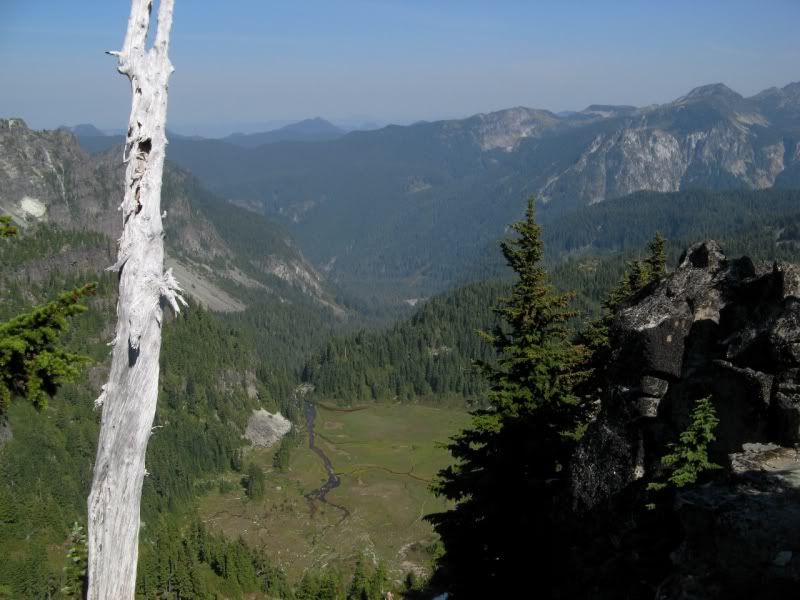 To the south, you can see Spray Park, Tillicum Point and Mt Rainier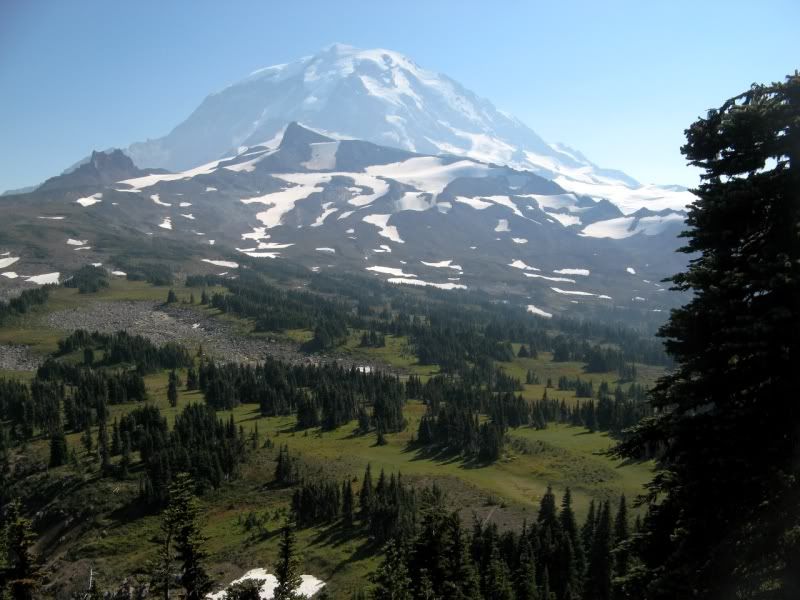 The trail switchbacks down the south side of Mt Pleasant into Spray Park.
Spray Park is known for its flowers, but, of course flower season is pretty much done. There were still a lot of Gentians blooming amidst the red leaves.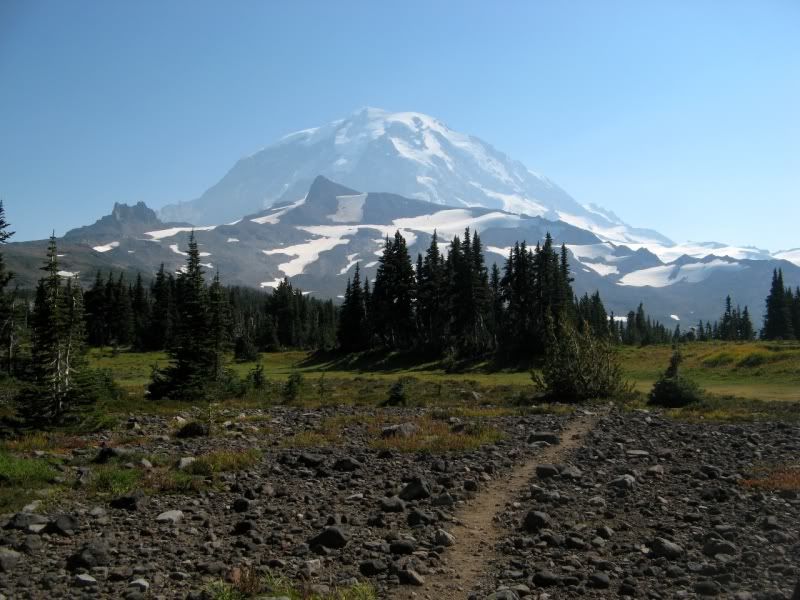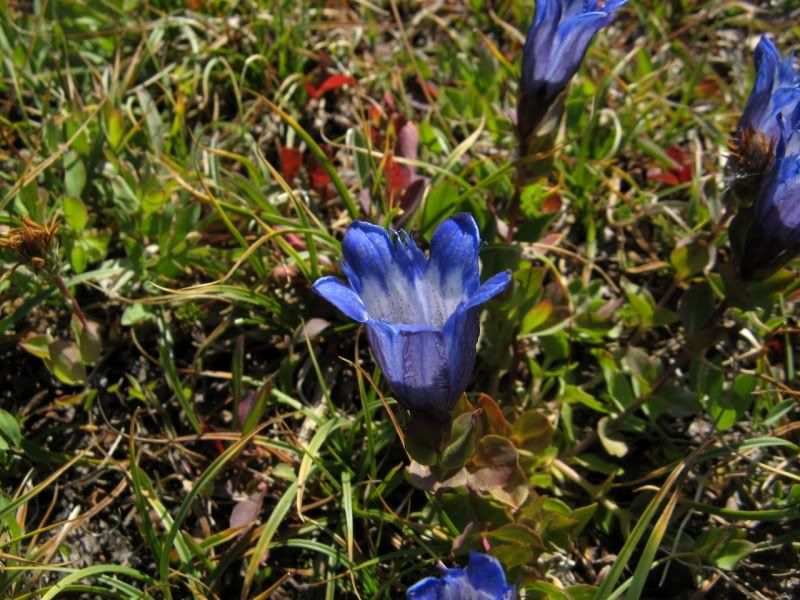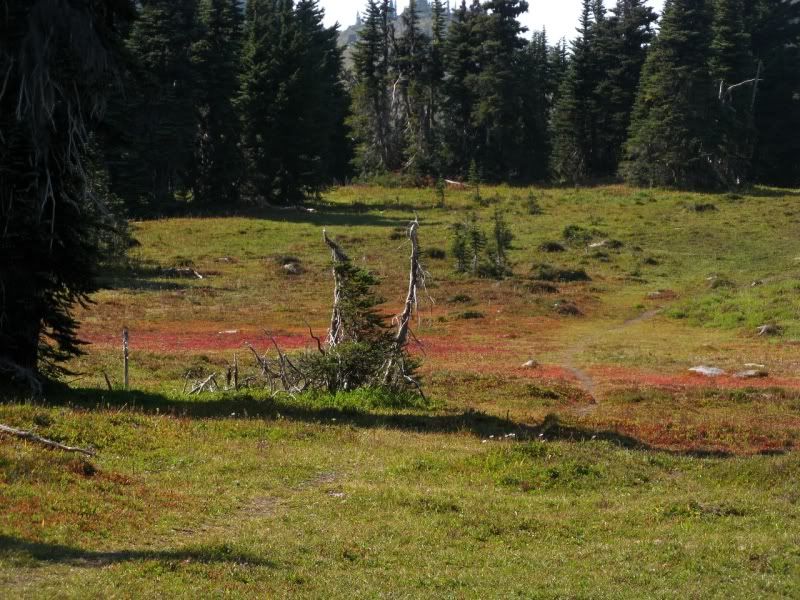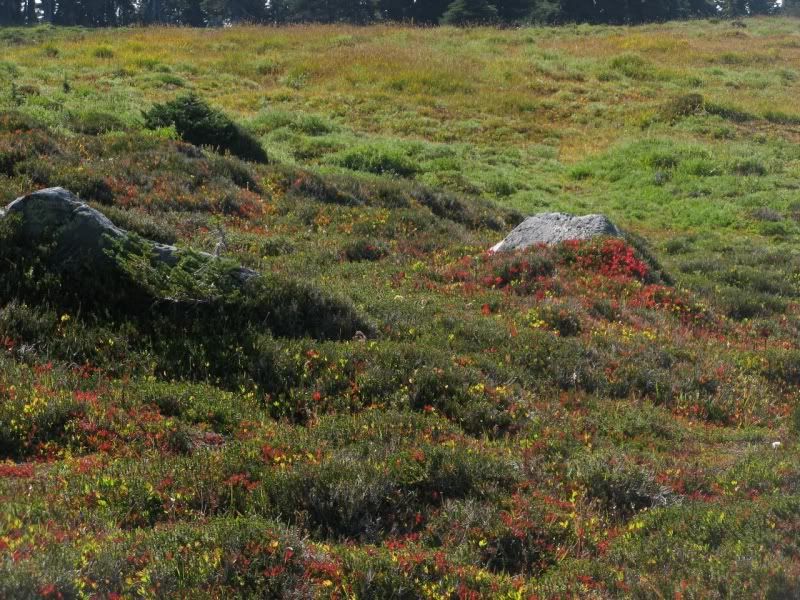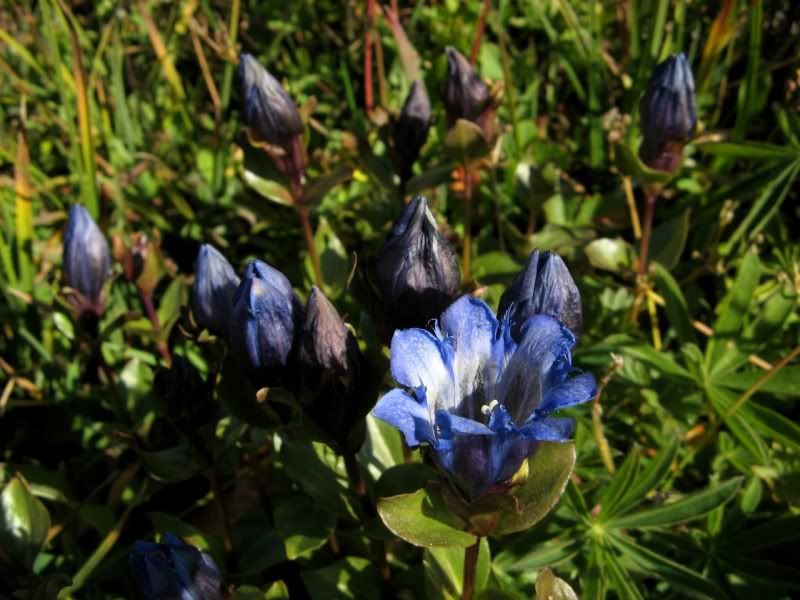 This is looking north from Spray Park down into Mist Park. Those are the headwaters of Cataract Creek and Marmot Creek.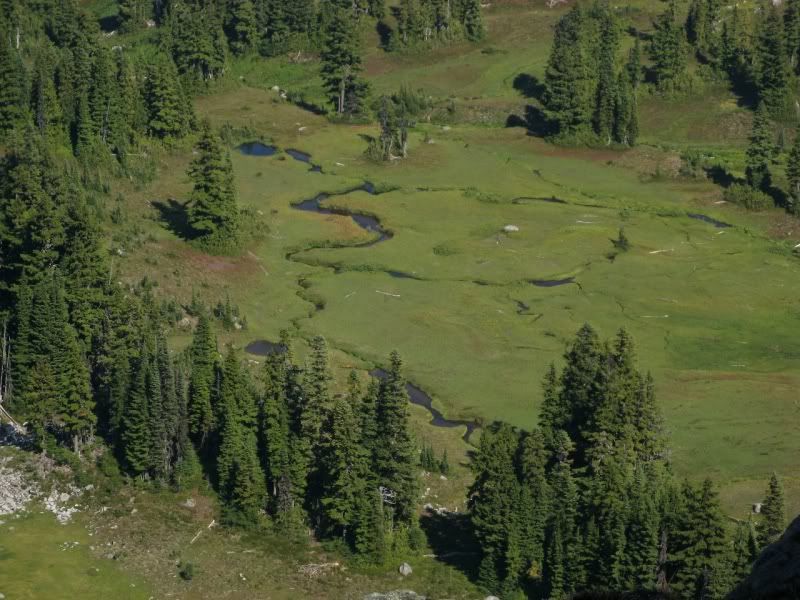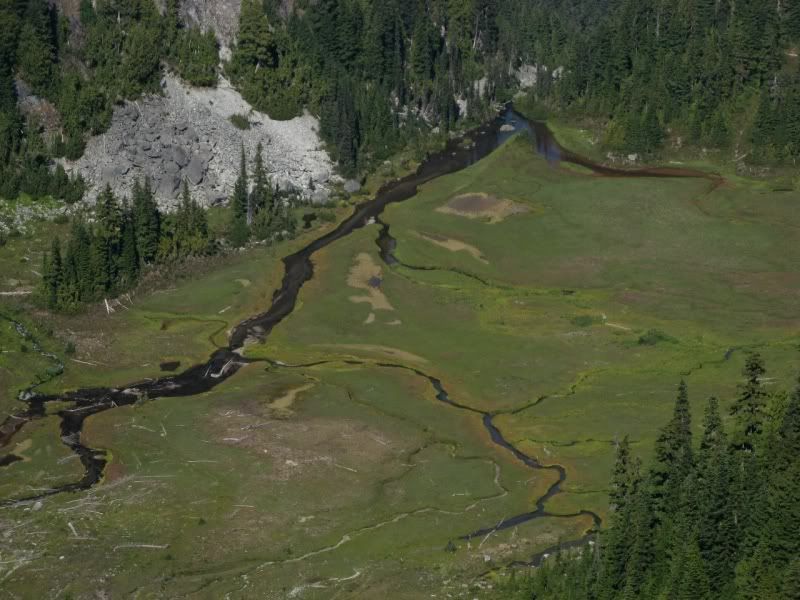 Up to this point, I had only seen four other hikers (two couples) all day. Now, I picked up the Wonderland Trail and headed down through Spray Park. The Wonderland Trail is the premier trail in the park, gets really good maintenance and sees a LOT of hikers.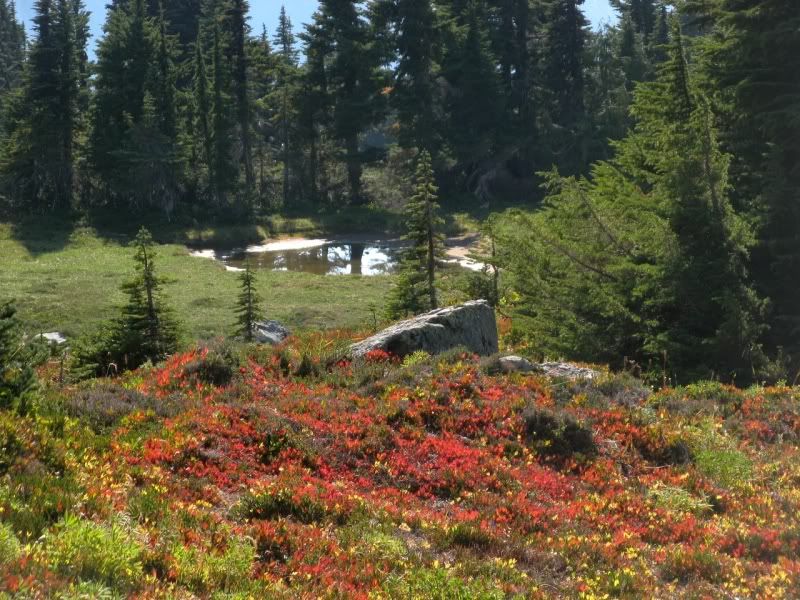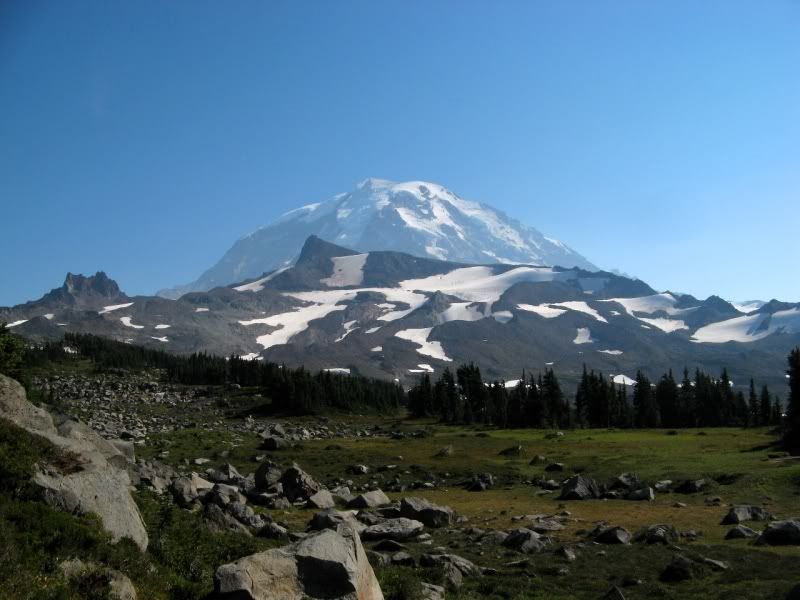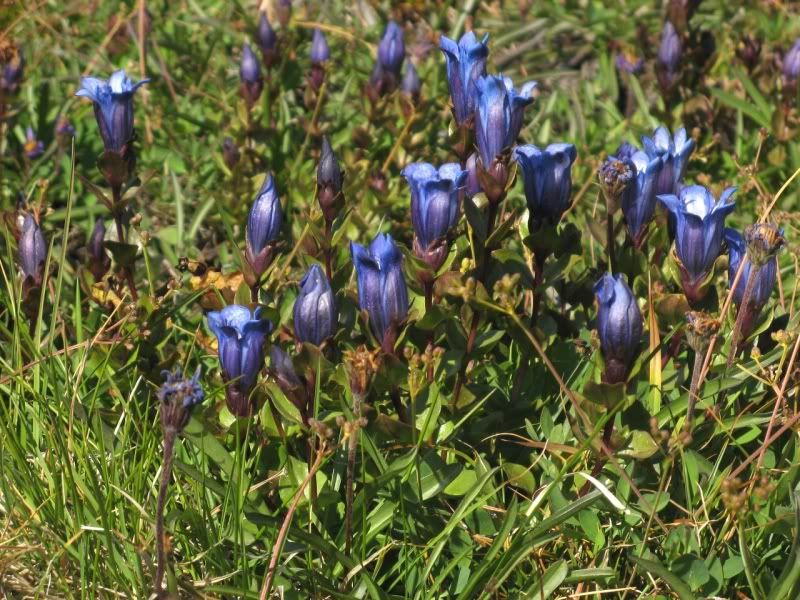 There's a lot of trail construction here, though a lot of it probably goes back to the 1930s.
One thing I don't understand is this style of trail construction. Slabs of rock are put in vertically marking the trail edges. Additional slabs are put in crosswise, creating almost a box. Then the area between is filled with the loose rock. Soon, the small rock erodes or gets kicked out and we're left with a rocky mess. The small rock is slippery and hard on the ankles. The vertical cross-slabs are tripping hazards. If anyone trips and falls you can bet their arm will be broken on those projecting slabs.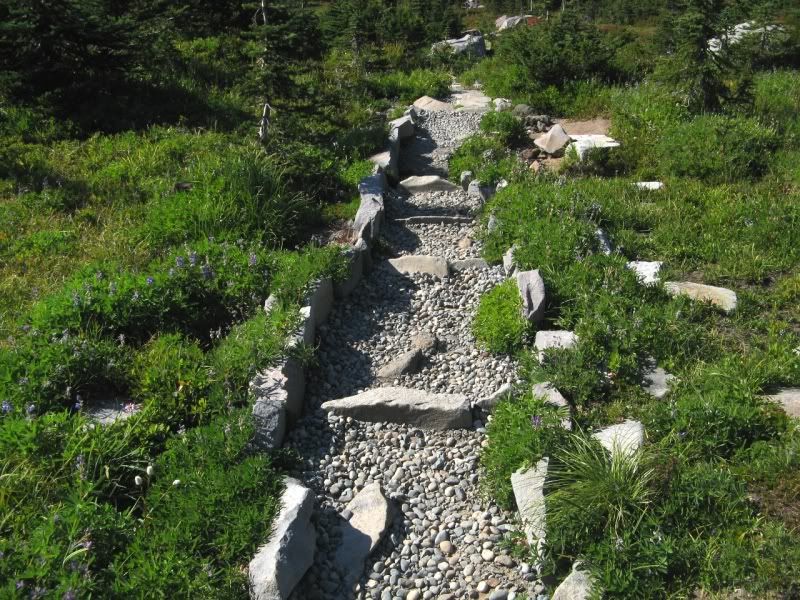 The trails are impossible to walk on so people walk in the meadows. That. of course, draws the wrath of the forest service.
But anyway, enough ranting. That was the only less than perfect characteristic of the day. Let's get back to hiking.
Black bears are common in Spray Park. This one was casually eating and didn't seen the least disturbed by a dozen gawking photographers.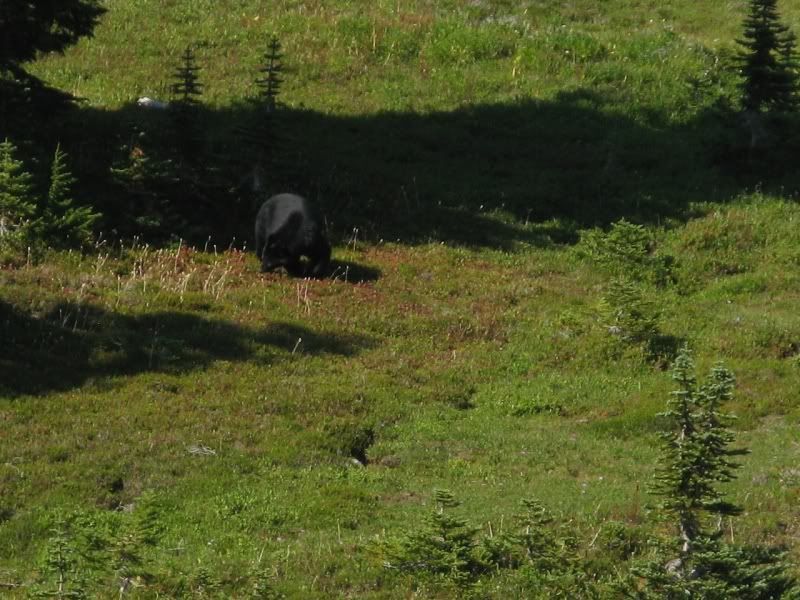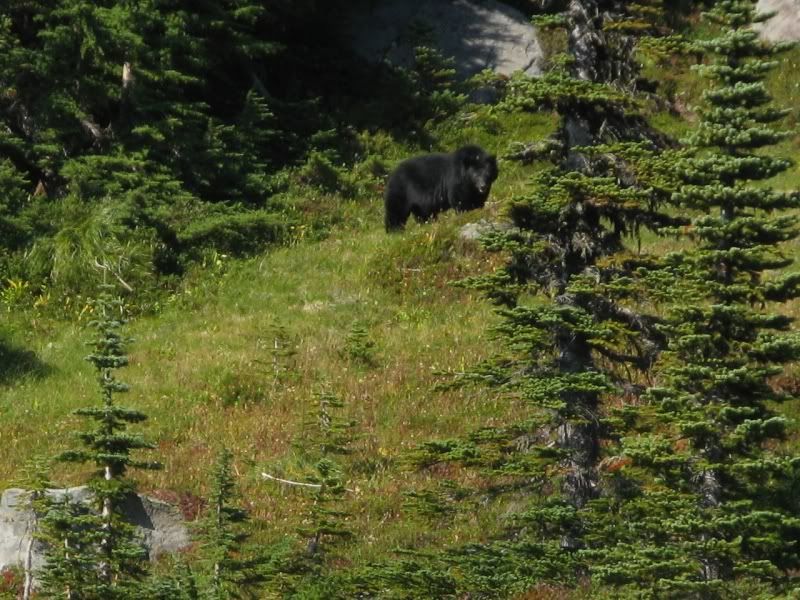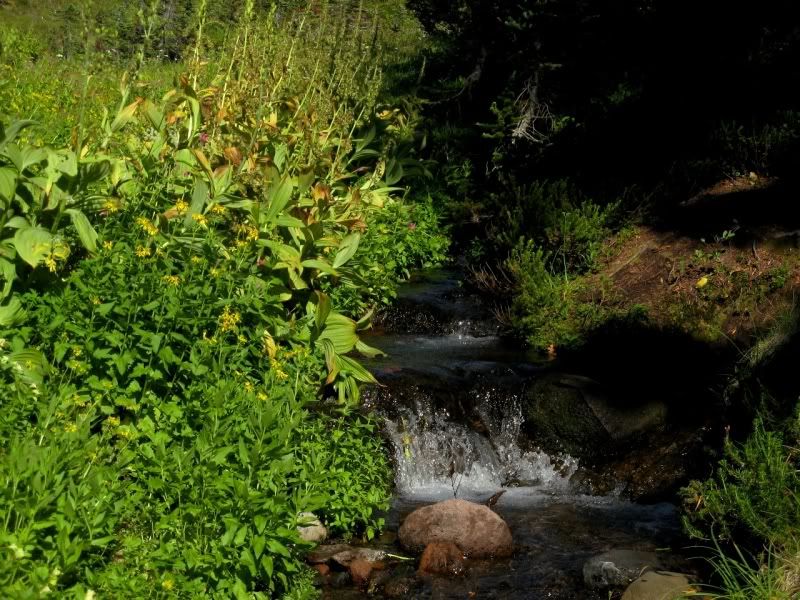 The trail switchbacks down from Spray Park toward Spray Falls. We're now back in the deep forest, but there a stream that makes an appearance at every switchback.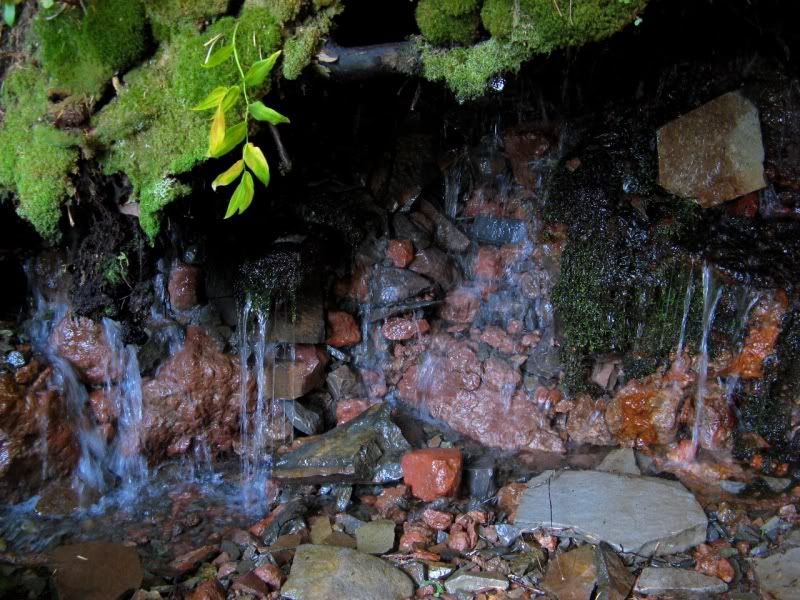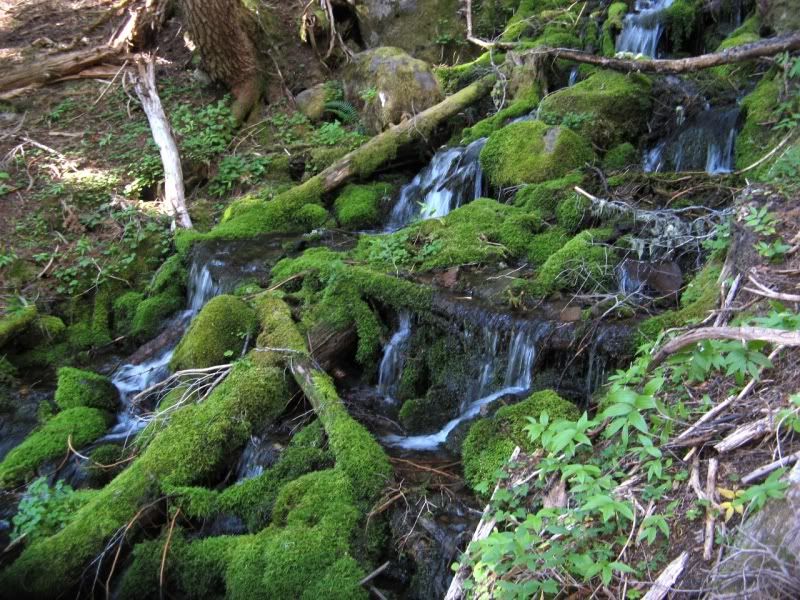 Spray Falls is on a 0.1 mile spur trail. It's really beautiful, but the viewpoint leaves something to be desired.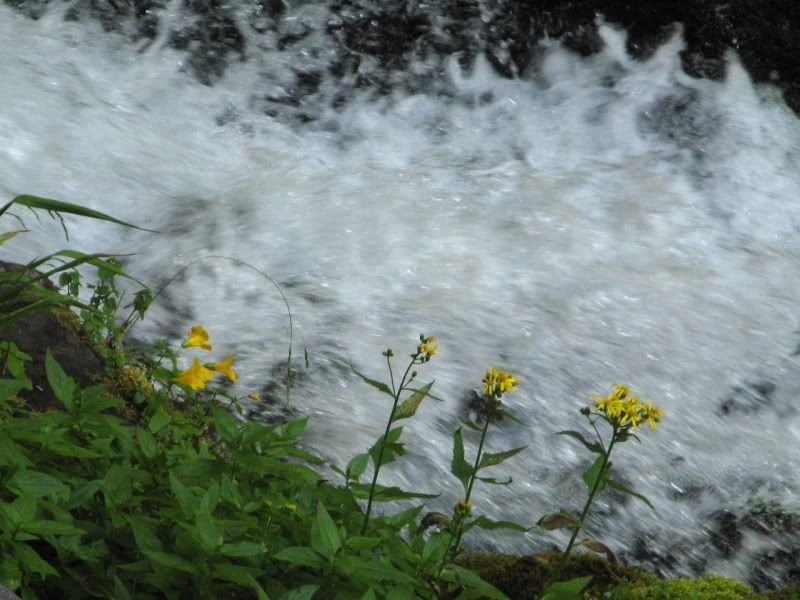 From there, it's just a two mile walk through the trees, highlighted by the Eagle Cliff Viewpoint.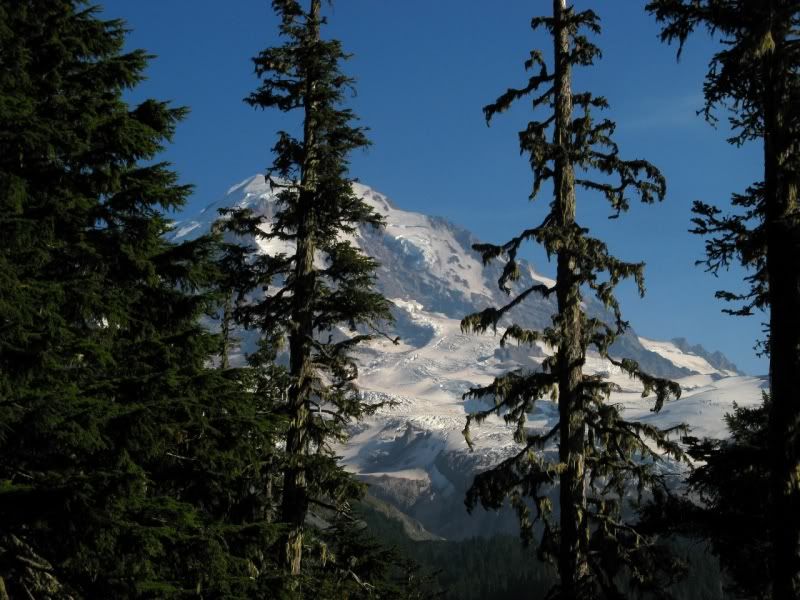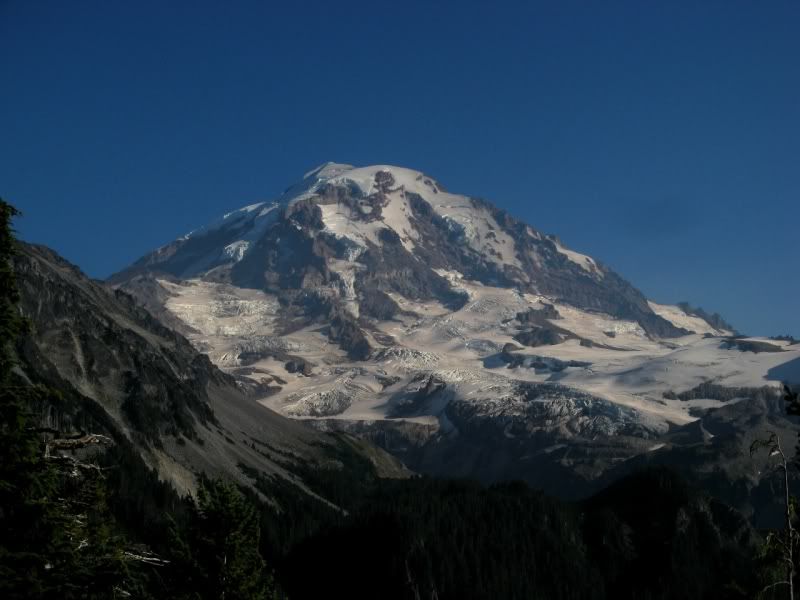 Finally we're back at Mowich Lake.