2014 NOTE: An update has been posted, with information on crossing both the glacier and the lower washout.
2017 NOTE: There's now an official trail below Cloud Cap. Another update has been posted.
The weekend before last, TWO of my friends -- in different parties -- had trouble with the Eliot Creek washout while circumnavigating Mt. Hood. I decided that the best thing to do was to go up there myself and scout out a safe route from one side to the other.
Note that "safe" is a relative thing! My idea of safe is crossing the glacier itself, but I know glaciers freak some people out. But I'll take my chances with the ice any day, compared to those newly-carved scary vertical walls in the lower part of the outwash plain.
Both of my friends had been headed clockwise around Hood, and both said they walked up the western moraine for a ways and saw what looked like a trail on the other side, heading up toward Cooper Spur. But both realized that going down the near (west) side of the ditch would be an accident waiting to happen; those moraines are too steep and too loose,
especially
on the west side. What my friends didn't know (but I did, from a 2006 trip up to Langille Crags) was that you CAN get down to the glacier from the west side, but you have to go ALL THE WAY UP THE MORAINE! All the way, that is, until you come to a couple of east-facing vertical cliffs. At that point, you can pick your way down the talus and onto the snowfields, and from there it's actually pretty easy.
I did my reconnaissance mission in the other direction: I parked at Cloud Cap and went up the Timberline Trail to the Cooper Spur stone shelter. From the shelter, there's a very obvious path heading west, which crosses a small ravine and leads to a big man-made rockpile on the crest of the moraine. From the cairn, another obvious path (the one my friends saw) leads down to the glacier. From this point, you can see where you need to go: UP, and mostly west, toward those cliffs, so that you can get up on the other moraine. (See the photo below.)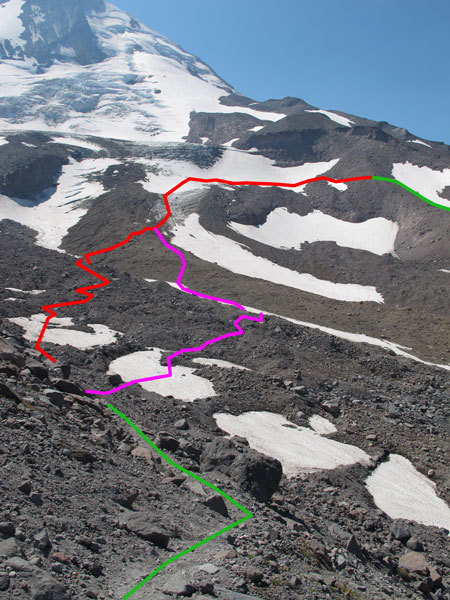 Green = definitely use these paths. Red/purple = improvise.
I walked across lumpy glacial rockpiles, ran up ice fields with little rivulets of meltwater and embedded rocks for easy traction, and finally traversed a big snowfield whose upper slopes led up to a jumbled mess of broken blue ice. That last snowfield had a few nasty crevasses in it; most were below me, but a few small ones were above me too. I didn't feel like I was in any danger, but I might have if I had left my trekking poles at home. Not only can the poles keep you from sliding sideways downhill, you can also use them to test the ice in front of you and make sure it's not hollow.
The last part was actually the hardest: after I left the snow, I had to pick my way across broken boulders to the crest of the ridge, where I found the faint trail leading up from the western moraine. Then I basically went back the way I came, only this time, on the western talus slope, I found a nice seam of REALLY big boulders that weren't going to go anywhere.
So, basically, if you want to go around the whole mountain, I wouldn't recommend risking your life and your possessions in that horrible gulch at the bottom of Eliot Glacier. Just go up higher... and higher. And I hope you enjoy rock-hopping.
Here's a map (click for an interactive version), and I'll post pictures once I look through them later today or tomorrow...