Alright guys, time to kick this beast off!
Other Nav Threads
Nav 102 - Crazy Magnets and Stuff
Nav Work 103 - Pacing, Obstacles, and Nav-Nerds
If you want to get into legitimate navigation, you need a general understanding of what's going on. My writeup's will be simple, practical navigation, not the elaborate primitive survival, star reading, elaborate/impractical type navigation that you read of in most books. So I'm going to start this from the uber basic and we can work our way forward. Please please
please
feel free to ask questions, I'd love to get legitimate discussions going from these threads, but if not, if I can pass out some common sense nav knowledge than I'll be happy either way. I usually do this in a powerpoint presentation and talk my way through most of it, so converting it to a thread will be new for me.
Cardinal Directions
The very basics for Nav would be the Cardinal Directions. We all should have learned this in elementary school, but I'll go over it again.
Working our way around the circle, North is our "universal reference" that most people will go off of. If you imagine a circle, divided into 360°
North
would fall at the top at 0° (aka 360°).
East
would be on the right, at 90° (general sunrise)
South
at 180°
West
at 270° (general sunset)
Remember those numbers because they will be important when we get into map and compass work. The best way to avoid making mistakes is to develop some common sense self checks before you initiate any final step.
Note: There are NO negative bearings, and we do not do numbers above 360°. There is no 370°, and there is no -43°, everything should be between 0-360°, with 0 and 360 being the ONLY overlap.
Now that we've got our directions sorted out, we can talk about the different versions of them.. Since North is our reference, we'll focus on that right now, although technically there would be complete cardinal directions for everything.
North, North, or North?
The easiest way to break things down for people is that there are
three
different Norths
True North
This is also considered 'Geographic North', or the 'North Pole', aka Santa's house. We lucked out in that our geographic poles are relatively stable (at least within a human lifespan) so we're not flying around space wobbling about. TRUE North is what we want to work in, at all times, because it is universal
(well.. global I guess..)
, and doesn't matter where you are, or what you're looking at. We need to compensate for the others as we work with them to make everything referencing True
Magnetic North
This is the Magnetic North Pole of the planet. We could get into what causes it and why it's where it is, but realistically that's not important. There are however a couple things that you need to understand.
Magnetic North is NOT at the same location as Geographic North
Magnetic North does move
Magnetic North is sliding at about 40 miles a year, which if you break it down actually works out to about 20 feet an hour. In geologic terms that's hauling! The biggest problem we have though is that the magnetic force lines unfortunately do not fall into our nice straight cardinal directions relative to their magnetic poles, and you must be careful about where you are on the planet to know how to compensate.
For US, in "north central oregon" you can fairly safely round to 16° East (we'll get into this later)
Grid North
is the grid that the map projection is laid on. Because we're converting a sphere (roughly) to a flat piece of paper, there is a wee bit of distortion. That skews things to make them just a
little
bit off. For most uses though in our area Grid North will be less than 2° off, and will probably be in most people's margin of error, so it's relatively safe to use Grid and True as the same, until you start traveling outside of the gorge.
Declination
Declination is the difference in degrees, between True North, and Magnetic North. The needle on your compass points to Magnetic North (usually..) but since they are not in the same location as we pointed out earlier, and we want to reference everything off of True, we need to pull some shinnanigans to make everything work out correctly.
In our area, we are at roughly 16° East declination, meaning Magnetic is 16° East of True North. It's not *quite* that simple if you're traveling outside of the NW here, like we discussed earlier Magnetic lines don't travel straight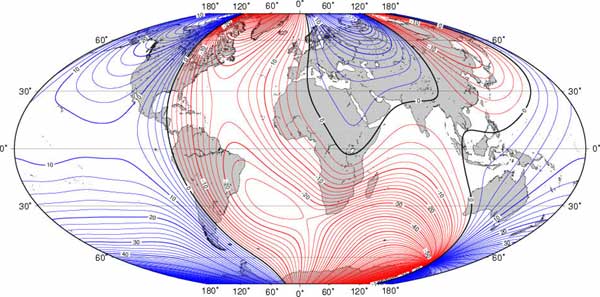 This is one of the fundamental concepts that takes an insanely long time to fully comprehend. So I've found it's best to generally keep it simple, and not think about it too much. It is important that anyone using a compass understands declination however, and knows how to compensate for it.
If you are to take a bearing using your compass, which is not pre-declinated (something we'll get into in another thread) you are taking a bearing in
magnetic
. Since we want to reference everything in True, we should do the math to convert that bearing to true. We know Declination is 16°East, but do you add or subtract to convert to North? Luckily there is a handy little rhyme to help you remember.
Declination East, Magnetic Least
Simple as that! If you've got identical bearings in True and Magnetic, and you're in an area with East Declination the Magnetic should be the smaller bearing.
An example of this.. If you take a bearing to something in an area (like ours) with 16°E Declination and come out with 10°M (M for Magnetic), and you want to convert this to true, you would need to
add
16° to that bearing.
10°M = 26°T
Declination East, Magnetic Least
These are the
same
bearings. So you may be asking, why bother converting to true? There's a big long explanation and there's the short one... But, BECAUSE YOU SHOULD! is the easiest. When you get into map work, everything is based on True, modern technology (GPS, Google Earth, Cellphones, etc) are automatically putting everything in True. True North is STABLE and doesn't move.. Everything, everywhere, all the time, should be referencing True. Every time you say, or write a bearing you should be writing T next to it (as long as it's True), and if the apocalypse has come, and you need to call SAR, and can give us a bearing, then *please* specify if it's in True or not.
There's the end of lesson 1.. I'm keeping it informal, so lets get to talking if you guys have questions about this stuff or let me know if I should just keep chugging along. Questions? Comments? Now's the time to start the discussion. If there's positive feedback here than I'll start working on Nav 102, and go into Compass types/parts, my favorites, pacing, bearings, and general practical navigation stuff for in the field..