Posts: 270
Joined: April 21st, 2013, 2:26 pm
Contact:
Pulled this one out of the Rogue-Umpqua Divide Wilderness near Hummingbird Meadows the Sunday of Memorial Day weekend.
---
Not sure what the theme is here. It was pretty decayed. Maybe it was just a generic splash of color.
---
Posts: 12841
Joined: May 28th, 2008, 10:03 pm
There's a few: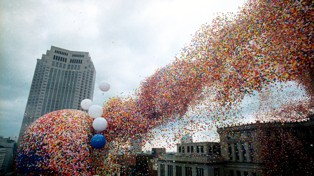 ---
Posts: 12841
Joined: May 28th, 2008, 10:03 pm
---
Okay, I see the rules of this thread have changed, so below is my contribution. Not as dramatic as Jerry's, I must admit.

That video left me feeling the way I imagine I'd feel after eating an entire birthday cake: That was fun, but now I feel awful.
---
Posts: 3723
Joined: May 28th, 2008, 10:03 pm
Location: Vancouver, WA
This one was so fresh it still had some helium in it when I found it on the Gorton Creek Trail June 15th:
"Everything works in the planning stage".
---
I was quite pleased to see one of these colorful balloons this past weekend. Unfortunately, it was too far off the trail to go over and get a better look at it. It brought a smile to my face.

Alas, the smile turned to a frown when I noticed that someone had stuffed a poo bag into a gap in a log. I'm assuming that this act was to hide the mis-deed and not to enhance the likelihood of the culprit seeing it on their return to the trailhead. It's just an assumption.
---
Just catching up to this thread. What a great idea those who got it/kept it going! Not sure what's more amazing - how many balloons have been found or the percentage of time its finders are off-trail! Apparently a lot!
---
My highest find yet, above 7000'.
Mostly buried in scree at the base of a boulder, so it was fantastic luck finding it.
---
It's always a nice bonus when the ribbon is still attached.
---