I've finally stumbled across some historical evidence that explains the old pipeline crossed by the Upper McCord Creek trail spur. Take a look at this 1902 view of the Warren Landing (later "Warrendale") and the steamships Tahoma and Dalles City: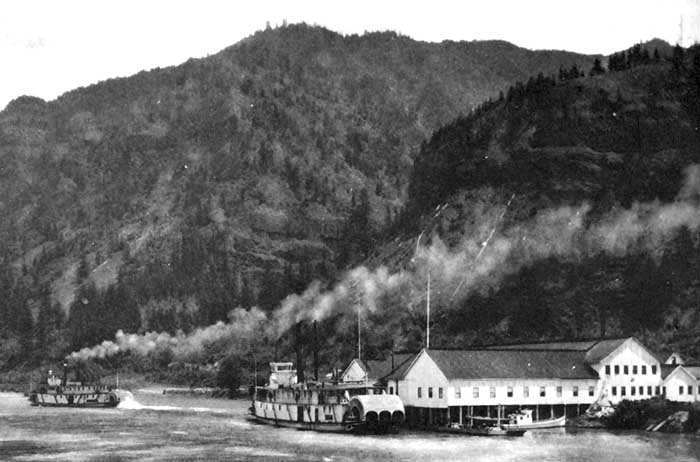 Look directly above the pier section of the landing structure, and you can plainly see the pipline running up the slope, behind the steam from the upstream ship. The structures are part of the Warren cannery operation, so the best explanation for pipelines of this size is that they served the industrial community and surrounding buildings.
What makes less sense is the diameter of the pipe -- something like 18 or 20 inches, which is way more than any spring in the area would require. This leads me to think that the pipes might have been part of an attempt to tap McCord Creek from above Upper McCord Falls, and perhaps with a cistern similar to the one located at the modern trailhead somewhere above the pipe remnant. Piping water in that quantity could be explained by the cannery operation, or perhaps as a source of hydraulic power for the plant?
Here's another puzzle: what I initially thought was a scratch on the above photo turns out to be a SECOND pipeline to the east of the straight, prominent line -- you can see it passing behind trees in this enlarged/enhanced clip from the photo: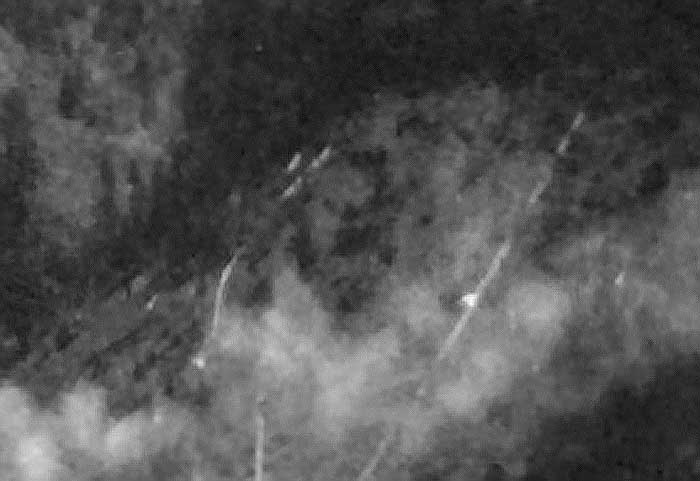 An older line? An additional line? Who knows..? Just more in the mystery about this area. But it does help to explain the many roadbeds that criss-cross the slopes west of McCord Creek canyon.
A couple more factoids about the area that gathered while researching a blog article earlier this year: cannery owner Frank Warren was the only Oregon resident known to have perished on the Titanic; his wife Anna was among the few to escape in a lifeboat, and survived, while her husband stayed behind on the ship to help other women and children into lifeboats. So, Warren died a hero. His cannery didn't survive long after this photo was taken, as fish wheels rapidly disappeared from the river along with the canneries.
As always, each answer brings with it more questions...
Tom