Okay, here's another from the vaults! This is from a trip I took at the start of sophomore year in college with my roommate and old buddy David. Bull of the Woods was not designated as wilderness, yet, and the Clackamas district was becoming one giant clearcut, with a tangle of hastily built roads. It was literally dangerous to drive them, as the log trucks were coming off the mountains by the hundreds in those days -- and there weren't too many hikers.
I was very much caught up in the wilderness battles of the day, volunteering for the Oregon Wilderness Coalition (now Oregon Wild) on behalf the various proposals in the MHNF. One was for the "Hidden Wilderness", and you can still find the excellent trail guide that was published by one of the "coalition" members -- the Central Cascades Conservation Council: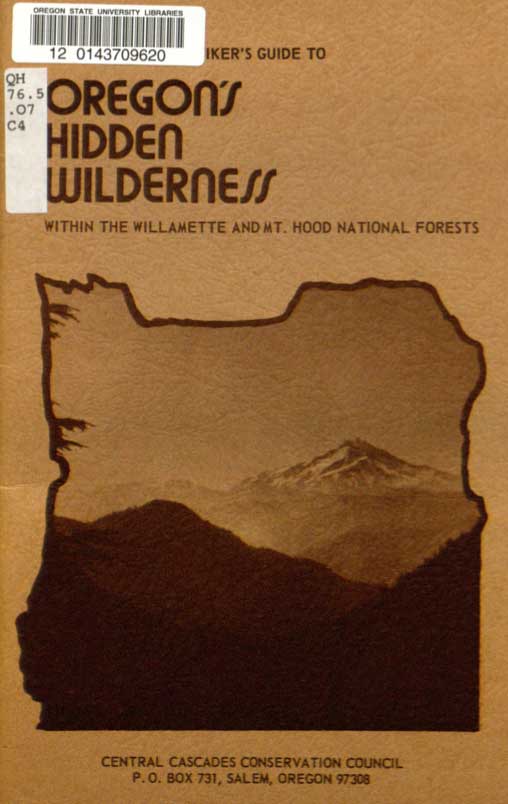 It had a neat fold-up topo map in the back, as I recall, though my current copy has parted ways with the map. Hmmm...
So, we started at the Dickey Creek side and did a 3-night/4-day trip traversing the backcountry. Here's a map of our route: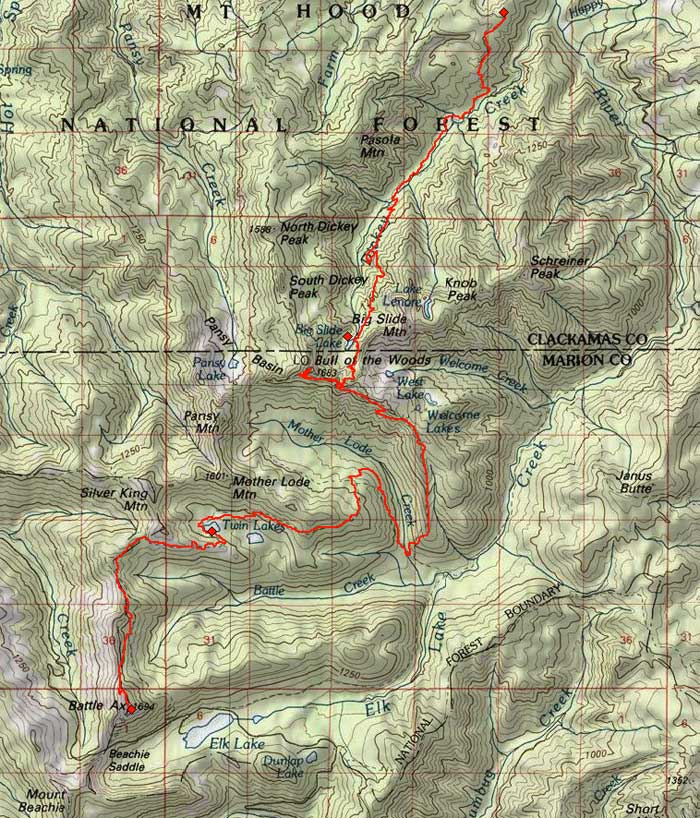 We took Dave's handy Toyota wagon up there, and as I recall, it wasn't a kind gesture to this poor car -- a rather rough ride! Here's David getting ready to saddle up: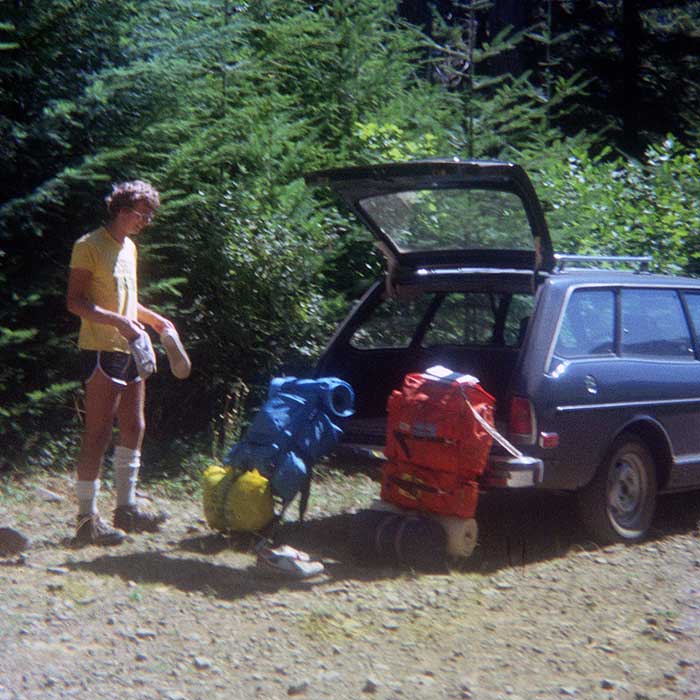 On the descent into Dickey Creek -- and the BIG, BIG trees..!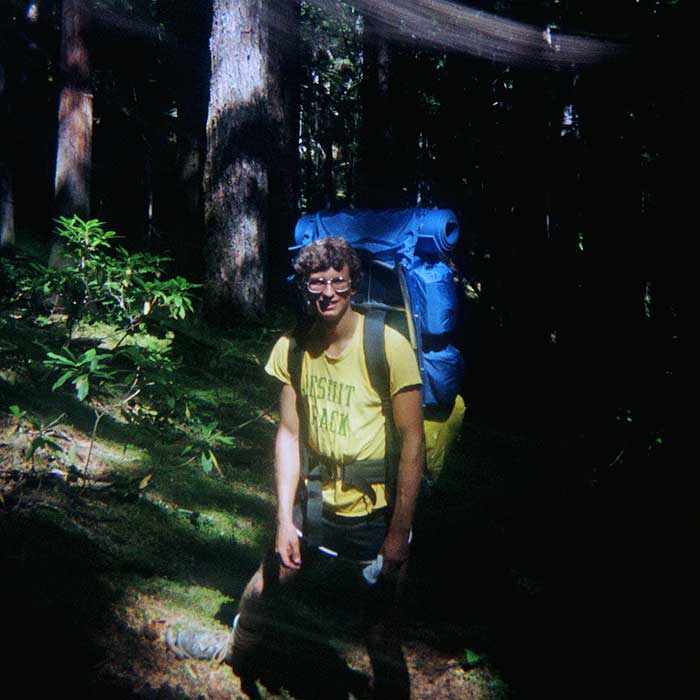 The first night was at Big Slide Lake -- here's me drinking "something" from my Sierra Cup: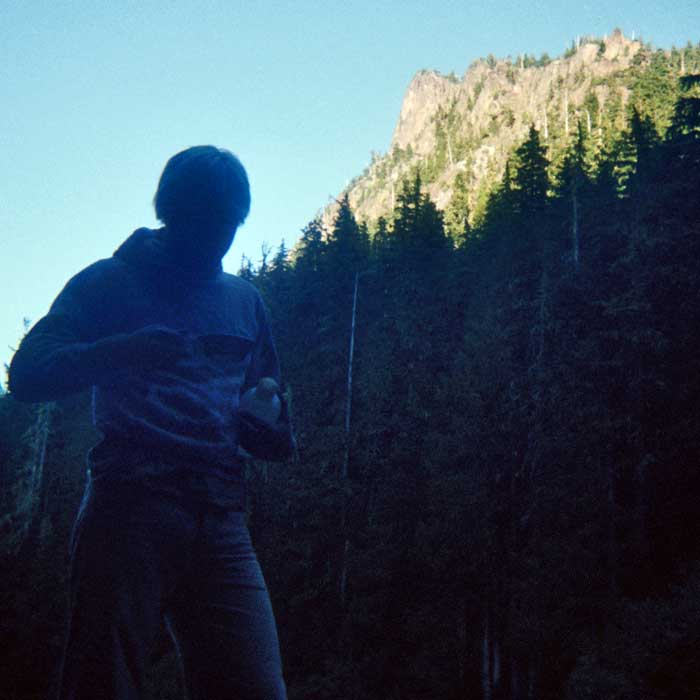 On the second day we started with the climb up to Bull-of-Woods. This is yours truly in the standard short-shorts that were the uniform of the day. I spent YEARS cultivating these cut-offs (which have since been immortalized in Arrested Development, of course..!)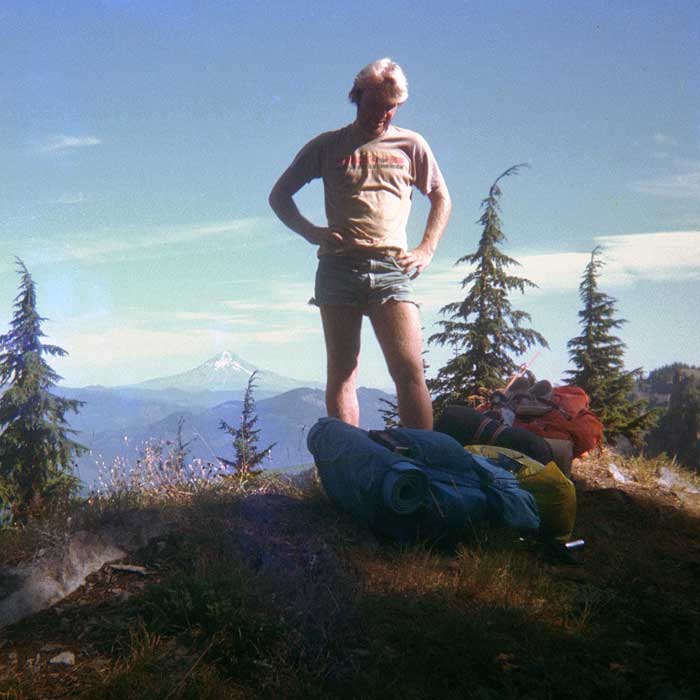 The view south toward Battle Axe Mountain -- thanks to the 1984 wilderness bill, this view hasn't changed much, with the possible exception of wildfires...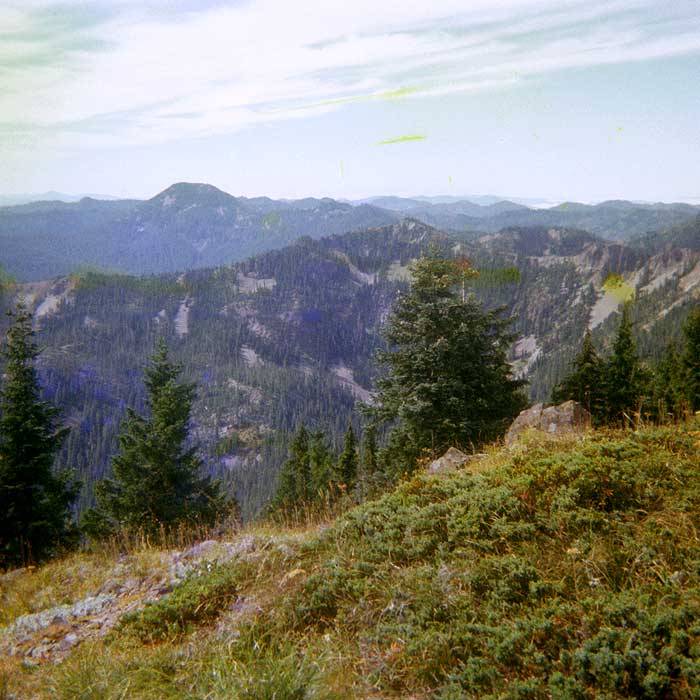 The view east toward Big Slide Lake and mountain -- also protected from logging and roads, but not fire: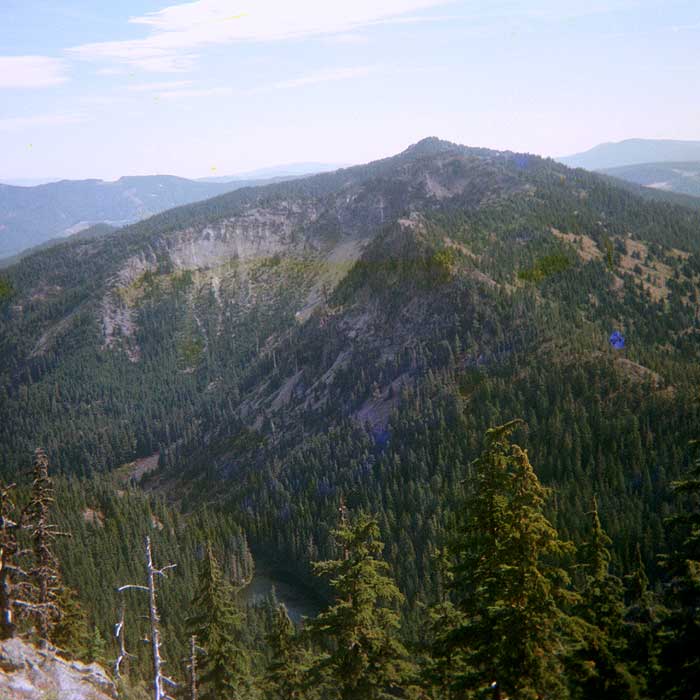 Me doing my best impression of Rodin's "The Thinker"... there might have been some inhaling going on at this point, not that I'm going to 'fess up to anything...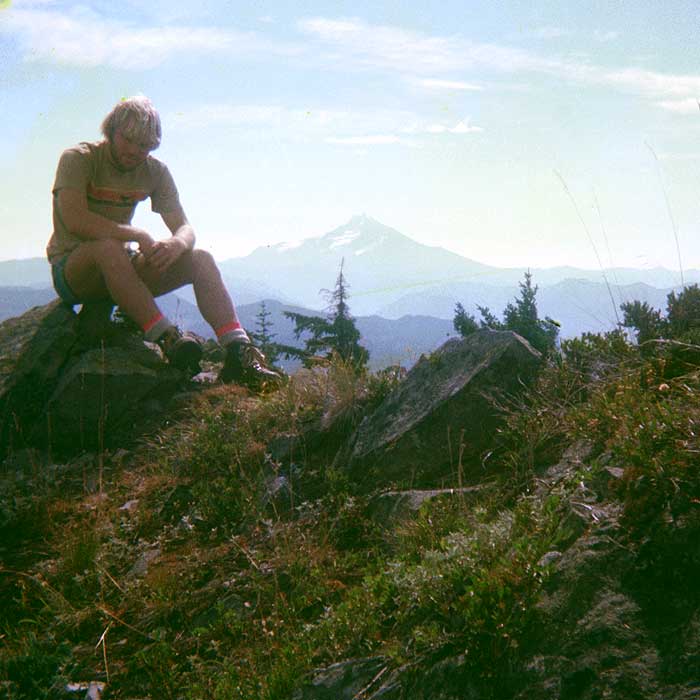 The second and third nights were at "base camp" at Upper Twin Lake -- I think I've hooked a sunken log in this picture...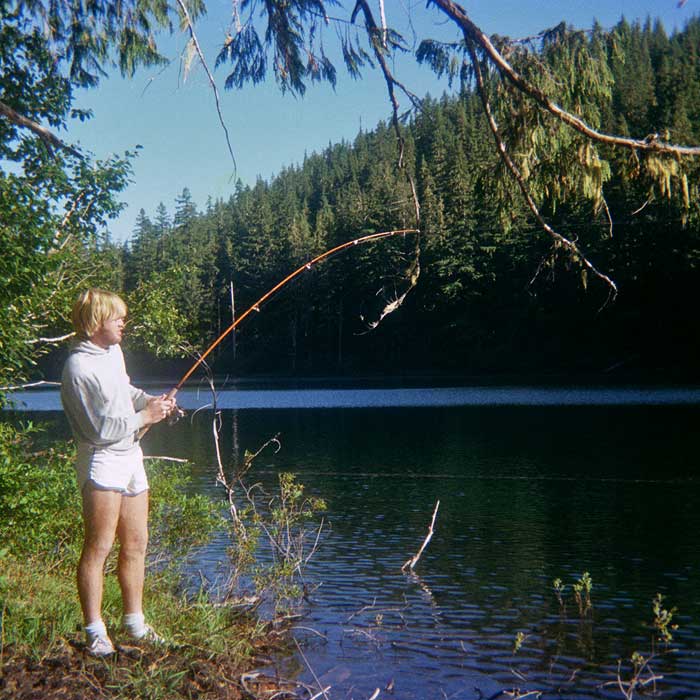 Day Three, and we made a day-trip to Battle Ax Mountain. I can't believe we didn't have packs (or water!?!) along for this little trip, but at 19, I think I was probably young and dumb enough to pull a stunt like that... hmm...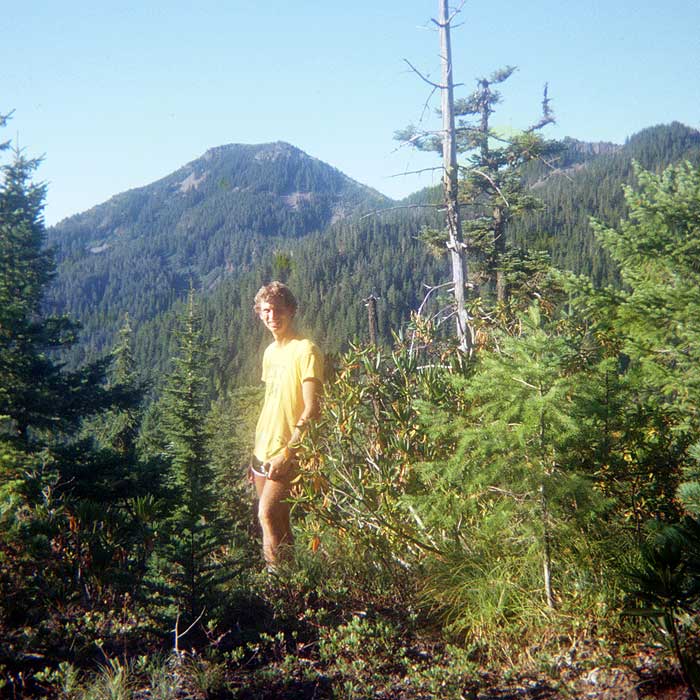 Oh, and by the way, kids -- we didn't have a Hipstamatic app for the Kodak Instamatic used in these photos... wasn't necessary at the time...
Not positive what we're looking at, here, but I think it's the ridge running NW from Beachie Mountain, as viewed from the crest north of Battle Ax: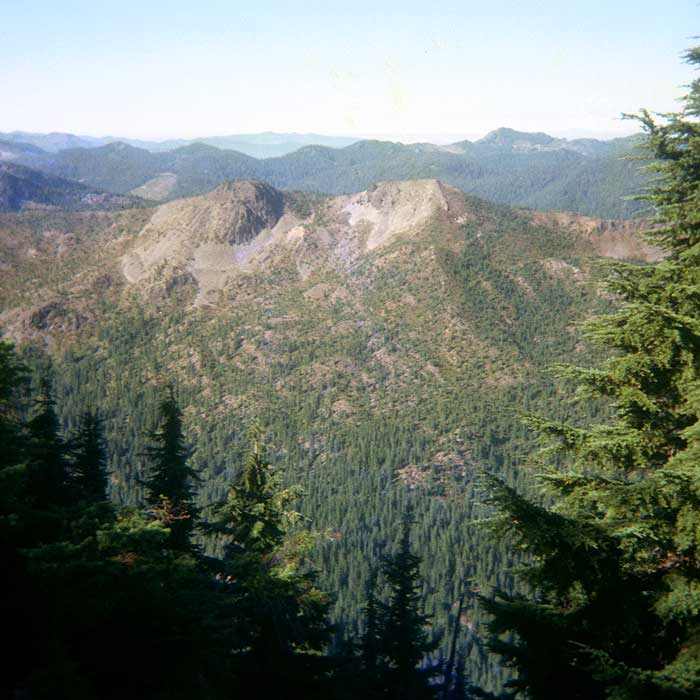 Heading up the north side of Battle Ax -- see? No pack..! Idiots!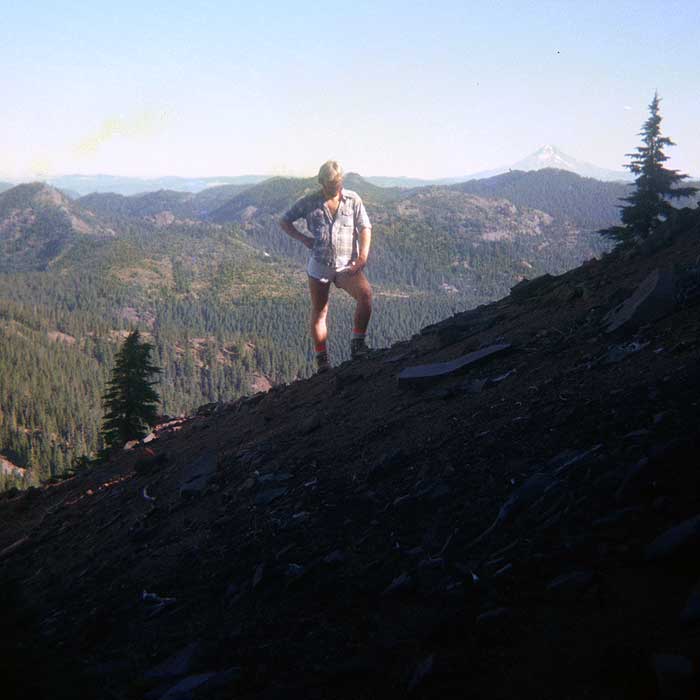 Looking south from Battle Ax at Mount Beachie -- one of my favorite views anywhere: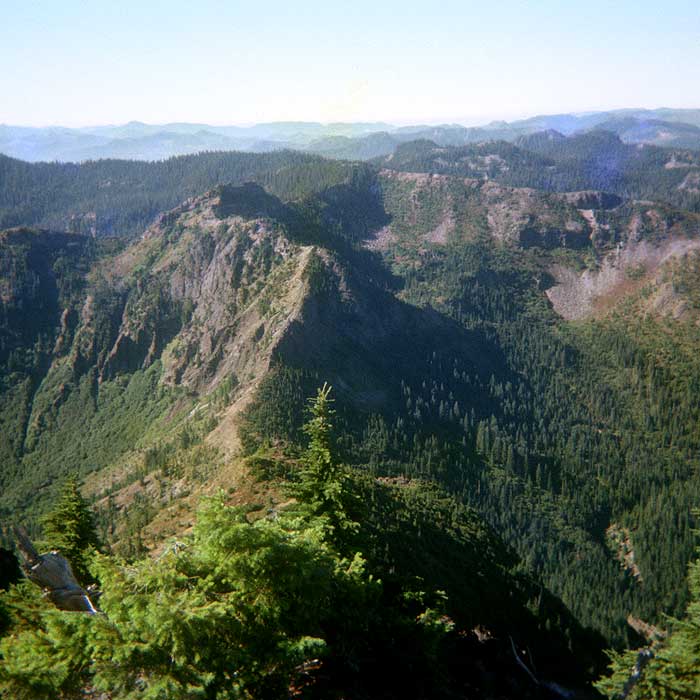 Hmm... thought about not posting this last pic... but what the heck...
Yup, a very skinny version of yours truly looking all "mountaineery" on the summit of Battle Axe. Those are my super-great Vasque boots -- had them for years. The shorts..? Well, we were just emerging from the 70s, so don't blame me..!
Mount Jefferson in the background, of course: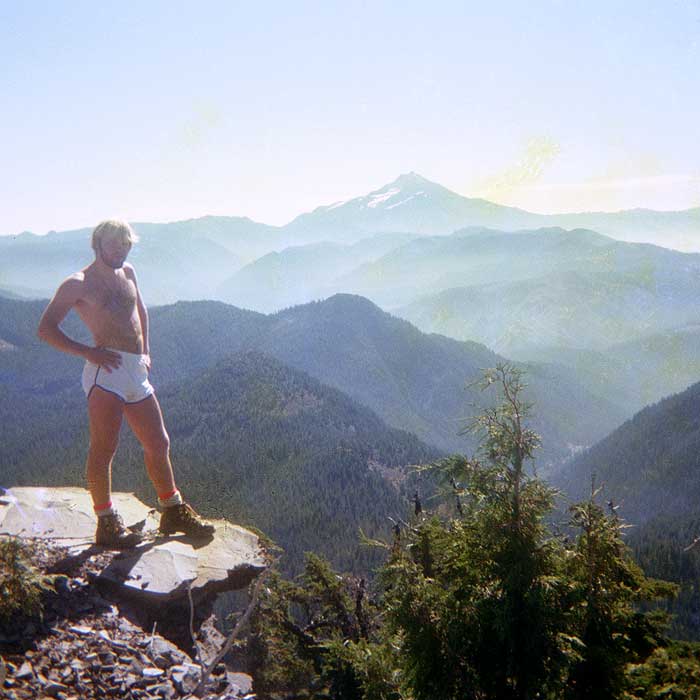 (...hmm... posting this could make for a loooong night at the Meet 'n Deet...)
I was kind of hoping for a tent photo -- I had an orange 2-man North Face tent that was my first real backpacking tent. I have no idea where it ended up... I also don't see it on my pack (the orange one, of course) in the earlier photo. I generally was able to stuff it in the top of the upper compartment.
This was also the trip where we had a long and terrifying second night at Upper Twin Lake -- awoke to hear some sort of LARGE animal grunting and breathing very loudly outside our tent on a moonless night... we just lay there with our teeth chattering...
We also made the poor choice of following the Geronimo Trail on part of this trip -- despite warnings to the contrary in the Hidden Wilderness guide! David never quite forgave me for that one...
- Tom