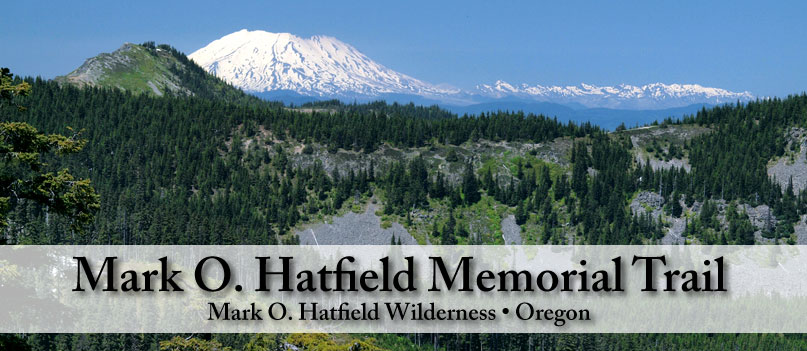 This thread is intended as a continuing forum for our collective efforts to bring the proposed
Mark O. Hatfield Memorial Trail
to reality. Today, the trail is in concept, only, and consists of series of existing trails that transect the Columbia River Gorge from Multnomah Falls to Starvation Falls (though other variations are possible). Along the way, the route passes through some of the most remote and rugged country in Oregon, yet is surprisingly close to the Portland metropolitan area. The west trailhead at Multnomah Falls is just 30 miles from downtown Portland, and the eastern terminus only 55 miles from downtown. These unique aspects make the Hatfield Trail one of the most accessible backcountry treks in the country.
Over the past three years, several hikers from the Portland Hikers community have not only completed the trek, but have also tackled some of the maintenance needs on long-neglected trails along the route. This thread is the place to share your experiences in hiking the route, highlight volunteer efforts to improve the trail, and tips for hikers who are considering the trip. Please feel free to backfill the thread with photos and reports from previous trips, as well, because this discussion will also be an important tool in building political support to formally designate the trail, and bring some of the major improvements described in the original concept. These include:
- Substantially restored or reconstructed trails and campsites along the entire route
- Signage along the entire route to help through-hikers make the trek
- Bridged crossings at Tanner Creek and Eagle Creek
- Construction of a completely new trail section traversing the upper Eagle Creek canyon, just inside the Bull Run administrative unit
In the meantime, the current route shown on the map (below) is the focus of efforts to promote the concept, and gradually improve the trails along this route. Over time, I'll also be improving the quality of the "official" map to reflect conditions and tips that are posted here, so you can help me by chiming in with your experiences!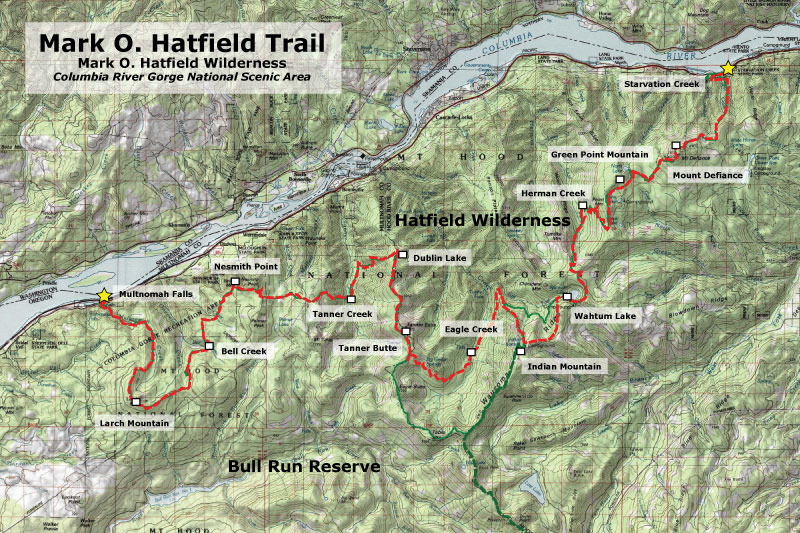 (
Click here
for a larger version of the map)
So, what does the remote backcountry of the Hatfield Wilderness look like? Here's a sampling from the midpoint of the trip -- this is the view from the shoulder of Indian Mountain, looking back at the first half of the trip (as described in the Portland Hikers Field Guide) with some of the major landmarks identified:

(
Click here for a LARGE scrollable version
of this panorama... large file!)
So, let's hear some trip reports! (and it's okay to post them here and in the Trip Reports forum, too)
-Tom