Today as promised, me and a friend set out to explore Trinity Falls Creek. This particular creek is a tributary of Abiqua Creek upstream of Abiqua Falls. On the topo, it doesn't appear to be much. Its barely a mile long top to bottom, and the topo / Google Earth show nothing convincing that there is indeed a waterfall on the creek, atleast nothing substantial. The old saying 'whats in a name' is everything in this case. The name of the stream being Trinity Falls Creek, made it worthy of exploration.
We arrived at the Quarry near Trinity Falls Creek about 2pm, and took off side-hill towards the creek. In no time, we came across an old road. One thing this entire area has is lots of old roads. We followed the overgrown road around the hill til it hit the creek, and then started bushwacking down it. The vegetation was about chest deep in most places, I was glad I wore rain gear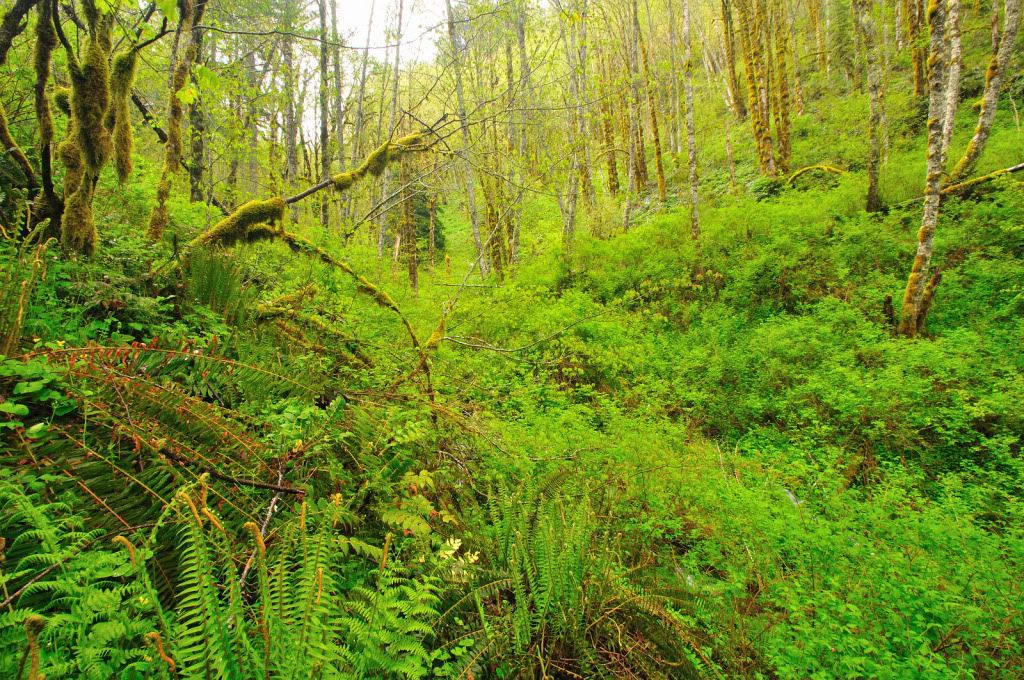 After 20-30 minutes of working our way down stream, we came across another overgrown old road. We kept going, and again came to another long-abandoned road, this one however had recent atv tracks in the grass. We kept that in mind for the return trip, as the tracks led toward our destination area.
At this point, we could hear Abiqua Creek, and we were beginning to think this creek may be a bust. We debated on heading straight to Bucket Creek on the atv tracks. I decided to take one last gander downstream to a clearing, to get a view of downstream. I found that just below us was a horizon line in the creek, the first one of any kind that we had seen yet. That meant there was a waterfall of some type down there. I called my partner and we headed down. Turns out it was a little 18-footer.
You can see my partner up on the top right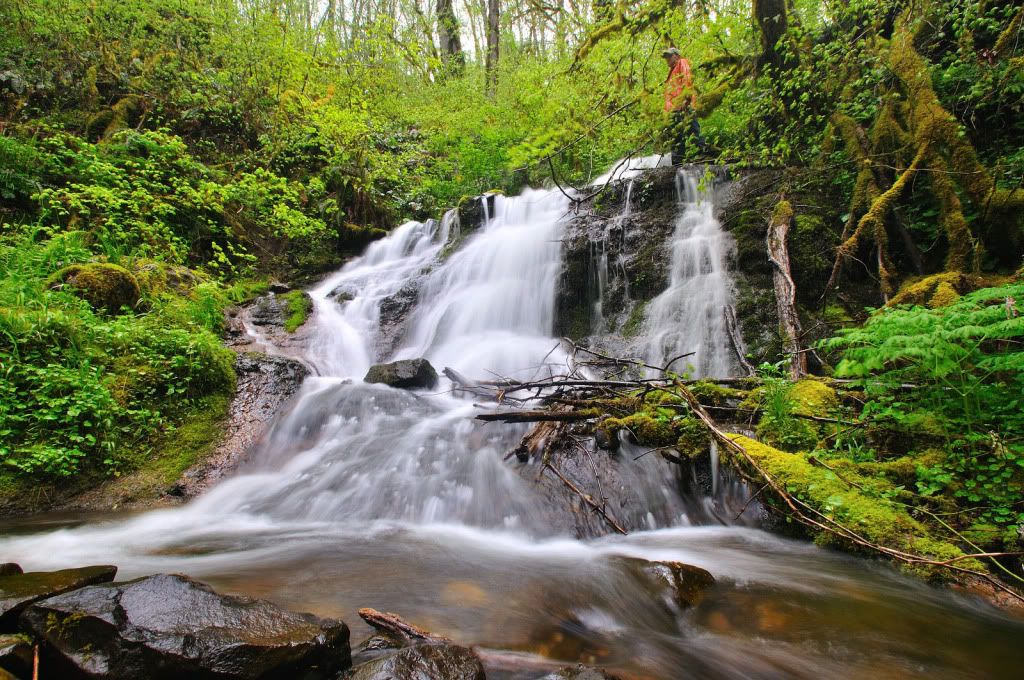 Another view
We wondered if that was really the waterfall that the creek was named after, surely not. It wasn't even 20 feet tall
So we continued downstream towards Abiqua. In about 200 feet though, we began approaching a huge horizon line... And it kept getting bigger.. Once at the edge, it was clear we had found Trinity Falls. This was a biggin by Oregon Standards. On a limb that was hanging out over the edge, there was a nest with 5 large eggs in it.
From here, the only way down was to bushwack west a bit, then angle back. Here's the view of the falls from the scramble point.
Closer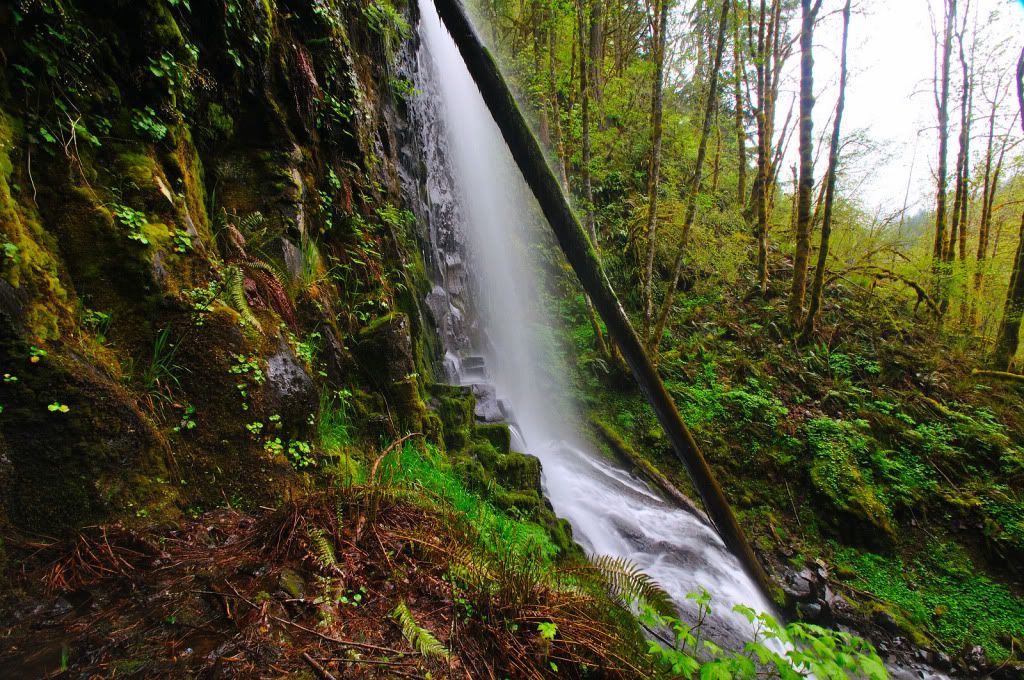 Another
From here we made our way down to the creek, and got our first full-view of Trinity Falls. It was a beauty. I was surprised how wide it veiled out to at the first lip too.
Here's my friend for scale, it's in the hundred foot range.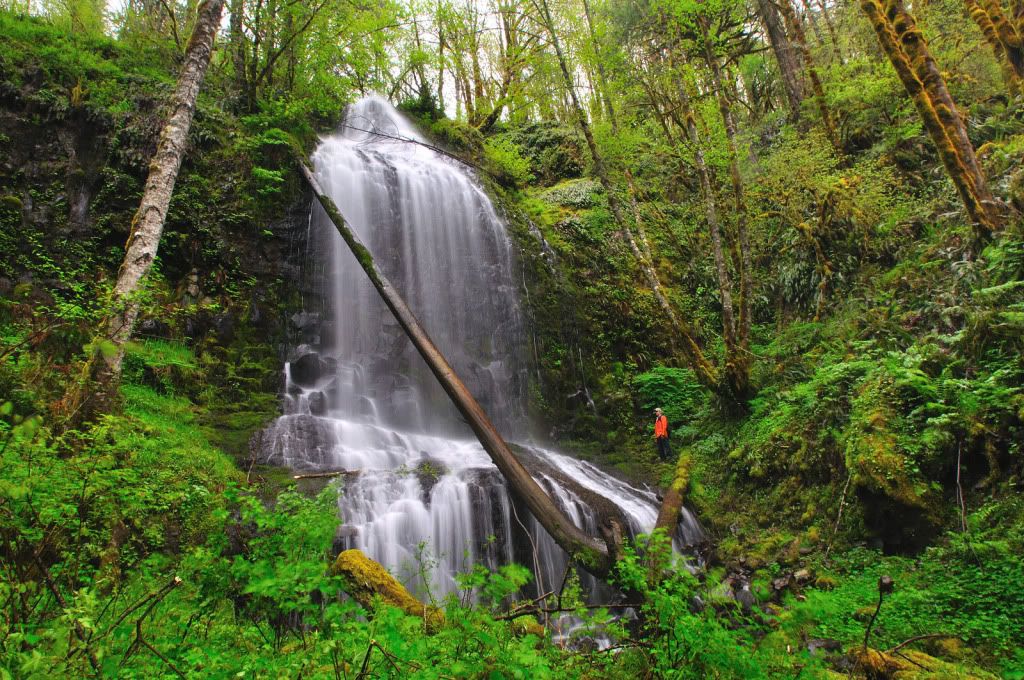 This was definitely the falls the creek was named after. Abiqua Creek was only 200 walking-feet downstream. We decided to skip going all the way to Abiqua, and head towards Bucket Creek. By map, it was about a half mile through the now head-high brush. Needless to say, it was slow going. About 20 minutes into our scramble, I came upon a little tiny skull, a baby beaver by chance?
Another 20 minutes of bushwacking, and we were at the tributary stream between Trinity and Bucket Creek, the one that has the pond in its headwaters on the map. It had a very tall two-tiered drop along the same cliff line as Trinity. The brush was too thick to really get a shot of it, plus it was a fairly small stream.
I drew arrows at both tiers.
Here's the only other shot I had of the lower tier. I had to stand right in the splash zone. The brush was literally a wall anywhere else. This one was a good 70 ft, with a 30+ ft tier above.
From here, we came to a horizontal cliff line between the hill and Abiqua. It ended in a rapid on Abiqua, and the only way was gonna be up. Turns out we had to go all the way up to the top of the cliff band in order to get to Bucket Creek. We went a bit higher and found yet another long abandoned road that headed around the bend towards the creek. Turns out this old road went right to the top of the falls, sweet! Upon reaching the cliff-line, it was clear there were two waterfalls falling into the 100 + ft deep chasm. The cliffs come together here and make a wedge shaped chasm in which the water was falling into. Peering over the edge, it looked like there might not be a way down. But my friend scouted around and found a gully that made it most of the way down, it was gonna be sketchy though.
Here's the view from part of the way down in. Bucket Creek is on the left, an unknown stream is in the near distance. From this spot, my friend's range finder showed the bottom at 80'. We were a good 20 feet down from the top.
My friend stayed up top while I bailed off to the bottom. It was already 6pm at this point. Here's some views of Bucket Creek Falls
Down in the bottom
I made my way down to the unknown falls that was even taller by a good margin. This one was well over 100', my wide angle barely could capture the whole thing at once. I didn't have my friend for scale. but this one was the tallest of any we'd seen today.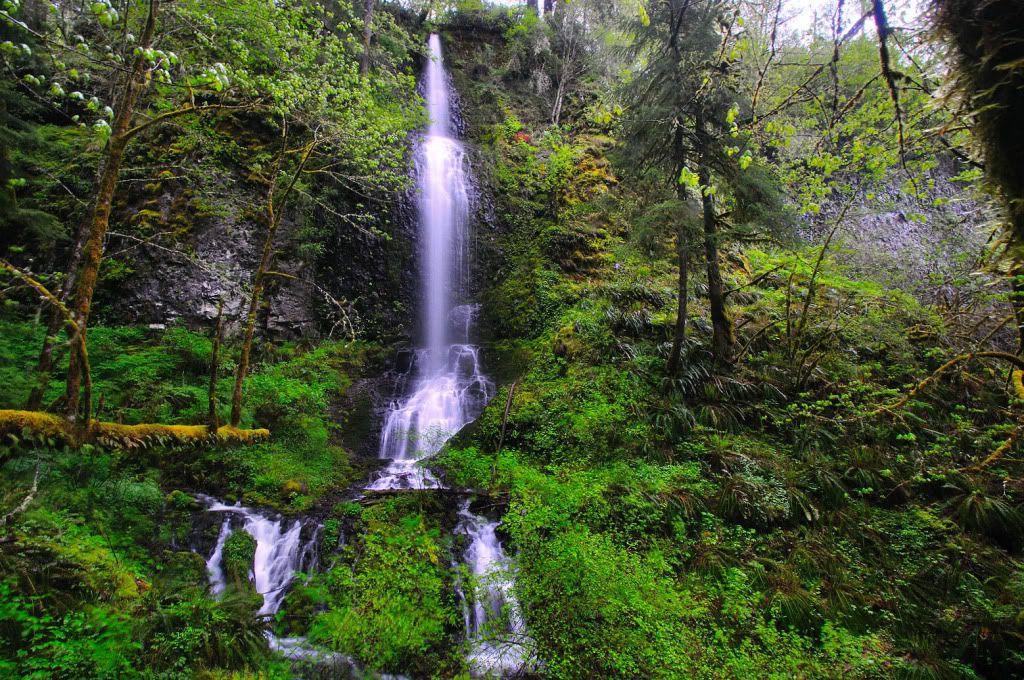 Lower area, Bucket Creek flowing in from the left. Just below the confluence was a 5-foot drop into a nice rocky chute. None of my photos turned out of it though.
After finishing up, I made the now-excruciating journey back up towards the top. It was almost 7pm, and we were a long ways from the truck. After 20 minutes of slipping and pulling myself up with ferns, I was out.
From here, we headed straight up the un-named creek. On the old topo (not the new one), it shows an old road up the creek a ways. After a bit we found it. We turned east and followed it til we had a clear shot to go straight up the hill even further. The road on Trinity that we had seen the atv tracks on was above us somewhere. Another 20 minutes of climbing and we found it. We made a left, then a right on an old road that went all the way to Trinity. we followed it all the way to the creek, and then found an atv trail heading straight uphill, so we followed it up. We followed it uphill quite a ways, climbing almost straight up at times, and found it's end at a suspicious spot. There was a garden hose and some planter box looking things in a make-shift clearing. We decided it was best to go, so we continued straight up the hill for 45 more minutes til we hit the road that the truck was on. 1/4 mile down the road, and we found the truck.
Here's some maps of the area.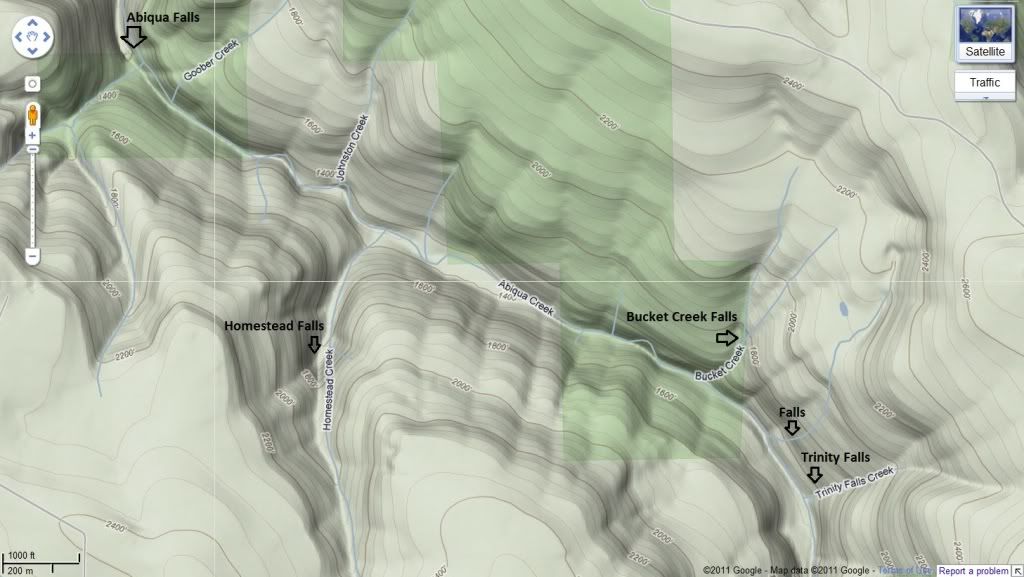 Another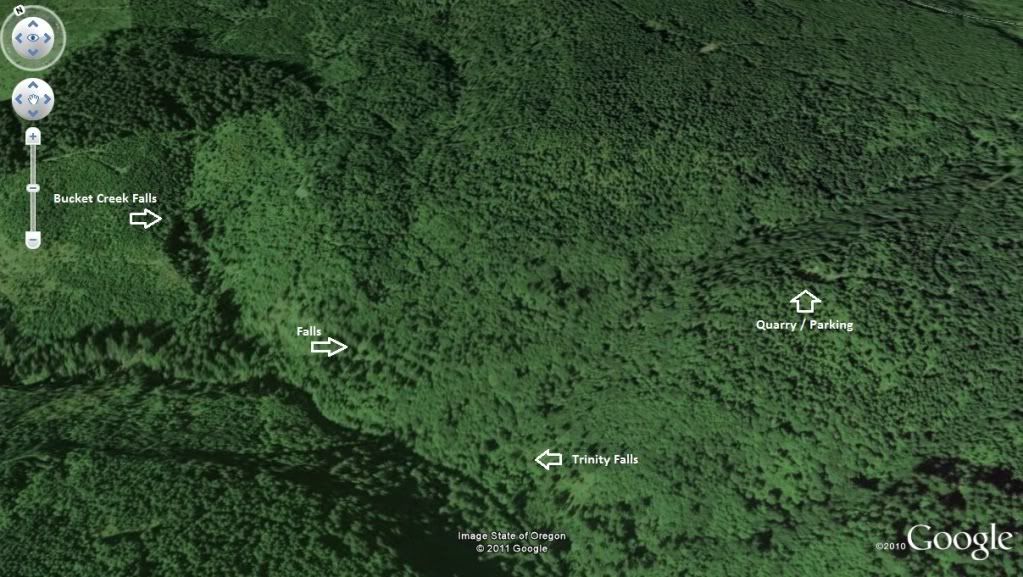 Here's a non-scientific map of our approximate route. We got back to the truck at 8:50pm.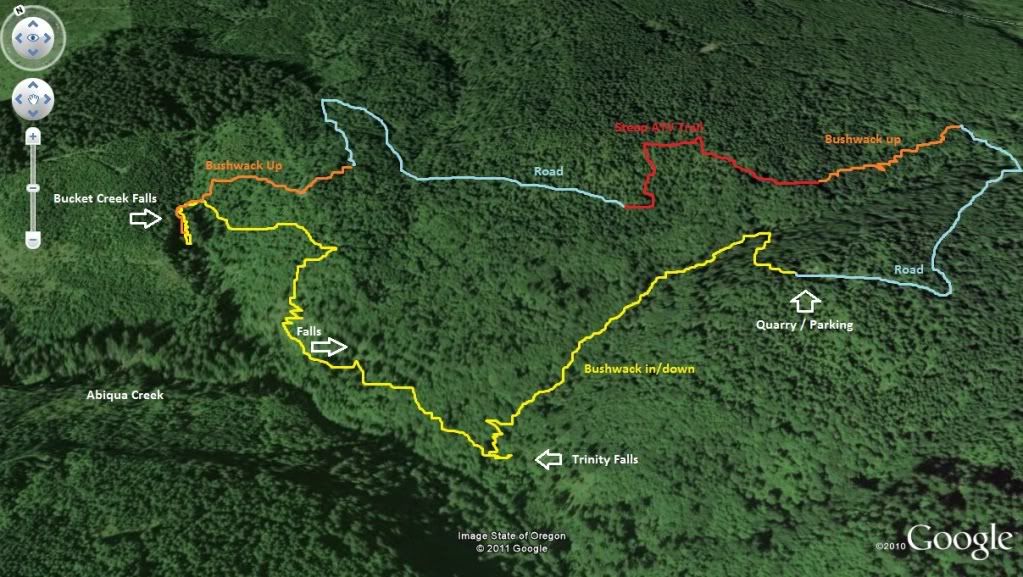 On the way home, we stopped at the Marquam Inn, and both of us gulped down one of their one-pound burgers
All in all, it was a successful day. We'd found several big falls, experienced some rugged country, and cracked the mystery of Trinity Falls Creek.
Thanks for looking