BrianEdwards wrote:That video of Blister Creek Falls is convincing enough to put it on my list. Thanks again Tom. (11/9/2010)
Only took me 2.5 years to get there, but after finding out I had a surprise day off of work today, I made the quick decision to take the family up to Blister & Pegleg Falls. We had planned to visit these falls in July, but today worked out well.
Weather was perfect, streams were flowing, not too many people around either. I only had the iPhone 5 up with us to take photos with.
Pegleg Falls, 21 ft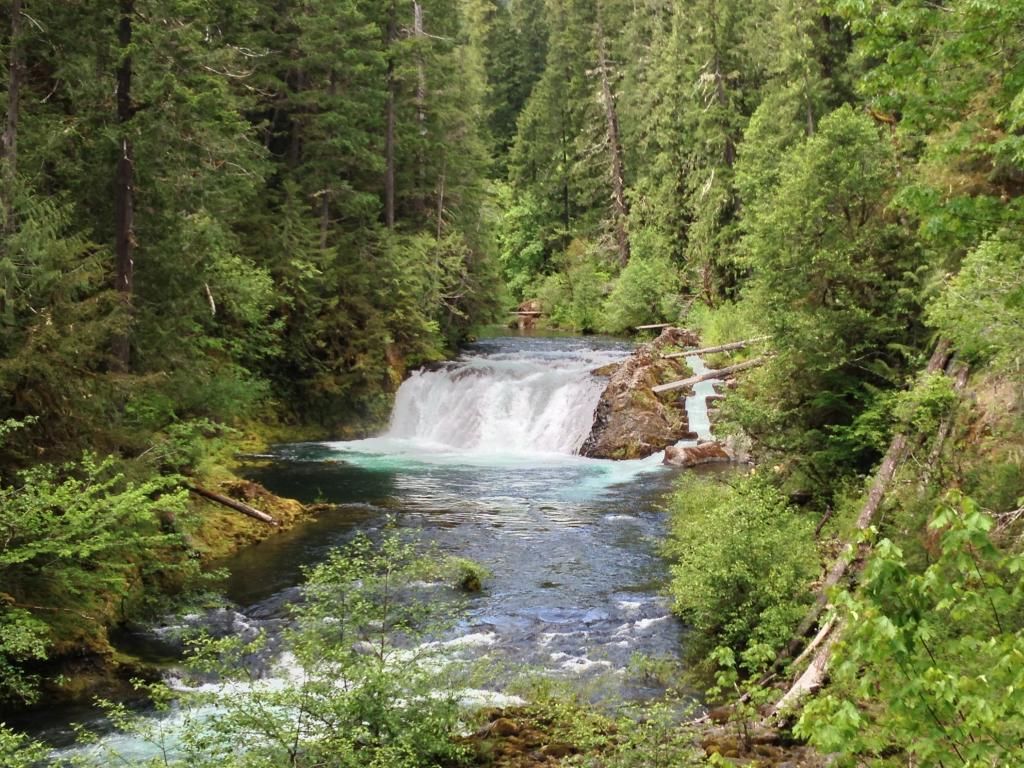 Closer
Zoomed
Video:
After spending an hour enjoying the sun, we went a couple hundred feet down FR70 to Blister Creek and parked. There is a trail on the left, but it leads to the top of the falls. There's a dangerous scramble path that leads to the base. I ended up soloing down to the stream, and finding a different way up.
Brink of Blister Creek Falls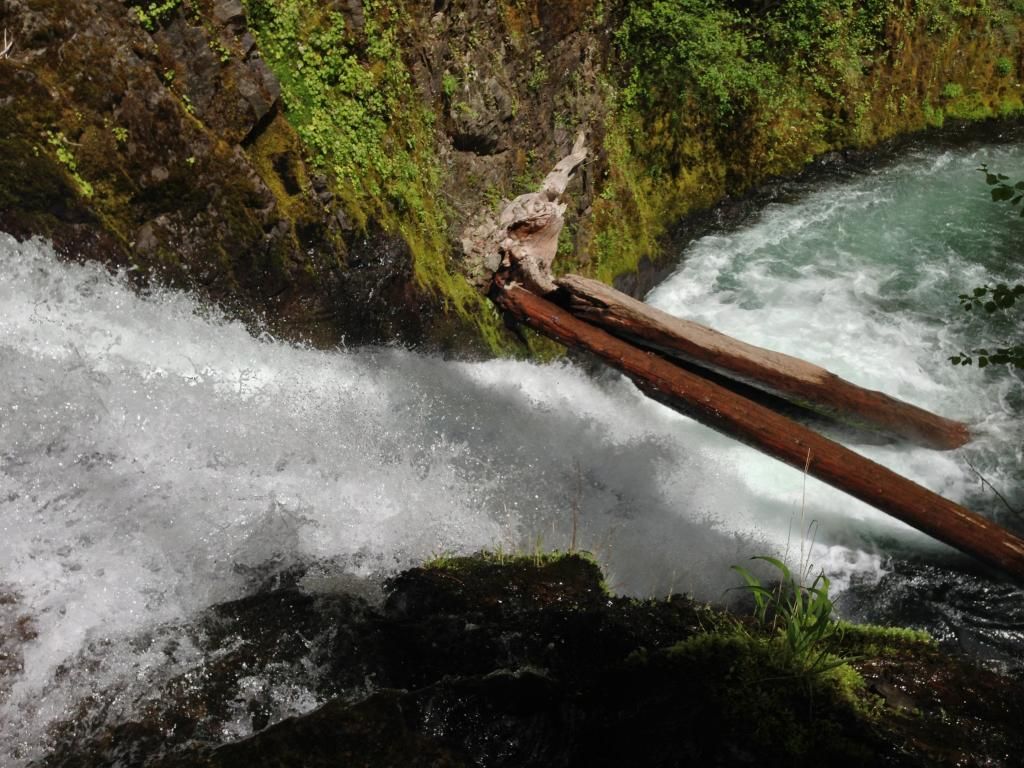 Standing in the pool. Photos don't really do justice. It's about 35+ feet tall.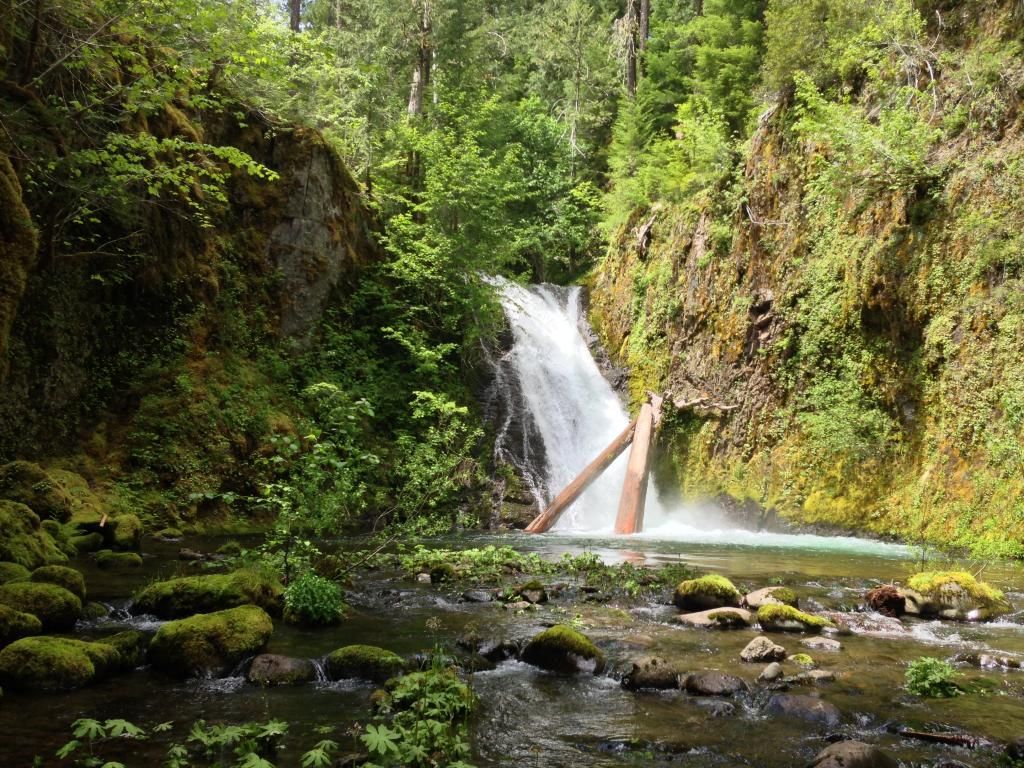 HD video
After this, we headed to Hugh Creek to look for a waterfall that is supposed to be there. A guy sent me an old photo of it recently, but after over an hour of hiking up and back down the very scenic creek, we never found it. I didn't take any photos, but Hugh Creek in that section is very similar to Eagle Creek near high bridge. Straight narrow cliffs right down to the creek. Very Scenic. A return trip is now warranted to find this falls, plus the falls on Stroupe Creek, and Hideaway Creek Falls.
5/27
- Wanderer's Peak Weather Station, plus abandoned trail findings
Last weekend I went with RobfromRedland and a friend of his to Wanderer's Peak, located in the Clackamas River drainage between Fish Creek and Memaloose Creek, to check out a weather station. We had gotten stopped by snow on our way to our other plans, so we turned around and headed to the peak. We decided to stop in and hike down to Music Creek Falls.
HD Video
Next we headed to Wanderer's Peak. Right as we turned onto the road, we encountered a serious blowout with lots of trees snapped off at midmast, and toppled onto the road. So, we parked and headed out. I didn't record any photos of the blowout, but it was fairly impressive seeing trees snapped like twigs about 25 ft from the ground. Not too far up the road, we found the skeleton of a medium size predator??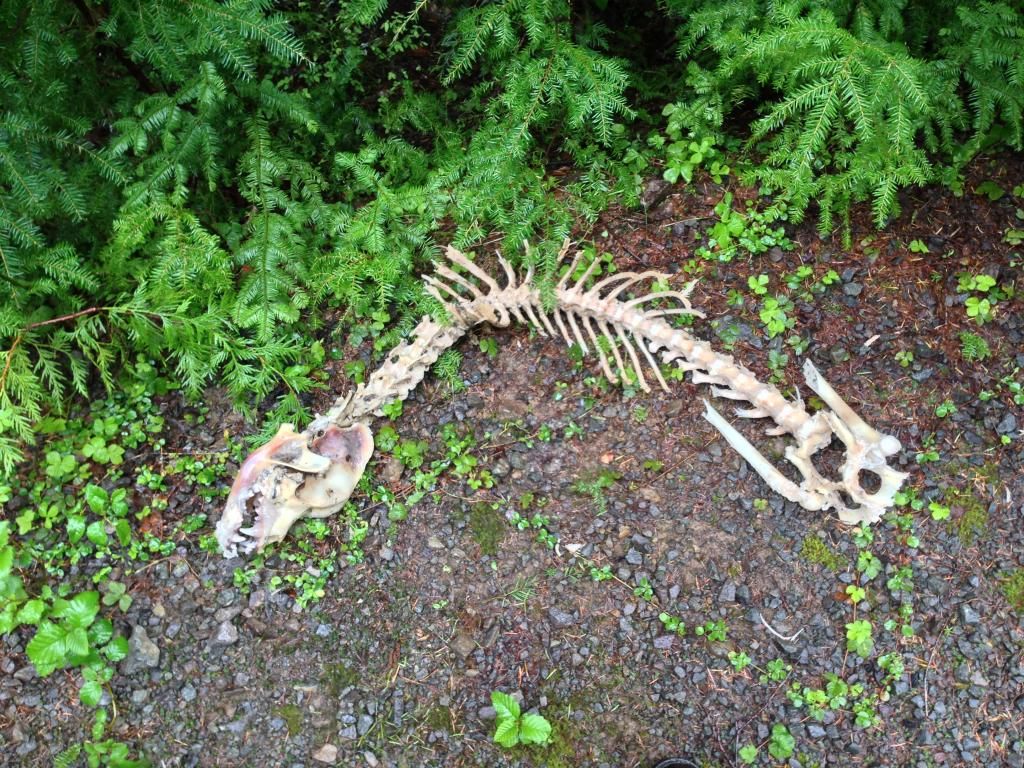 Ferocious teeth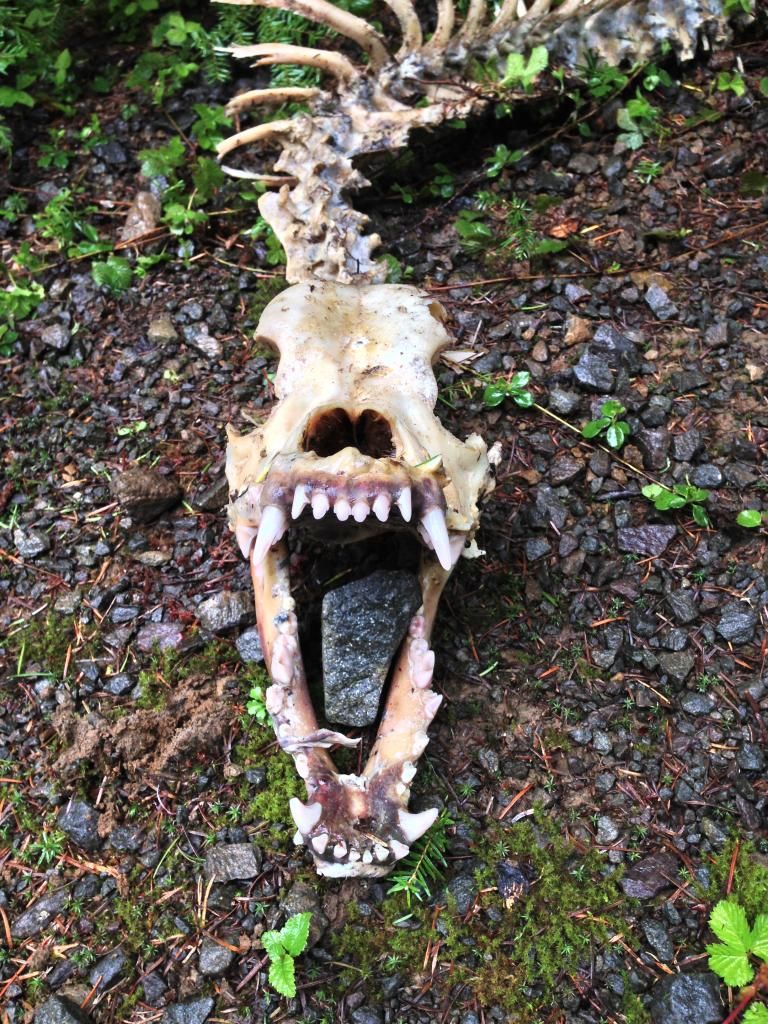 A little further up, we encountered two elk skeletons laying on top of eachother. Powerbar for scale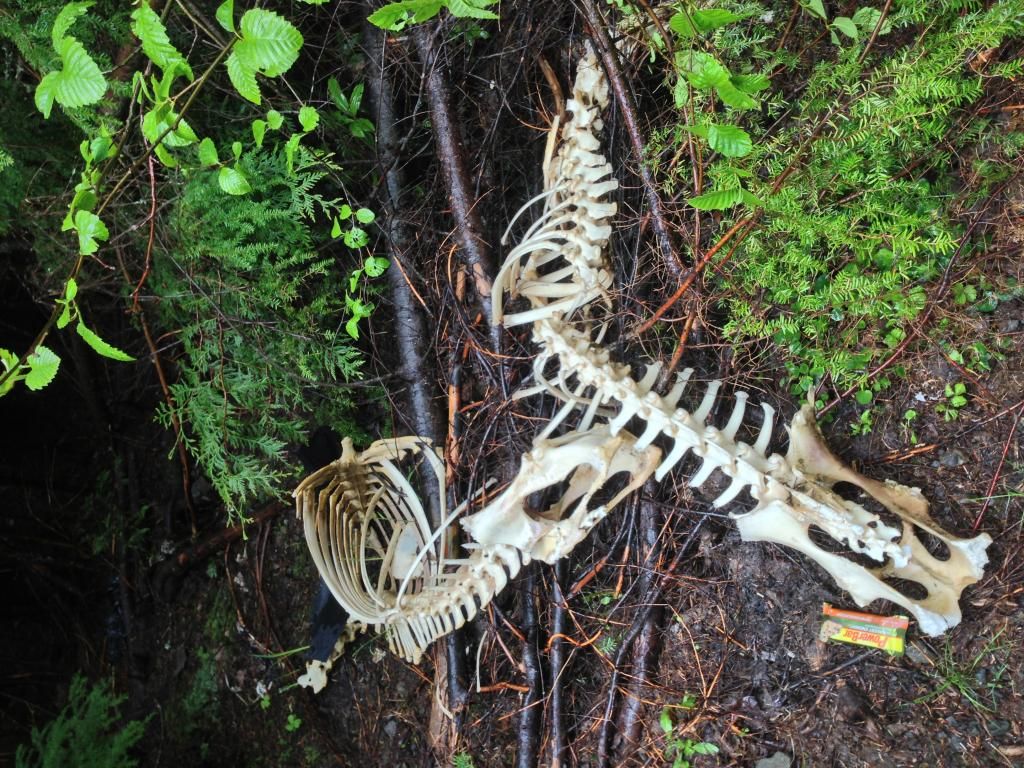 After much walking up the road, we reached the Weather Station.
Rob and Kirk checkin' it out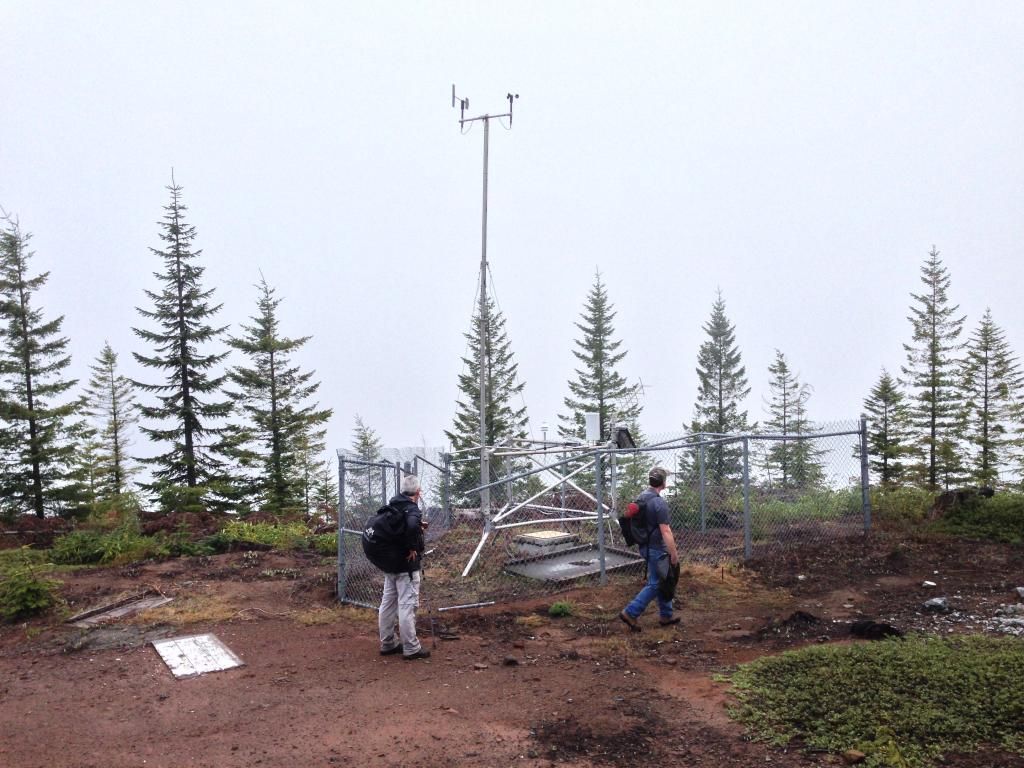 HD Video
After pittling around for a bit, we were about to leave when all of a sudden the view to the east opened up. Awesome!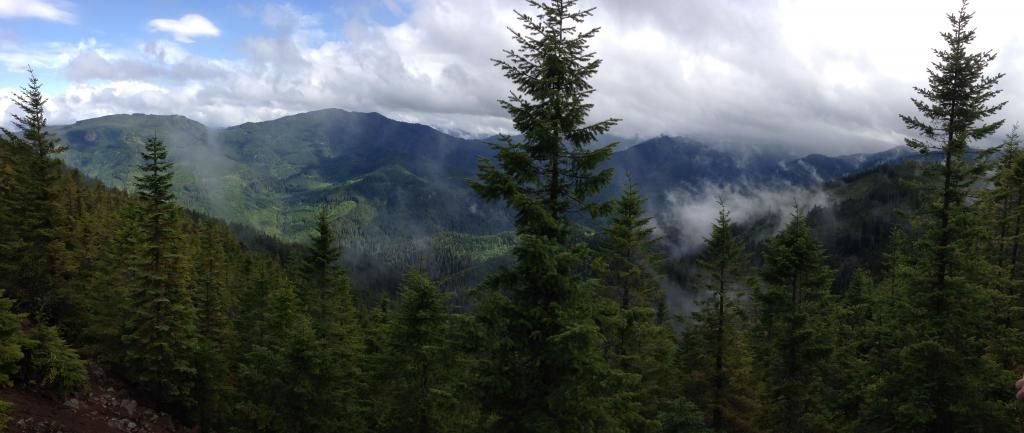 My favorite view of the day, to the south
Next we climbed up the hill on a very old road to the actual peak and took in the sights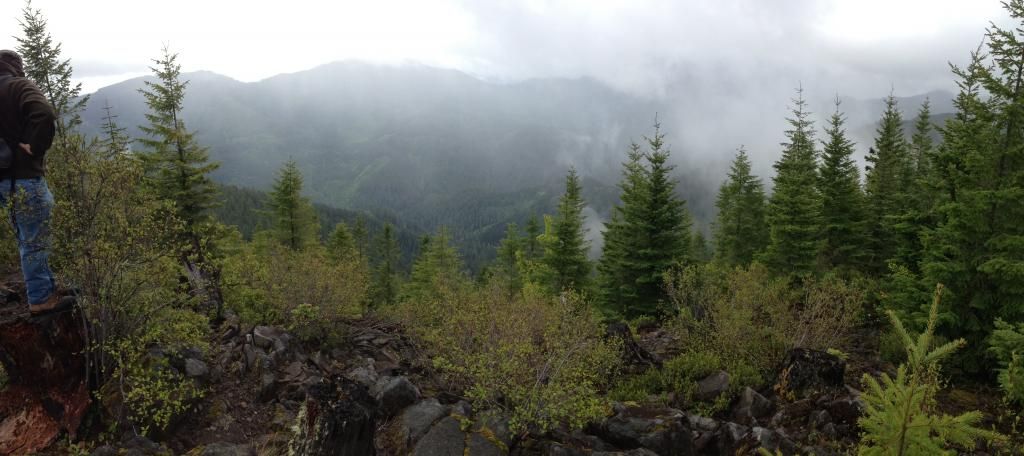 I'd like to go back here on a clear day.
Once the view clouded back up, we headed back inland to look for a very long-abandoned trail on the map. We searched for some time, finding this random pressure treated post where the trail should have been.
Near the post, we encountered a rhody thicket that almost stopped us. Kirk plowed ahead into it, and found a blaze! Just ahead he found another one, and another one, score!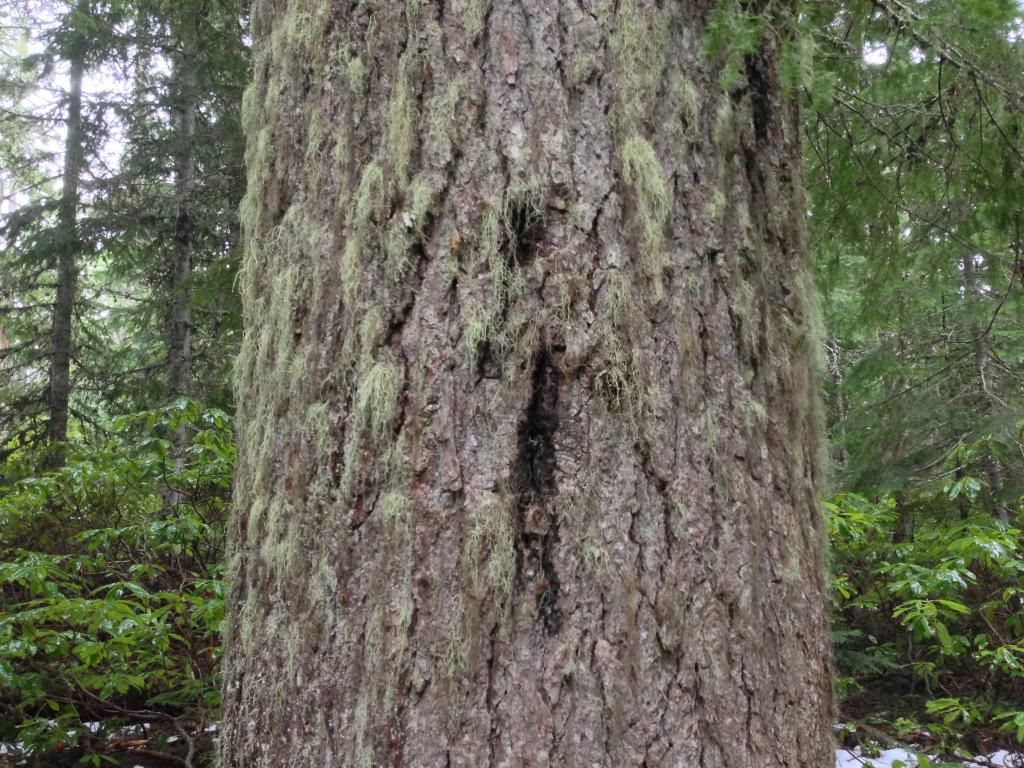 Notice the blaze
Another one next to Kirk
Cut logs
...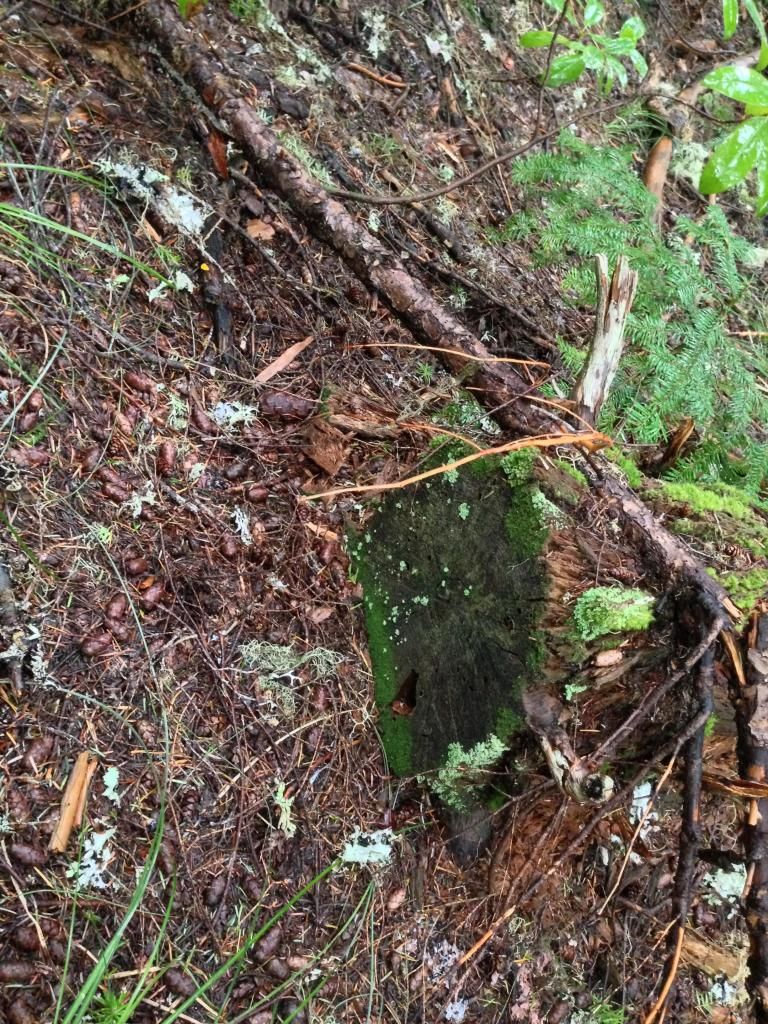 Blaze on the left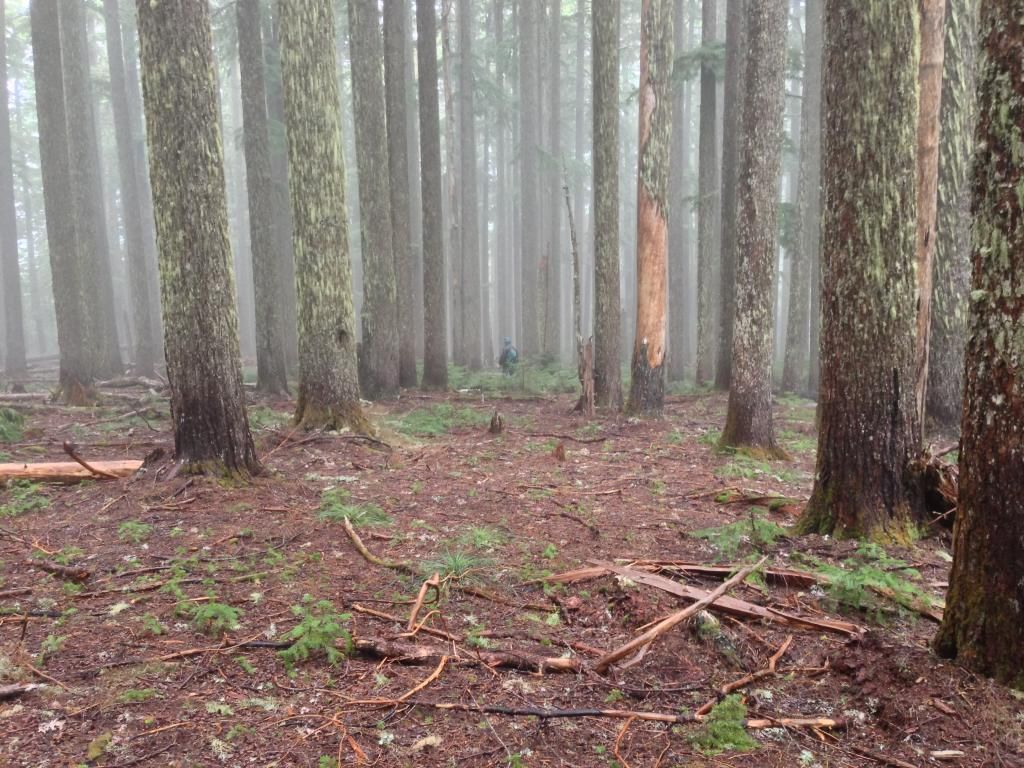 Blaze
...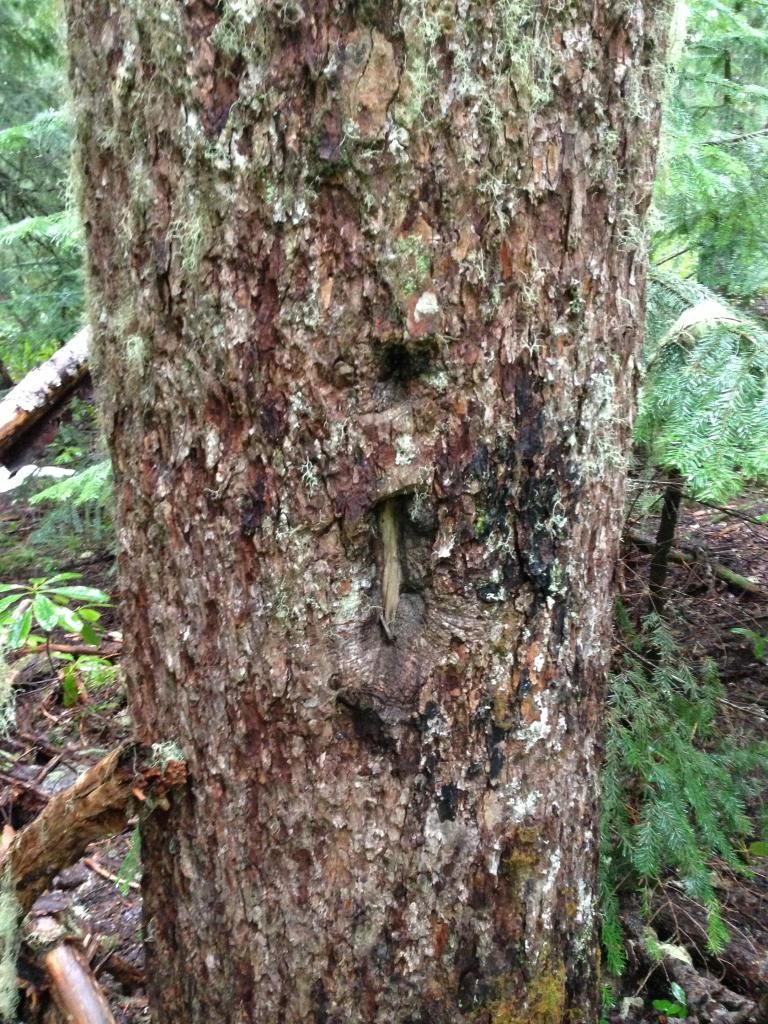 All told, I took over 40 pictures of Blazes. We followed the blazes for the better part of a mile til we came to a clearcut. Since this trail had no tread, the clearcut wiped out evidence of the trail. Still, it was a great thing to find such a long piece of old trail. At the end of the ridge, near Road 45, We had a view looking down into the upper stretch of the Memaloose Creek Canyon.
Nice to get out the last two weekends. Thanks again Rob and Kirk for letting me tag along on this one.