Portland Hikers Archive
Return to Portland Hikers Archive
Hidden in plain sight: a waterfall at Angels Rest!
Posted by Splintercat (2007-04-21)

I was up at Angels Rest this afternoon to try to figure out if there is a hidden waterfall in the canyon just east of the summit. I was last up there in late July, 2004, and was sure I heard a waterfall somewhere in the forest below the east viewpoint, but just couldn't see anything. What was particularly exciting was the fact that I was hearing a waterfall on the last day in July in a fairly dry summer - so if it was seasonal, it was a strong seasonal stream, and not one that dried up in mid-June.

So on today's trip, I was really excited to get up there and look around before the bigleaf maples are fully leafed out - hopefully providing a glimpse of this waterfall. Sure enouth, when I got to the east viewpoint, I could plainly hear a waterfall when the wind wasn't blowing, so it wasn't my imagination!

So I sat there and panned the canyon below with my telephoto lens until I caught some motion in the trees... a waterfall! Following it down, the veiled ribbon of white spread across a wide cliff - something like Lancaster Falls in form. Cool! It was tall and flowing strongly. Here's a photo showing the falls - but without the aid of motion, you have to just rely on the white spaces. My guess is that it's about 150 feet high, and flows most of the year.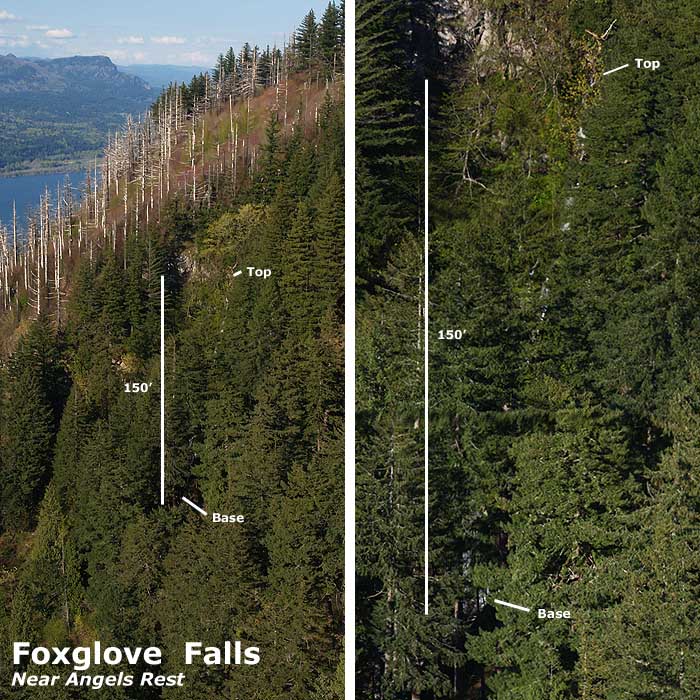 I've called it Foxglove Falls (and Foxglove Creek) after the volunteer-built trail located upstream. I couldn't bring myself to call it Angel Falls for obvious reasons! :-) Here's a map of the stream and falls location: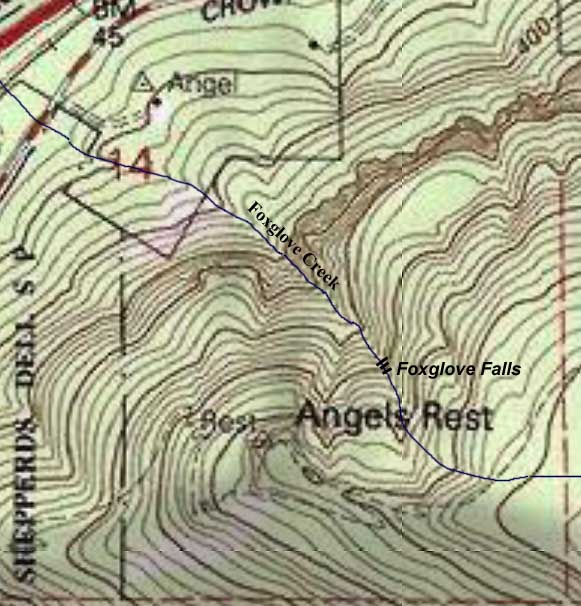 That band of tight contours downstream looks pretty interesting, too - possibly another drop?

This waterfall looks to be accessible by traversing down from the Angels Rest Trail, just beyond Angels Rest, proper... provided the slope leading to the falls isn't covered in poison oak..!

Like Upper Coopey Falls, it would be great if a trail could someday swing by this falls - maybe a loop around the summit of Angels Rest? The current trail could sure use the rest. It's getting hammered by overuse, unfortunately.

Tom

Re: Hidden in plain sight: a waterfall at Angels Rest!
Posted by mattisnotfrench (2007-04-21)

I've always wondered that too, but I've never been to Angel's Rest in winter or spring to see for sure, so I wouldn't have been able to see anything. I figured the sound of rushing water was some sort of falls, but without visual proof I wasn't sure. Good find!

As for getting there, I would think it might be possible by crossing the creek on the trail and following from the creek to get a good idea of which way to go down, because you can see where the creek would go over the falls-it can't be more than 150 or so yards from the trail.

Also, I agree with you about the Angel's Rest Trail. I've gone up there from the west trailhead once and it didn't interest me that much. Other than the Coopey Falls overlook and the rock slide near the Rest, there isn't much interesting about that trail and it's way overused. I much prefer going up from Wahkeena Falls, as the trail closer to the Rest is lightly used (by comparison, of course), the views are better, and you get more exercise. I've done this one maybe 4 times and have loved it every time.

Return to Portland Hikers Archive
Disclaimer: Information found on PortlandHikers.org and PortlandHikersFieldGuide.org is provided by website visitors and volunteers and should be considered anecdotal. All trails and directions and subject to current conditions. Trails and roads can be rerouted due to natural events and the website is not able to provide current information for every hike. Please verify against two other sources before planning a trip. Outdoor activities present inherent risks. Portlandhikers.org, nor any of its members, accept liability for injuries relating to information found on this website.
| | | |
| --- | --- | --- |
| | | © 2008 PortlandHikers.org - No content shall be copied or downloaded without permission |