Got a chance to free up last Tuesday (June 6th) and went to Mt Hood, to beat the heat and try to reach Paradise Park from Twin Bridges campground. Was curious how much conditions have changed since
Mike's report 3 weeks earlier
. Short answer – a lot. Large portions of the trail have melted out, and even some areas in the Park started to show bare ground.
Started pretty late, about 1:45 pm – just enough time to get to the Park & back before dark, without hanging out there for too long. Was 79F at trailhead, but it quickly became better as I ascended. No blowdown issues until about 4200'-4300', very good trail at first. Then it all changed quickly (first serious blowdown and first snow started at about same time) and I lost the trail; remembering Mike's note in his TR about lots of down trees ahead so I just went straight up. Briefly followed what looked like abandoned portion of the trail, but found it easier to just go cross-country.
Got to the first great views at 5800' elevation and spent about 30 minutes walking around and taking pictures. If I had another hour would go to Split Rock - but didn't want to deal with blowdown and snow bridges in the dark on the way back. 7:20 time for round trip, almost exactly 12 miles. Met 5 hikers on the trail, first people in the last three hikes, save for seeing someone in the distance or at trailhead (is it what you call crowded?
). Saw a few mosquitoes, but none have bitten me.
First rhody blooms were already starting at trailhead and the lower trail, but most are couple weeks away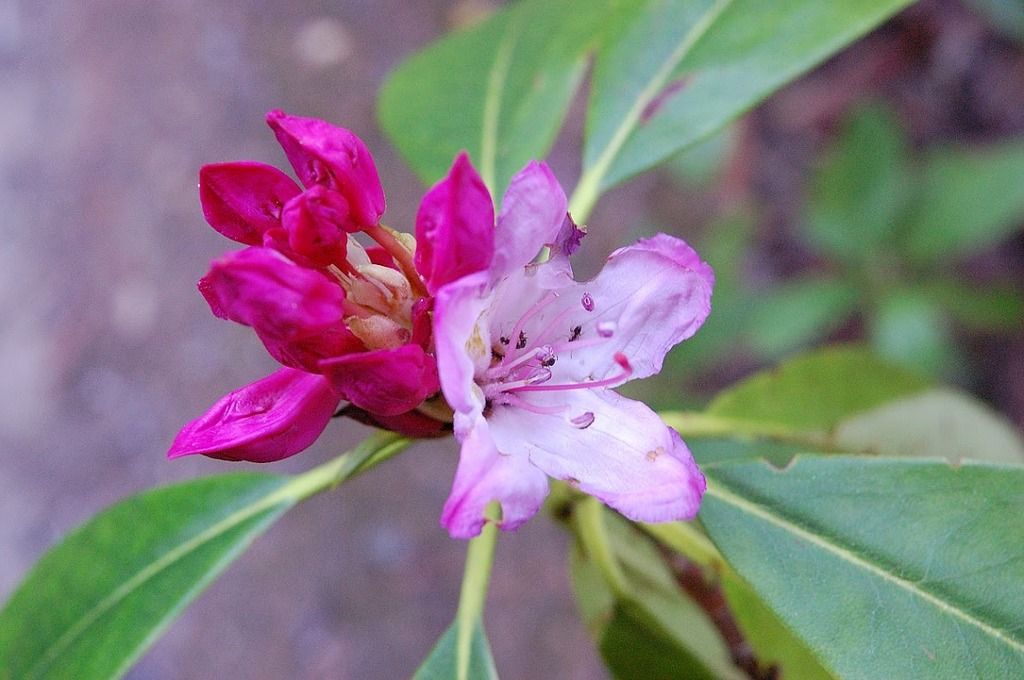 Ridges already melted out for quite a ways but had piles of broken branches; gullies still had consistent snow and made walking quick and easy
It was nice, hardened Cascade Concrete, but still it wasn't without surprises
There was not much snow overall, 1-2 feet deep before 5000' elevation, then about 3-5 feet above that, and just below the Park there were some impressive 10+ ft deep drifts that will last long time
hard to get scale in these pictures
Approached Zigzag Canyon too soon, lots of down trees and steep snow piles to climb. But got a couple extra views toward "summer" trail
About 4:15 into the hike got to first open views of the volcano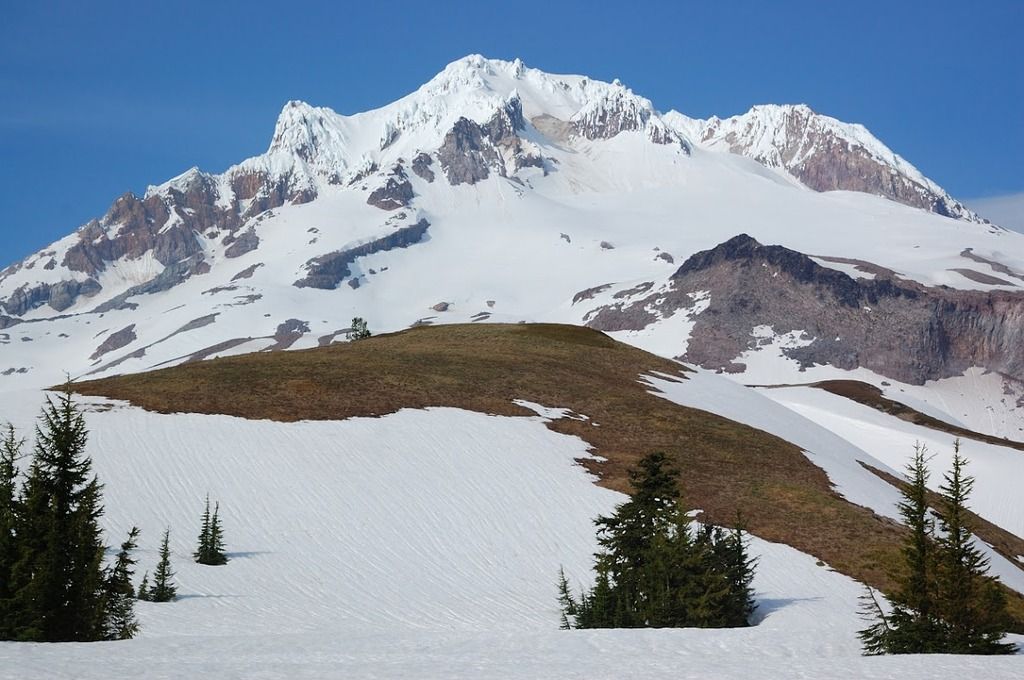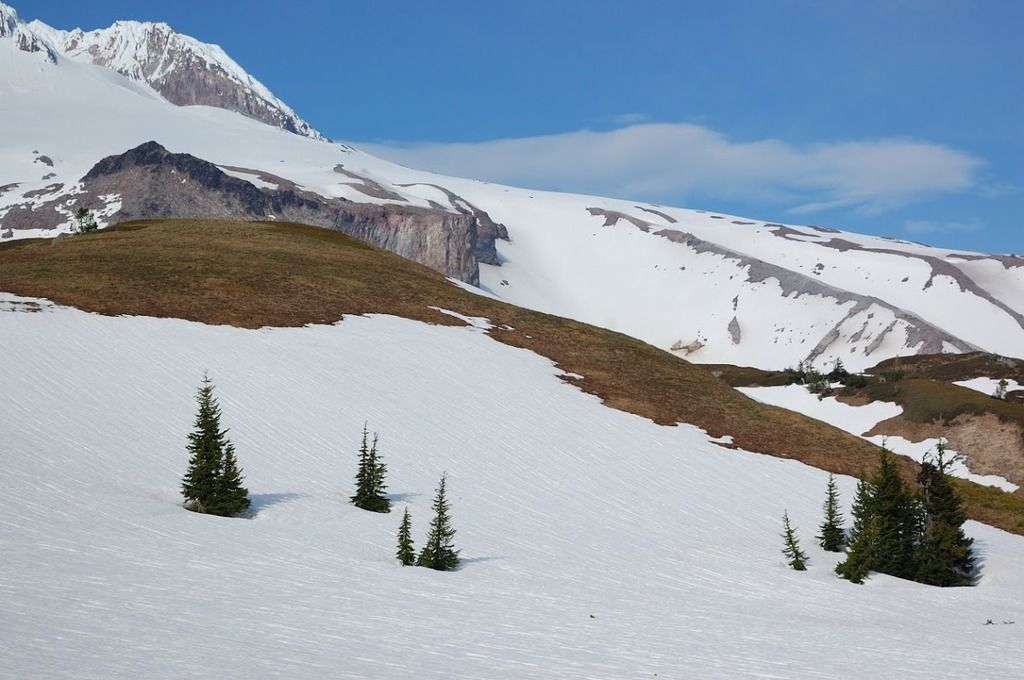 Looking back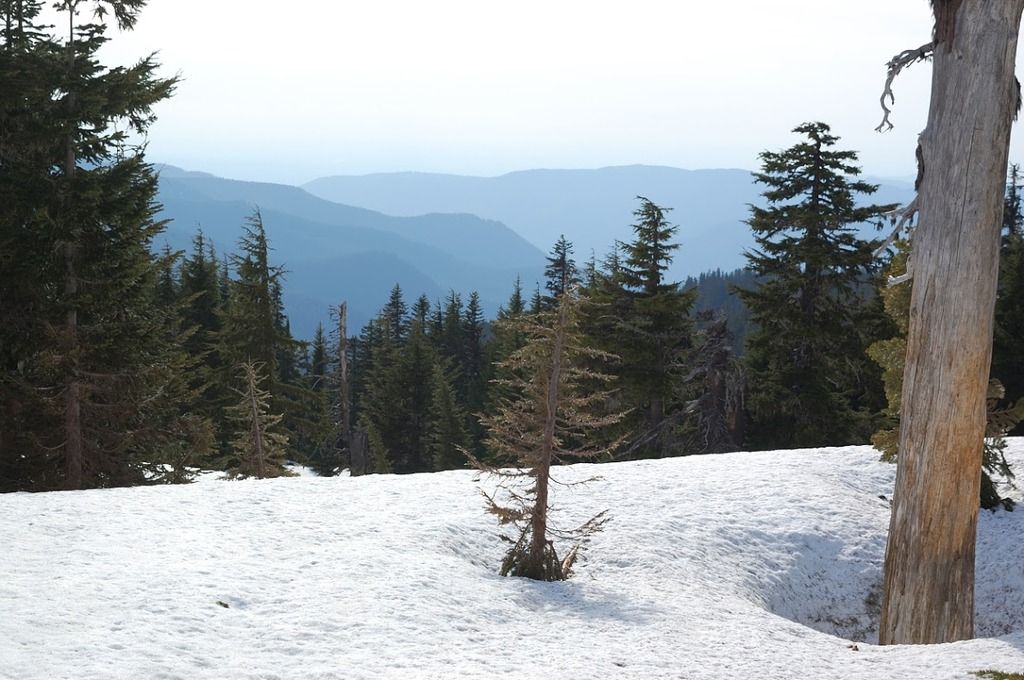 Paradise trail sighting! Also looked for the junction sign, but it was still buried in snow somewhere
Picture of Hood with Lost Creek is a must-do when I visit Paradise Park. However, it wasn't easy to get into the canyon this time - very steep snow banks, even with crampons (didn't have time to take them off for glissade)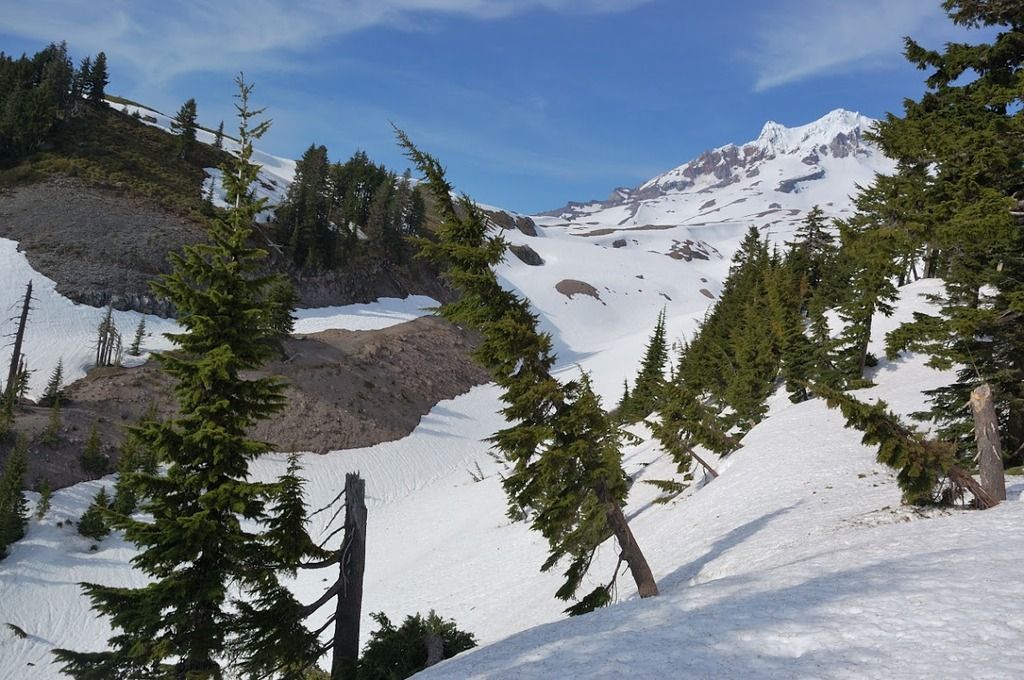 Got part way down holding onto tree limbs. Much better view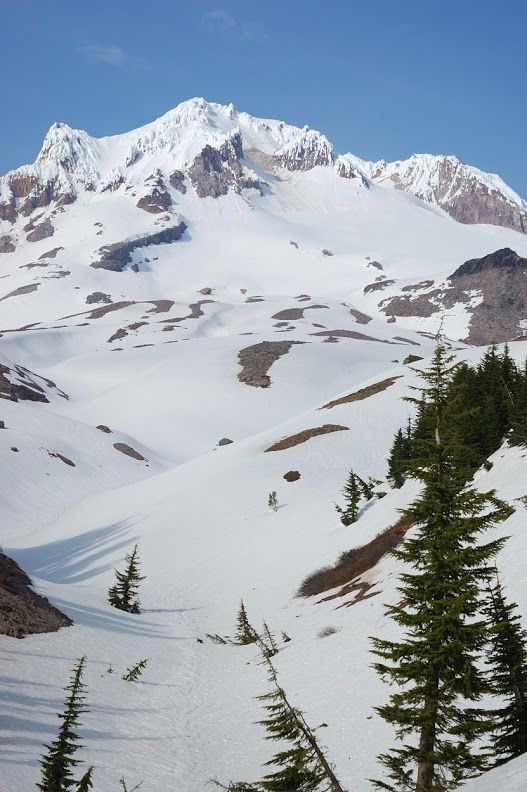 Looking west across Lost Creek
You can see a large area in the vicinity of Split Rock have already melted out
Went back to take a better look at Zigzag Canyon. Still lots of snow on west-facing slopes. Also, I recalled how strong Zigzag River was near the trailhead. It will be a while before one can safely take an alpine trail from Timberline Lodge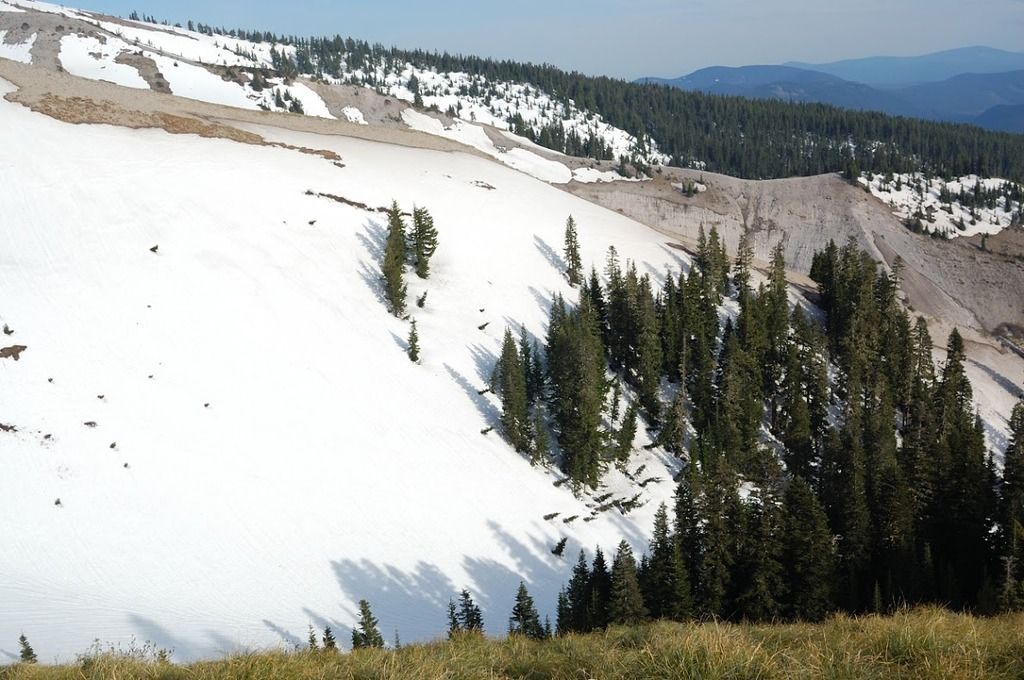 But surprisingly, east-facing slope was mostly free of snow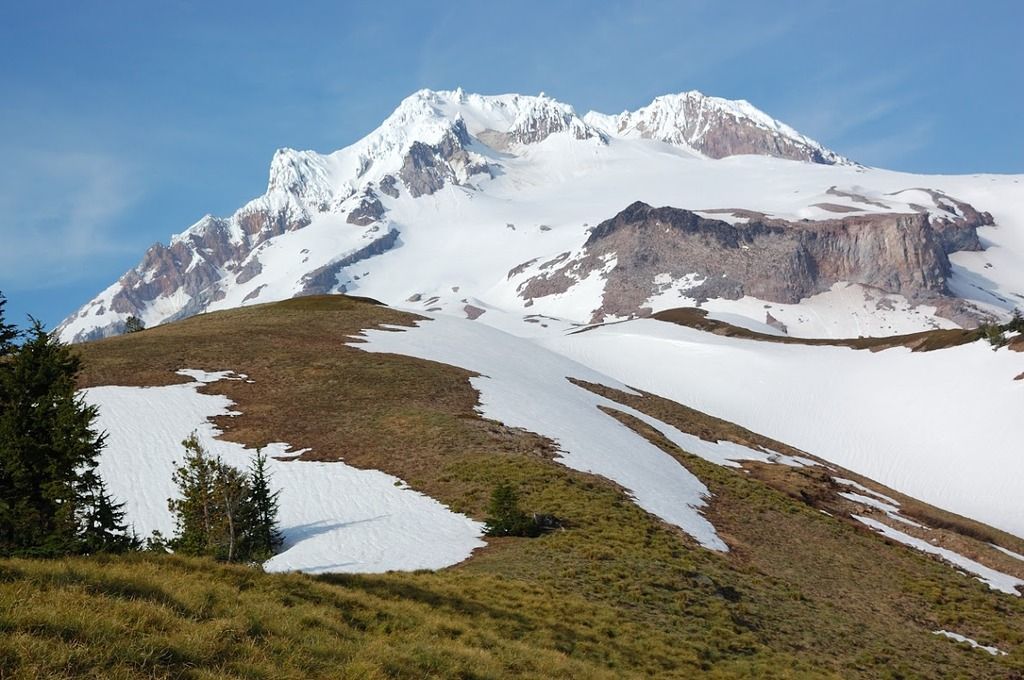 I wanted to spend lots more time up there, but it was time to head back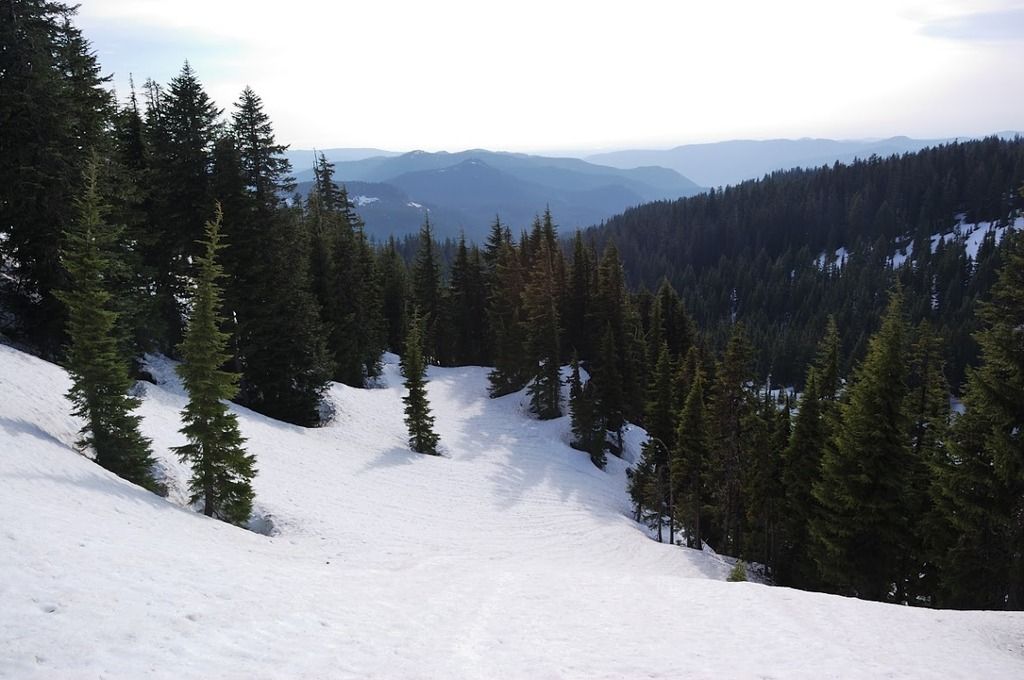 Stumbled upon a melted-out trail at 4900'. However, it had lots of trees and branches across, not easy to follow.
This is a few yards past previous picture... not good. I went a bit west off the ridge, and continued down on snow for as long as I could, then found trail at ~4,300' and took it back to the car